Allelujah, Richard Eyre's bewildering new adaptation of Alan Bennett's play about an at-risk elderly ward in Yorkshire, starts with the kindly Dr Valentine (Bally Gill) espousing how he's "always loved the old". By the film's end, Dr Valentine is face-masked up in the middle of the pandemic, delivering a bone-rattling monologue about the state of the NHS after the most WTF third act twist we've seen since Jamie Dornan confessed a sincere belief that he was a honeybee in Wild Mountain Thyme. Somewhere in the middle, something most accurately described as an unholy cross between an Age UK advert and The Good Nurse takes place.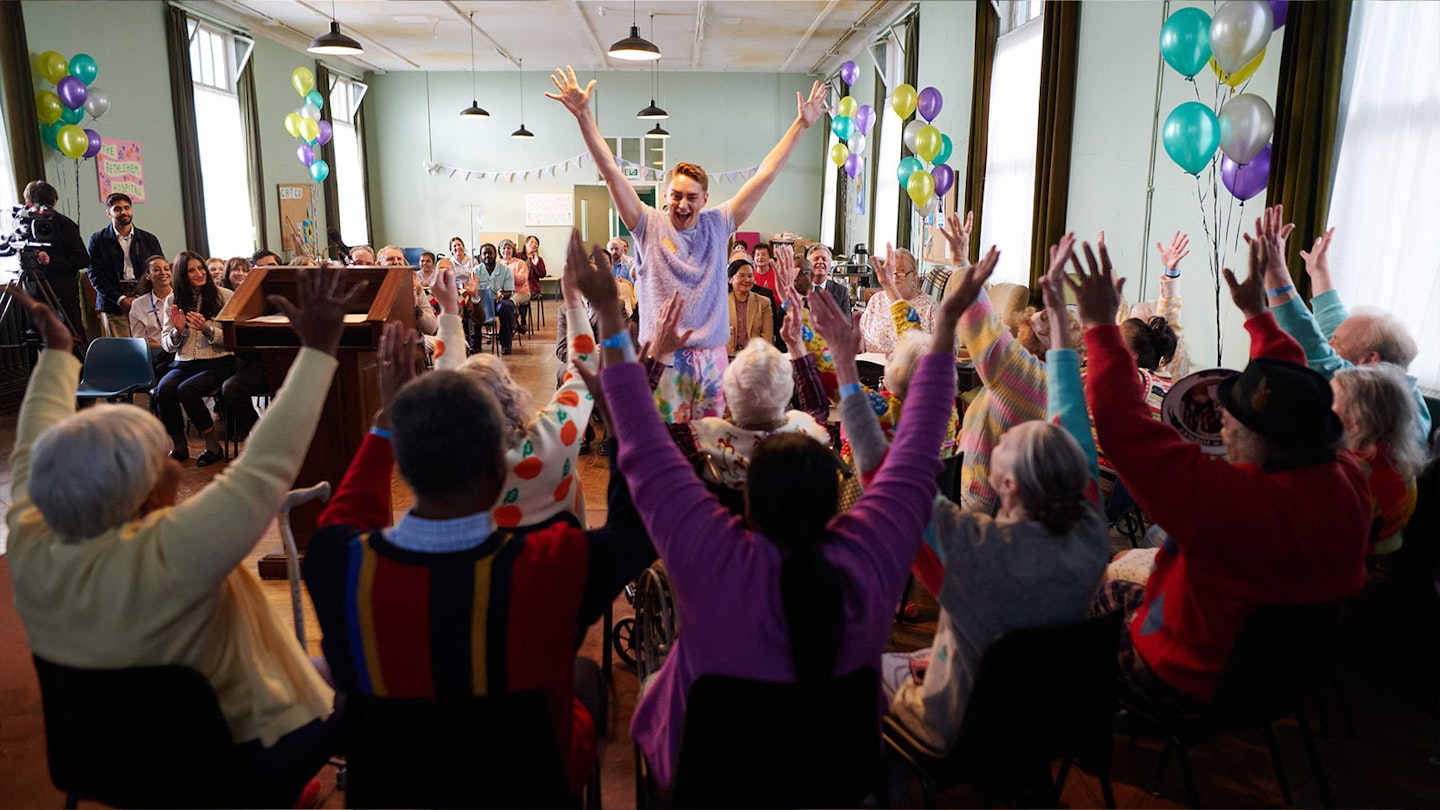 On paper, Allelujah sounds like — and has been very much marketed as — a 'Clap For Carers'-esque proud paean to the NHS, housed within an ultimately crowd pleasing comedy-drama. And for a solid hour, it pretty much is exactly that, with Call The Midwife creator Heidi Thomas clearly relishing a chance to write in the Bennettian vernacular as we get to know the staff and residents of The Beth, a fictionalised representation of the many community-driven hospitals left on life support by the present British government.
The film is constantly compromised by its attempts to barb its bouquets of community cutesiness with polemical punches.
There's an interesting dynamic between the ward's care leads, Gill's initially idealistic Dr Valentine and Jennifer Saunders' more cynical nurse Sister Gilpin, whilst their patients are a charmingly eclectic bunch. Derek Jacobi is on sparkling form as a retired schoolmaster with a love for grammatical nitpicking; Dame Judi Dench's retired librarian and marginalia enthusiast Mary is an underseen but delightful presence; while David Bradley's curmudgeonly ex-miner Joe, whose gay Tory son (Russell Tovey) just so happens to be responsible for determining The Beth's future, is a study in subtlety, Joe's entrenched homophobia untangled in surprising ways over the film's course.
Even when the going's relatively smooth for Allelujah though, it isn't without its hindrances. The imposition of a TV crew, brought in to show the daily workings of The Beth, leads to a slew of narratively obfuscatory, faux to-camera bits that feel out of place and alienating. Further, the film is constantly compromised by its attempts to barb its bouquets of community cutesiness with polemical punches. Jam-packed with jokes about bedpans and the indignities of ageing, Eyre's film lacks the needling sharpness of something like Jack Thorne's scathing COVID drama Help, tip-toeing around the specifics of the NHS' current crises until a powerful yet totally out-of-place pandemic set coda. And to get to that coda, you have to go through the film's absolutely unhinged last twenty minutes.
As is the way with reviewing new releases whose plots hang on a major revelation, we can't really talk about Allelujah's hellacious Hail Mary of a finale here. Suffice to say, however, such is the brain-frazzling, good faith-undoing, self-sabotaging severity of the left-turn this film takes, that when all's said and done, words will likely fail you anyway. Even M. Night Shyamalan would baulk at the fuckery afoot in this one's finale.