It's typical – you wait ages (well, a year and a half, not that long really) for a new Wes Anderson film, and two come along at once like pristine, pastel-shaded, symmetrical, immaculately-designed buses. Frankly, it's only felt like a brief moment since The French Dispatch hit our screens – but this year brings not one but two fresh Andersonian dispatches. Later in the year, we'll get his Roald Dahl adaptation The Wonderful Story Of Henry Sugar on Netflix – but before then, we'll see Asteroid City, a 1955-set romantic comedy with (as you'd expect) a ludicrously stacked cast. In fact, you can read a bunch of those names on the poster, which has just dropped ahead of an impending trailer.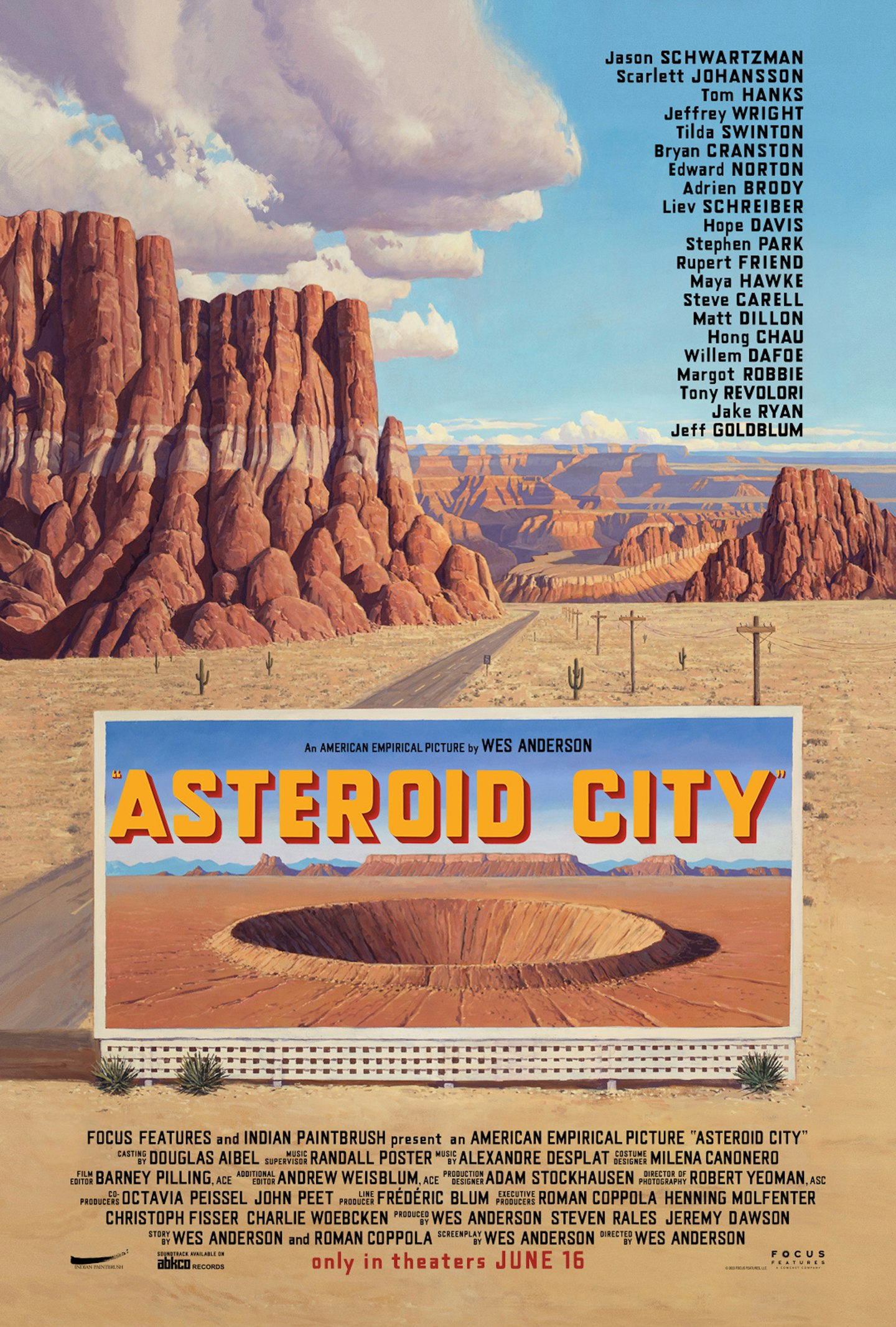 Before we get into those names (and holy smokes, there are plenty of them), first up it's notable how much this is a return to America for Anderson's storytelling. Across the last decade, he's ventured to Budapest, the Isle Of Dogs (actually a futuristic Japan, not the London peninsula), and the streets of Paris for his particular brand of picture-perfect productions. But here, it's all grand, sweeping Americana, desert canyons and bright blue skies – this is his first US-set film since Moonrise Kingdom. In fact, given the period setting and the romcom template, it sounds like Asteroid City might be something like Moonrise meets Rushmore. Here's the synopsis: "Set in a fictional American desert town circa 1955, the itinerary of a Junior Stargazer/Space Cadet convention (organised to bring together students and parents from across the country for fellowship and scholarly competition) is spectacularly disrupted by world-changing events."
Onto that cast, then. This might rank among Anderson's starriest, which is no mean feat. It, obviously, stars Jason Schwartzmann, plus fellow Andersonites like Tilda Swinton, Adrien Brody, Willem Dafoe, Tony Revolori, Edward Norton, Jeffrey Wright, and Jeff Goldblum. Plus, he's reuniting with Scarlett Johansson, Bryan Cranston, and Liev Schreiber who lent their voices to Isle Of Dogs. And on top of that, he has Margot Robbie, Tom Hanks, Hope Davis, Stephen Park (also in The French Dispatch), Rupert Friend, Maya Hawke, Steve Carell, Matt Dillon, Hong Chau and Jake Ryan. That man knows how to build an ensemble – and there are probably plenty more who pop up in the film but aren't listed here.
We'll have a full, comprehensive list of the entire Asteroid City cast when the film hits cinemas this summer, and we'll get a sneak peek when the trailer drops tomorrow. Now, who's up for a spoonful of Henry Sugar?