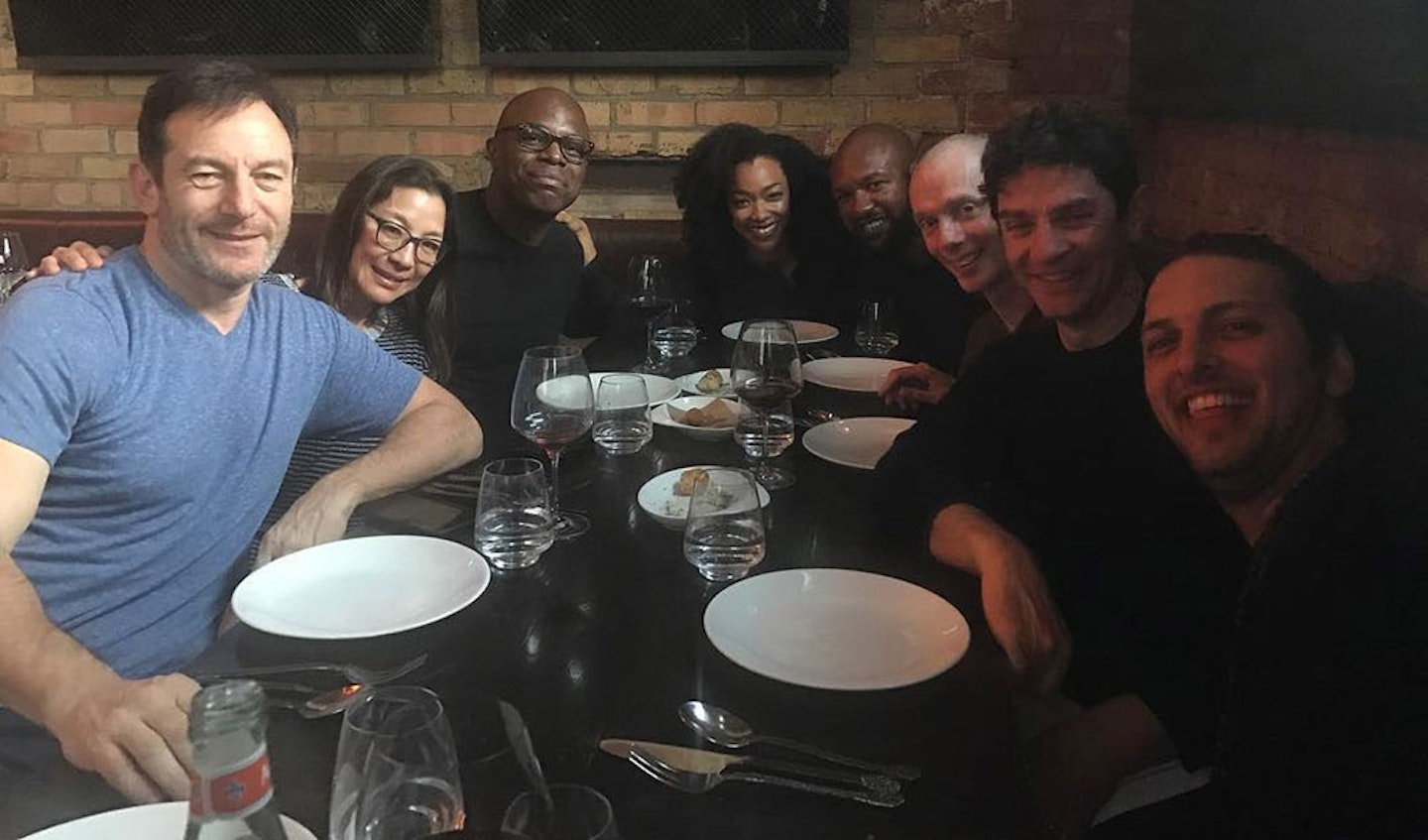 The fact that Star Trek: Discovery will not be debuting until late summer or early fall, has proven frustrating to fans not only for the show itself, but because it means that it will be a while before they're able to see the cast in costume. When that will happen is anyone's guess, but thanks to Instagram we've gotten our first look at much of the ensemble together (albeit in their civvies).
From left to right are Jason Isaacs (Discovery's captain, Lorca), Michelle Yeoh (Captain Georgiou, whose ship is the Shenzhou), Chris Obi (the Klingon T'Kuvma, who is determined to bring together the various Klingon houses), Sonequa Martin-Green (Rainsford, also known as Number One, a lieutenant commander who serves as Discovery's first officer and the show's main character); Kenric Green (not actually on the show, but definitely serving as Sonequa's husband), Doug Jones (an alien science officer aboard Discovery), James Frain (the Vulcan father of Mr. Spock, Sarek), and Shazad Latif (Kol, a commanding officer of the Klingons).
Other cast members of the show not featured in this image are Terry Serpico as Starfleet Admiral Anderson, Maulik Pancholy as the Shenzhou's chief medical officer, Nambue; Sam Vartholomeos as junior officer Connor, assigned to the Shenzhou; Mary Chieffo as L'Rell, a Klingon battle deck commander; Mary Wiseman as Starfleet cadet Tilly, who is assigned the Discovery, and Anthony Rapp as science officer Stamets.
Speaking of Rapp, Stamets is the first openly gay character in the history of Star Trek. Interviewed by MetroWeekly, he commented, "I'm honored to be a part of a piece of work that's part of the cultural pantheon. It's kind of crazy that I get to be a part of something that means so much to so many people. It meant a lot to me, too. I'm thrilled and I'm honored to be the vehicle for this aspect of the story that's being told."