There are many things in Nicolas Cage's repertoire  – when you watch one of his movies, you never quite know what it is you're going to get. With performances ranging from the most out-there depictions of human behaviour ever brought to the screen, to works of deeply-emotional naturalism, he contains multitudes. And yet, among everything Cage has done in his career so far, there's still something on his list to tick off. Speaking to Empire for the Greatest Actors issue – welcoming us to his Las Vegas home for a career-spanning conversation and cover shoot – he opened up about a particular acting challenge he hasn't yet taken on.
"I haven't done a musical yet," he says, looking to the ambitions he'd still like to fulfill one day. "I'd like to try that. I'm not much of a singer. I did sing okay in Wild At Heart, I thought, but I've since blown my voice out singing 'Purple Rain' incorrectly in karaoke bars." If there is a musical role he could pick? "I think I'd make a good Pontius Pilate in Jesus Christ Superstar." Andrew Lloyd Webber, make that call.
While Cage hasn't yet taken on a musical, he has imbued his performances with all kinds of inspirations from other art forms. "When I did Ghost Rider I was thinking about Edvard Munch's The Scream," he explains. "I tried to get the transformation scene to go right there [puts his hands on his cheeks and contorts his face into an eerie impression of the masterpiece]. In Wild At Heart I was trying to approximate what it felt like to see Warhol's marvellous collages of Elvis Presley as a cowboy with a six-shooter. I wanted to see if you could do that with film performance. Plus, I think if David Lynch could cast anyone in any of his movies he would have wanted to have cast Elvis, so I think he was excited to roll with it when I suggested it." A 'nouveau shamanic' actor, inspired by The Scream, Elvis, and wanting to take on Pontius Pilate? There's only one Nicolas Cage.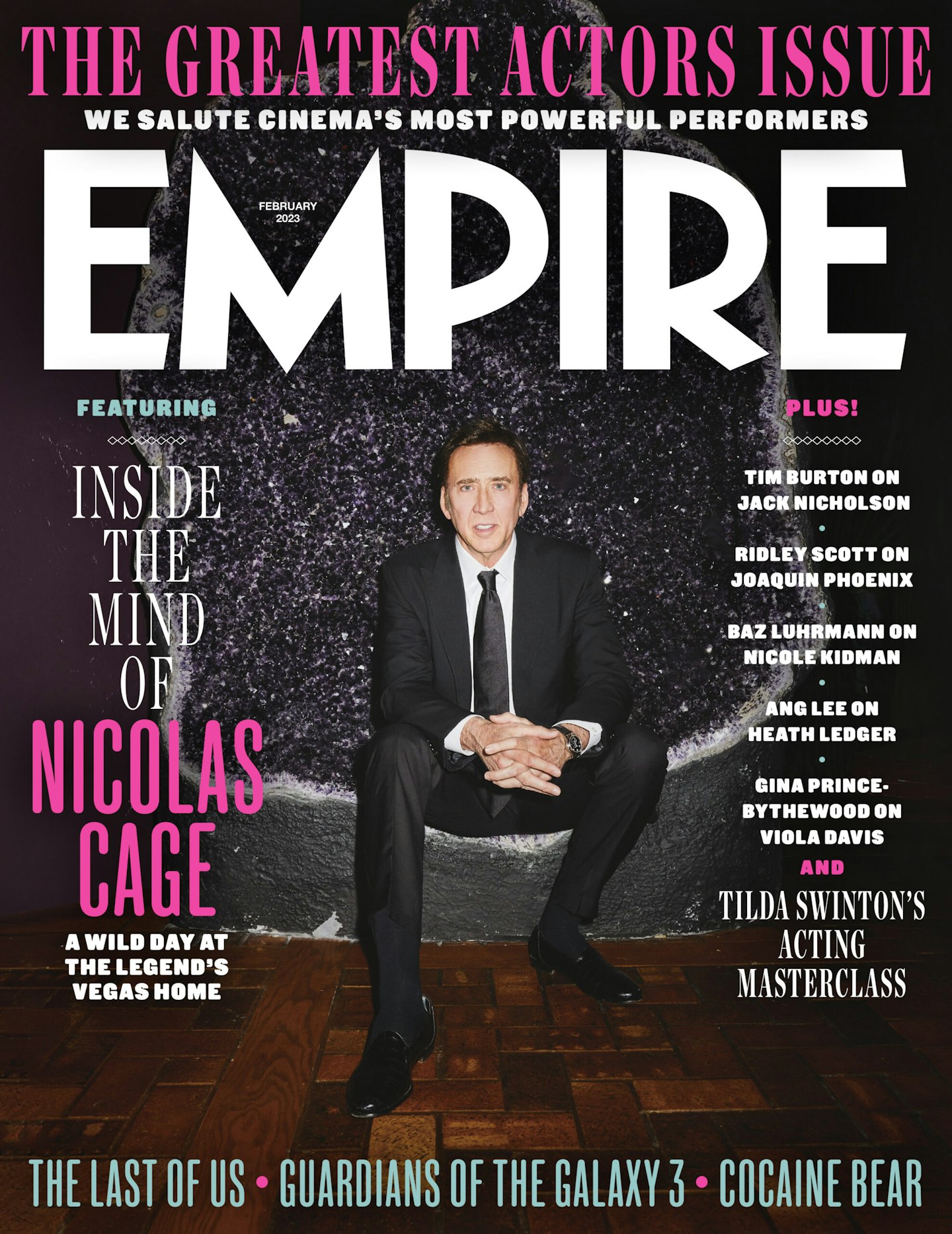 Read Empire's full career-spanning Nicolas Cage interview in the 50 Greatest Actors issue – celebrating the greatest on-screen talent of all time, as voted for by you. As well as spending a day with Cage in Vegas, we get an acting masterclass from Tilda Swinton, celebrate iconic performances with the directors who captured them – including Ang Lee on Heath Ledger and Ridley Scott on Joaquin Phoenix – and much, much more. Find the issue on newsstands from Thursday 22 December, or pre-order a copy online here.