Though J.J. Abrams dropped the disappointing news recently that there will be no new trailer for Star Wars: The Force Awakens at this weekend's Disney D23 convention, he has gifted Entertainment Weekly with some new pictures and plenty of fresh information about the movie, including how he approached Luke Skywalker in particular, and (partly) peeling back the cloak on mysterious villain, Kylo Ren, played by Adam Driver.
From the sounds of it, Ren is something of an obsessive when it comes to Darth Vader, more of an icon in his time, since Vader perished before Kylo was born. But he's styled himself after the Sith Lord, especially in his distinctive saber, which he built himself, and his facial appearance. "The movie explains the origins of the mask and where it's from, but the design was meant to be a nod to the Vader mask," Abrams tells EW. "Ren is well aware of what's come before, and that's very much a part of the story of the film." He's described as the sort of Dark Side equivalent of Luke Skywalker, a man who came from nothing and ends up having a huge impact on the galaxy far, far away. "As you see in the best of storytelling, and no doubt the best of Star Wars, these are tales in which an everyperson has to step up. And I think that what makes Ren so unique is that he isn't as fully formed as when we meet a character such as Darth Vader," says Abrams. "And I think that there are two sides to the Force. Both sides, arguably, would see themselves as the hero of their story, and I think that applies here."
Oh, and his name wasn't Kylo Ren to begin with, either. "He is a character who came to the name Kylo Ren when he joined a group called the Knights of Ren," admits the director, demurring to say anything further about the order, leaving that for the film to explain. "He is not your prototypical moustache-twirling bad guy," he explains. "He is a little bit more complex than that, and it was a great joy to work with Adam Driver on this role, because he threw himself into it in a deep and remarkable way." One more little intriguing element to Driver's character? He might just have parents tied in to the original trilogy…
Abrams also spoke of his driving story desires for the new film and the whole trilogy, which he thrashed out with Michael Arndt and Simon Kinberg and wrote with Lawrence Kasdan. "They had just been hypothesizing and throwing out a bunch of what-ifs, but there was no story in place," Abrams says. "It was, without doubt, a formidable assignment. There were so many options and so many paths that could be taken. Even when we were in debate — and sometimes it was frustrating and heated — it was always thrilling, because it seemed almost everywhere you looked there was something potentially extraordinary, which felt very much like the DNA of Star Wars itself."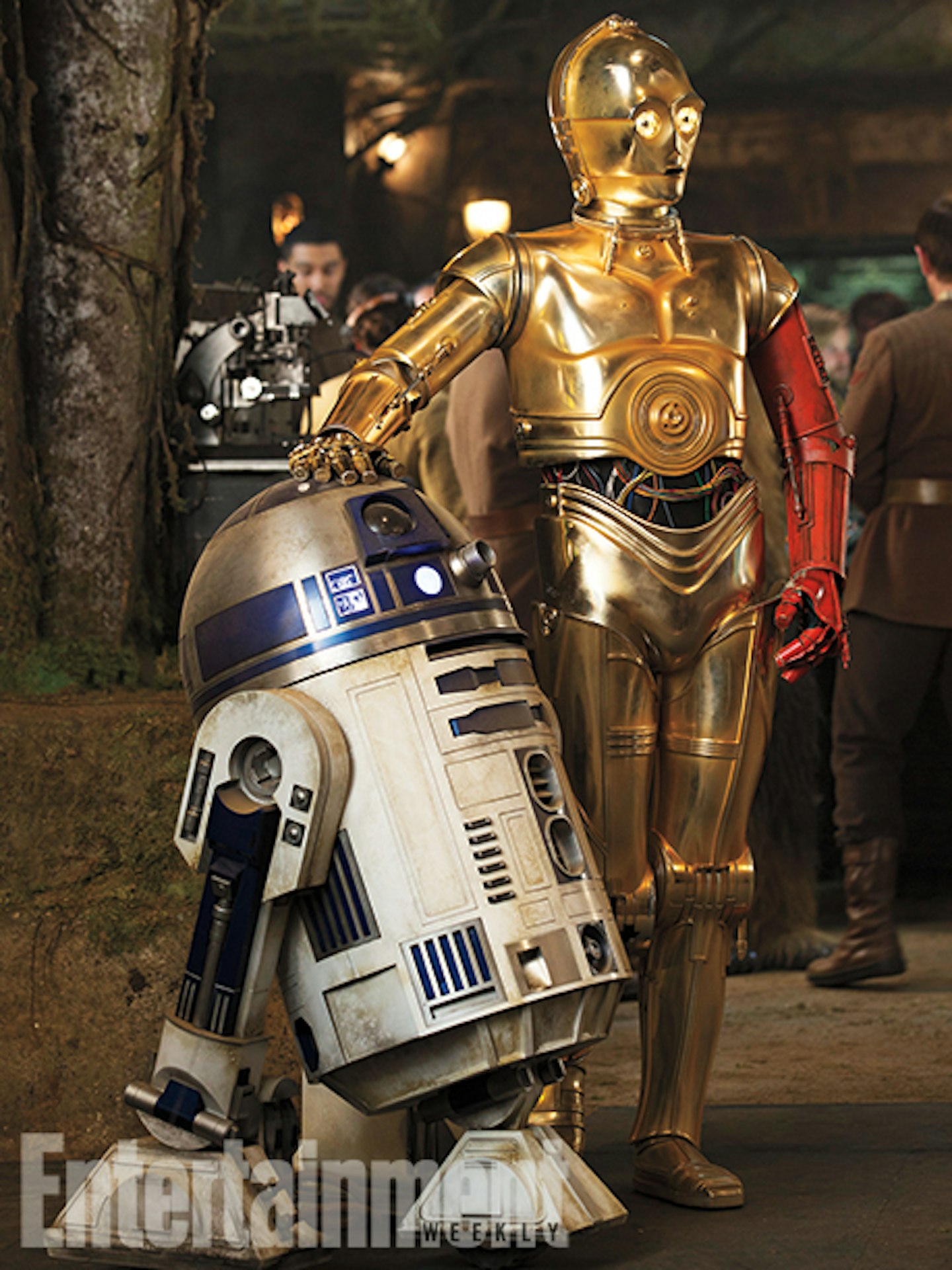 Prime among that genetic material was the idea of what has happened to Luke Skywalker, and how he has evolved from the idealistic farm boy we met in the original Star Wars. How have years of conflict and the state of the galaxy changed him? And what has he and fellow veterans Han Solo and Princess Leia learned in the three decades since Return Of The Jedi? "I thought, 'Wow, okay, these people have lived — they're in a different place in their lives, Han and Leia and so on. They've lived the same 30 years I have. What would that be like? How would you see things differently?'" Lawrence Kasdan says. "And I was trying to figure out how I saw things differently, and one of the surprises is that you don't learn all that much. You haven't become much wiser than you were, and things are not clearer to you, and the world is just as confusing as it always was — and that's a kind of lovely thing to get to write about again. Age does not necessarily bring wisdom; it just brings experience."
Don't expect Luke and Leia to dominate the proceedings necessarily, though. According to Abrams, the focus will also be on Han Solo and Chewbacca, plus newcomers such as Driver's Kylo Ren, Daisy Ridley's Rey, John Boyega's Finn and others, including Gwendoline Christie's Captain Phasma and Domhnall Gleeson's scheming General Hux, seen here sporting a natty coat.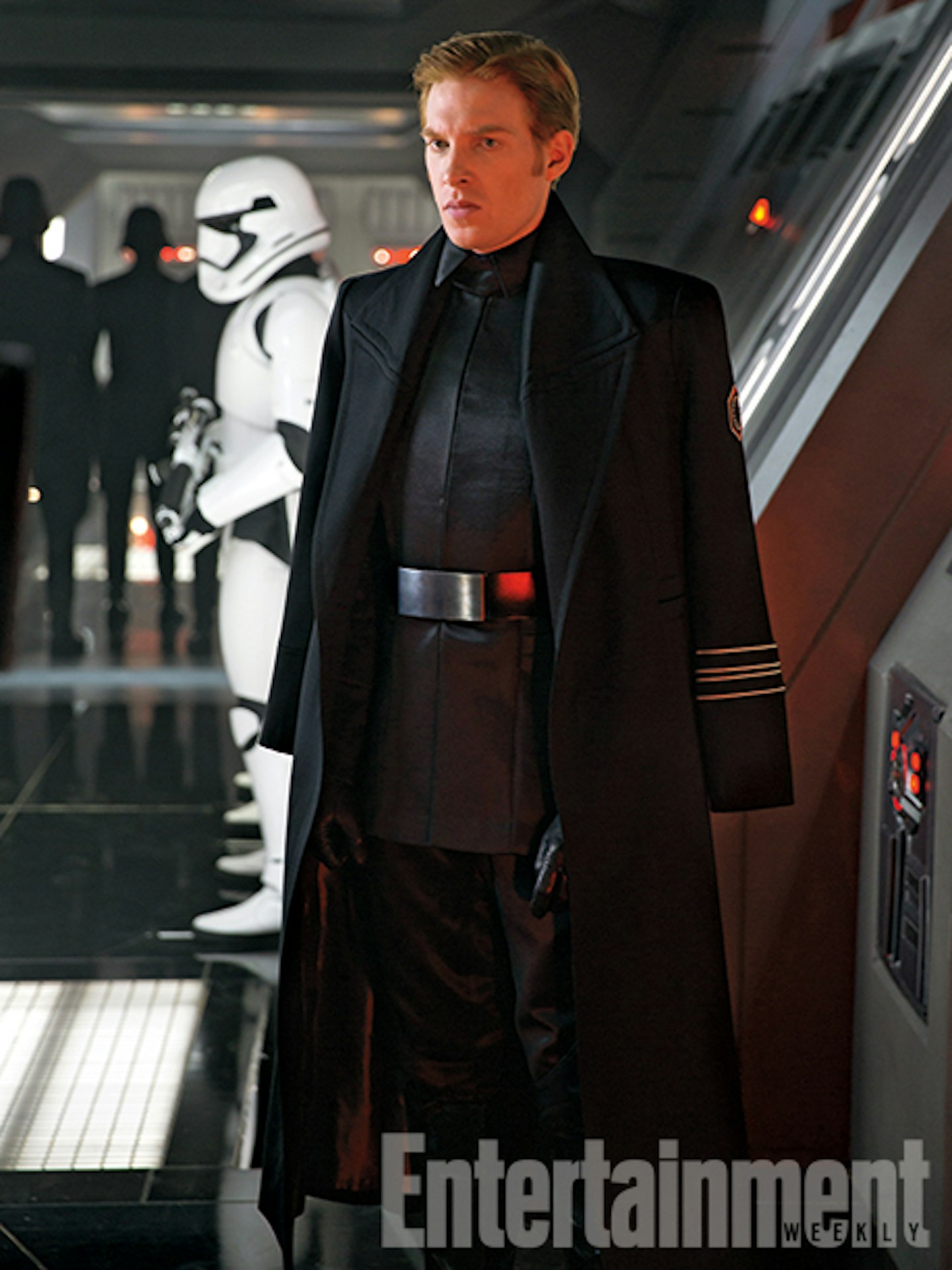 And while the director was typically circumspect in discussing the plot, he did outline that the galaxy is, as you might expect, still not at peace. Because Star Hugs just doesn't have the same ring to it. So The First Order, which rose from the ashes of the Empire, will be looking to take over, the Knights of Ren are doing their mysterious thing, there's something called the Resistance made up of X-Wing pilots like Oscar Isaac's Poe Dameron and, of course, our familiar heroes in the midst of it all. It's enough to make you want to hide out in the Millennium Falcon's smuggler hold.
Plus, there's talk of the future – specifically Abrams saying he won't be back for** Episode IX**. Rian Johnson is taking the baton for Episode VIII, the second of the new trilogy. "We know where we're going, but only in the broadest sense," Lucasfilm boss Kathleen Kennedy says. "When Rian came in and started writing his script, he started from scratch, other than knowing what we had done in Episode VII and projecting out where it was going. He then sat down and put pen to paper, and it's 100 percent him." For more on the film, head to EW's article here. And more images are lurking here.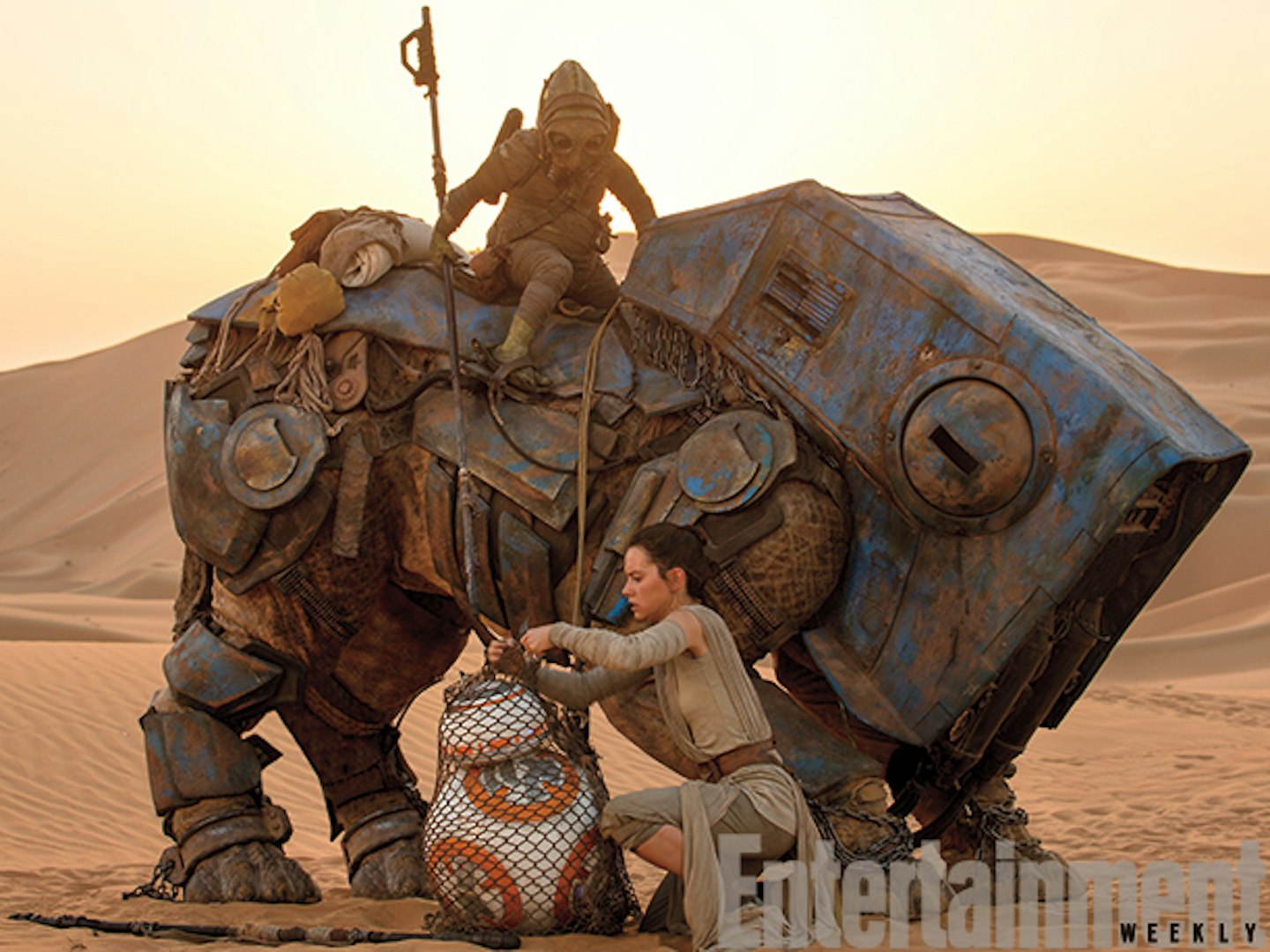 There will no doubt be new nuggets to learn about The Force Awakens when Disney holds its live-action presentation on Saturday. The film, meanwhile, arrives here on December 18.