Underneath all the battles, the blood, and that bicorne hat, Ridley Scott's Napoleon is actually about a relationship – and a deeply unhealthy one at that. Right from its inception, his film was intended to hinge on the French Emperor's tumultuous relationship with Joséphine de Beauharnais – a push-pull of power, lust, and twisted personal dynamics, as the pair both clash with and complement each other through their years together. In those roles, Scott has put together a powerhouse on-screen couple – the ever-uncompromising Joaquin Phoenix more than meeting his match in the formidable Vanessa Kirby.
Together, Phoenix and Kirby allowed each other to go to dark and unexpected places, to find spontaneity and life in historic material. And it delivers shocking moments – including one unscripted interaction during their (historical spoiler alert!) divorce scene, where Phoenix's Napoleon slaps Kirby's Joséphine. "We were using the real words from their divorce in the church," explains Kirby. "When that happens, you can faithfully go through an archival re-enactment of it and read out the lines and then go home. But we always wanted to surprise each other." To do just that, the pair decided to create a space where they could be free to go wherever felt right in the moment. "It's the greatest thing when you have a creative partner and you say, 'Right, everything's safe. I'm with you. And we're gonna go to the dark places together'," Kirby explains.
For Phoenix, the boundaries were clear on what he and Kirby might expect from one another when those unplanned moments arose. "She said, 'Look, whatever you feel, you can do.' I said, 'Same thing with you.' She said, 'You can slap me, you can grab me, you can pull me, you can kiss me, whatever it is'," he recalls. "So we had this agreement that we were going to surprise each other and try and create moments that weren't there, because both of us wanted to avoid the cliché of the period drama. And by that I mean moments that are well-orchestrated and designed."
The results, they hope, create some kind of portrait of Napoleon and Joséphine's chaotic relationship, in all its volatility, pain, and passion. "We never really got to the bottom of it," says Phoenix. "I don't know if you can call it love. I don't know what it was. But we encouraged each other, demanded of each other, to challenge ourselves to shock each other in moments. And that's what came out of that, that moment." That's the approach when it comes to Napoleon all around: expect the unexpected.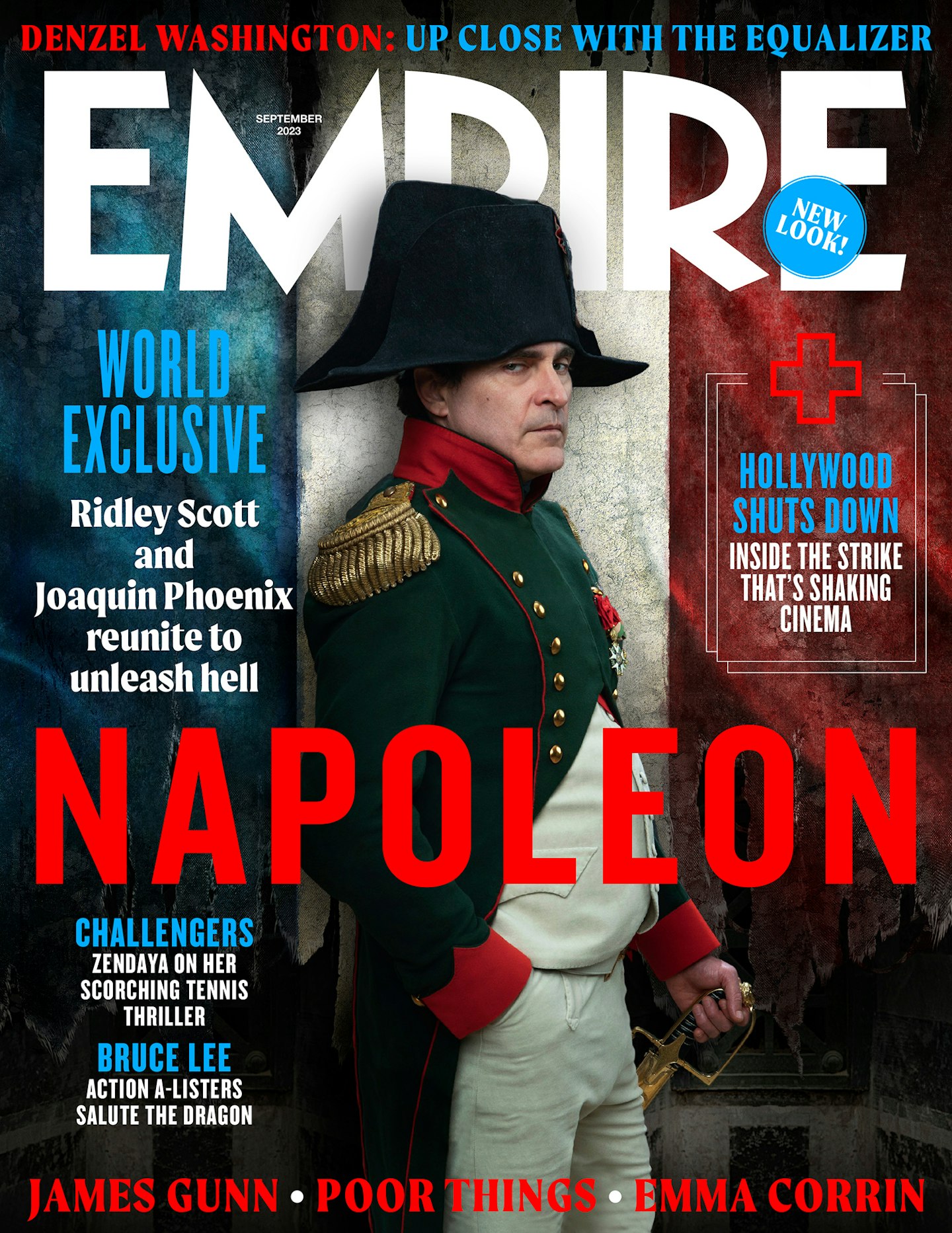 Read Empire's world-exclusive Napoleon feature in full – including brand new interviews with director Ridley Scott and stars Joaquin Phoenix and Vanessa Kirby, plus tons of never-before-seen images – in the new issue, on sale Thursday 3 August. Pre-order a print copy here, or become an Empire member to access the digital edition on launch day. Napoleon is in UK cinemas from 22 November and will stream globally on Apple TV+ following its exclusive theatrical release.
All interviews with actors and writers in this issue took place prior to the union strikes.