Despite seemingly closing the book on the View Askewniverse way back at the end of Dogma, Kevin Smith just can't escape its gravitational pull. He's revisited the slackers of Clerks and has a series based on Mallrats in development limbo. But with other projects seemingly stalled, he's turning his attention back to his two most iconic creations: Jay And Silent Bob.
Though he's more recently been known for the genre-stretching likes of Tusk and Yoga Hosers, or for directing episodes of DC's TV series, Smith has decided to take a swipe at reboot culture with a new Jay and Bob film that he'll star in alongside regular partner in cine-crime (and hetero life-mate) Jay Mewes.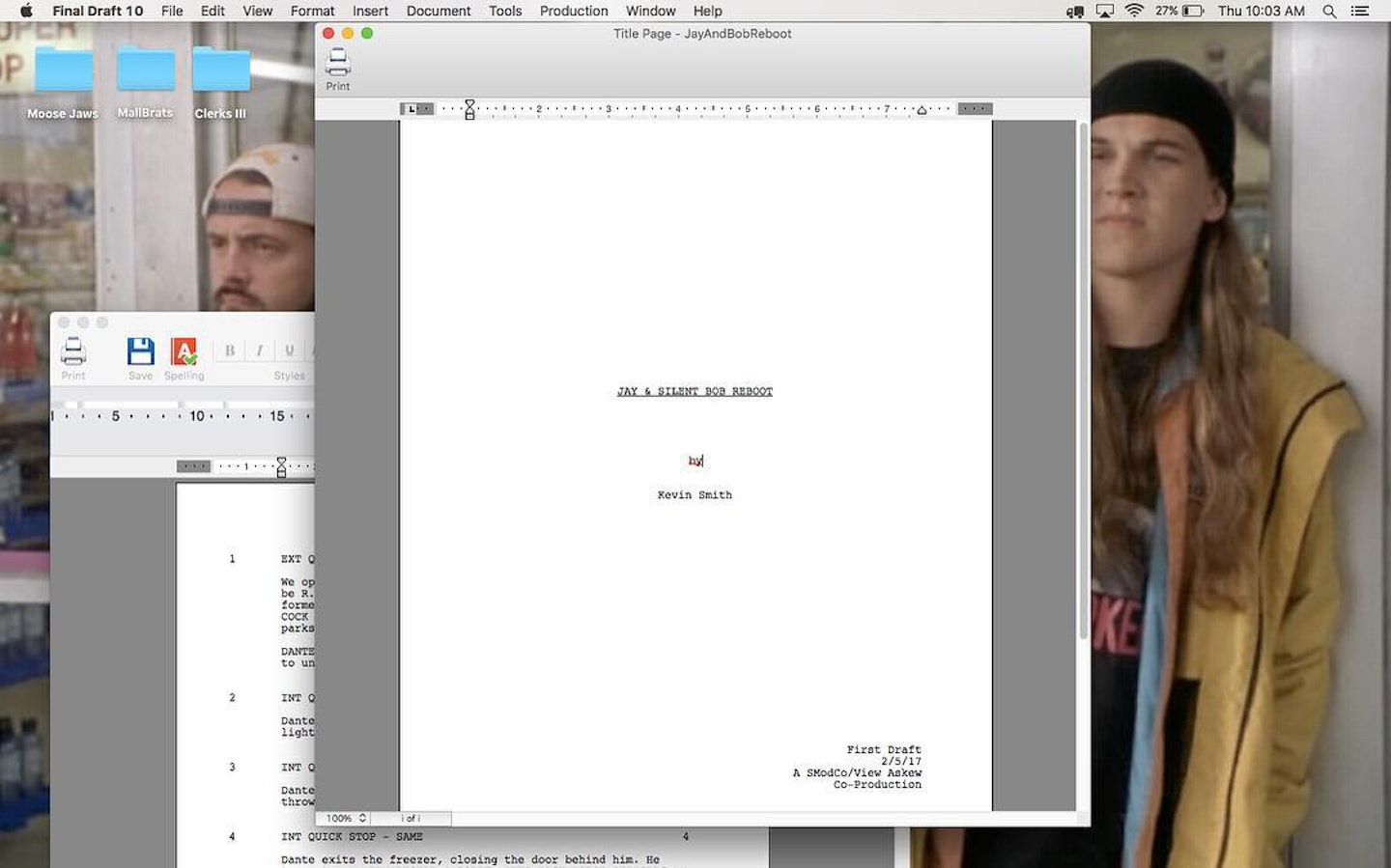 Posting the above image to Instagram, Smith wrote a long post about his plans. "This is not a drill! This is an actual image from my laptop! Yes, Kids – Jay And Silent Bob are coming back! Here's the story: Sadly, Clerks III can't happen (one of our four leads opted out of the flick). So I worked on a Mallrats movie instead... which also didn't happen because it turned into a Mallrats series. I've pitched said sequel series to 6 different networks only to find no takers thus far.
"Then when I started directing The CW shows, it was such a slice of Heaven on Earth, I happily put my Askewniverse sequels to the side. Since I sold Clerks and Mallrats years ago, they're owned by others, which limits my moves with my own material. I don't mind: back in the day, all I ever wanted to do was sell my stuff so I could be in the movie biz in the first place. So I don't own Clerks, Mallrats, Chasing Amy or Dogma... But I DO own Jay and Bob. So while I love playing with someone else's new toys, I'm getting eager to play with my old toys again in the interconnected View Askewniverse I spent the first half of my career creating.
"And so all last month, I had the time of my life laughing while writing Jay and Silent Bob Reboot – a fun flick in which the Jersey boys have to go back to Hollywood to stop a brand new reboot of the old Bluntman & Chronic movie they hated so much. It's a tongue-in-cheek, silly-ass satire that pokes fun at the movie business's recent re-do obsession, featuring an all-star cast of cameos and familiar faces! And I already met with the good folks at Miramax and they're into it, so I'm hoping we'll be shooting in the summer!"
So there we are... Jay and Bob are coming back. Again. And probably sooner than you think. Some will be thrilled; others will roll their eyes so hard they'll strain something.