What with everything that's happened in the Marvel Cinematic Universe since 2017, it's easy to forget that it's a full six years since the Guardians Of The Galaxy's last headline outing. Sure, we've seen them since then in Infinity War and Endgame – but the last time the gang were all together for their own movie, the most recent threat to the MCU was Doctor Strange's crystal-eyed foe Kaecilius. That's how long ago we're talking. Now we've arrived at James Gunn's Marvel swan-song, and a lot has changed in the real world too.
"This third movie is much, much more emotional," Gunn tells Empire in our exclusive Guardians Of The Galaxy Vol. 3 issue, reflecting on the cast's tearful gathering on the Comic-Con stage in 2022. And that emotion doesn't just come from the film itself, but from the personal journeys of everyone involved in making it. "We have this other story, of this group of people who made each other's careers at the same time." says Gunn. "We grew up together in that respect. None of us were big stars when it started out. Zoë [Saldaña] was the biggest."
Plus, in the interim, Gunn was pushed out of Disney before being reinstated eight months later, following an outcry led by many of his Guardians colleagues. "We went through this journey where we went into the belly of the beast, and I was thrown out – and the people that I gave life to by hiring, saved me and brought me back into the fold," Gunn recalls. "They pulled me onto the life raft. And now we're able to finish all of this together. So when they see this footage [at Comic-Con], they're reminded of this whole emotional journey we've all been on."
That enforced professional separation was a painful time, made easier by the friends he'd made along the way. "It was hard," he says of being forced to leave Marvel and Disney behind. "But the things I think of from that time are the love that I got from my family and friends. I think of how Zoë Saldaña and her husband came over to fix me a meal the night after it happened. How Karen Gillan and Pom Klementieff came over to just hang out with me, to be my friend." It's like that moment at the end of the first Guardians film: not so much, 'I am Groot', more 'We are Groot'.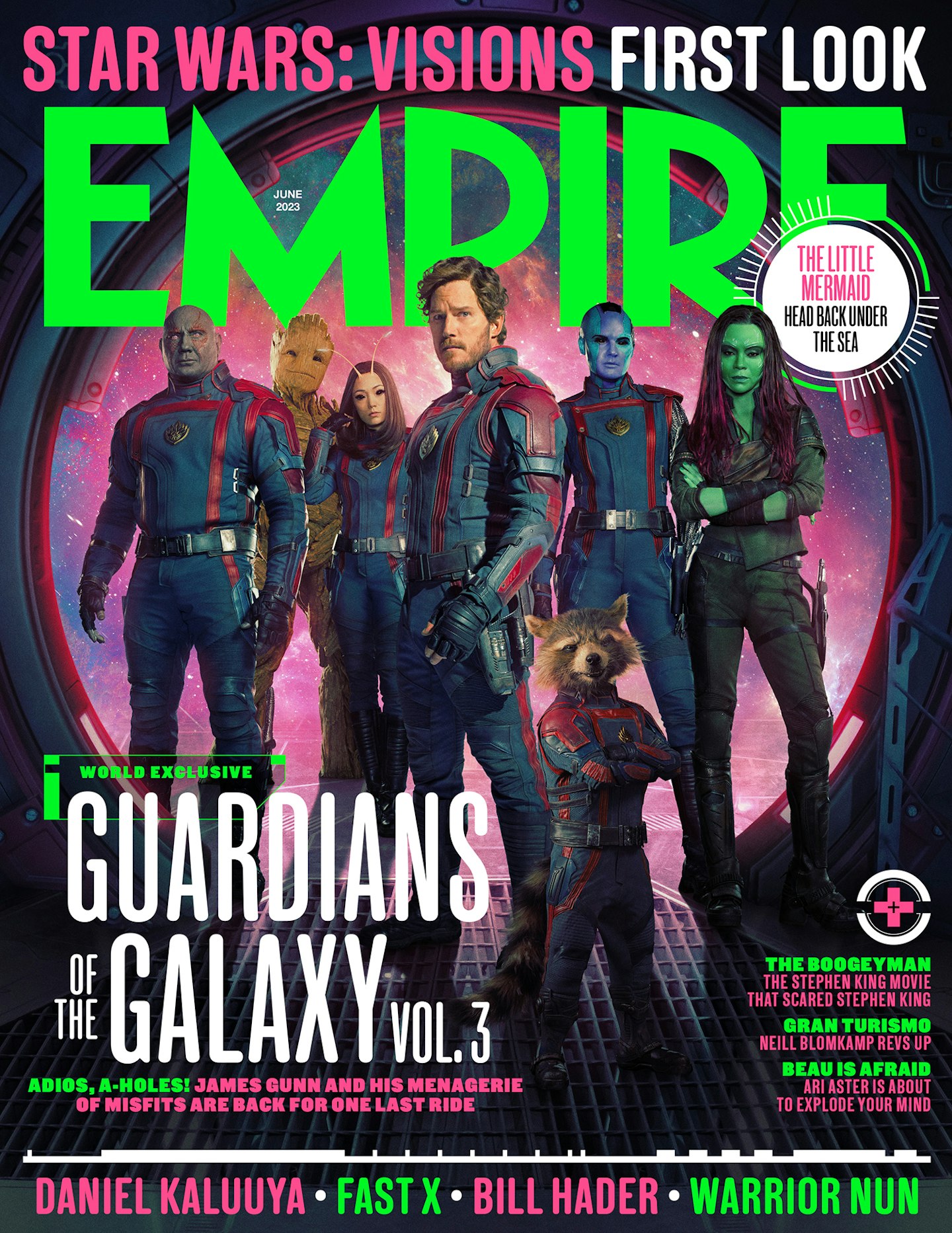 Read Empire's full world-exclusive Guardians Of The Galaxy Vol. 3 cover story – speaking to writer-director James Gunn and stars Chris Pratt, Zoe Saldaña, Karen Gillan, Sean Gunn, Chukwudi Iwuji, and Will Poulter about the emotional farewell to the MCU's most colourful crew of heroes, packed with never-before-seen images – in the upcoming June 2023 issue, on sale Thursday 13 April.
Become an Empire member now to access the issue in full on launch day, or pre-order a print copy here. Guardians Of The Galaxy Vol. 3 comes to UK cinemas from 3 May.