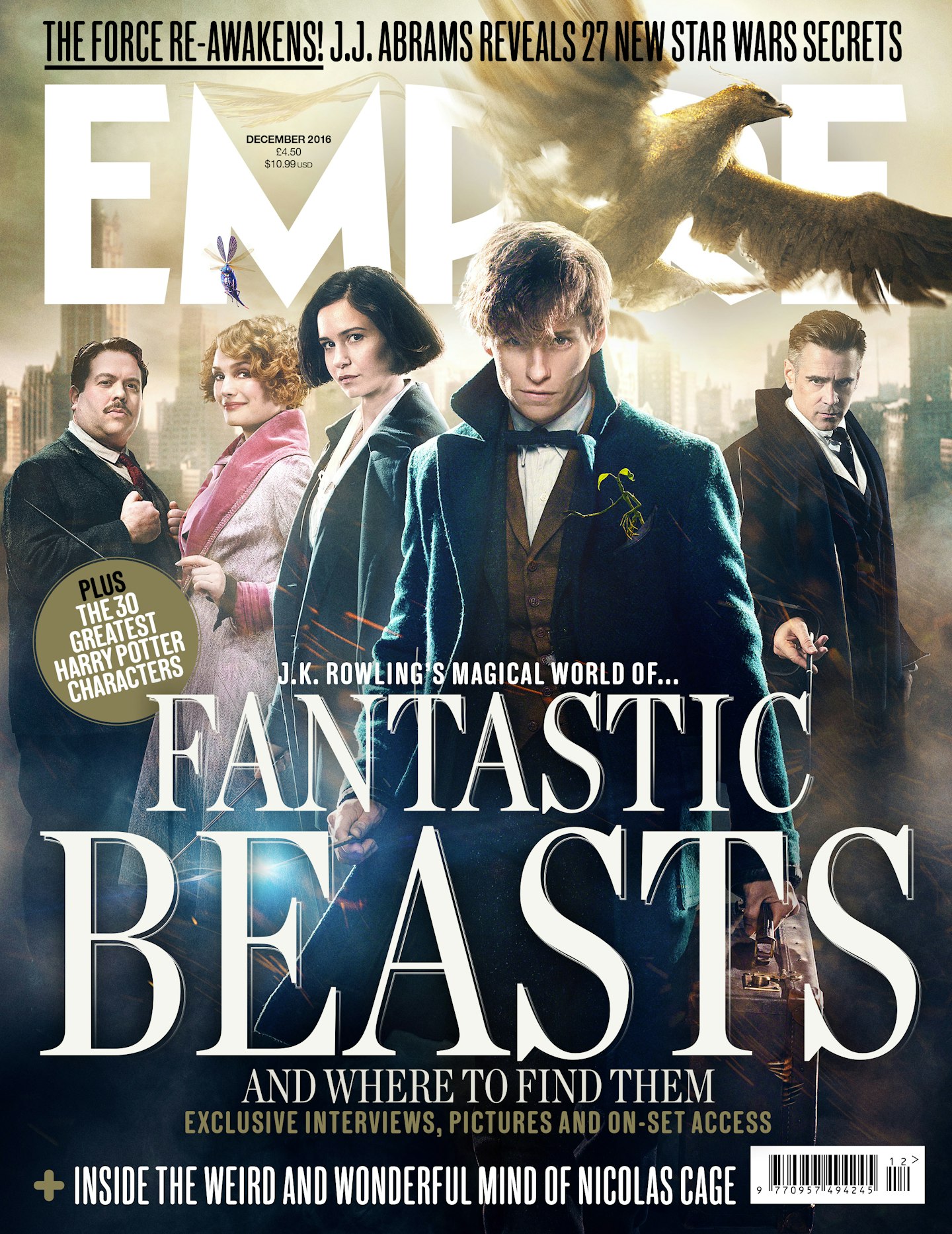 This month's Empire gathers together the Fwoopers and Nifflers of Fantastic Beasts And Where To Find Them, the giant bunnies of Donnie Darko, the kestrel from Kes and whatever crazed beasties Nicolas Cage happened to have on him at the time (probably an iguana) and shepherds them into a new issue that's replete with creatures and magic. It's also got some very special exclusives, celebrations and scoops. Here's a sample of what'll be on newsstands from Thursday 27 October.
Pre-View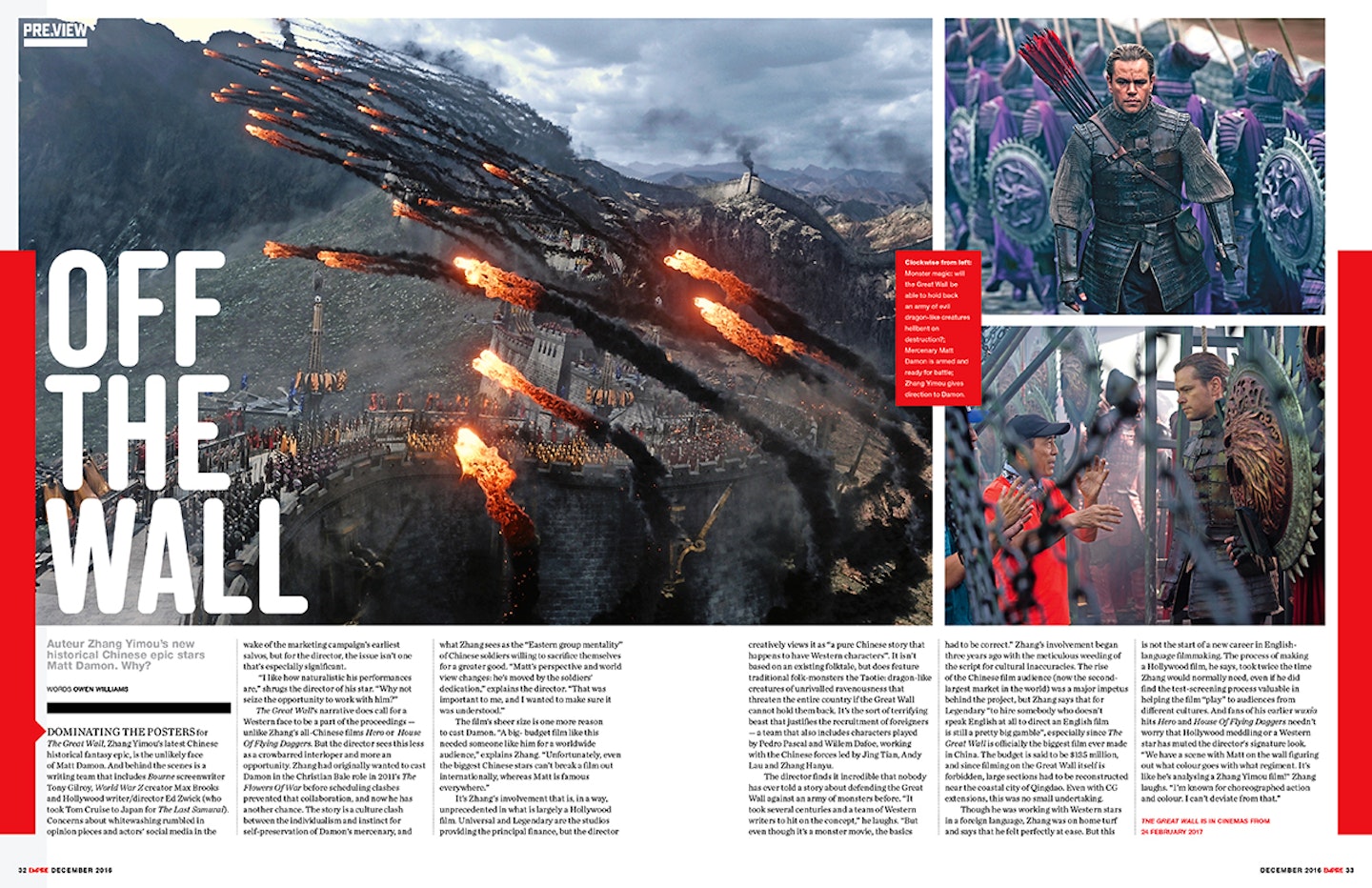 The great Zhang Yimou's latest visual feast, The Great Wall, kicks off this month's newsy bit by plunging Matt Damon into the maelstrom of battle. Expect kaleidoscopic colour, huge flaming projectiles and the full story behind an epic rich in controversy as well as spectacle. The new Pre.View also features cannibals (Raw), astronauts (Passengers), and the returns of Paul Verhoeven, M. Night Shyamalan and Park Chan-wook.
Fantastic Beasts And Where To Find Them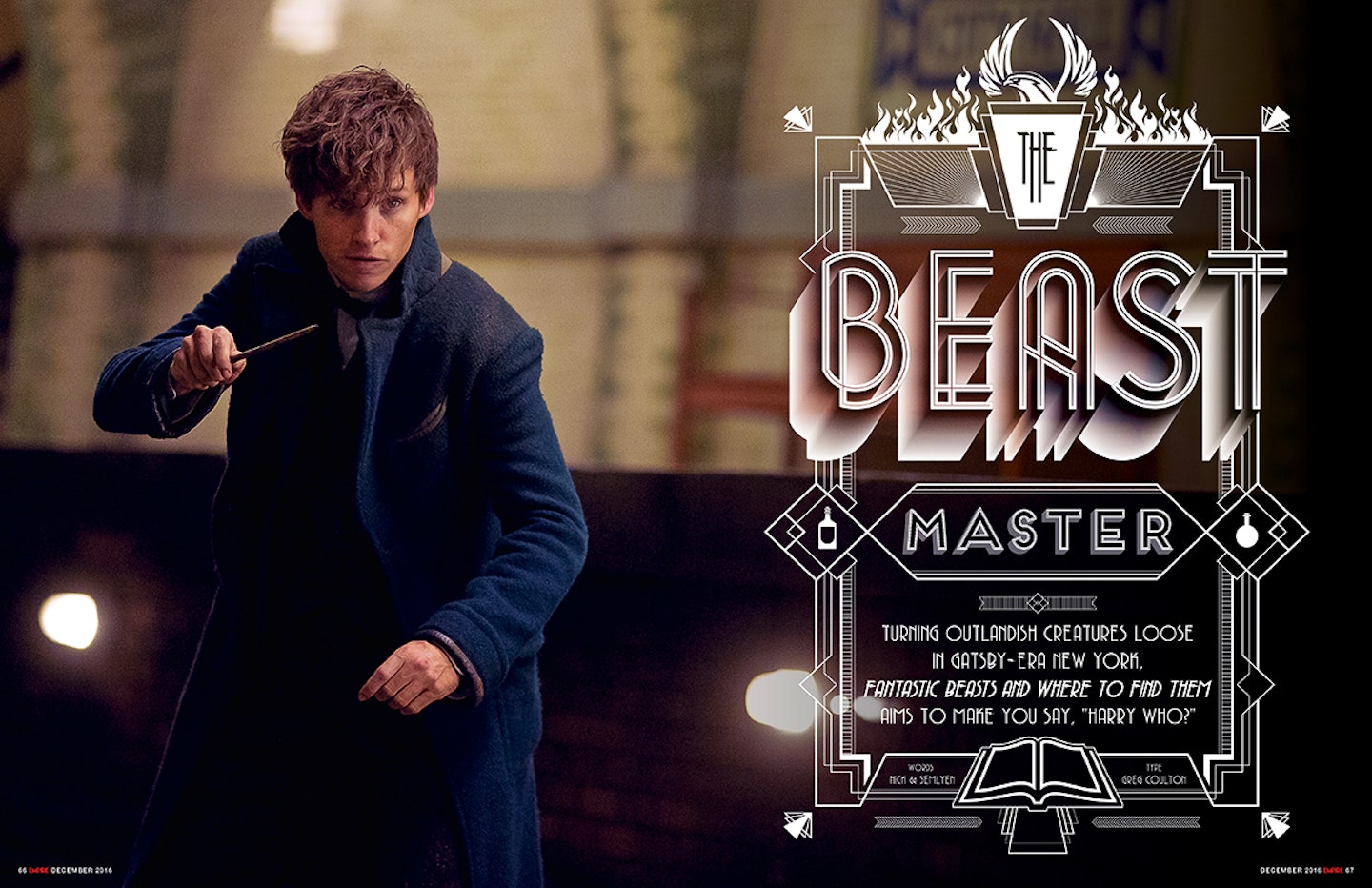 When J.K. Rowling's Harry Potter spinoff was birthed back in 2001, everyone's heads were firmly in the realm of Hogwarts. Not so now. Eddie Redmayne's magizoologist Newt Scamander's adventures promise to be long and rich – five movies rich – and they start right here with Fantastic Beasts And Where To Find Them. With the kind of access that comes from knowing which magic door to open or asking really, really nicely, Empire's cover story is your perfect guide to the newest magician in town.
Batman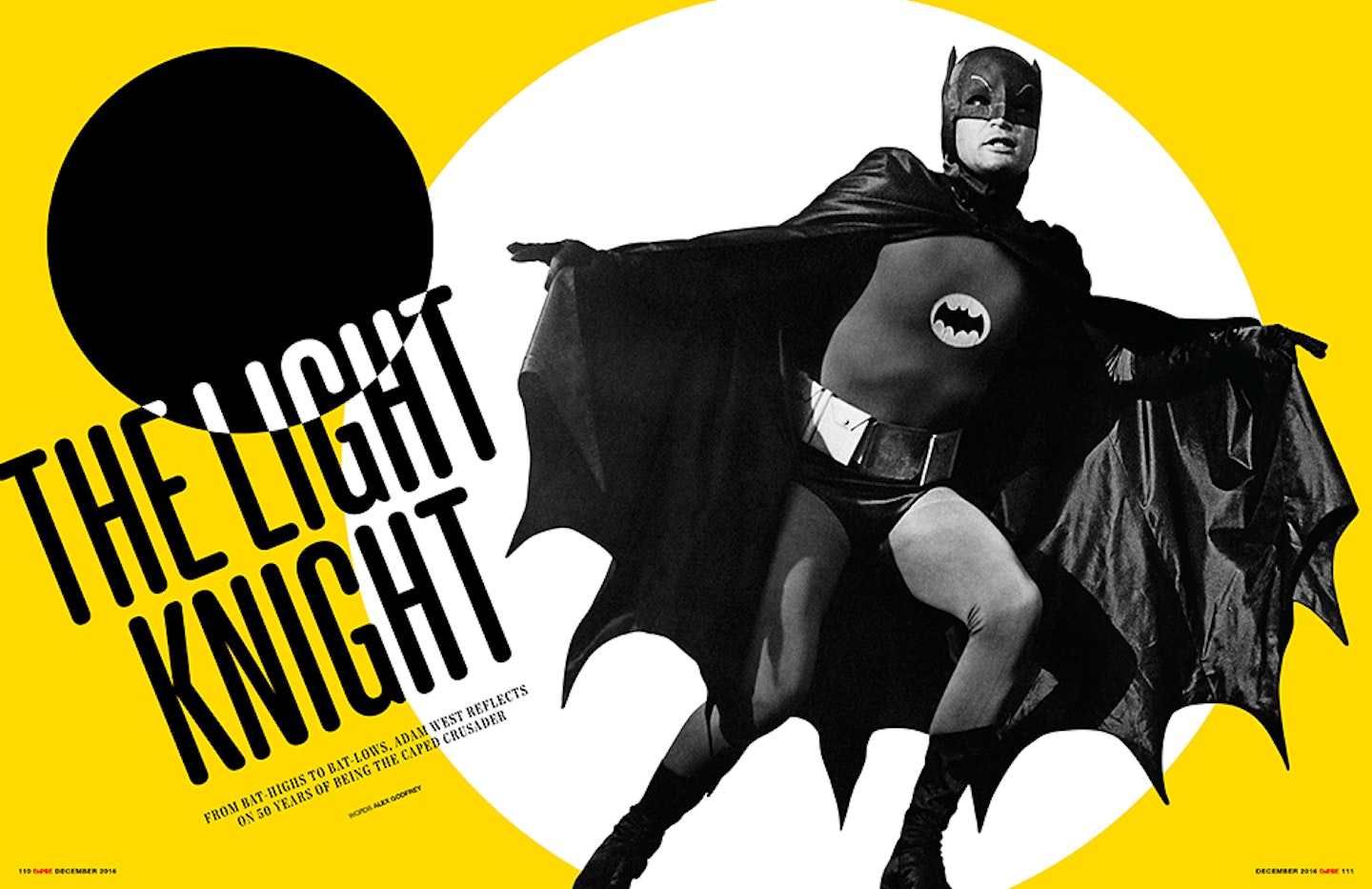 In an era when Batman just gets darker and more troubled with every new incarnation, it's worth remembering what the Dark Knight was like before the neuroses, parent woes and vast sums of cash got the better of him. When "Kapow!" was still a thing. Who better to do the remembering, then, than Adam West himself? This month, the original telly Batman tells Empire the full story of the kitschiest cape-wearer in the business.
On Screen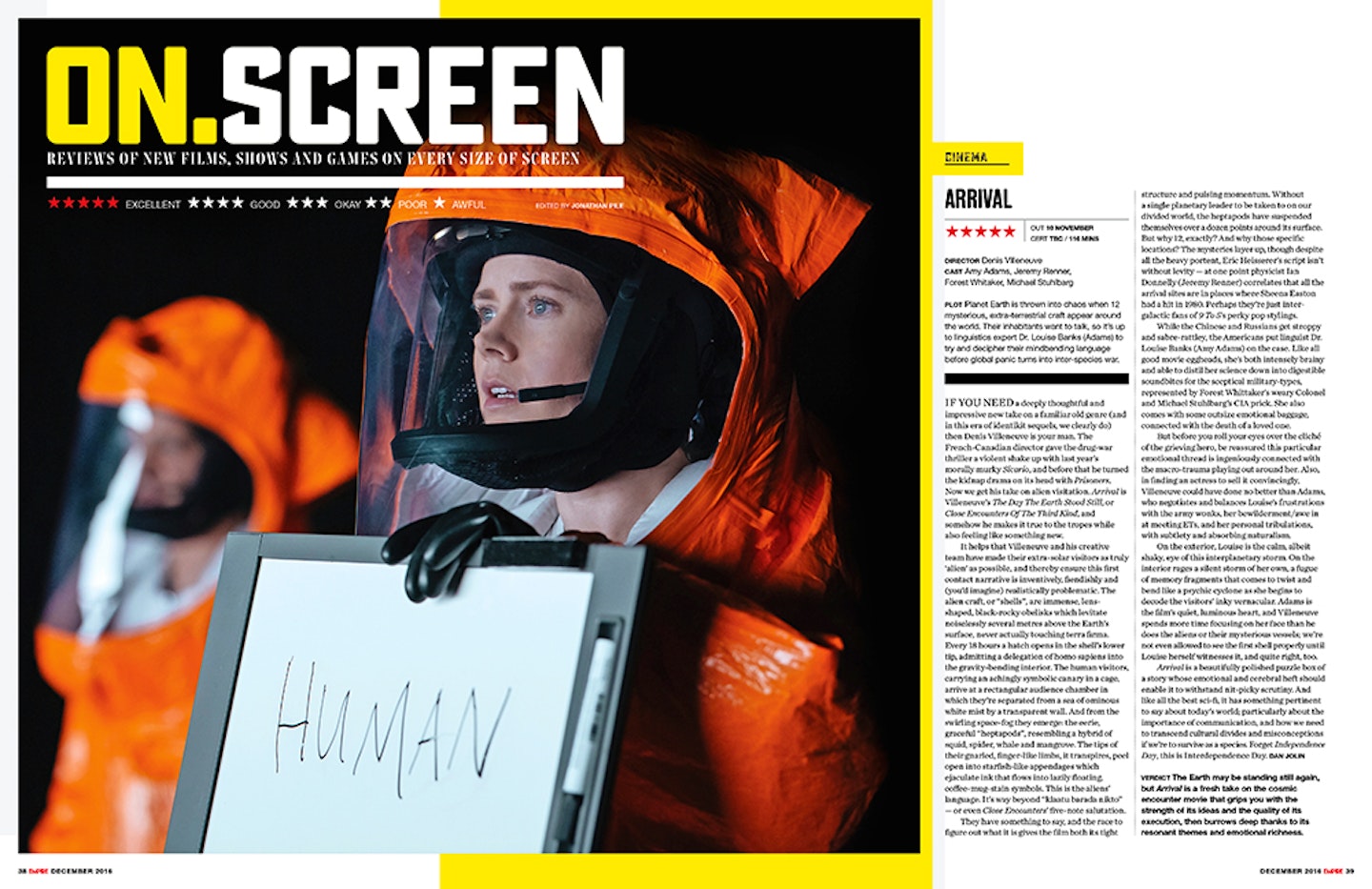 We've criticism-ed the heck out of all the month's biggest theatrical releases. As usual, there are some you should shell out to see in the cinema and some you should only see on the longest of long-haul flights. Happily, Amy Adams' thinky sci-fi Arrival is firmly in the former category, getting On.Screen up and running with a five-star rave. Also reviewed are Ewan McGregor's first directorial effort American Pastoral, Korean zombie horror Train To Busan, Tom Ford's Nocturnal Animals and baby-in-a-boat romance The Light Between Oceans. Can they match it?
Nicolas Cage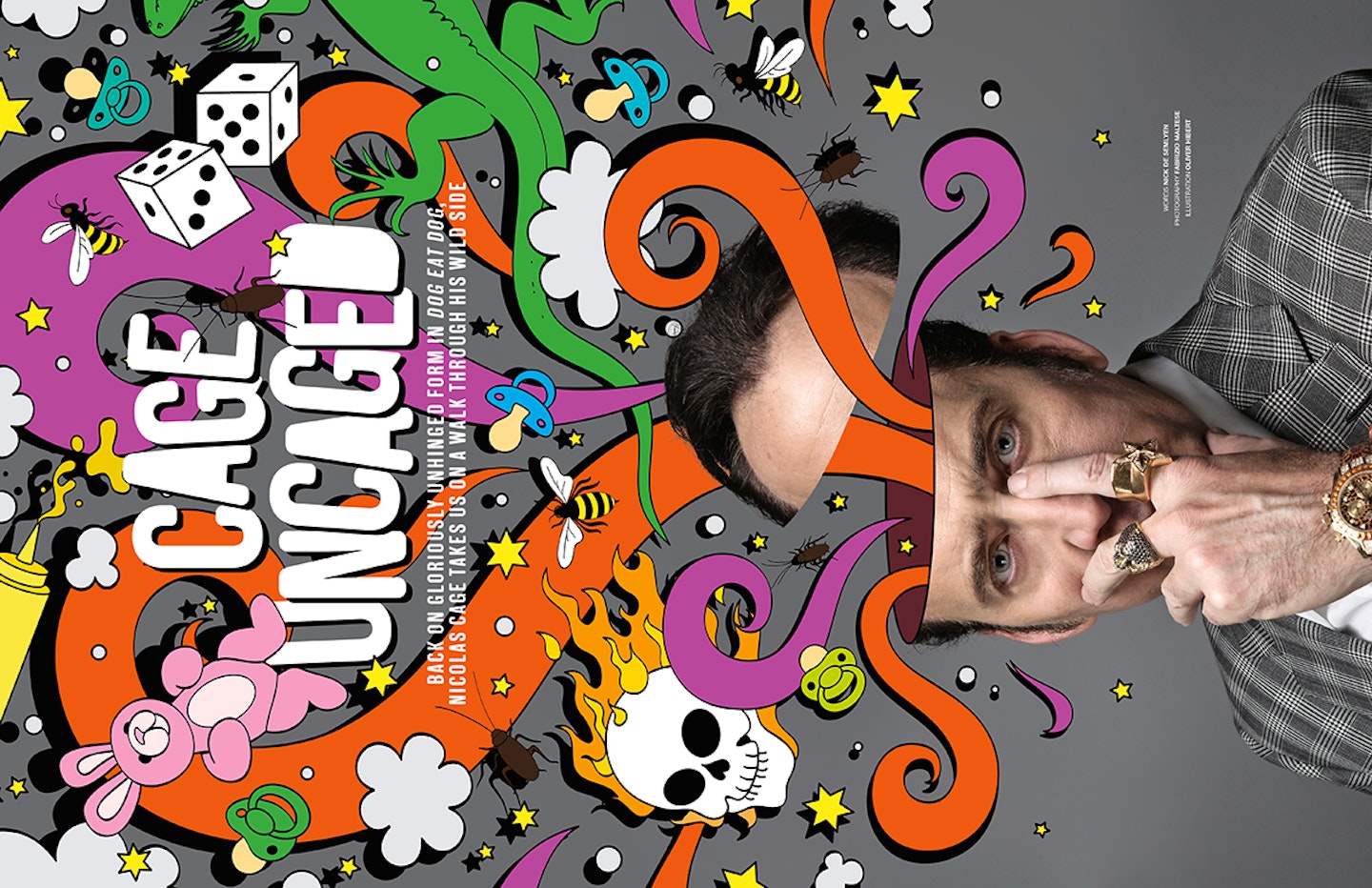 They say there are actors who could make reciting the alphabet sound compelling, although to the best of our knowledge, Nicolas Cage is the only one to try it. This month Empire talks to the man himself to find out exactly what makes him tick and where we can get some. On the agenda were his new Paul Schrader film, Dog Eat Dog, his nouveau shamanic acting style and that time he was chased out of his own mausoleum. Altogether now: "A!.. B!.. C!.. D!.. E!.. F!.. G!.."
Kes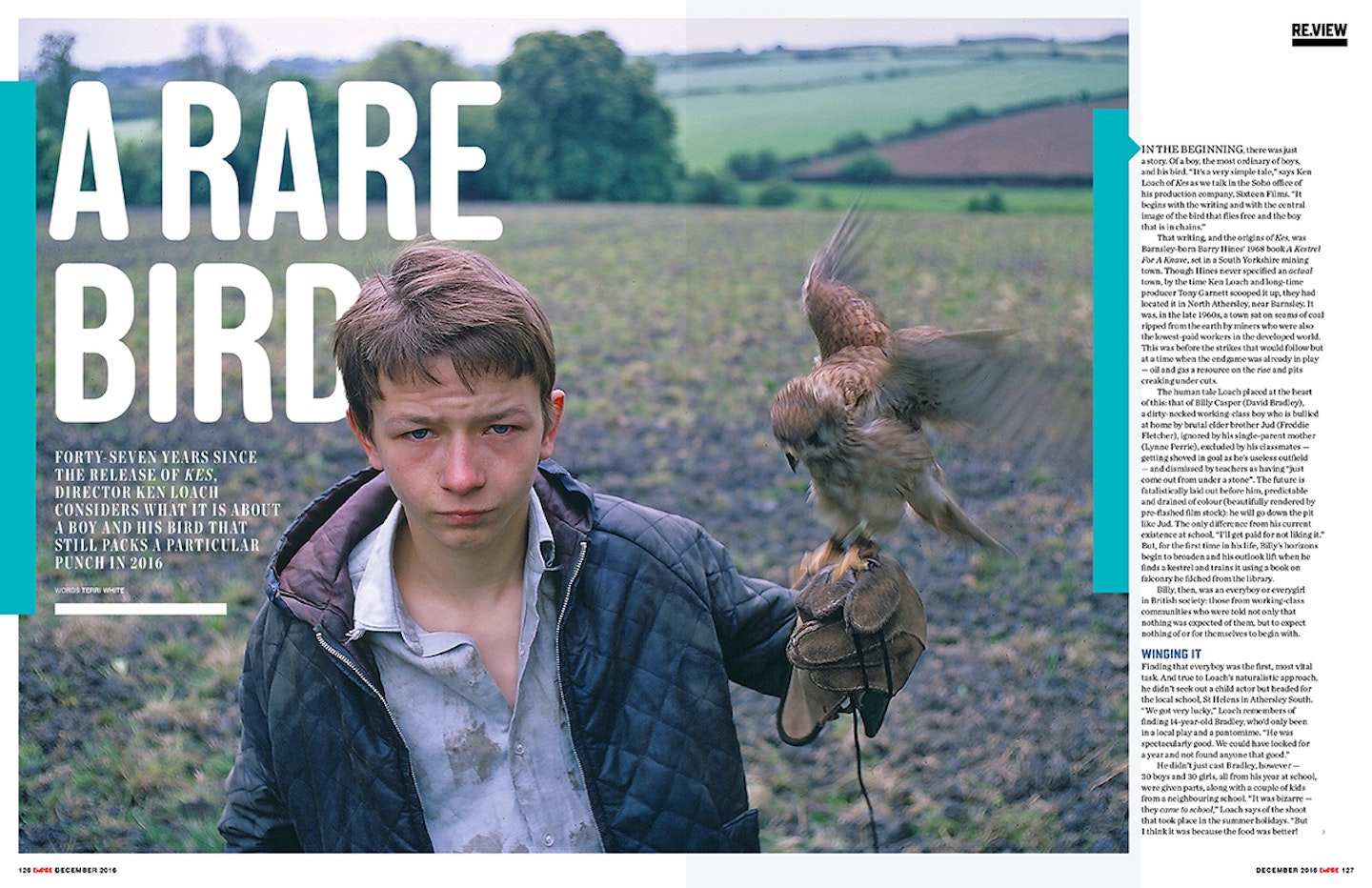 Ken Loach's adaptation of Barry Hines' Kes is poetic yet punishing, tough yet tender. It's an out-of-time British New Wave masterpiece that resonates from generation to generation, but how does its creator look back on Billy and his beloved bird? Empire sits down with Loach this month to put that very question to him. True fact: the kestrel is now running a pub just outside of Warminster.
The Crown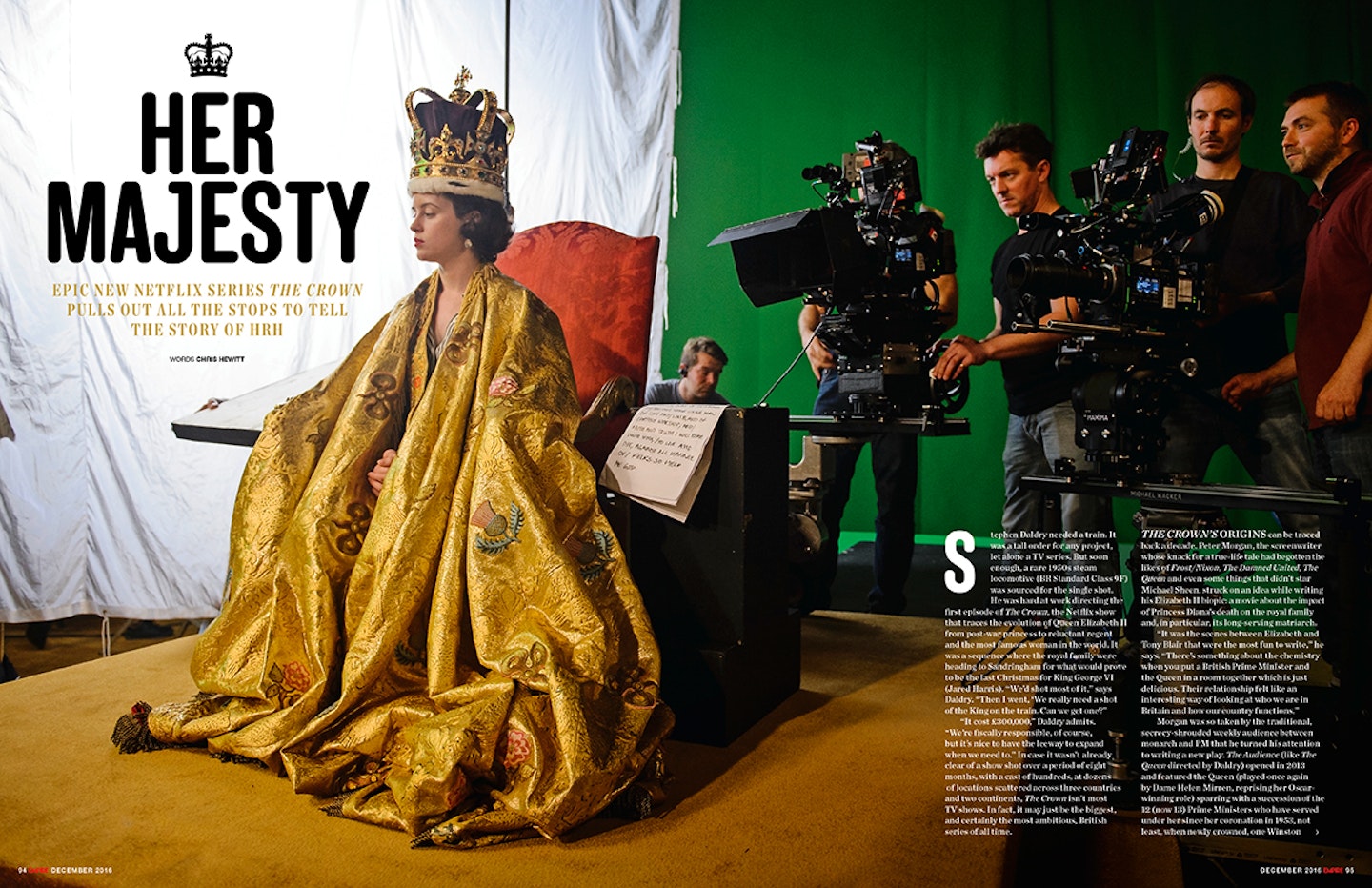 Whether you're an arch royalist or one of those people who doesn't even know the words to the first verse of the national anthem, Netflix's HRH origin story should be on your radar. Stephen Daldry (The Hours) and Peter Morgan (Frost/Nixon) have combined to tell the full story of Queen Elizabeth (Claire Foy) from her pre-Queen days to… well, who knows? That gilded creative team talks us through what to expect.
Donnie Darko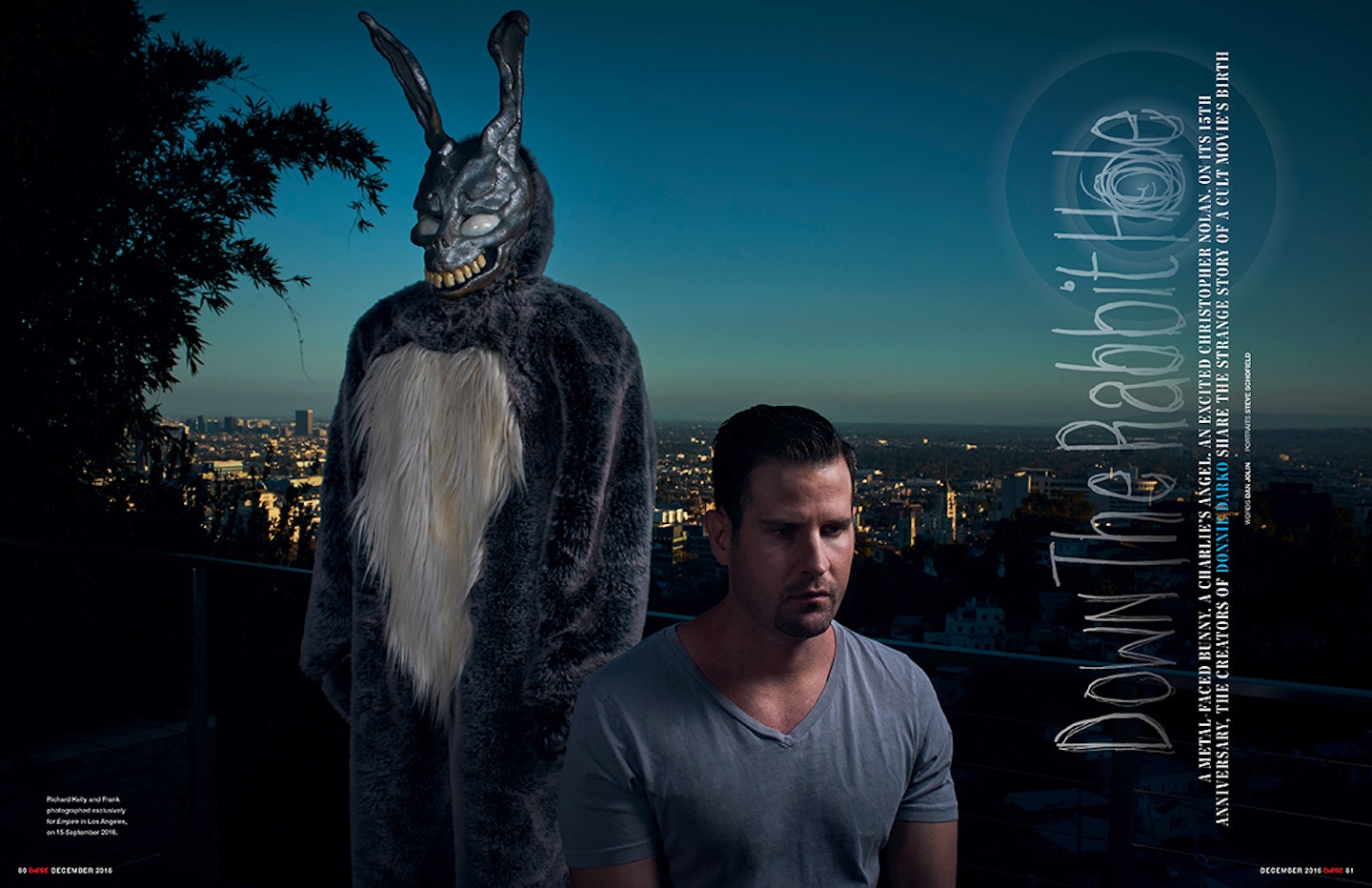 It's strange to think that Donnie Darko flopped horribly when it came out… or, well, is it? With its sci-fi sophistication, scary human rabbits and long discourses about the sex life of Smurfs, it didn't exactly ring with box-office pulling power. But as its creator and director Richard Kelly reflects in a special 15th anniversary celebration, the fates, for so long against it, have since blessed it with cult greatness. Read the full, extraordinary story in this month's Empire.
A United Kingdom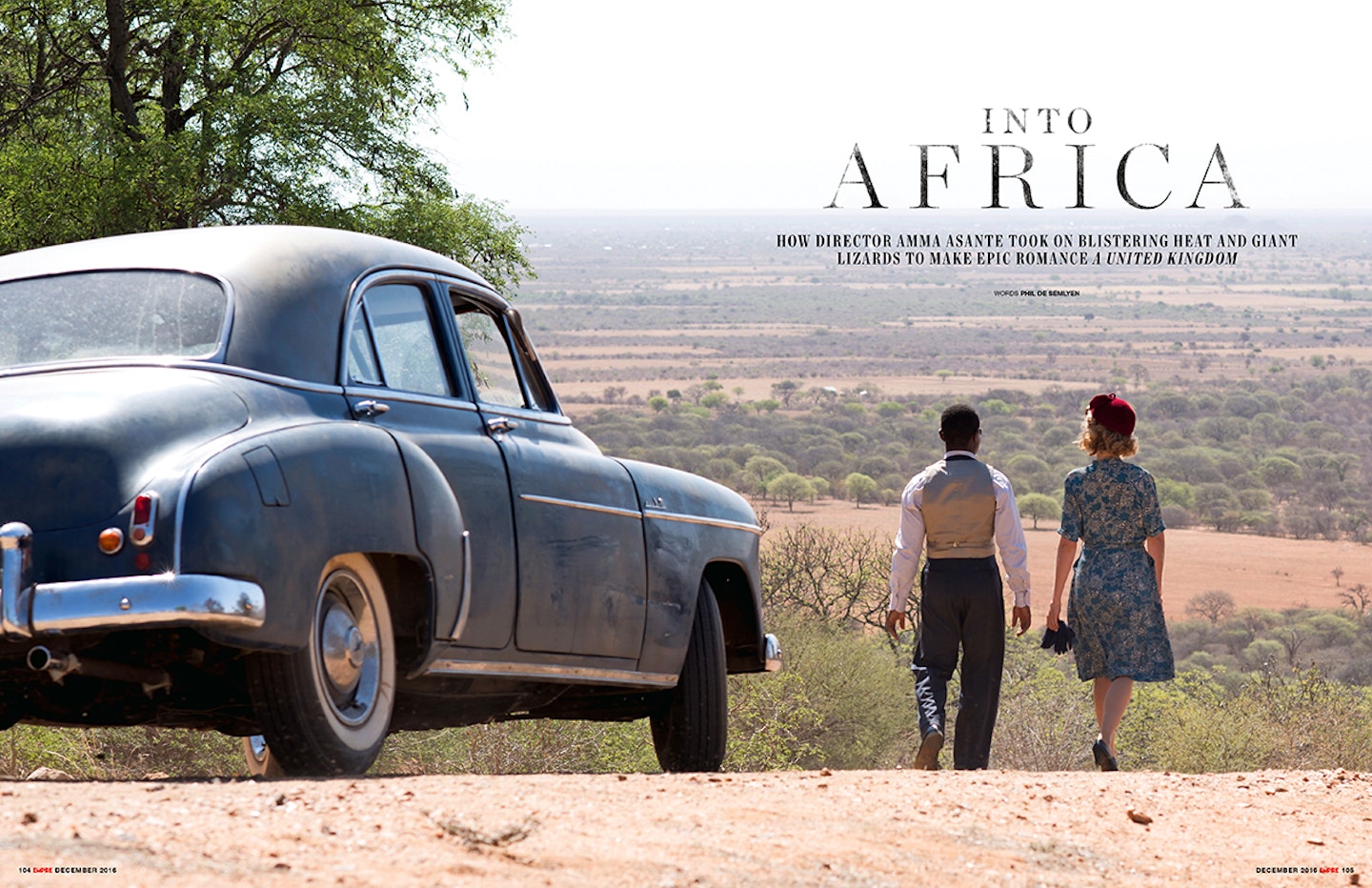 Amma Asante has followed Belle with another true-life story that tackles prejudice, outright racism, heartache, and swoonsome romance. The British director takes us behind the scenes of A United Kingdom with a very special photo album from a production that spanned a frosty London winter and the blazing heat of the Botswana savannah.
Re.View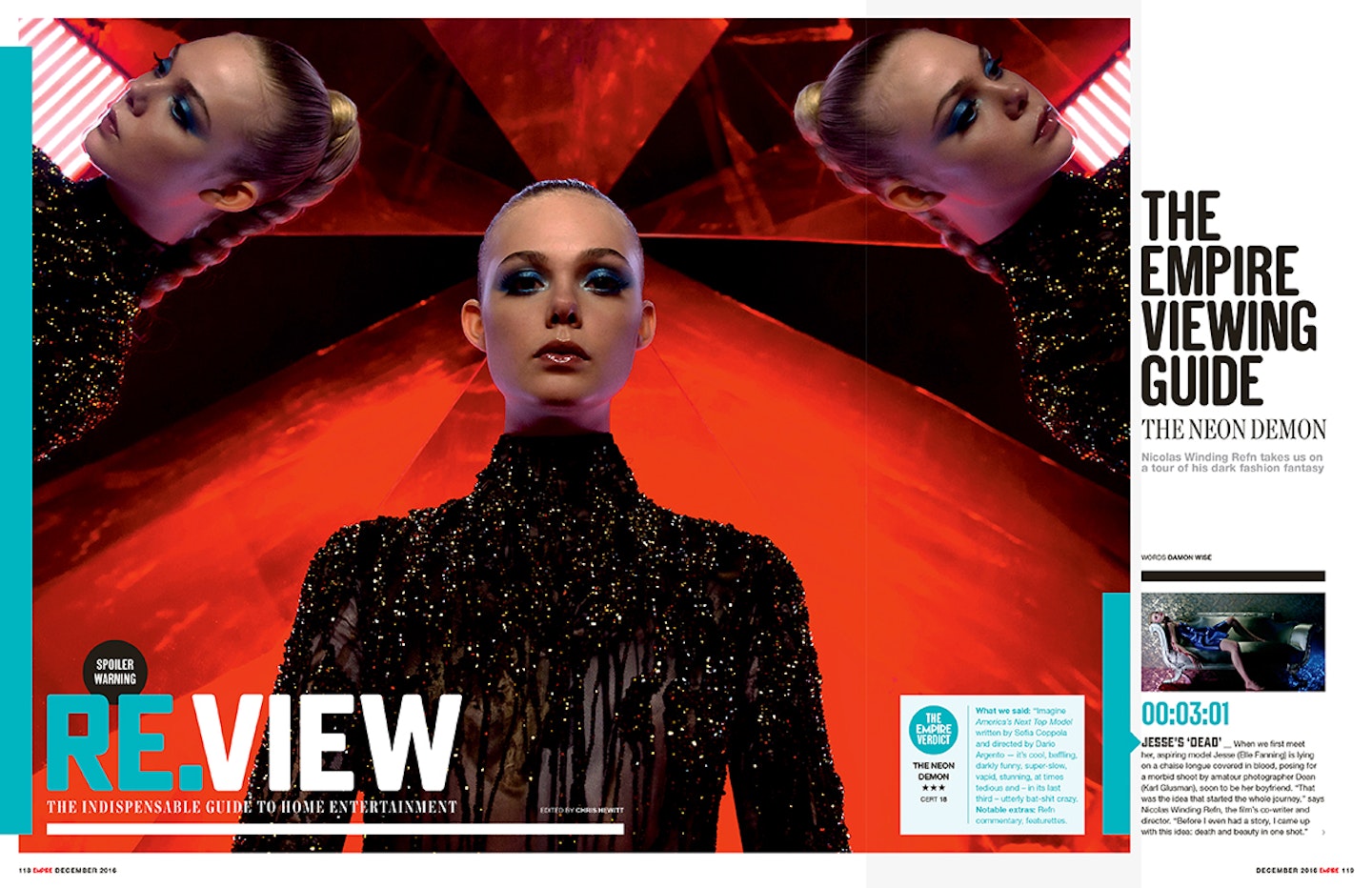 The Neon Demon wasn't to everyone's taste – Grandma Empire tutted loudly during the necrophilia bit – but it's still a striking, Giallo-tinged ride through a grasping LA-scape. Director Nicolas Winding Refn opens Re.View with his own director's commentary of the movie. It's not all random cougars and evil Keanu Reeves this month. Nick Offerman submits to a Best Of Times, Worst Of Times interview, Spider-Man is binged, novelist Ian Rankin watches Amelie for the first time, and we've learnt 27 things from J.J. Abrams' Episode VII commentary.
Pick up this bumper, movie-packed issue of Empire on all good newsstands from Thursday, 27 October (or purchase it online here.