From Superbad to Sausage Party, childhood friends Seth Rogen and Evan Goldberg have been a two-man sub-genre, mixing comedy with heart. With their take on Teenage Mutant Ninja Turtles about to rise from the sewers, they tell us why they're happy to never quite grow up.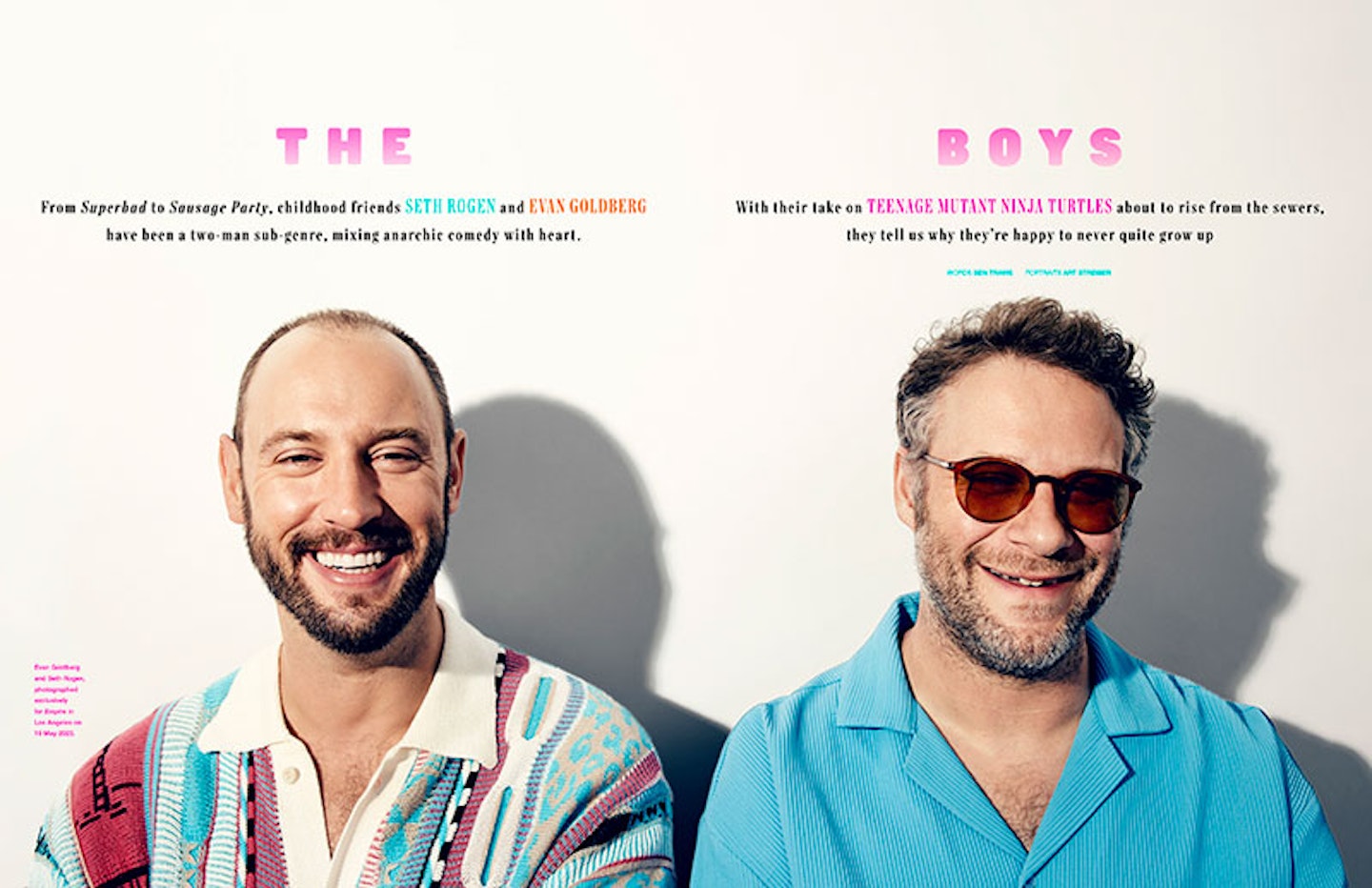 Read an extract of our exclusive Seth Rogen and Evan Goldberg interview from our August 2023 issue below, or see the full piece here.
"I want the world to know. It's the most beautiful thing in the world."
That's what Evan, one of the two teen heroes of 2007's raucous comedy Superbad, tells his foul-mouthed pal Seth of their fraternal love for each other — aremarkably sweet sentiment to cap off a two-hour odyssey of dick-drawing, drink-fuelled, puke-stained exploits. And for any fictionalisation at play there in the youthful misadventures of Seth Rogen and Evan Goldberg — childhood friends who started writing Superbad together at 13 and have since gone on to create genre-blending comedies like Pineapple Express and This Is The End, produced gonzo, gore-packed comic-book adaptations, and almost ignited nuclear war with North Korean-set The Interview — that sentiment seems to be the real deal.
Nearly three decades since starting on Superbad, the pair's creative partnership — and friendship — has continued to blossom. Today, they oversee an empire of no-holds-barred juggernauts. On the small screen, they've turned cult comics like Preacher, Invincible and — particularly — satirical superhero story The Boys into major hits, while retaining their subversive storytelling and uncompromising ultra-violence. And now, the pair are channelling their signature blend of gnarly exuberance and emotional sincerity in a more family-friendly direction, as writers and producers on the animated Teenage Mutant Ninja Turtles: Mutant Mayhem. Teaming up with director Jeff Rowe, it's set to be a determinedly teenaged take on the half-shelled heroes. The aim is to make them feel, well, radical again.
After being photographed in the nerve centre (aka office) where they make the magic happen, Rogen and Goldberg talk to Empire about becoming Hollywood's most heartfelt anarchists, and about how their partnership continues to evolve. All punctuated by one of the greatest sounds on Earth: the unmistakable barking boom of Seth Rogen's distinctive guffaw.
Portraits by Art Streiber.
To read this article in full, become an Empire member. You'll never miss an issue, be able to read every issue in full either on the website or in the app, PLUS you'll get access to member-only content and rewards.