Pure, unalloyed joy is harder to find in movies than you'd think. Heck, look at our big list of the best feelgood films ever: I've cried at nine of them. They were feelgood tears, but still. I need 20 minutes or so after I've watched Babe. But there are a few fleeting moments which don't contain even the vaguest whisper of bittersweetness, or wistfulness, or some sighing grace note. I don't think there's been a more purely joyous moment in the last 20 years of cinema than the big Battle Of The Bands showdown in School Of Rock, which is re-released this week to celebrate its 20th birthday.
After weeks of increasingly elaborate deceptions and the kind of security operation the Stasi would be proud of, Jack Black's Dewey Finn – the artist formerly known as Ned Schneebly (and even more formerly Schneeeebly) – has secretly used his fraudulent stint as a supply teacher to turn a gang of precocious-but-square kids into a crack team of rock 'n' roll delinquents. They're discovered and Dewey goes back to being burnout loser Dewey – but the kids he's fired up with a healthy disrespect for anyone over the age of 30 won't let him drop out like that. They bundle him onto their bus, dash to the gig, and just about make their slot.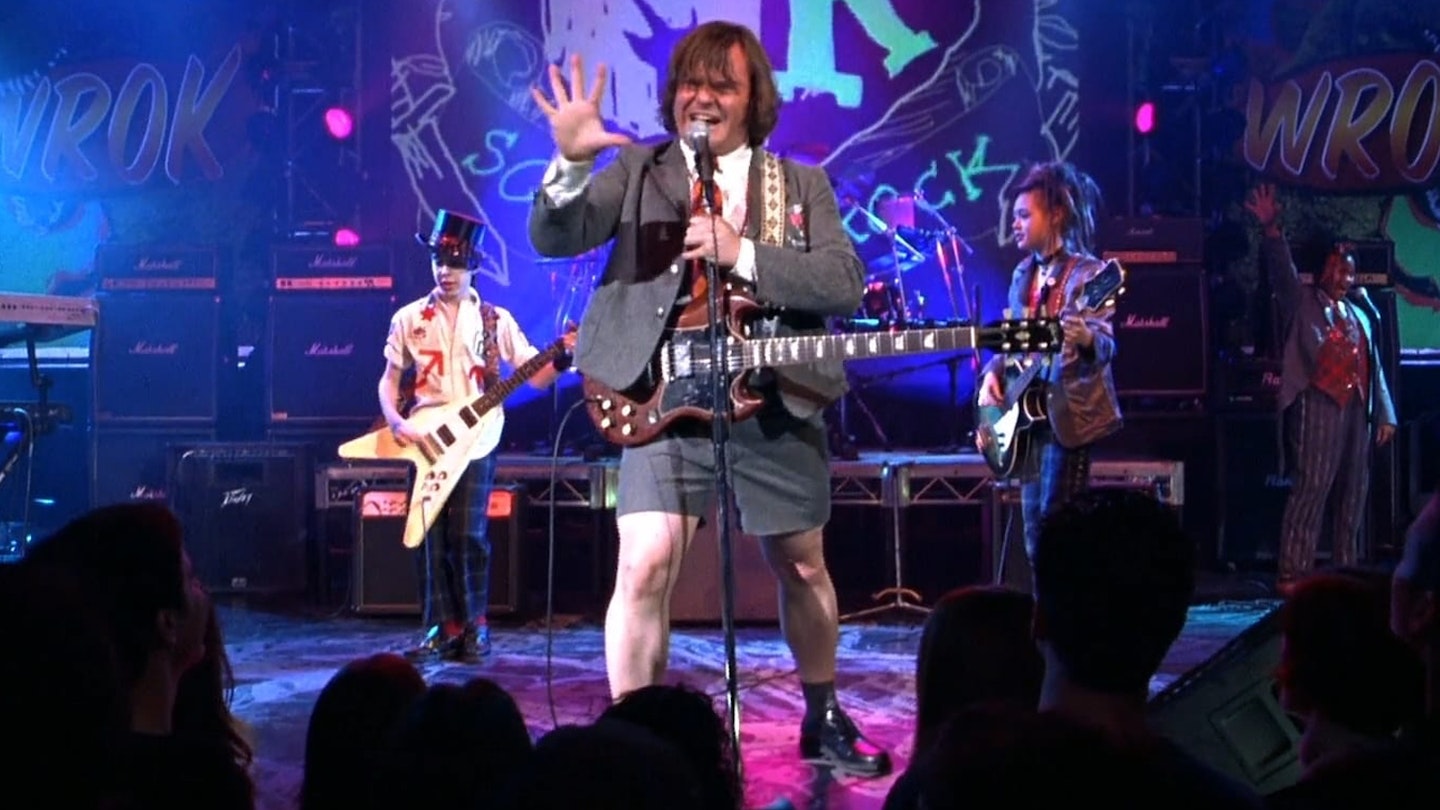 It helps that, of all the songs that fictional bands from movies have given us, 'School Of Rock' might be the very best. It's a little power-pop symphony, mixing Who's Next-era The Who synths with a bit of Yes, a couple of AC/DC solos, plus a sprinkling of Little Richard-y genius gibberish ("I feel like I've been hypnoticised!") and the kind of galloping, swaggering chorus Bachman-Turner Overdrive would have killed for. Plus, it gets extra points for entering School Of Rock into the pantheon of bands with songs named after themselves. They're up there with Motorhead, Black Sabbath, Iron Maiden and Living In A Box. Big power move.
What's particularly lovely is that all the kids get their little moment to shine.
Guitar hero Zac (Joey Gaydos Jr.) executes his solo with the air of a young man knocking off his differential equations homework. Katie (Rivkah Reyes) on the bass – cellooooo! – grooves on the spot. Drummer Freddy (Kevin Clark) smacks seven shades of Keith Moon into his kit. Best of all, Lawrence (Robert Tsai) the keyboard player does his Rick Wakeman thing, playing his solo while giving some very adorable one-handed moves. Tsai initially tried to talk director Richard Linklater out of giving him the part; he was too awkward and stiff. Linklater reminded him that that was exactly why he was the perfect Lawrence. Here he is, Mr. Cool at last.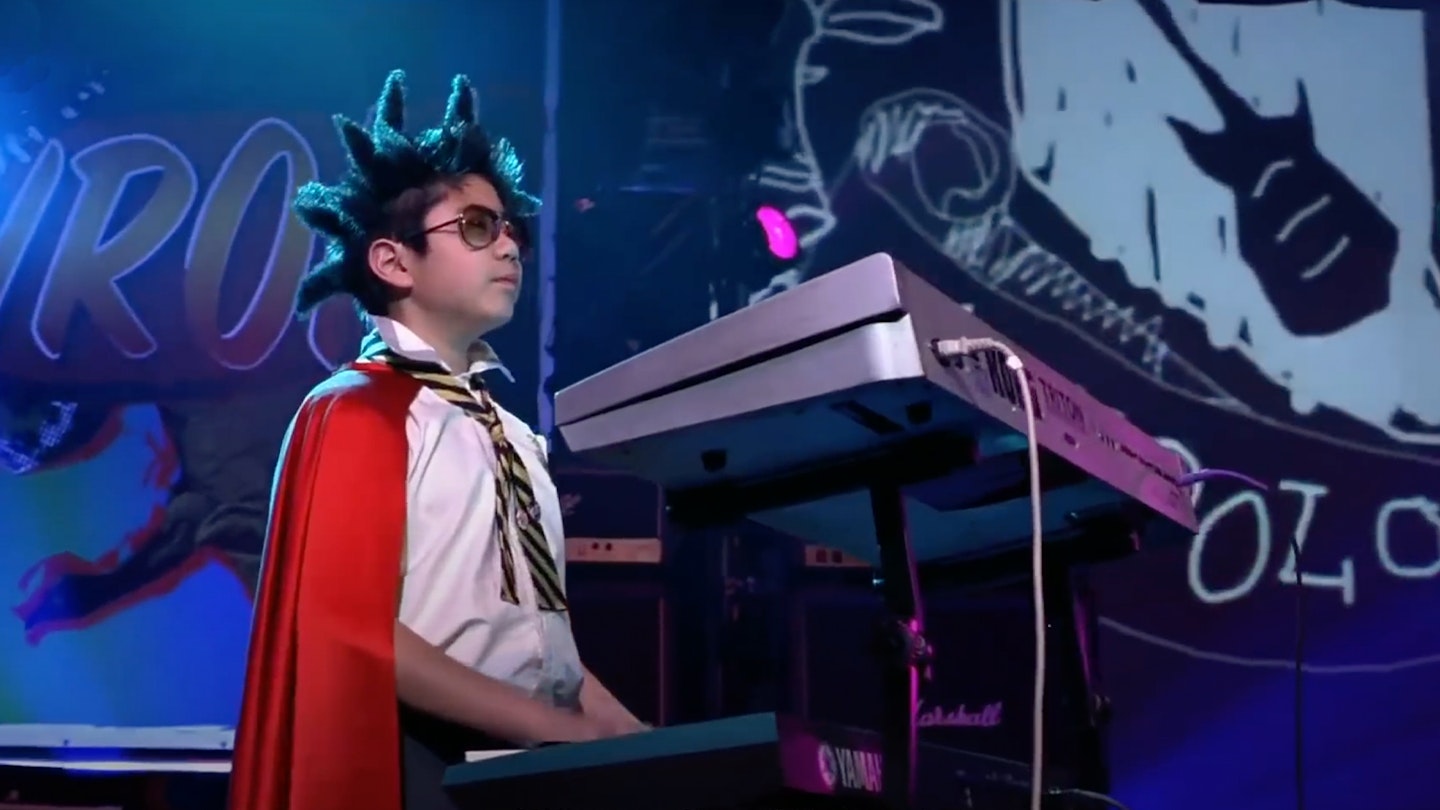 What's particularly lovely is that all the kids get their little moment to shine: the one on the very Adobe Flash-era visuals, the security crew, Fancy Pants the costume designer. They're all in the moment too, making it happen just as much as the kids on-stage. The crowd goes wild, and the kids' parents and Joan Cusack's headteacher Ros finally see what those children are capable of. "Your son is very skilled," Lawrence's dad tells Zac's. "Thanks," Zac's dad replies. "So's yours." They're totally disarmed, realising that their youngsters had all this inside them all this time.
The kids themselves are pretty chill about the whole thing. Dewey, though: he really, really means it. Rockin' (and it is rockin'; that final 'g' is, like, a construct of The Man, man) is not just some hobby. It's the very essence of his being. Showing off at extreme volume is what he needs to do to feel alive. "I think Dewey is me five years ago, basically, before I had a career, when I was a little more desperate and frustrated," Black explained at the time. "And the difference is, I make fun of rock for a living, kind of, and Dewey would never make fun of rock. He takes it very seriously and loves it too much." Incidentally, the other thing about Dewey's conception of rockin' is that it's got nothing to do with the rock 'n' roll world's sleazy, decadent, sexist underbelly: he drags Freddy away from some grotty dudes who should know better. "They aren't real rockers," Dewey snaps. "They're posers. Rock ain't about getting loaded and being a jerk." He really is in it for the music.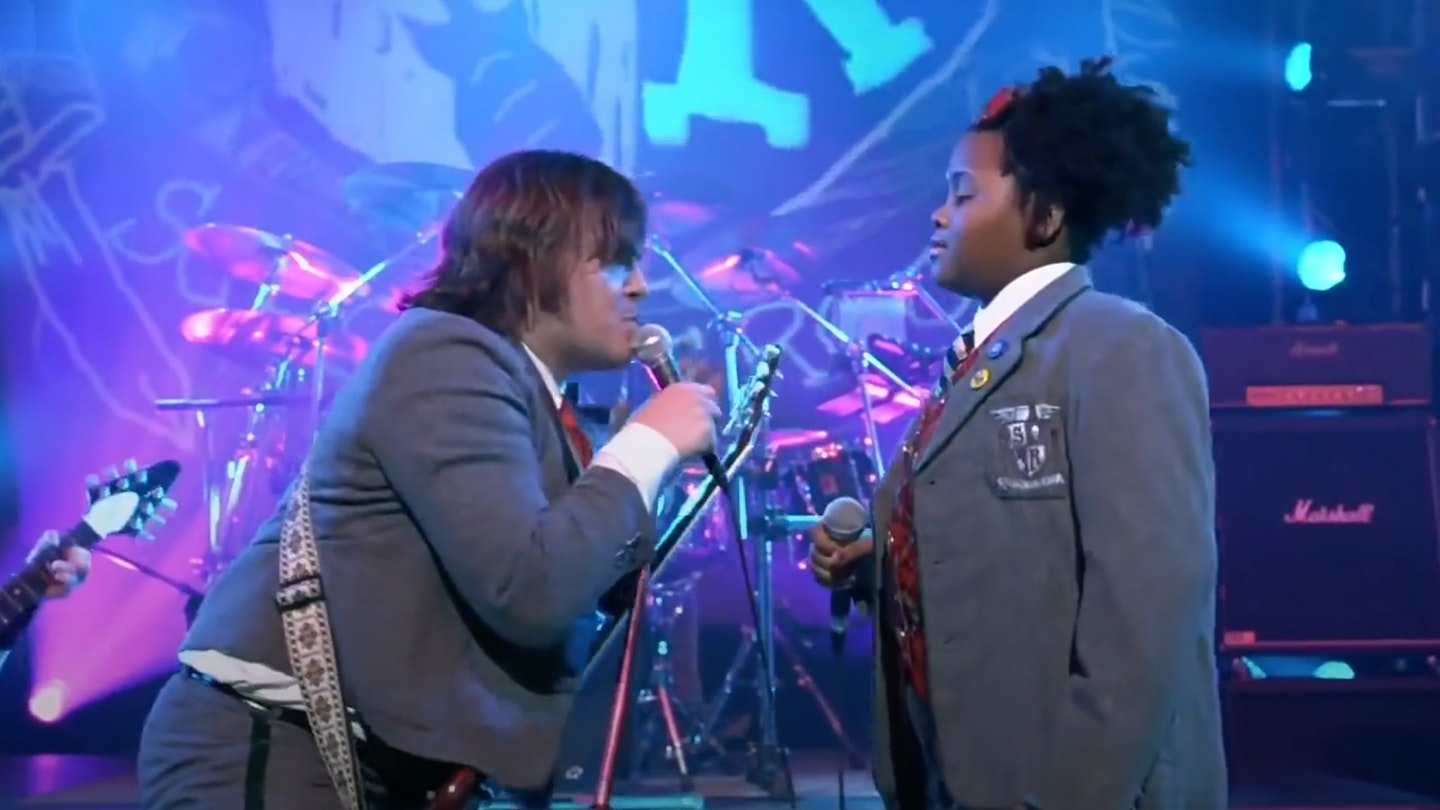 Soon the result of the Battle Of The Bands is in, and School Of Rock haven't won. Dewey's old band No Vacancy – who look like every bunch of Viper Room wannabes but sound like The Calling – take the $20,000 prize. But before you can say 'leather trousers', the crowd starts demanding more School Of Rock. They dash back on, and into a chunky, choppy run through AC/DC's 'It's A Long Way To The Top (If You Wanna Rock 'n' Roll)' that sprawls into the grin-inducing end credits crawl.
Linklater's films are deeply empathetic with kids and people who act like kids, and rockin' is inherently a little bit childish.
The gig neatly brings School Of Rock full-circle: at the start of the film, we met Dewey and No Vacancy playing at some half-empty dive bar, where he got carried away while shredding a guitar solo, and launched himself into the crowd. Instead of being caught in a sea of arms, he lands on the floor and knocks himself out. But now here he is, back on stage and transported enough by the music to try it again. This time, looking like an overgrown schoolboy in his grey blazer and shorts, those teenage daydreams come true. The camera hovers over Dewey starfished on top of the crowd, almost wincing with joy.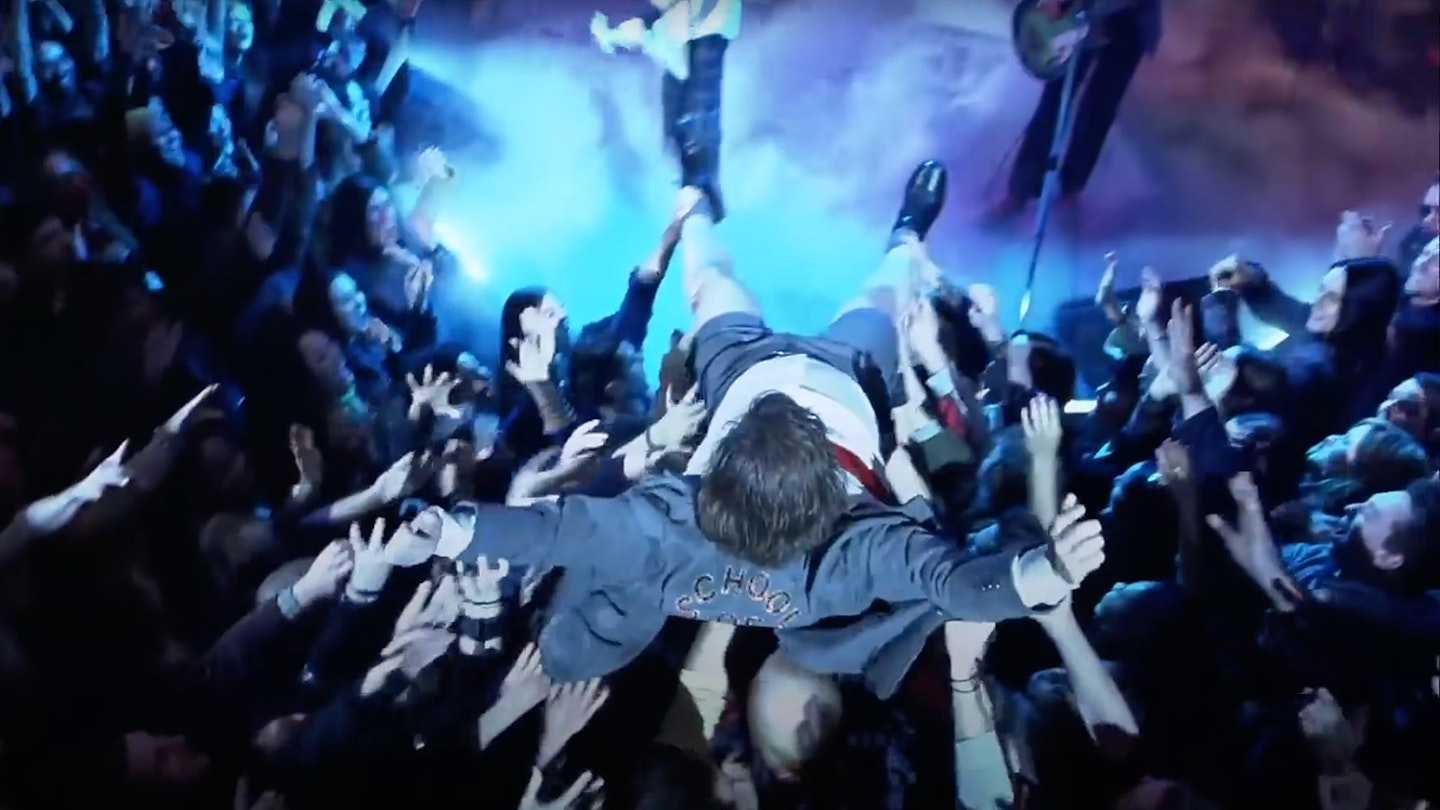 It's a lovely, extremely Linklater moment. He's a director whose films are deeply empathetic with kids and people who act like kids, and rockin' is inherently a little bit childish. Last time I was at my parents' I found some CDs I made when I was 11, and right in the grip of post-School Of Rock fever. There were some belters in there which Dewey would definitely approve of ('Ace Of Spades', 'School's Out') and some he'd probably be less stoked about (the 2003 Comic Relief cover of 'Spirit In The Sky' by Gareth Gates and the Kumars). But I think he'd at least be impressed by the lack of self-consciousness he'd see in the tracklisting of Tom Rocks Volume 1. In 2003 the bits of the '60s and '70s which were in the cultural mainstream were the cooler, Strokes-approved CBGB bands like the Ramones, the Misfits and Blondie. Cream, Deep Purple, The Doors and the other Dad Rockers which Dewey had on his curriculum were naff. Did Dewey care? Dewey did not.
Joan Cusack's Ros is the other extreme of adult life, a woman who used to go out to dive bars and loved Stevie Nicks and had a laugh – and, unlike Dewey, has long had to relinquish that side of herself, as she details in a comic but powerful monologue. "But you can't be funny and be the principal of a prep school! No, you cannot. Because when it comes to their kids, these parents have no sense of humour. And if anything goes wrong, it's my head in the smasher. These parents will come down on me like a nuclear bomb! I can't make a mistake! I gotta be perfect! And that pressure has turned me into one thing that I never wanted to be." She mouths "a bitch". It's genuinely quite heartbreaking. There's a sense, too, that Ron is unburdened of at least a little of that necessary self-seriousness at the Battle Of The Bands show.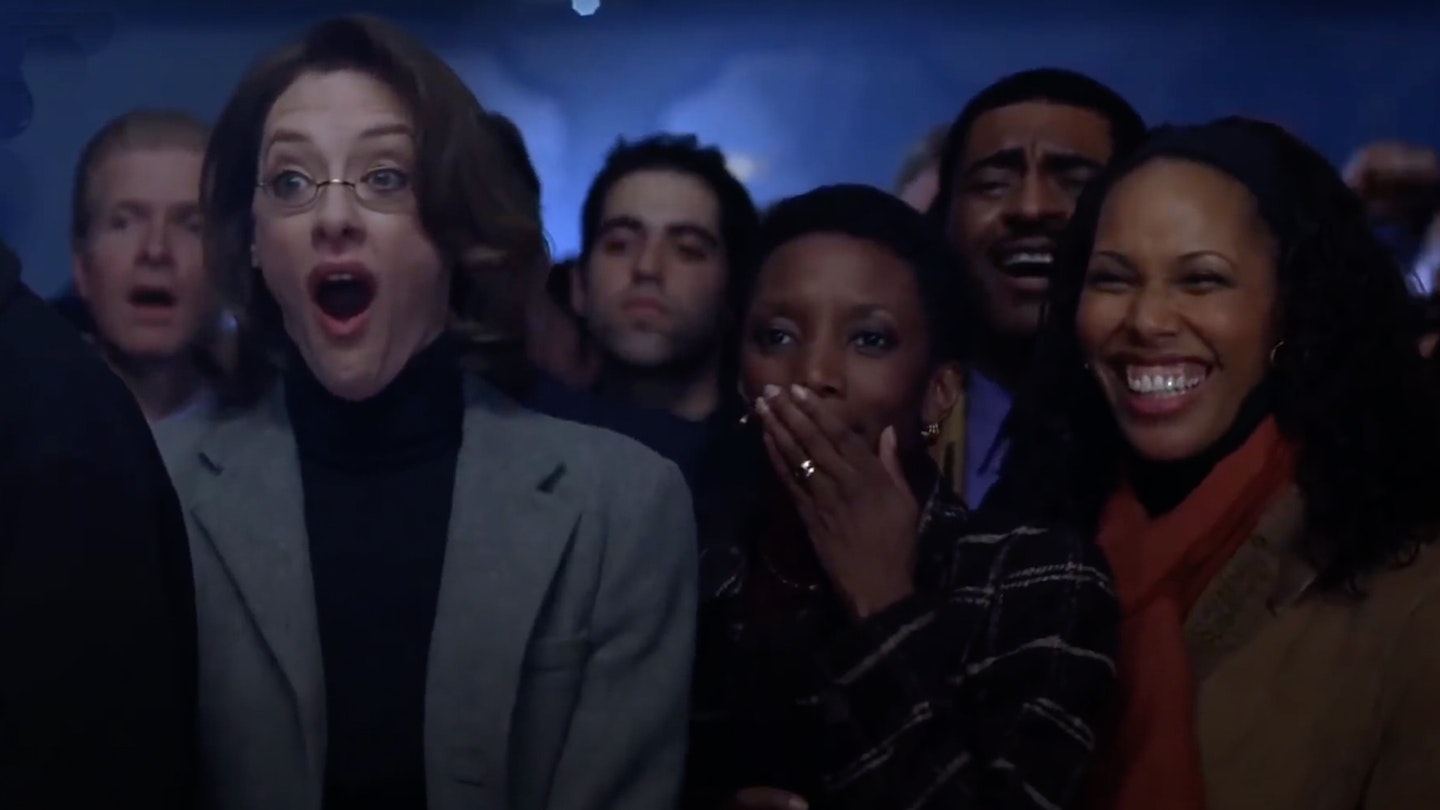 Jack Black's inner child, though, never feels very far below the surface whenever he's on screen. In School Of Rock – and the final performance in particular – it's on full display, not just in the shredding and strutting, but in his strop after being beaten to the $20,000 prize by No bloody Vacancy. That's when the kids become the adults in the room, and teach both of them a lesson. "Rock isn't about getting an A," Freddy reminds him. "The Sex Pistols never won anything." Wise words. For those about to rock, once again: we salute you.
School Of Rock returns to UK cinemas today