The biggest night in Hollywood, the Oscars, rolled around again – and it was a surprising, emotional, and exciting night that saw huge wins for team Everything Everywhere All At Once. From the incredible speeches, to the hugely impressive musical performances, and odd little moments of the entire evening (an appearance from The Banshees Of Inisherin star Jenny The Donkey, music icon David Byrne donning hotdog hands), read through Empire's live blog of the 2023 Oscars.
––
04:20am That's a wrap, folks – an end to an emotional Oscars, sure to go down for its excellent wins and outstanding live performances. If you stayed up this late, well done! Rest now, and get ready to rewatch Everything Everywhere All At Once in the morning. Thanks for reading... and get ready for the Oscars 2024.
––
03:33am There it is! Everything Everywhere All At Once has won Best Picture at the Oscars. This is momentous, stupendously well deserved. The Daniels are on their feet straight away – seven wins for their film through the night. Jamie Lee Curtis is bouncing up and down on the stage. Ke Huy Quan is on stage with Harrison Ford who presented the award. Producer Jonathan Wang gives an emotional speech, shouting out his dad. "Eyyy!" says Daniel Scheinert as he approaches the mic. And Daniel Kwan gives an emotional extra speech: "You have all inspired me," he says. "One of the best thing we can do for each other is shelter each other from the crazy chaos." What a result. What a film. What a night.
––
3:26am Before Best Picture, it's time for Actress In A Leading Role – another tight race. It goes to… Michelle Yeoh for Everything Everywhere All At Once! Here we go everyone. What a legend, an absolute icon – this is her time.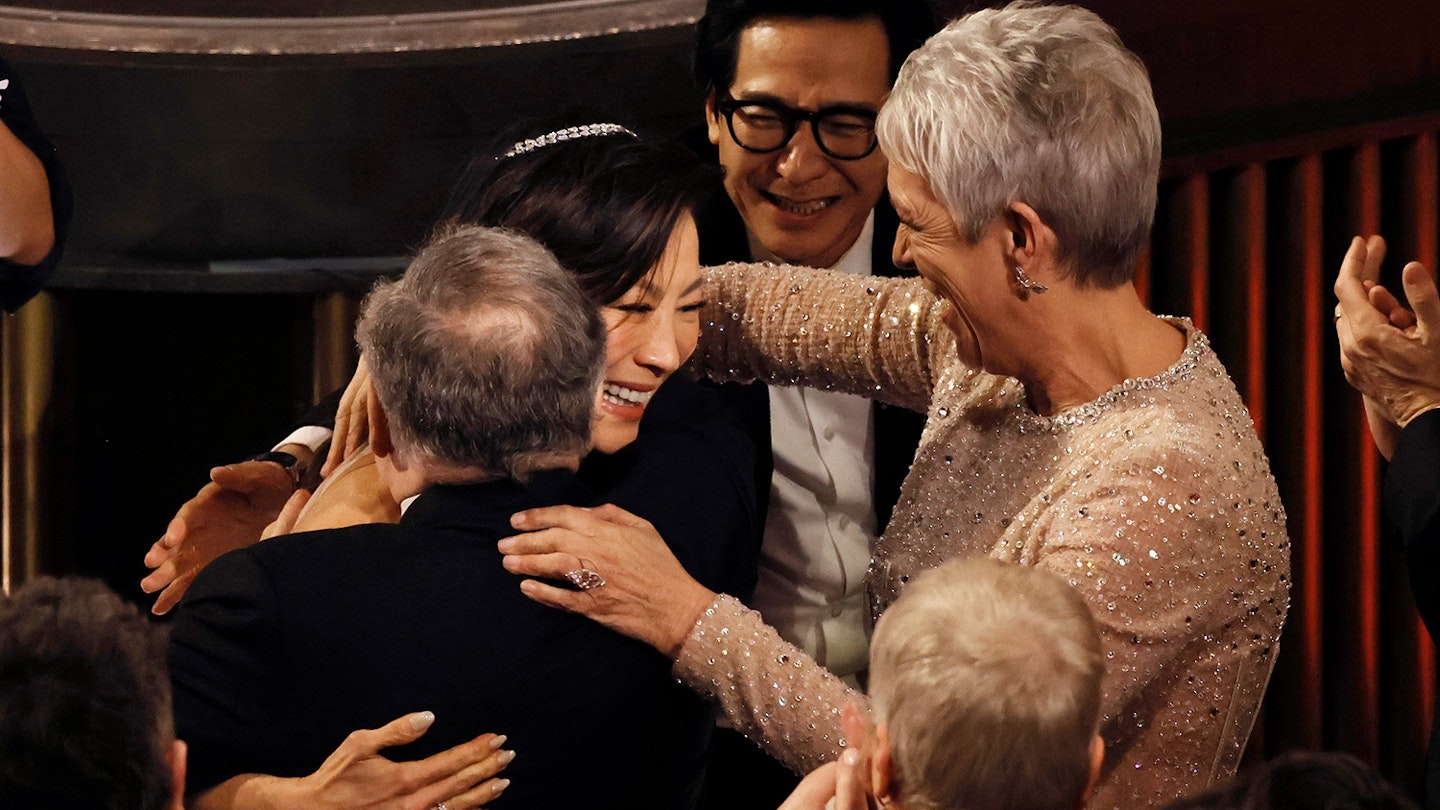 She says the award goes to "all the little boys and girls who look like me watching tonight". She's taking deep breaths to steady herself.  "Dreams do come true," she says, "Ladies, don't let anybody tell you you are ever past your prime." Finally, she shouts out "my mom, all the moms in the word. Because they are really the superheroes. Without them, none of us would be here tonight. She's 84, and I'm taking this home to her." Now… Best Picture. Will EEAAO do it and sweep the win?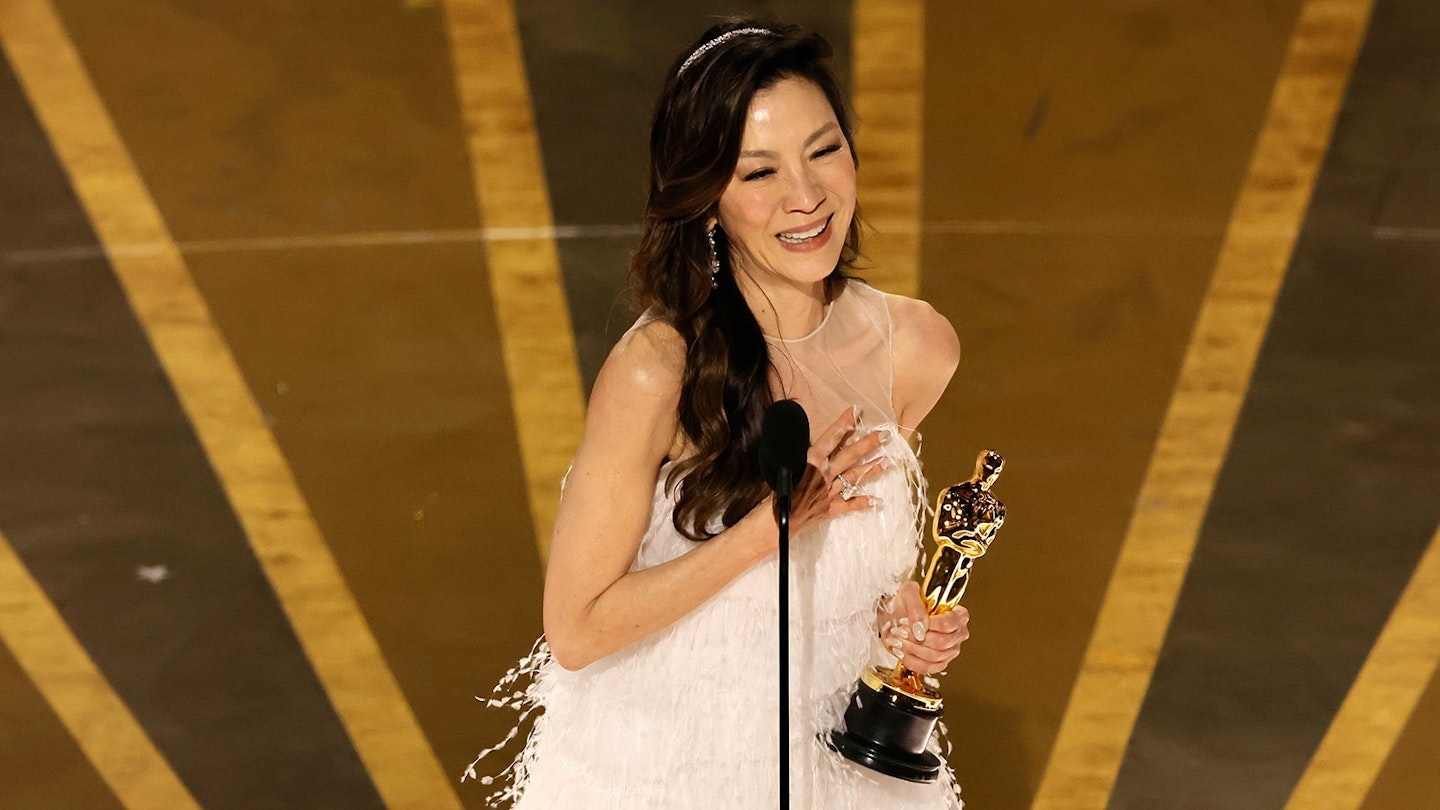 ––
03:20am Jessica Chastain and Halle Berry are on stage now to present Actor In A Leading Role. This is a tight run – but the Oscar goes to… Brendan Fraser for The Whale. The comeback prophecy is complete! He's shaken hands with Colin Farrell as he goes up to the stage. Hong Chau is in tears. "So this is what the multiverse looks like!" he says. "Gentleman, you laid you whale-sized hearts bare so we could stare into your souls," he says to his fellow nominees.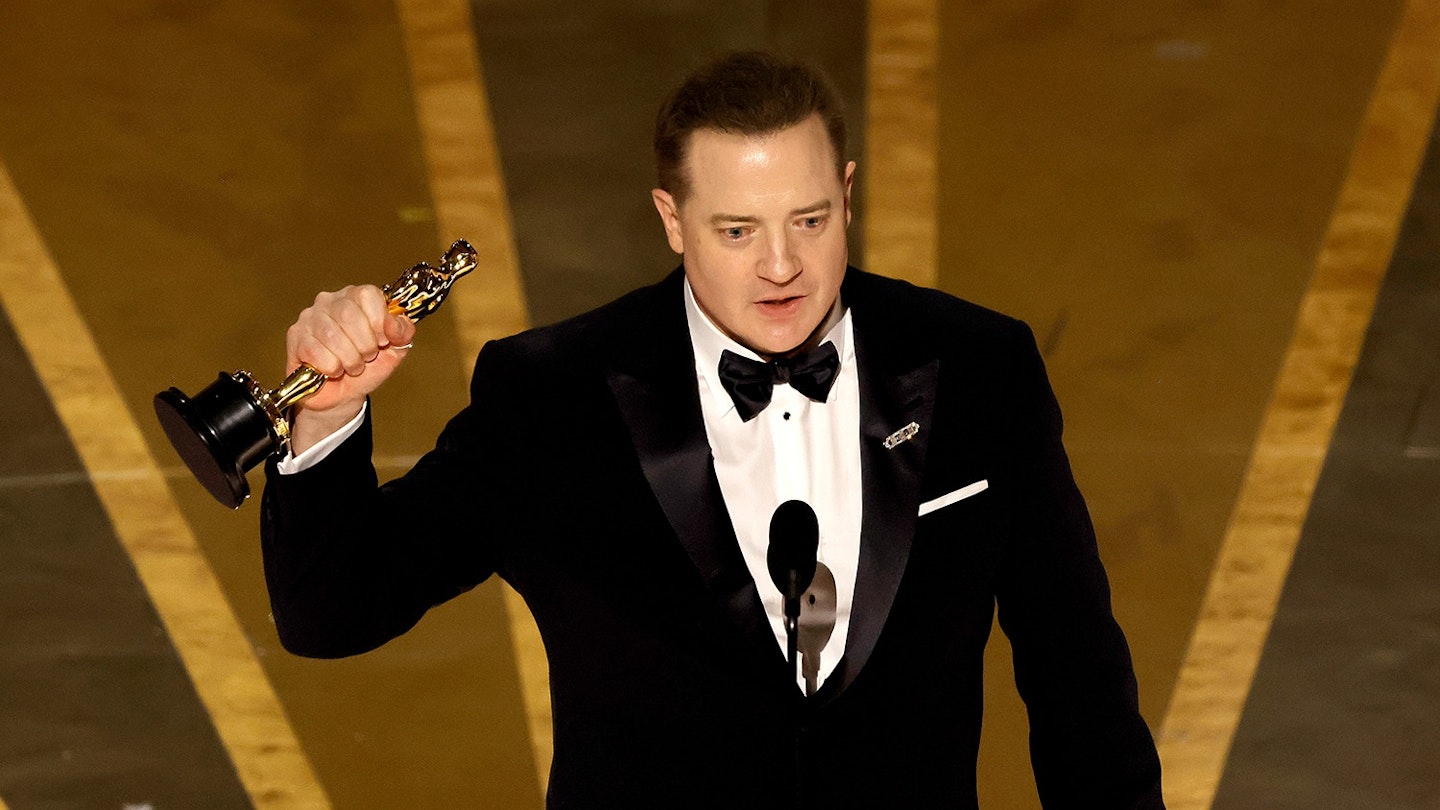 ––
03:11am Hello, Nicole Kidman and Idris Elba! They're introducing Director, a biggie. And it's Daniels, for Everything Everywhere All At Once. Oscar-winning directors, Daniels! Of the Daniel Radcliffe farting corpse movie. "Our fellow nominees, you guys are our heroes," says Daniel Scheinert.  "This is weird!" He also shouts out drag as being "a threat to nobody", to huge applause in the room. "I want to acknowledge my context, my immigrant parents," says Daniel Kwan. This is beautiful stuff, what an incredible pair. "There is greatness in every single person," finishes Kwan. "It doesn't matter who they are. There is a genius waiting to erupt."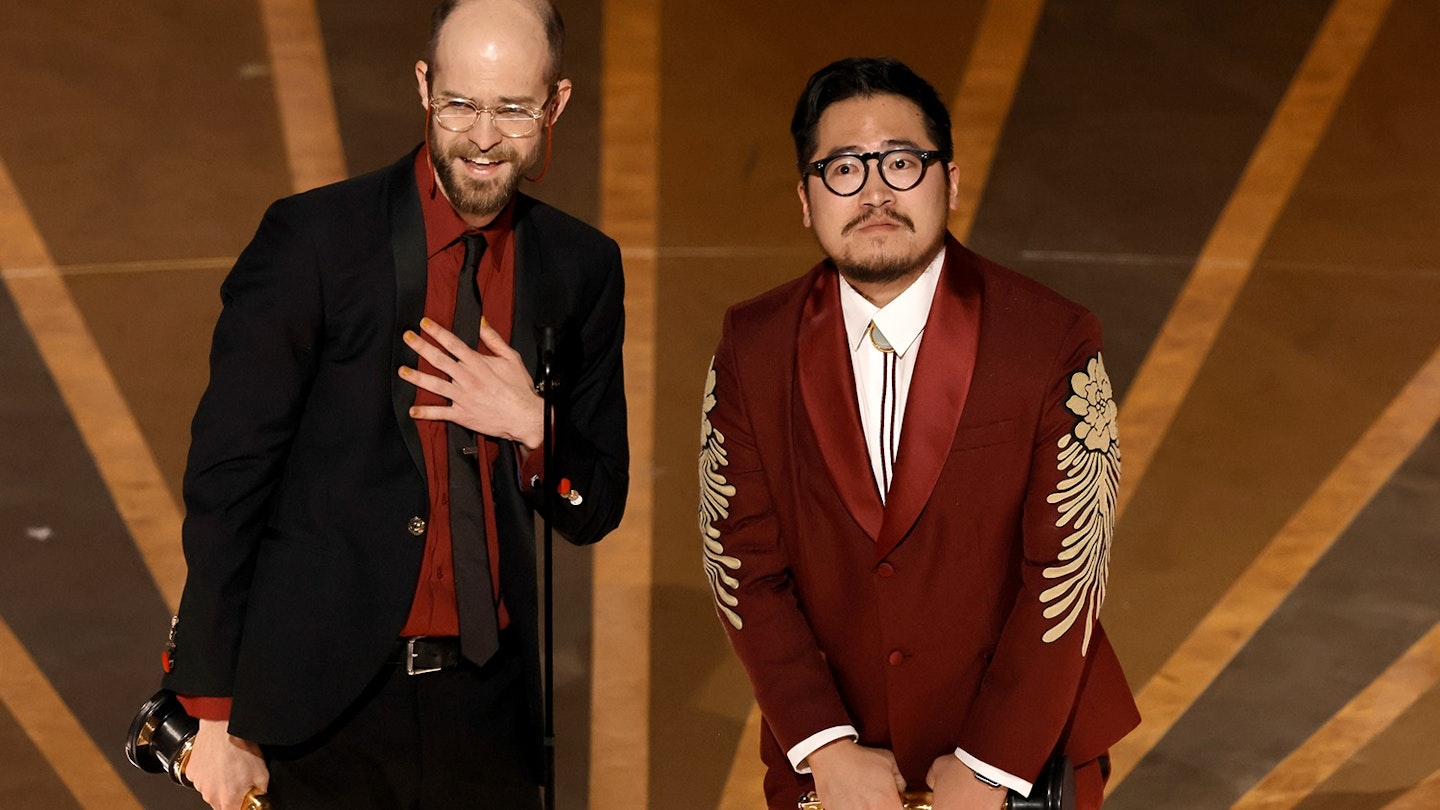 ––
03:07am Sigourney Weaver and Zoe Saldaña are here to introduce Editing, as we head into the final few categories of the night. And it goes to Everything Everywhere All At Once! It's really building up momentum through the night, now tied at four awards with All Quiet… "This is my second film, y'all," says editor Paul Rogers, with a googly-eye pin on his jacket. "This is crazy!"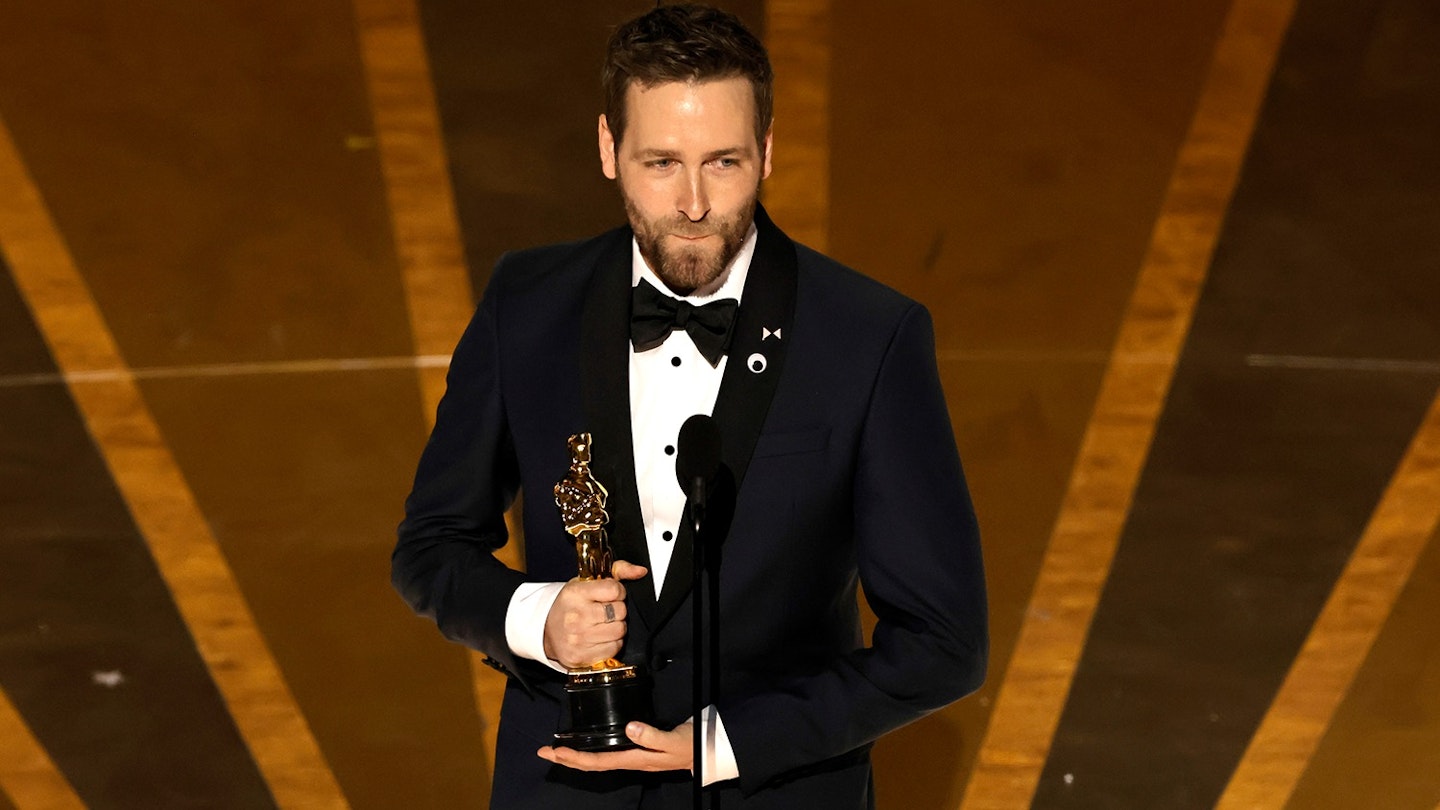 ––
3am John Travolta is getting teary as he even introduces the In Memoriam section, featuring Olivia Newton-John. Lenny Kravitz is providing musical accompaniment as the likes of Robbie Coltrane, Ray Liotta, Irene Cara, Nichelle Nichols, Jean-Luc Godard, Burt Bacharach, Angela Lansbury, Wolfgang Petersen, Vangelis, James Caan, and Raquel Welch are remembered.
––
02:56am And we're straight into Original Song, after those incredible performances. It goes to the RRR team for 'Naatu Naatu'! Can we get a re-do of the performance, please?! MM Keeravaani is singing his acceptance speech! Wonderful. Chandrabose simply says: "Namaste."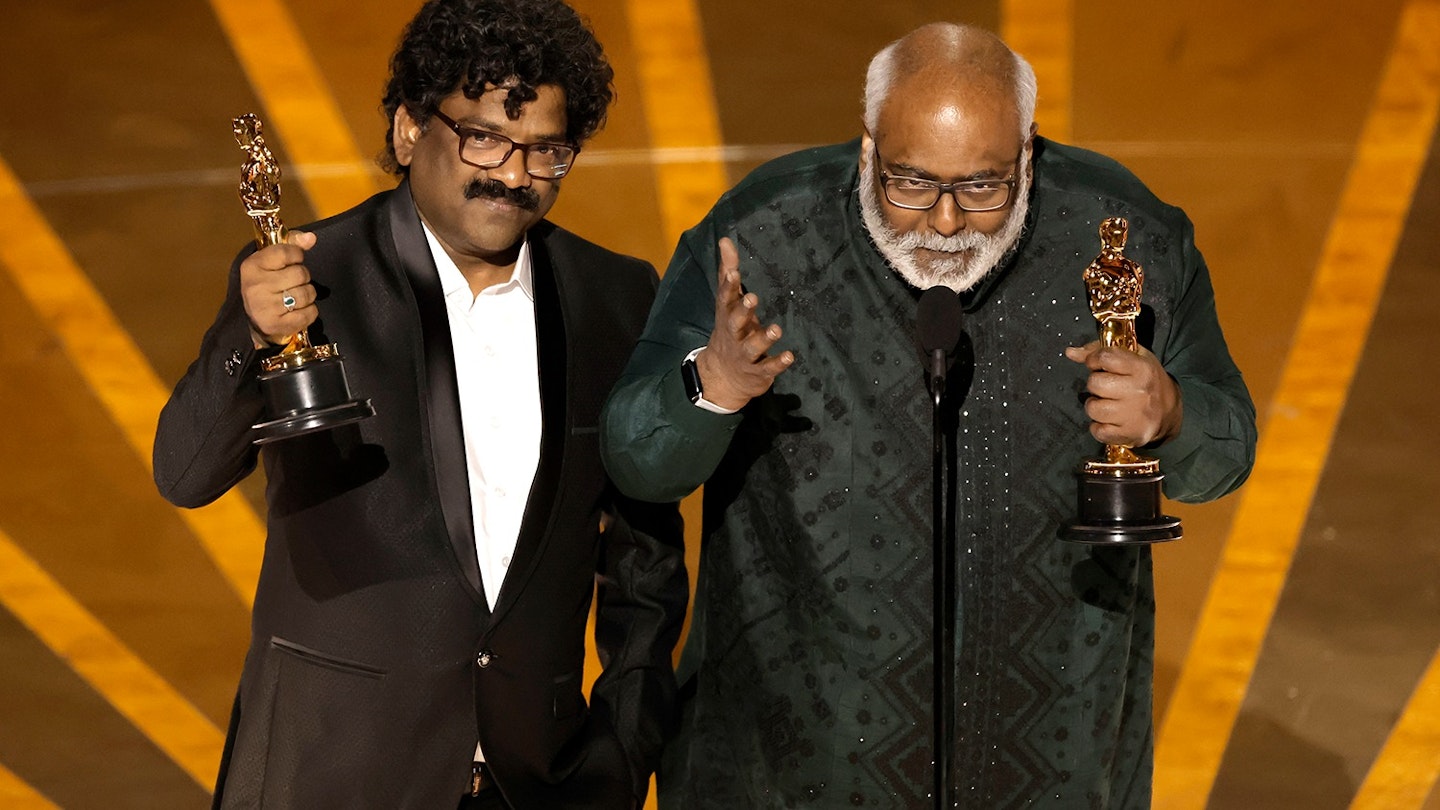 ––
02:52am Janelle Monàe is here! Any chance of a performance? Ah no, she's joined by Kate Hudson to present Sound. And the Oscar goes to… Top Gun: Maverick! The film's first win of the night. The Top Gun theme is playing as the team comes up to accept, and it sounds great as ever. A short but sweet speech – could there be more gold for Maverick on the way?
––
02:43am And we're straight onto Adapted Screenplay. And this one goes to… Sarah Polley for Women Talking. "I want to thank the Academy for not being mortally offended by the words 'Women' and 'Talking' being so close together like that," she jokes in a speech that's both affecting and joyous.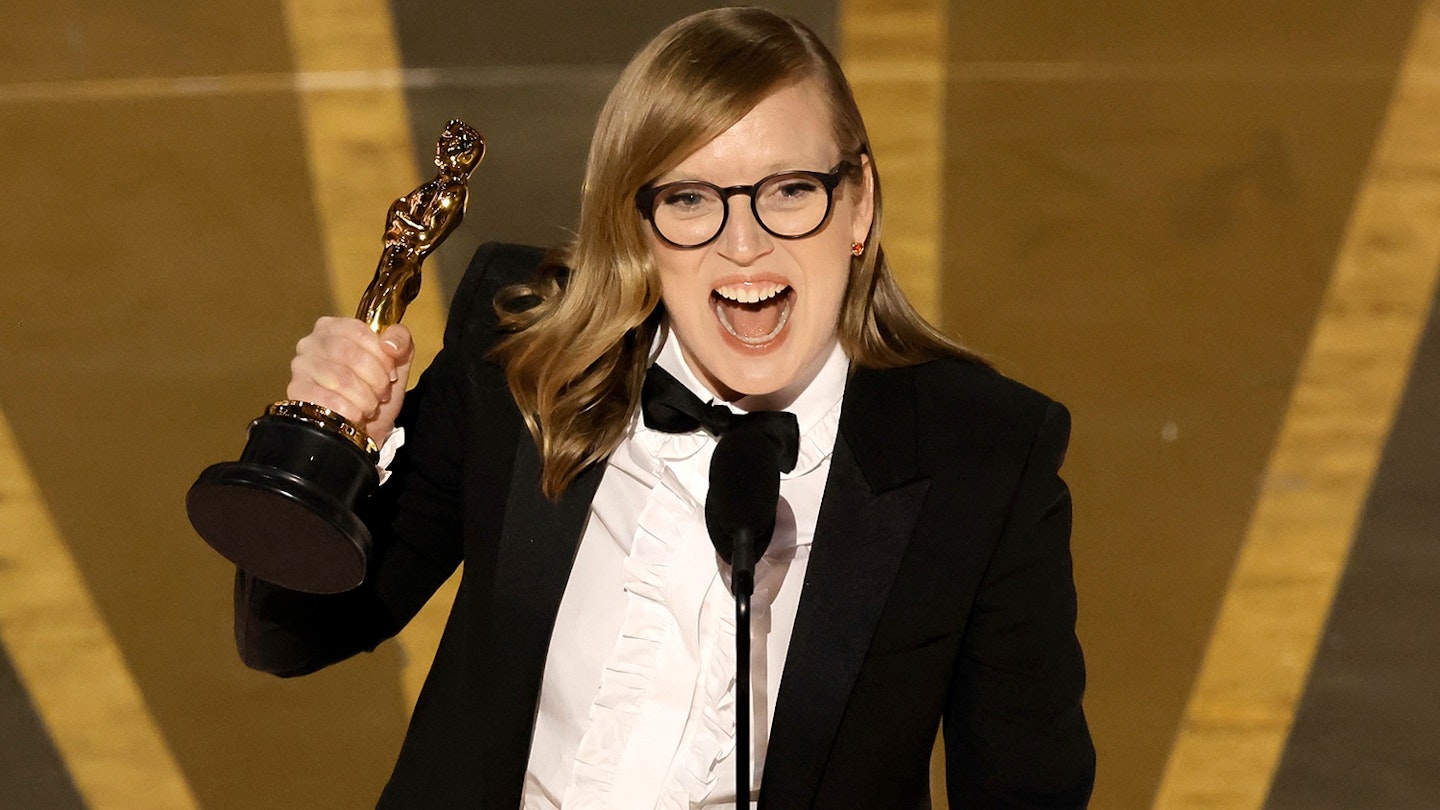 ––
02:38am Florence Pugh and Andrew Garfield are here together to present Original Screenplay, sure to please the internet greatly. And it goes to Everything Everywhere All At Once! Could momentum be building for the end of the night? Daniel Scheinert is thanking all the teachers at school who inspired him: "You taught me to be less of a butthead." And Daniel Kwan gives a heartfelt speech, shouting out his co-director. "I would not be here without him," he says. Lovely stuff.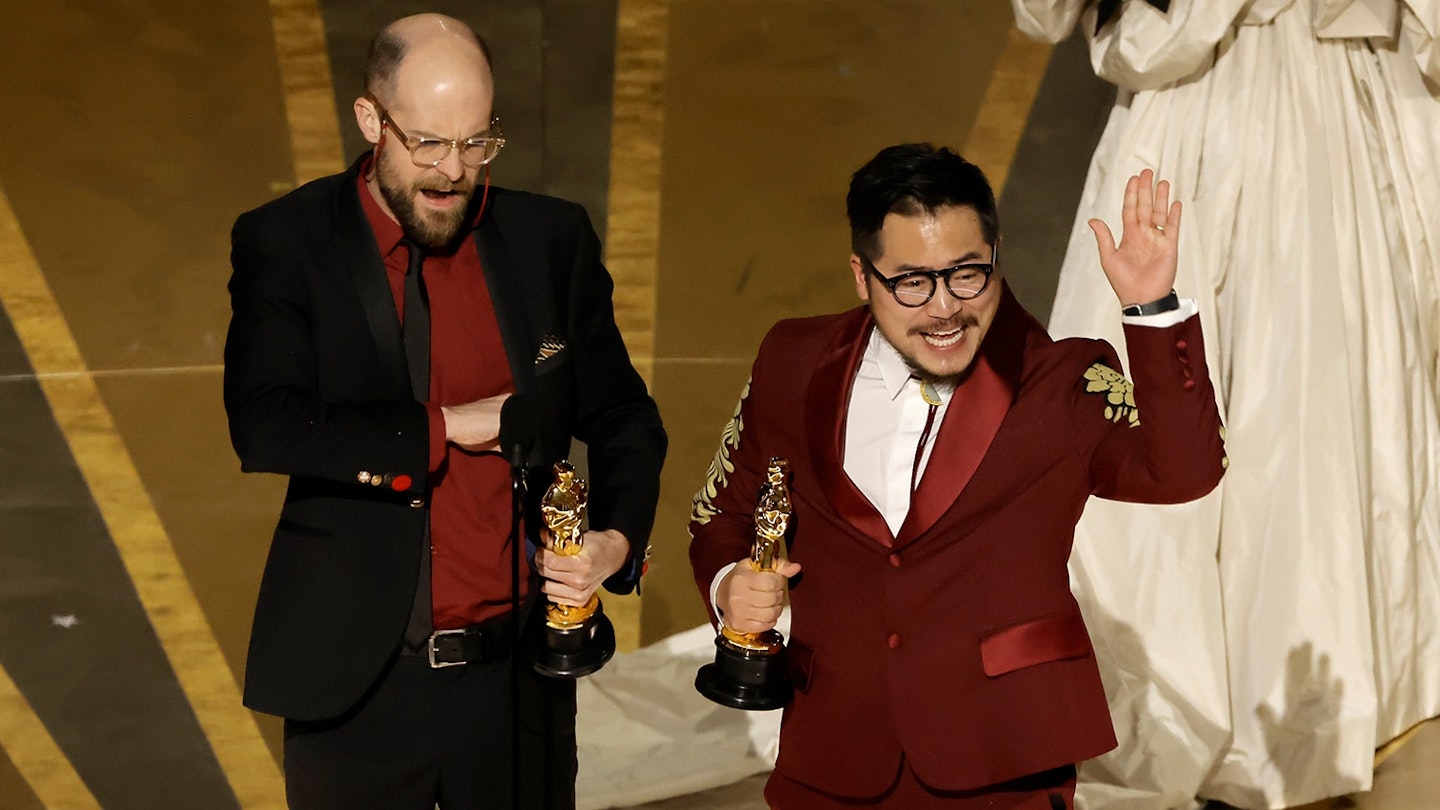 ––
02:29am It's time for Rihanna's performance of her Black Panther: Wakanda Forever song, 'Lift Me Up' – it's dedicated to Chadwick Boseman, and it sounds absolutely astonishing. Rihanna's voice is flawless, the staging is beautiful, and the backing vocals are spine-tingling. The musical performances have felt particularly special this year – major highlights all around!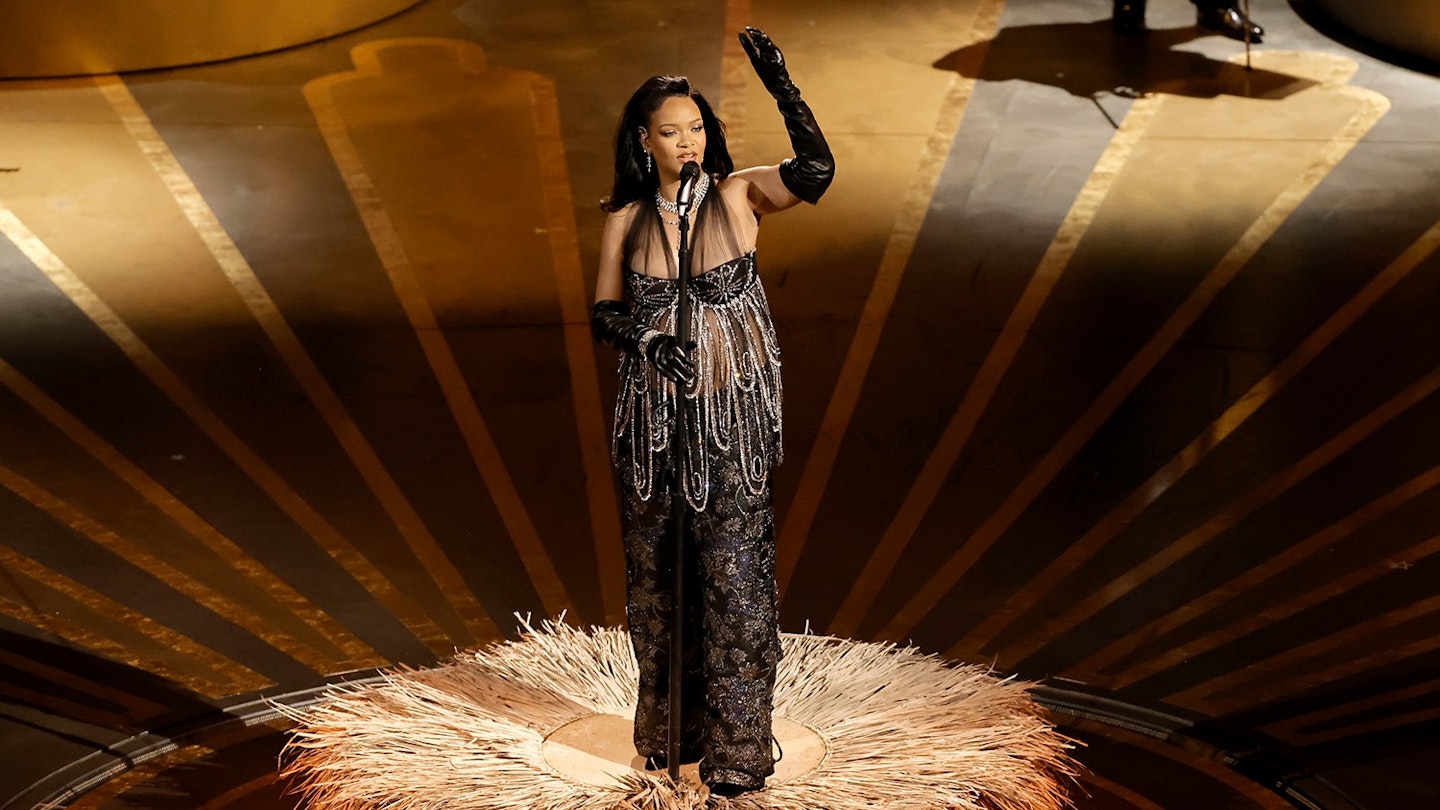 ––
02:22am Elizabeth Banks is here to present Visual Effects, pursued by a cocaine bear. And she almost trips over her own dress on the way!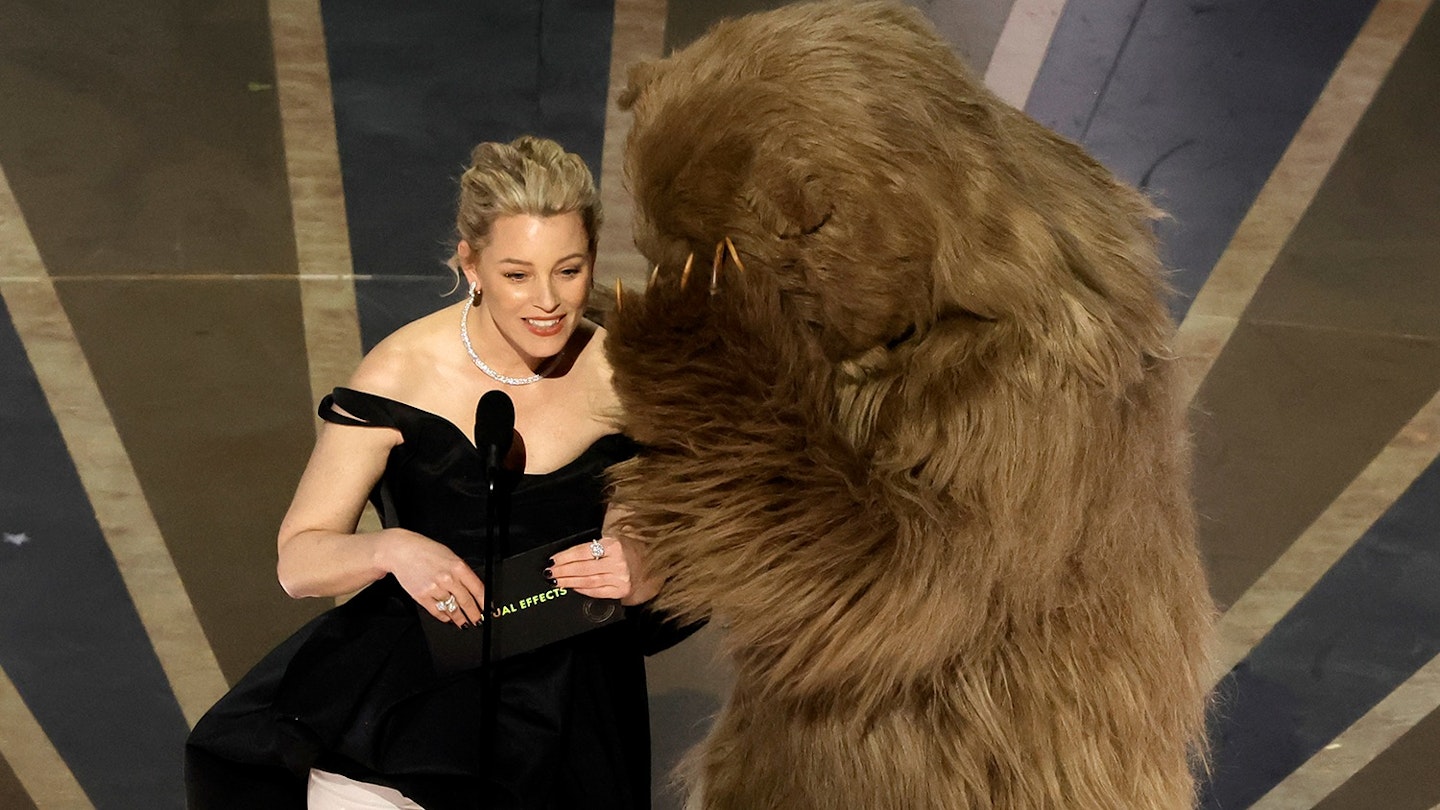 Of course, the winner for this one is Avatar: The Way Of Water. Could it really have been anything else? The team have been cut off in the middle of their speech, just as they were about to thank their families. Mean!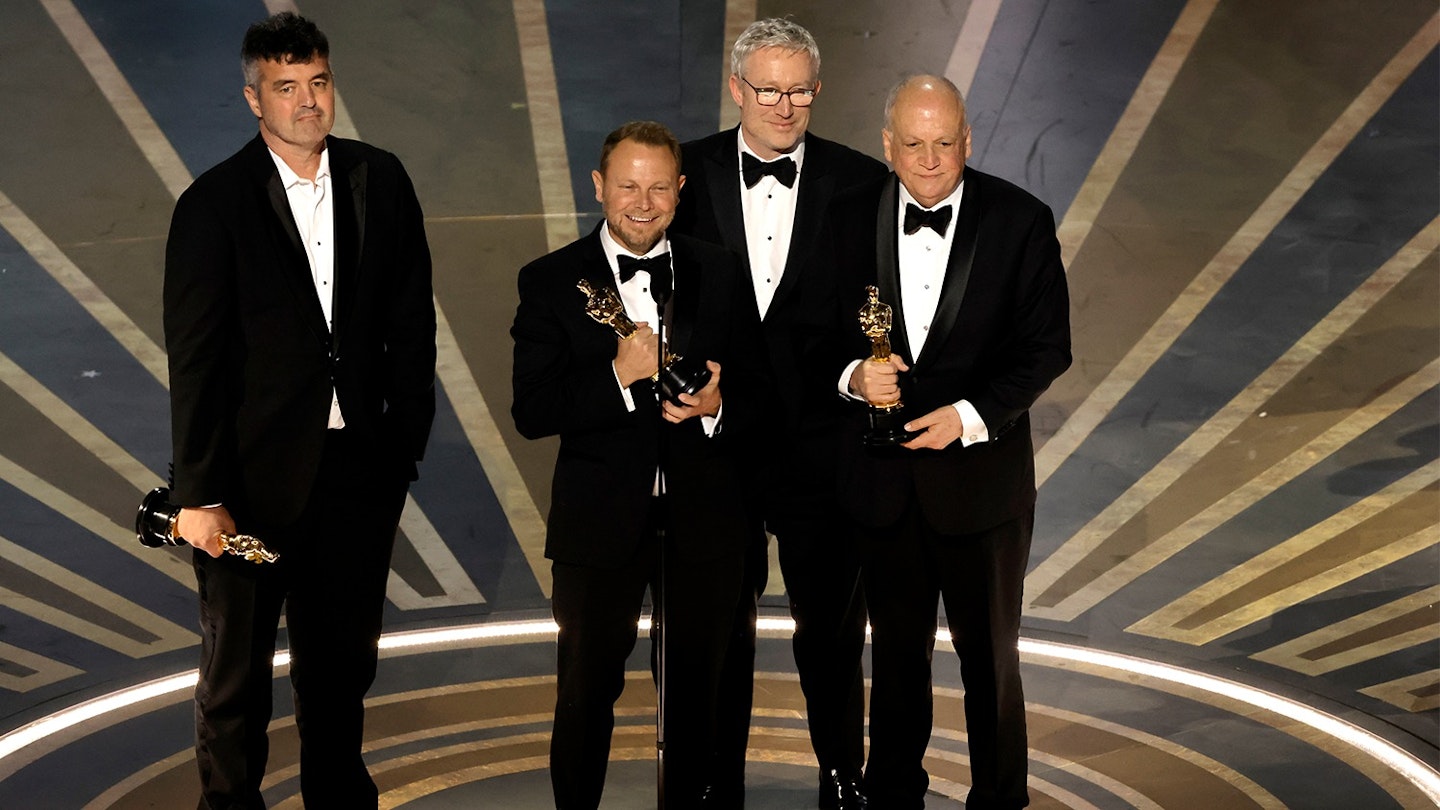 ––
02:12am And we're straight into Original Score. John Cho and Mindy Kaling have presented the award to All Quiet On The Western Front's Volker Bertelmann – beating out the score for Babylon and Everything Everywhere along the way. Four wins for All Quiet now, it's really picking up steam in the room.
––
02:07am Andie MacDowell and Hugh Grant are reunited on stage! Is the Oscars still going? We hadn't noticed… Oh, and Hugh Grant has just called himself "basically a scrotum" in a gag about skincare that got a massive laugh from the room.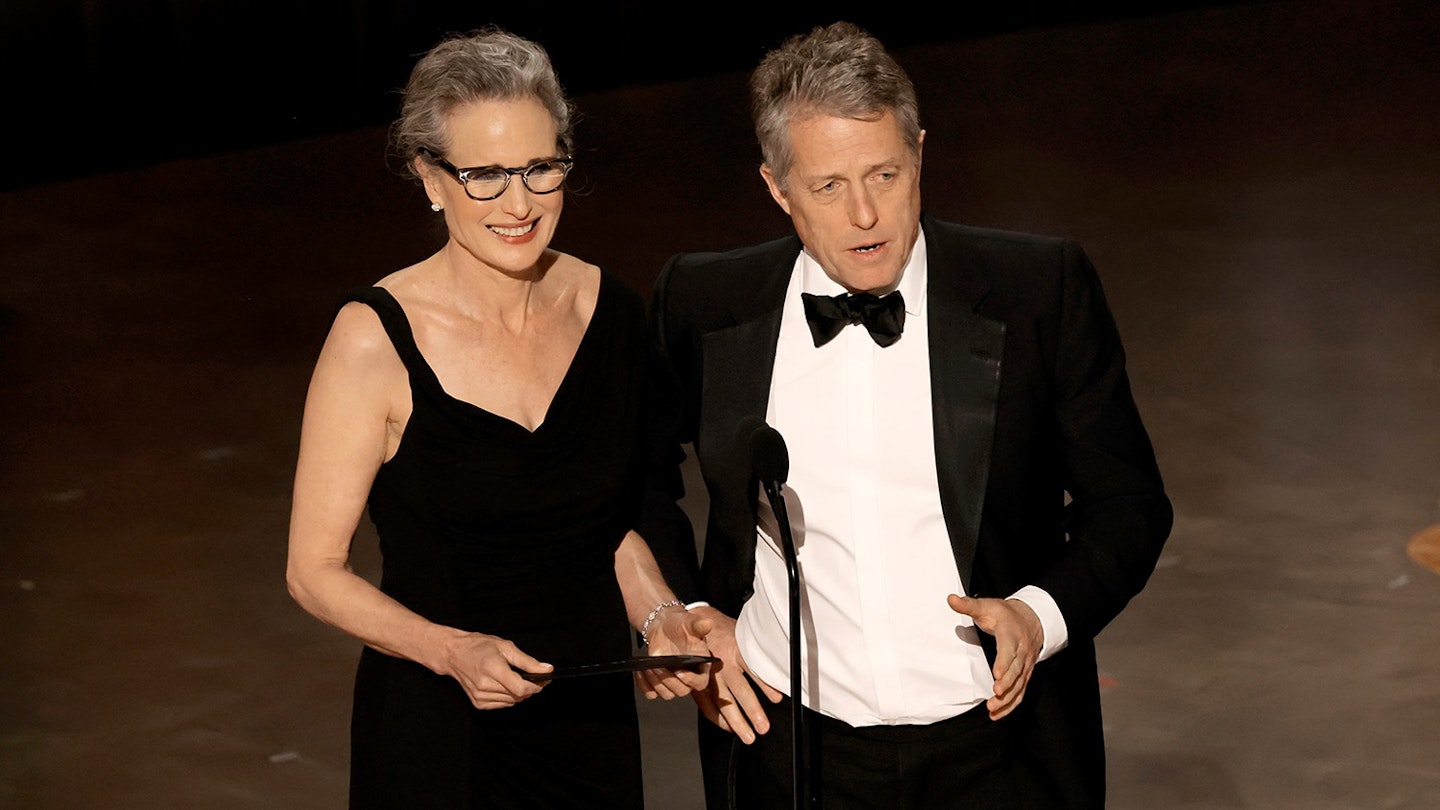 They're presenting Production Design – and it goes to All Quiet On The Western Front. That's its third win of the night – it's doing very well so far. But will it crack Best Picture? There's still a while to go…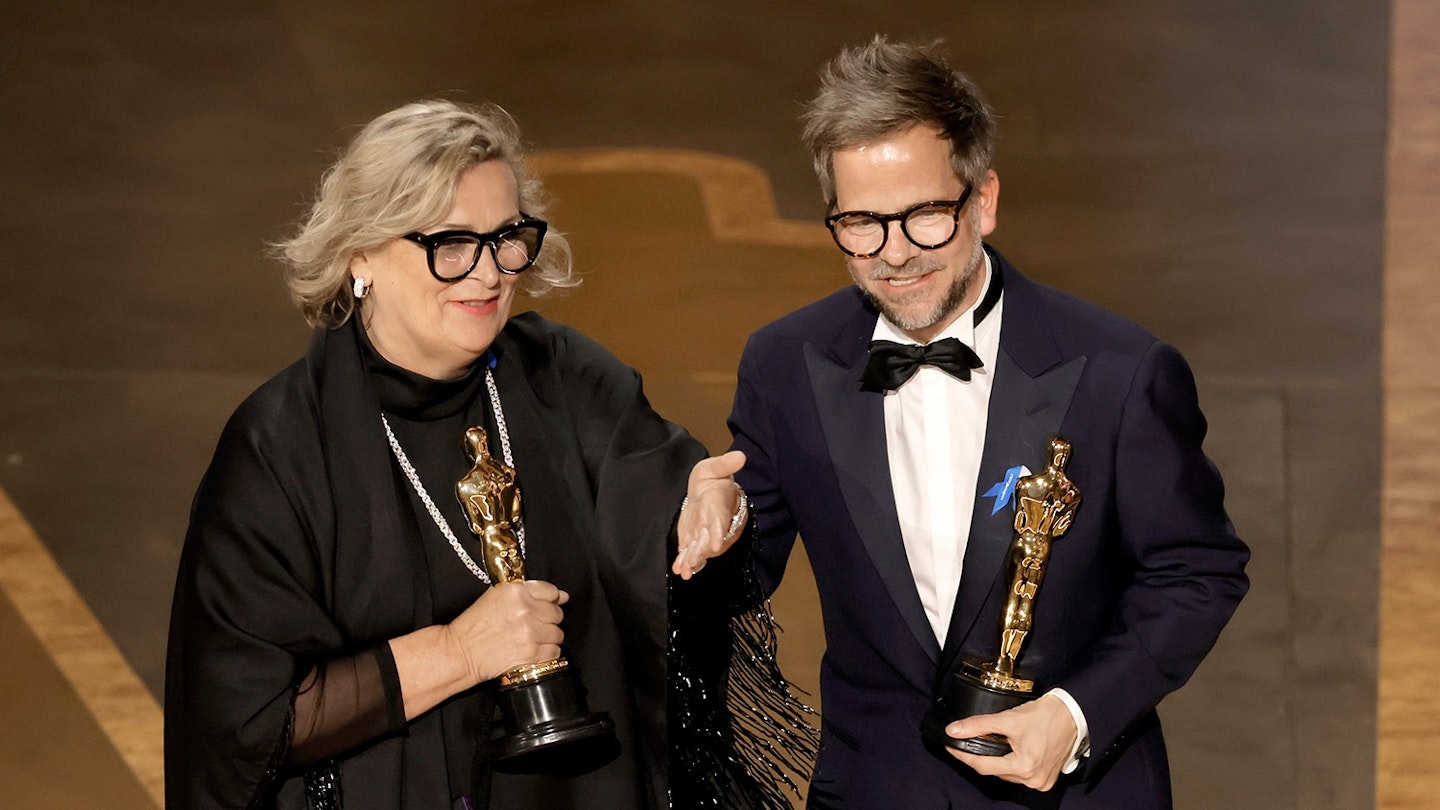 ––
01:57am It's Lady Gaga time! "We all need a hero sometime. There are heroes all around us, in unassuming places," she says quite intensely before her performance of Top Gun: Maverick song 'Hold My Hand'. It's a stripped-back, almost A Star Is Born-style rendition of the ballad, sitting down as she sings into the mic, accompanied only by a piano until the rest of her small band kicks in halfway through. Her voice is, as ever, astonishing. This is actually a really cool way to present this song – she's properly going for it, in a really lo-fi way.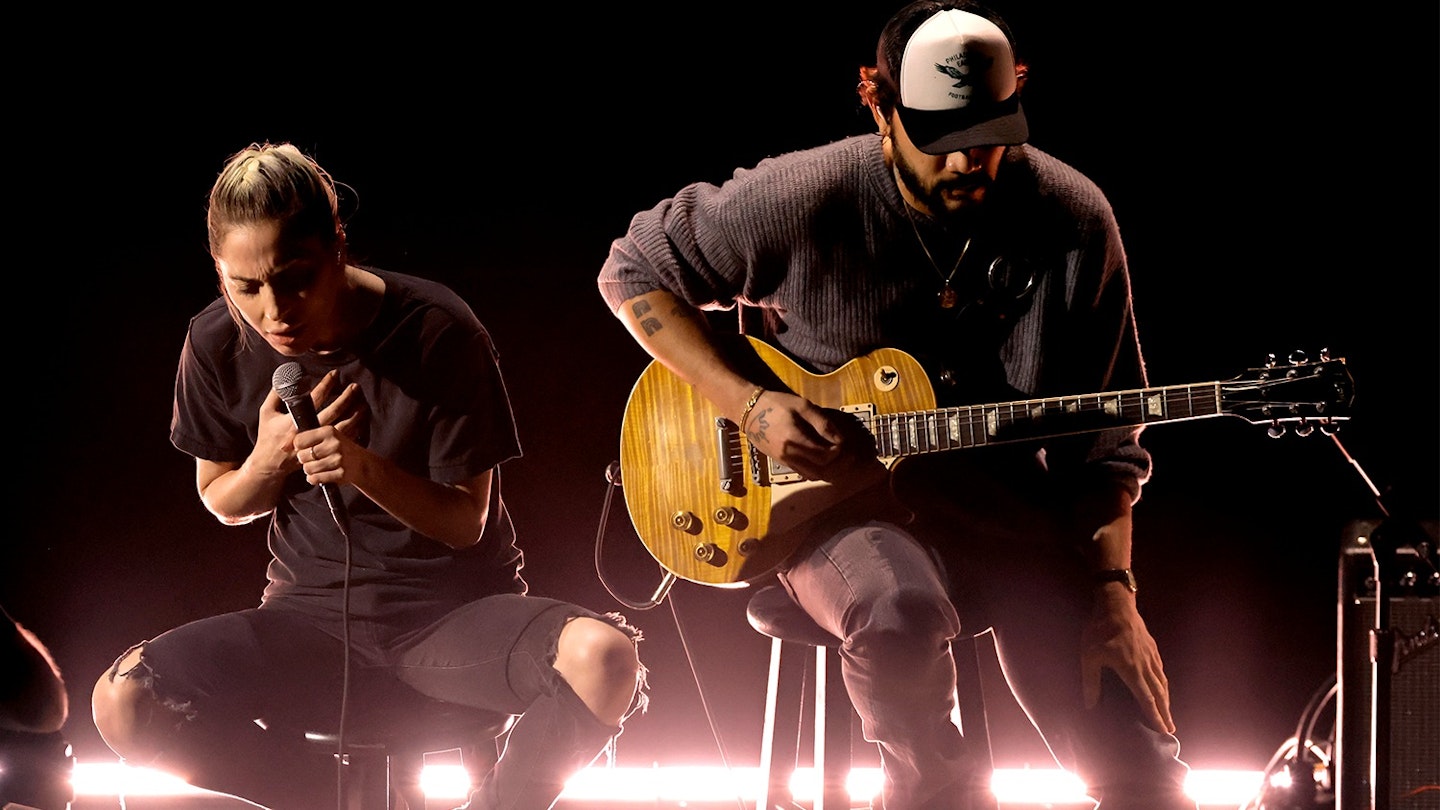 ––
01:50am Sound the Pedro Pascal alarm! He's on stage with Elizabeth Olsen to present Documentary Short Film. The Oscar goes to The Elephant Whisperers. Director Kartiki Gonsalves thanks everyone involved, and "my motherland, India". Next up, it's Animated Short Film – Pedro Pascal is about to say the title My Year Of Dicks.
But the Oscar goes to The Boy, The Mole, The Fox & The Horse. Producer Matthew Freud isn't saying thank you… instead, he's saying sorry to everyone who should be on the stage with him right now. It's a very British speech!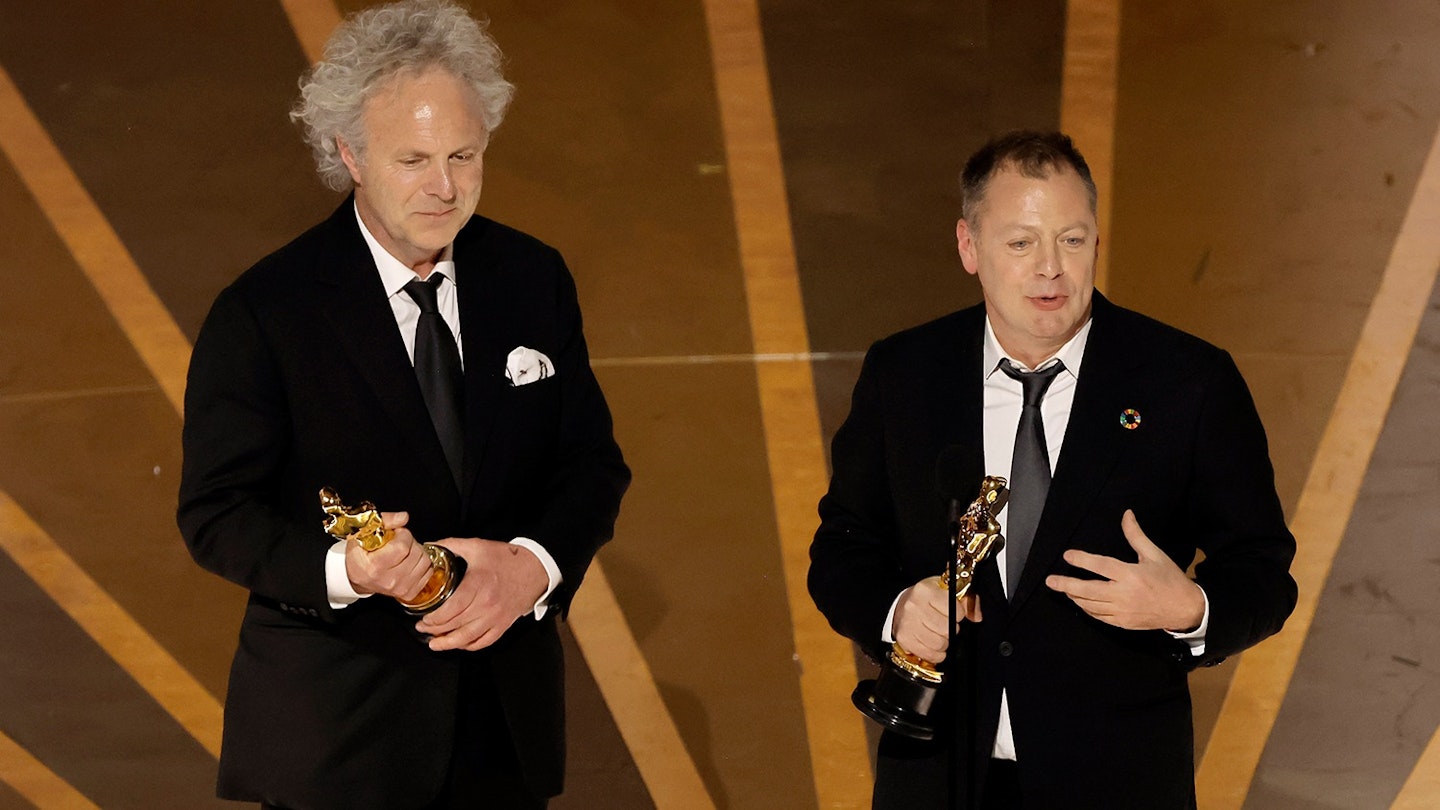 ––
01:42am We're still buzzing off that energy – but the show goes on! And this next category is introduced by Puss In Boots and Kitty Softpaws! Sorry, we mean Antonio Banderas and Salma Hayek Pinault. They're here to present Best International Feature Film. And the winner is All Quiet On The Western Front, its second win of the night. "This means so much to us," says director Edward Berger, in particular thanking his star Felix Kammerer. "This was your first movie, and you carried us on your shoulders as if it was nothing. Without you, none of us would be here."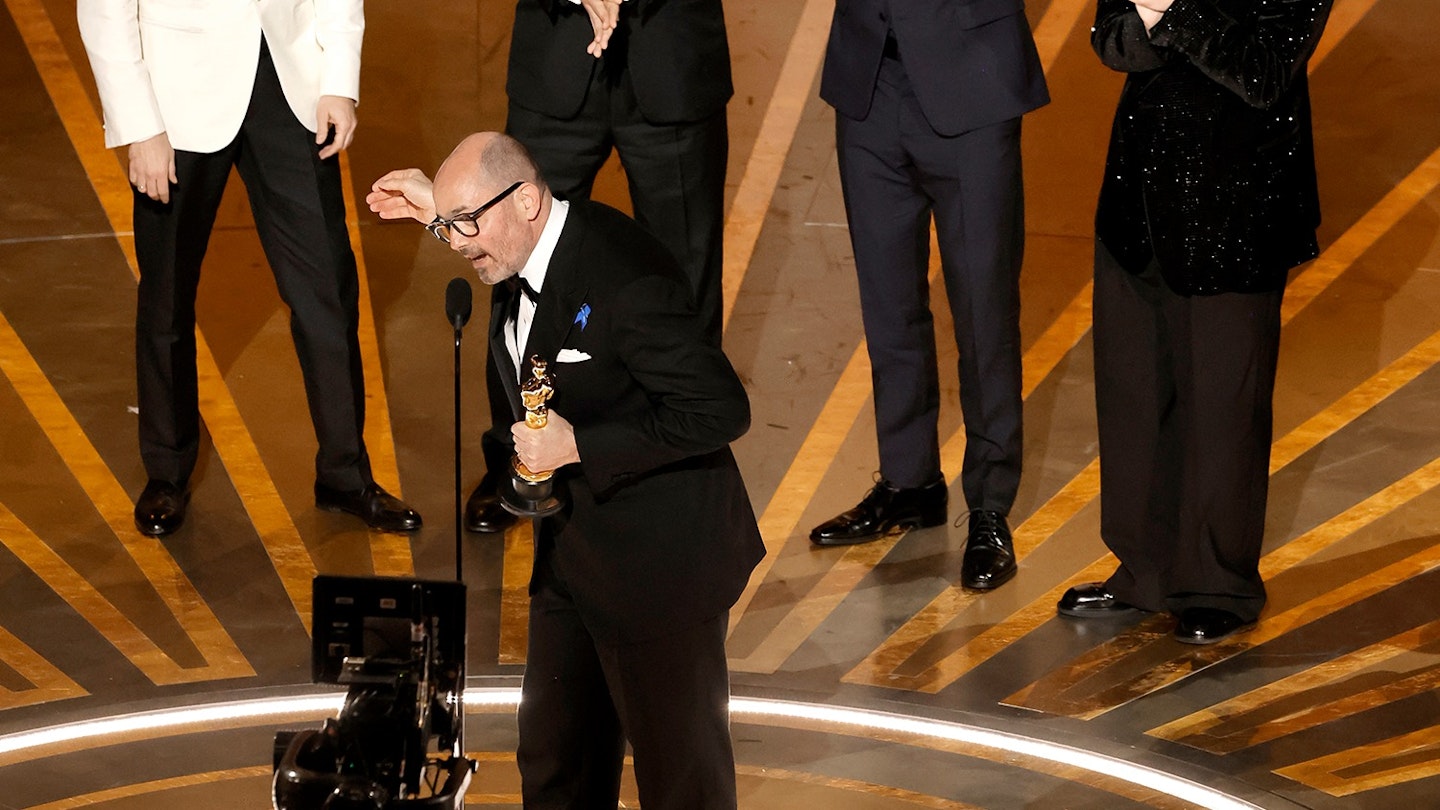 ––
01:32am It's the moment of the night that RRR fans have been waiting for – the 'Naatu Naatu' performance, and it's absolutely going off. This is spectacular. There are dozens of dancers on stage, spectacularly choreographed with moves from the movie. Pure energy, the audience is going wild for it. Everyone's on their feet. Amazing!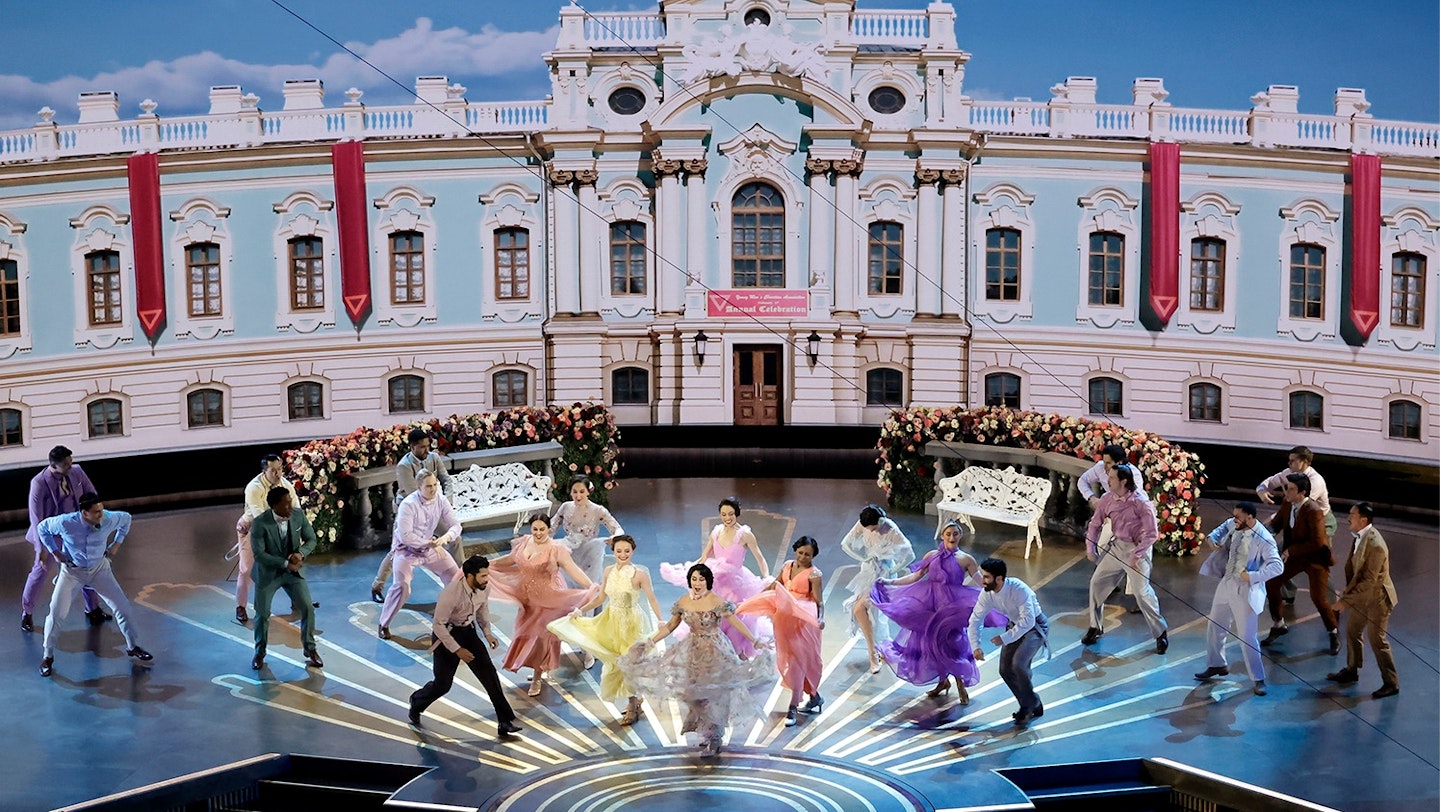 ––
01:27am Frankly, we're still thinking about Jenny. But Paul Dano and Julia Louis Dreyfus are here to present Costume Design, so we have to move on. In a very cool move, the costumes are on stage right now – from Babylon, Black Panther: Wakanda Forever, Elvis, Everything Everywhere All At Once, and Mrs. Harris Goes To Paris. And the Oscar goes to Black Panther: Wakanda Forever. Go on, Ruth Carter! "Nice to see you again!" she says. "Thank you to the Academy for recognising the superhero that is the Black woman." She's said the award is for her mother, who died in the past week aged 101 – a beautiful and moving speech.
––
01:25am STOP THE PRESS! Jenny the Donkey, from The Banshees Of Inisherin, is on stage right now! Colin Farrell is absolutely beaming in the audience. He's blown a kiss to Jenny. Brendan Gleeson is waving. This is incredible.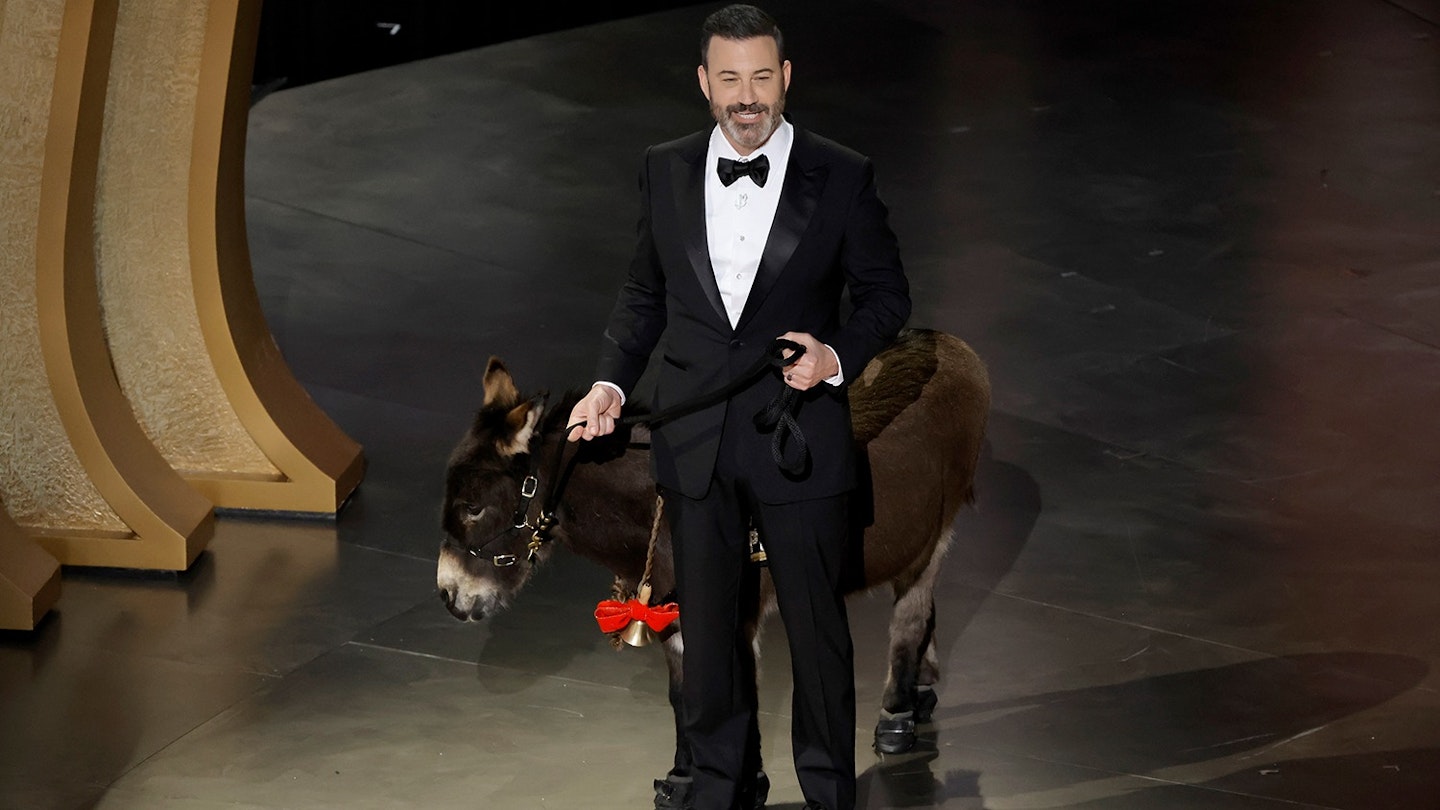 ––
01:17am Time for Makeup & Hairstyling, with Samuel L Jackson and Jennifer Connelly presenting. And they're handing the gong over for… The Whale, for Brendan Fraser's transformation.
––
01:08am And now Donnie Yen is here! Can we get him fighting Michael B. Jordan and Jonathan Majors? Just get a big brawl going. Maybe later… For now, he's introducing a performance by David Byrne, Stephanie Hsu and Son Lux for their Everything Everywhere All At Once song, 'This Is A Life'. David Byrne has hotdog hands! We repeat, David Byrne has hotdog hands!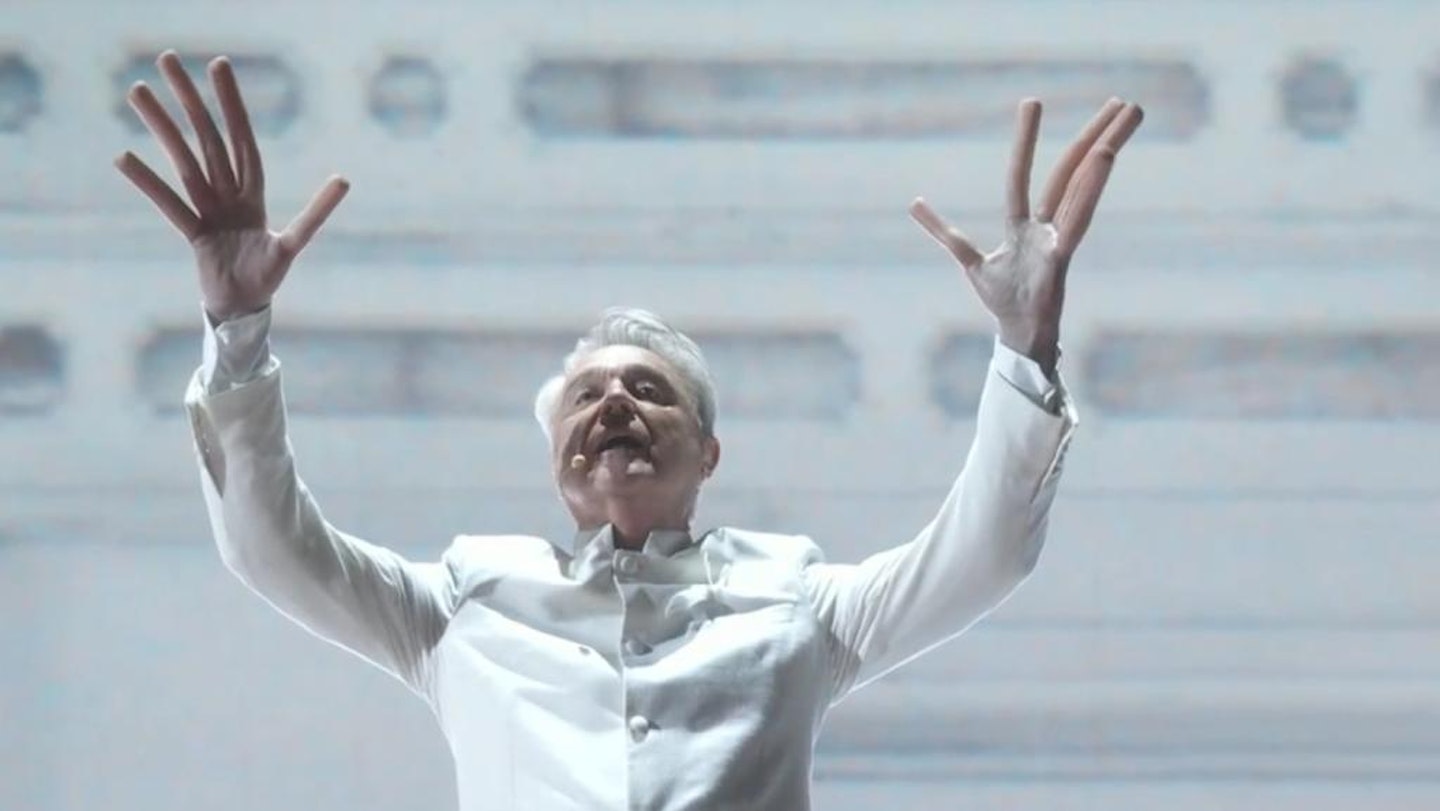 ––
01:04am Michael B. Jordan and Jonathan Majors are on stage together – and they're knocking seven bells out of each other, Creed IV is happening right now! Oh wait, no – they're introducing Cinematographer. And the winner is James Friend for All Quiet On The Western Front, its first win of the night. "It's not my birthday," he quips. "But it feels like it is!" He's clearly emotional as he thanks his fellow nominees, and "my darling mum and dad, who when I said I want to run off to join the circus of the film industry, they believed in me."
––
00:55am Now it's Live Action Short Film, with Riz and Questlove still presenting. The Oscar goes to An Irish Goodbye. "Thank you to everybody back home in Northern Ireland who helped us win this award," says co-director Ross White. And it's star of the film, James Martin's birthday! The whole crowd just sang happy birthday to him – incredibly wholesome scenes.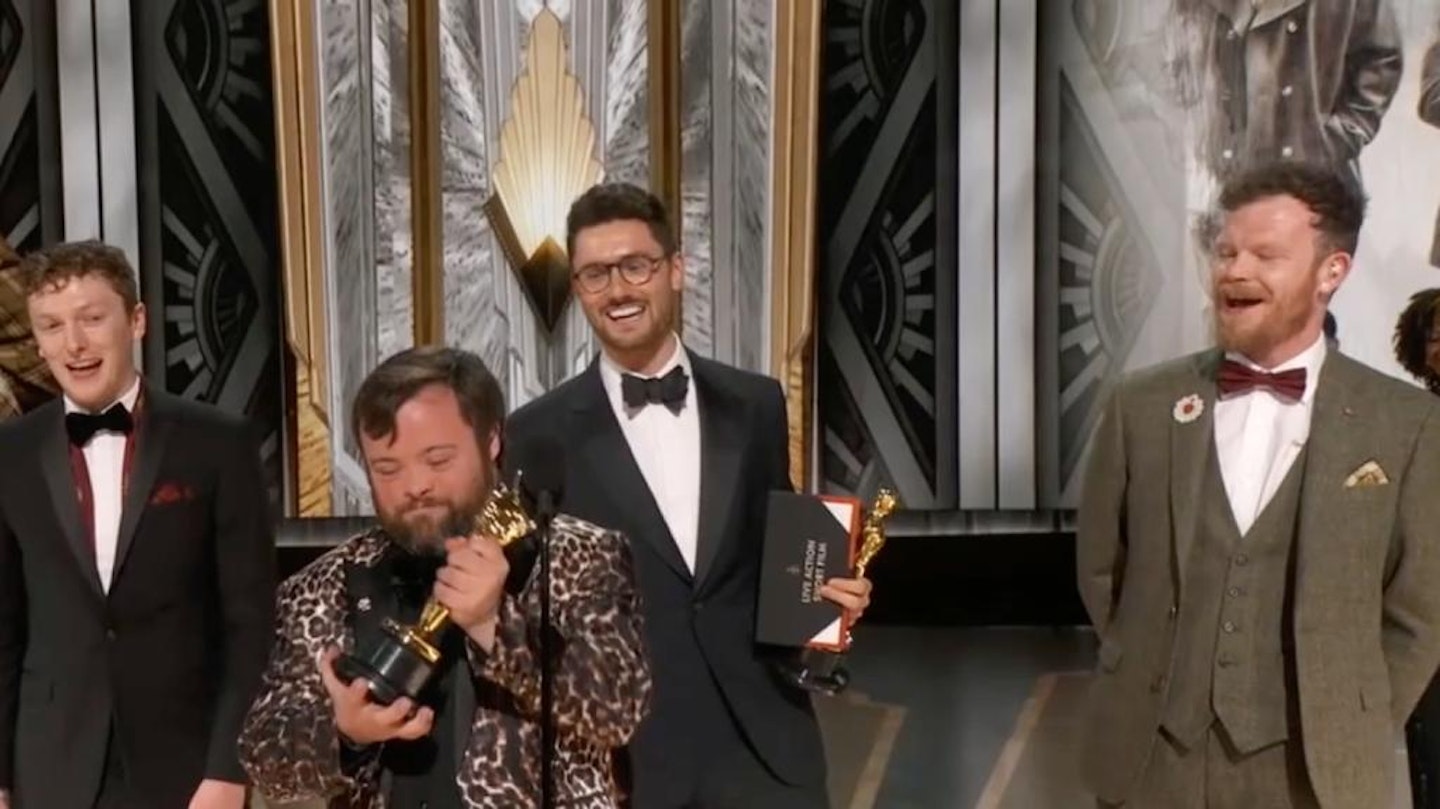 ––
00:50am Phew, there's been an ad break, we've wiped our tears away, and we're onto Best Documentary Feature. Riz Ahmed and Questlove are here to present the award. And it goes to… Navalny. "To the Navalny family… thank you for your courage, the world is with you," says director Daniel Roher.
––
00:36am God, we're emotional wrecks already. But it's time for Supporting Actress. And the winner is... Jamie Lee Curtis for Everything Everywhere All At Once! Another win for the Daniels' movie, two for two so far. "I know it looks like I'm standing up here by myself, but I'm not. I'm hundreds of people," she says, shouting out her collaborators and loved ones, including the Daniels and "my bae, Michelle". To all of them, she says, "We won an Oscar!"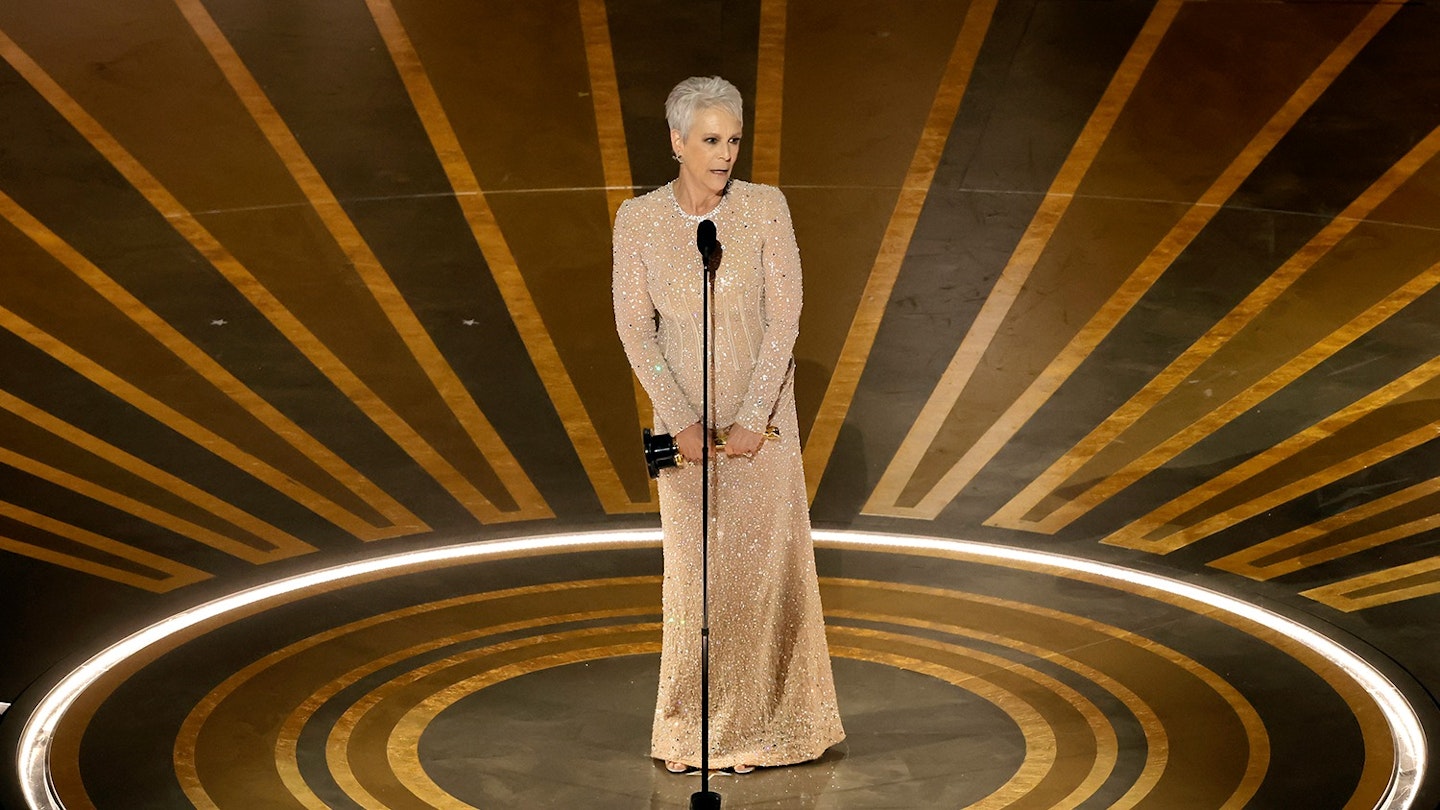 ––
00:28am Next up, it's Supporting Actor. Troy Kotsur and Ariana DeBose are here to present – and the Oscar goes to... Ke Huy Quan for Everything Everywhere All At Once! This is going to be hugely emotional. Even Ariana DeBose is tearing up as she reads his name. "Oh my god!" he yells on stage. "My mom is 84 years old and she's at home watching. Mom! I just won as Oscar! My journey started on a boat. I spent a year in a refugee camp, and somehow I ended up here on Hollywood's biggest stage. They say stories like this only happen in the movies. I cannot believe it's happening to me. This is the American dream!" He also thanks "my Goonies brother for life, Jeff Cohen". That was an absolutely beautiful speech.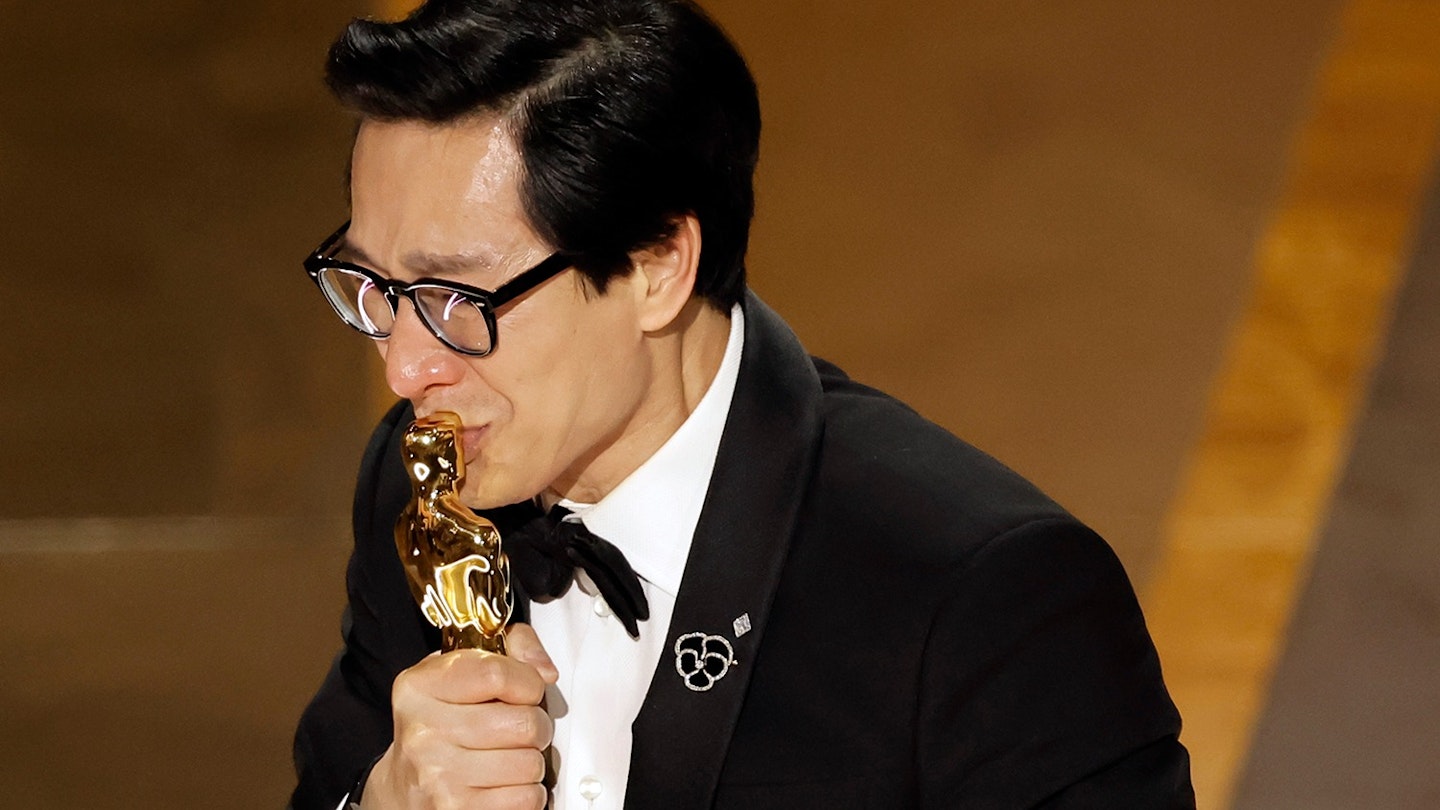 ––
00:18am First award of the night – it's Animated Film! And Dwayne Johnson (co-hosting with Emily Blunt) is doing a lovely pre-amble, about the rich value of animation as an artform and its lineage in Hollywood. A nice change from last year's condescending intro about them being the films kids love! And the winner is... Guillermo del Toro's Pinocchio! "Animation is cinema. Animation is not a genre. And animation is ready to be taken to the next step. We are all ready for it," says the man himself, dedicating the award to his wife and parents.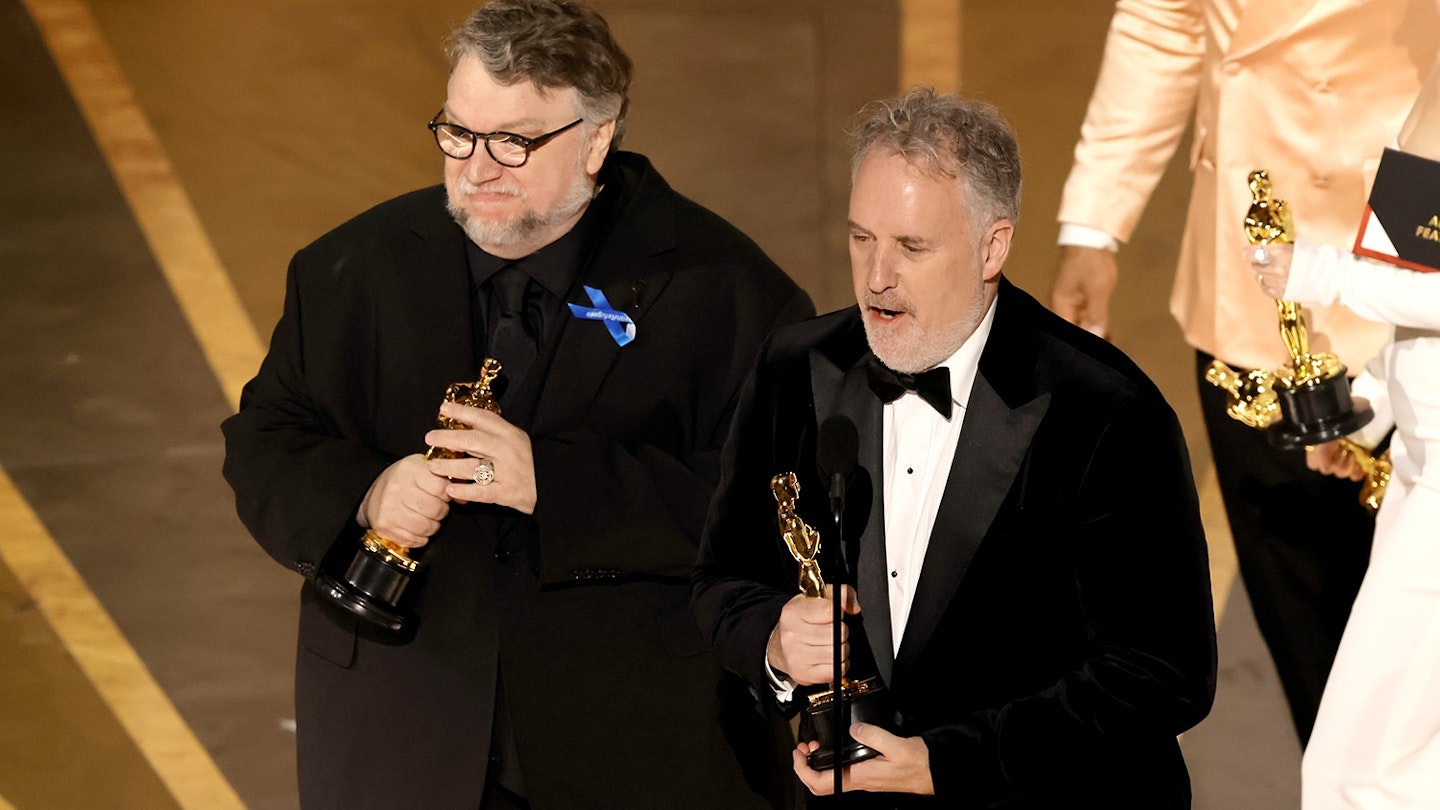 ––
00:17am OK, this is good – if anyone runs over, they're not getting played off the stage. They're getting RRR-danced off!
––
00:16am The monologue is continuing... and it's not a vintage year. But, as Kimmel points out, every category is going to be on TV tonight, after multiple years of major prizes not getting shown on the telly. Yes!
––
00.05am And we are GO! Jimmy Kimmel has parachuted in to the ceremony (after a skit involving him ejecting from Maverick's jet). And he's cracking gags about Nicole Kidman's legendary AMC cinema ad. Now, he's pointing out that Spielberg has been nominated for Best Director across six decades! Blimey. And John Williams is here, the oldest Oscar nominee in history at 91.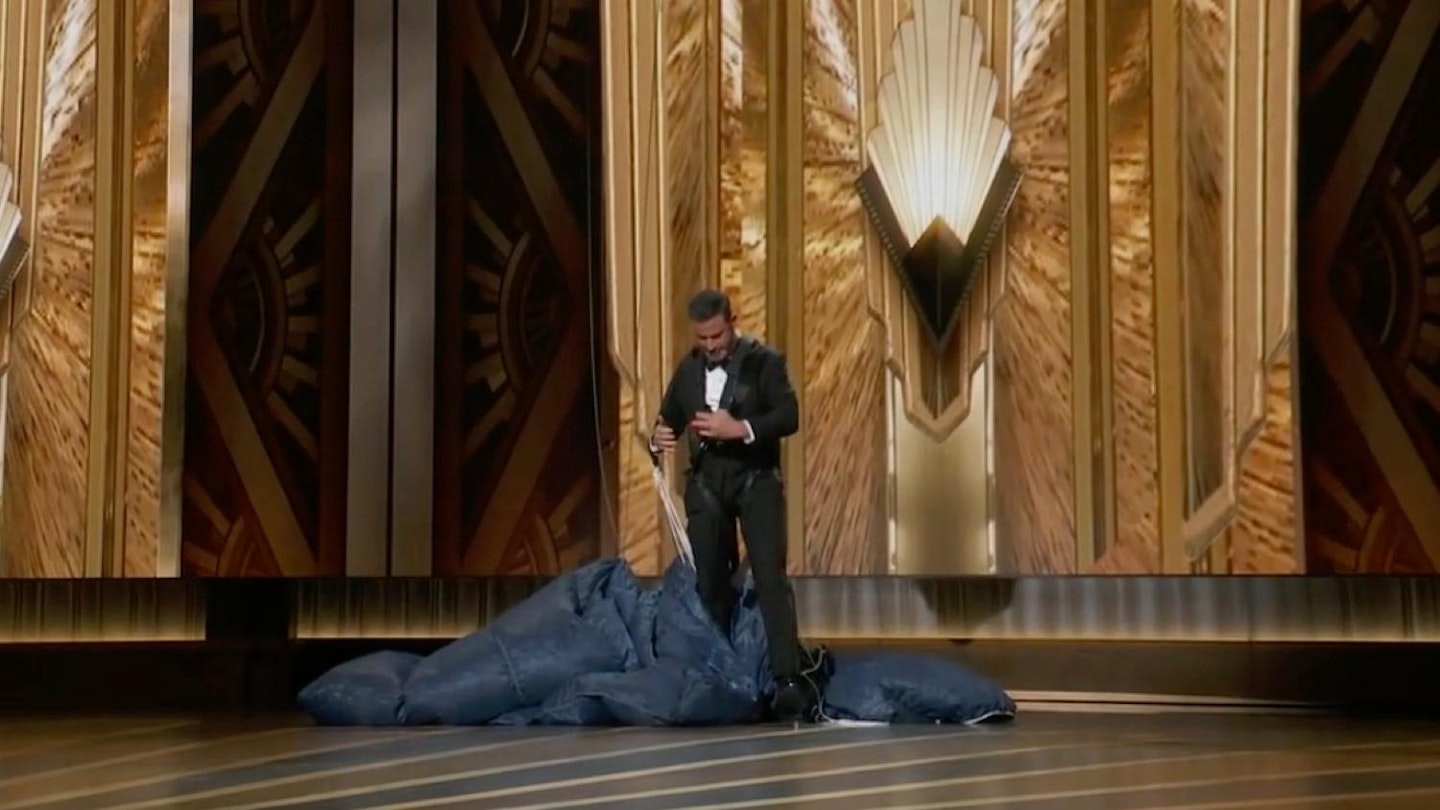 ––
23:55pm Angela Bassett, once again doing the thing. Not John Carpenter's The Thing, her own thing.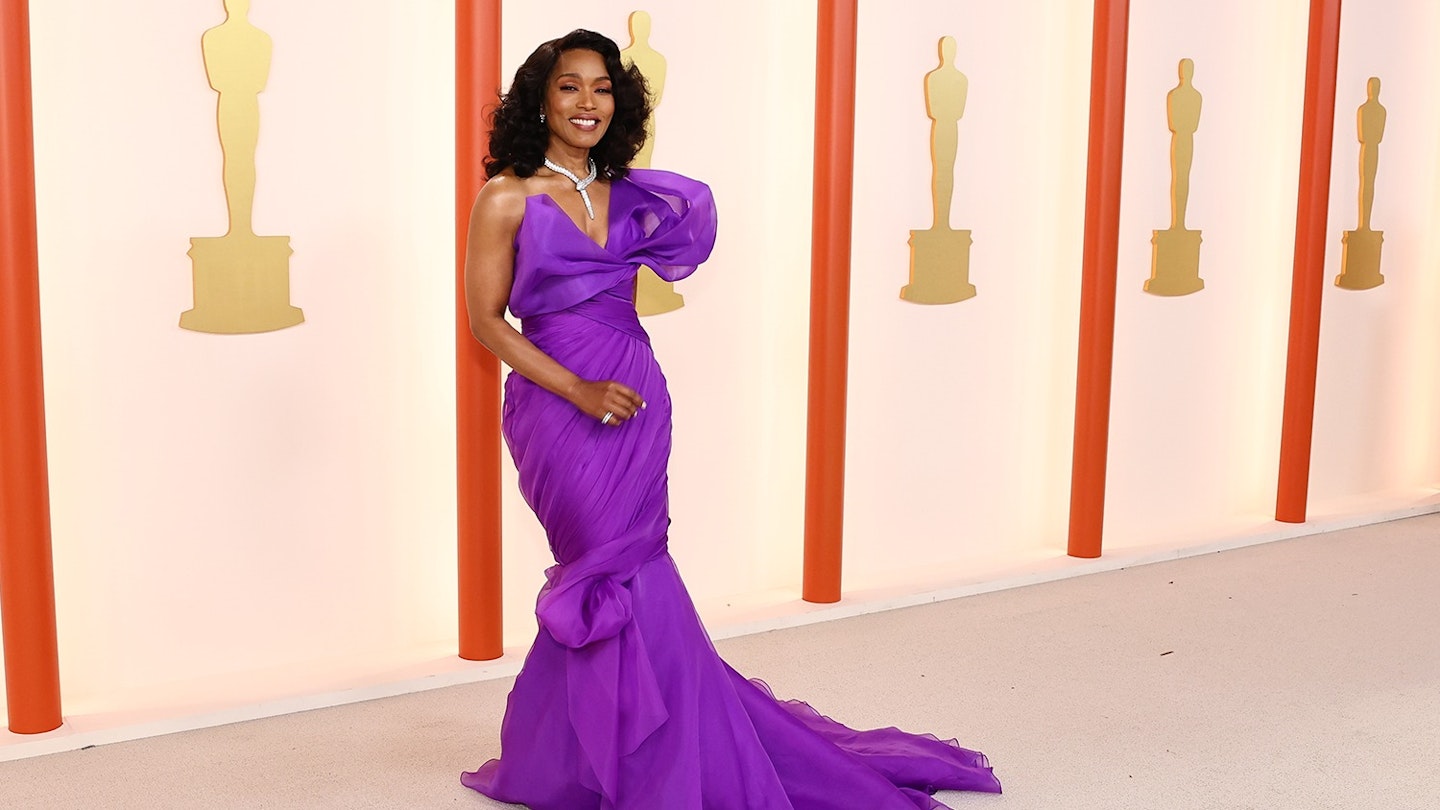 ––
23:52pm This just in! The back of Daniel Kwan's jacket has the same PUNK emblem as Evelyn's cardigan in EEAAO! Where can we get one?!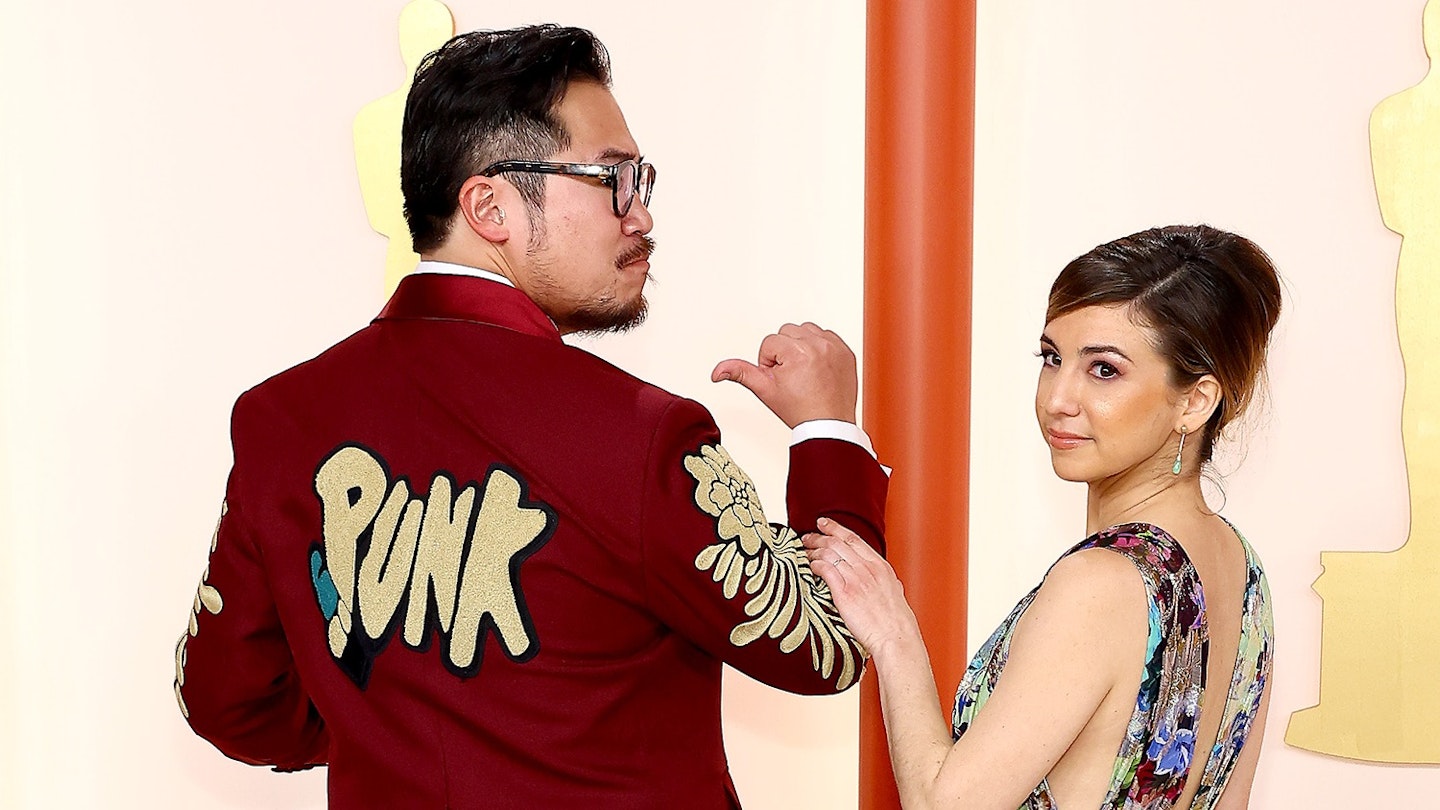 ––
23:50pm Daniel Kwan is leaping into action (insert your own Super Mario sound) with his Everything Everywhere All At Once co-director Daniel Scheinert. 10 minutes to go everyone, down that Lucozade!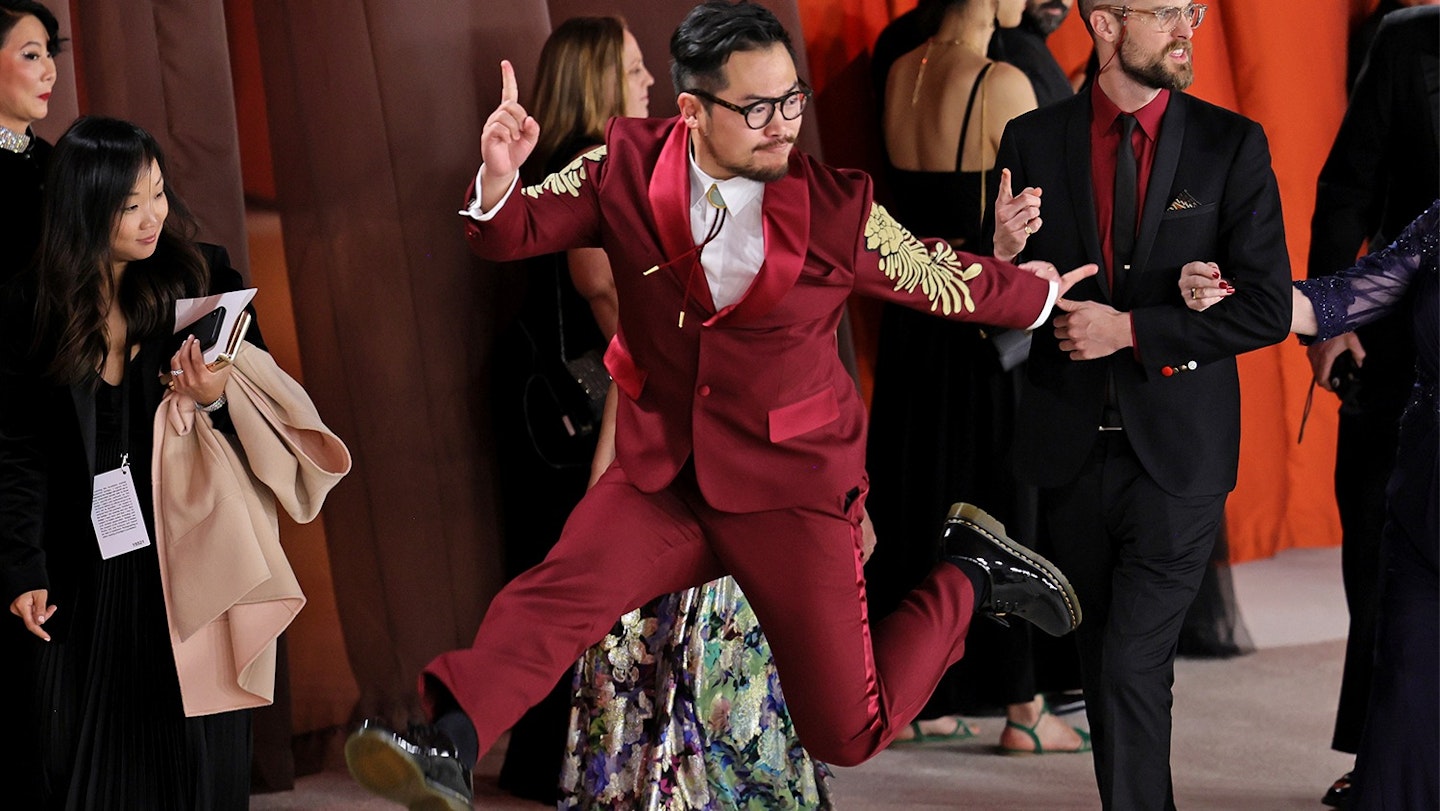 ––
23:33pm Paul Mescal getting his Sean Connery in Goldfinger on... The Mescal for Bond rumors begin here!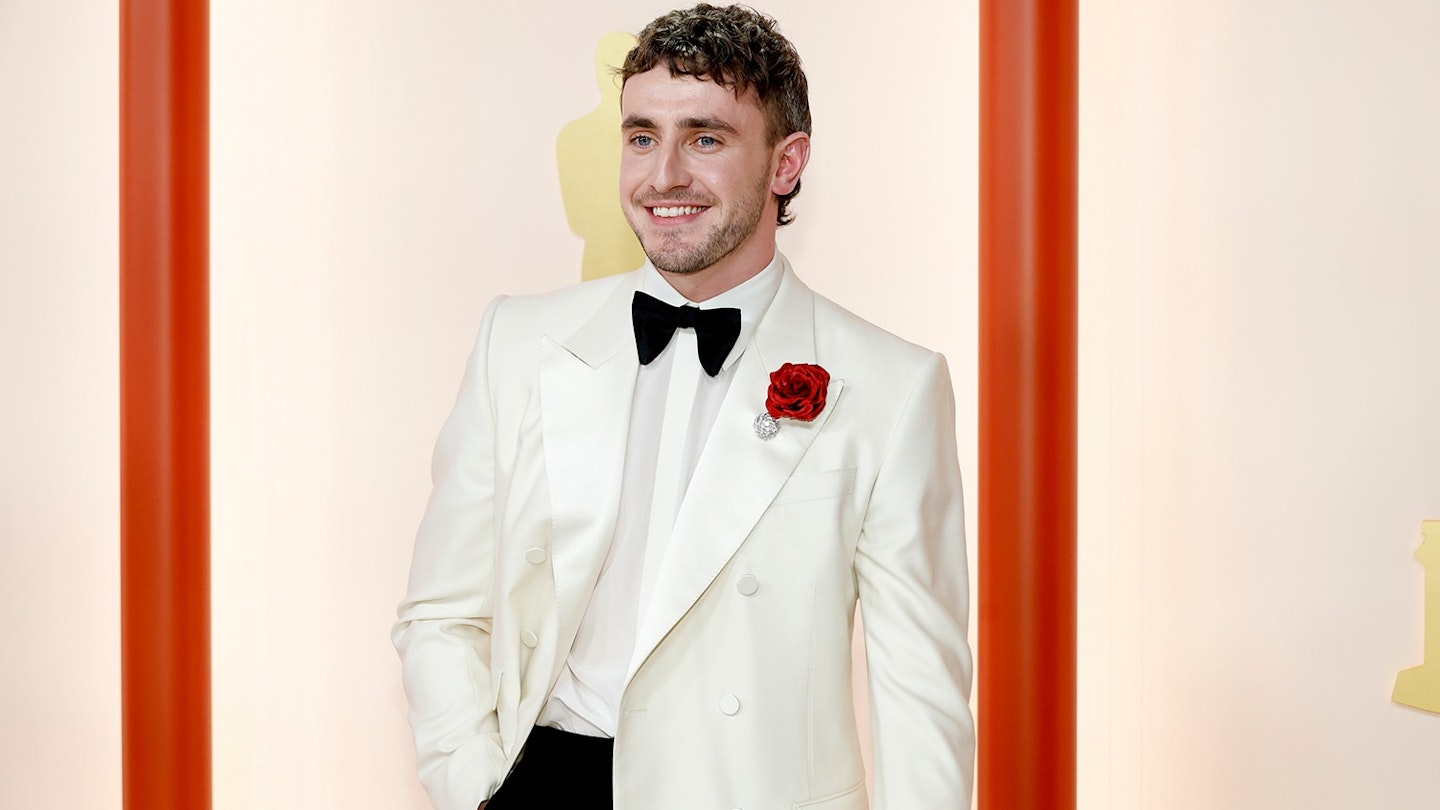 ––
23:30pm And here's Ke Huy Quan, getting straight to the point.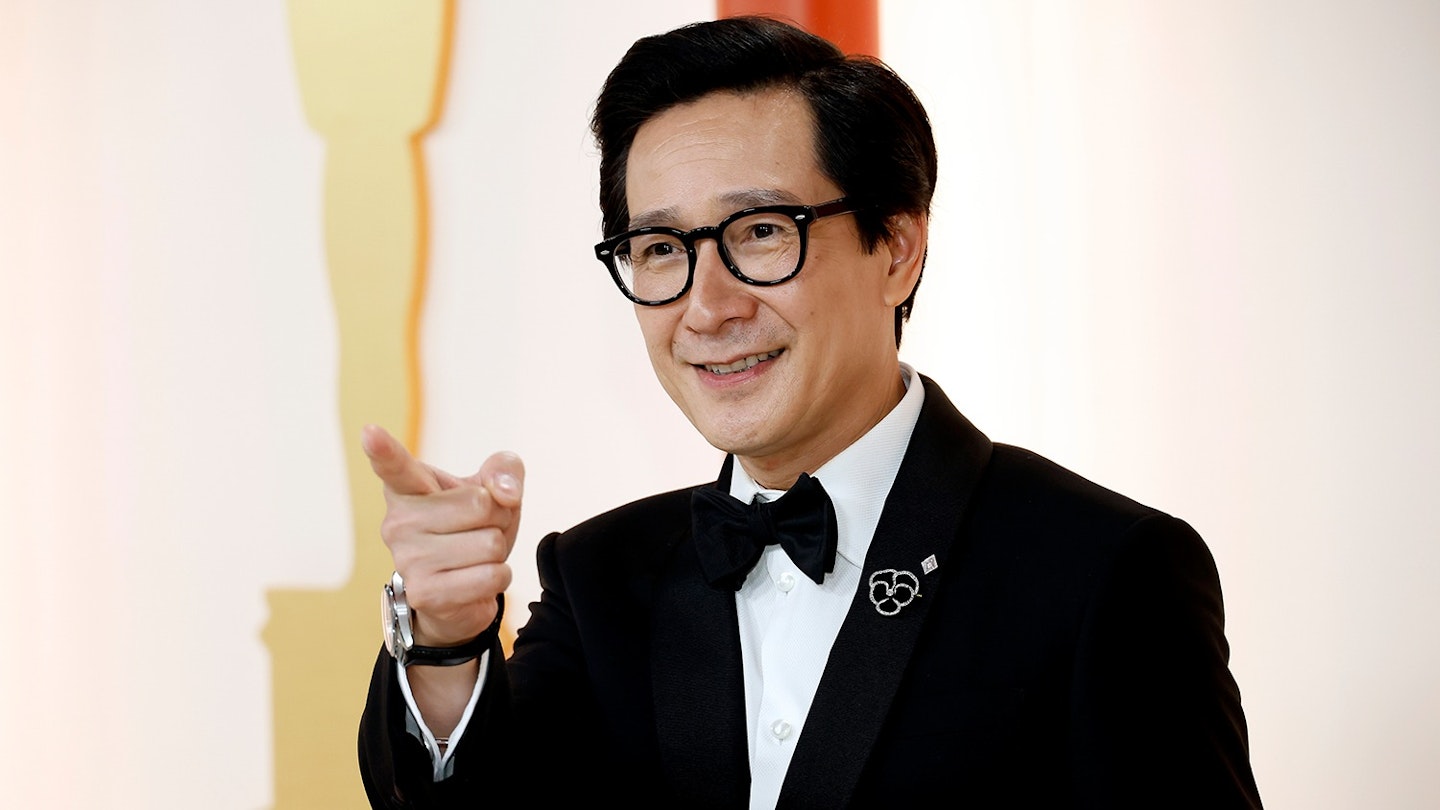 ––
23:25pm Michelle Yeoh is everything, but she's not everywhere all at once – she's specifically at the Oscars, and looking regal as hell. Is she going to win Best Actress tonight? Not too long until the ceremony finally starts, and we find out…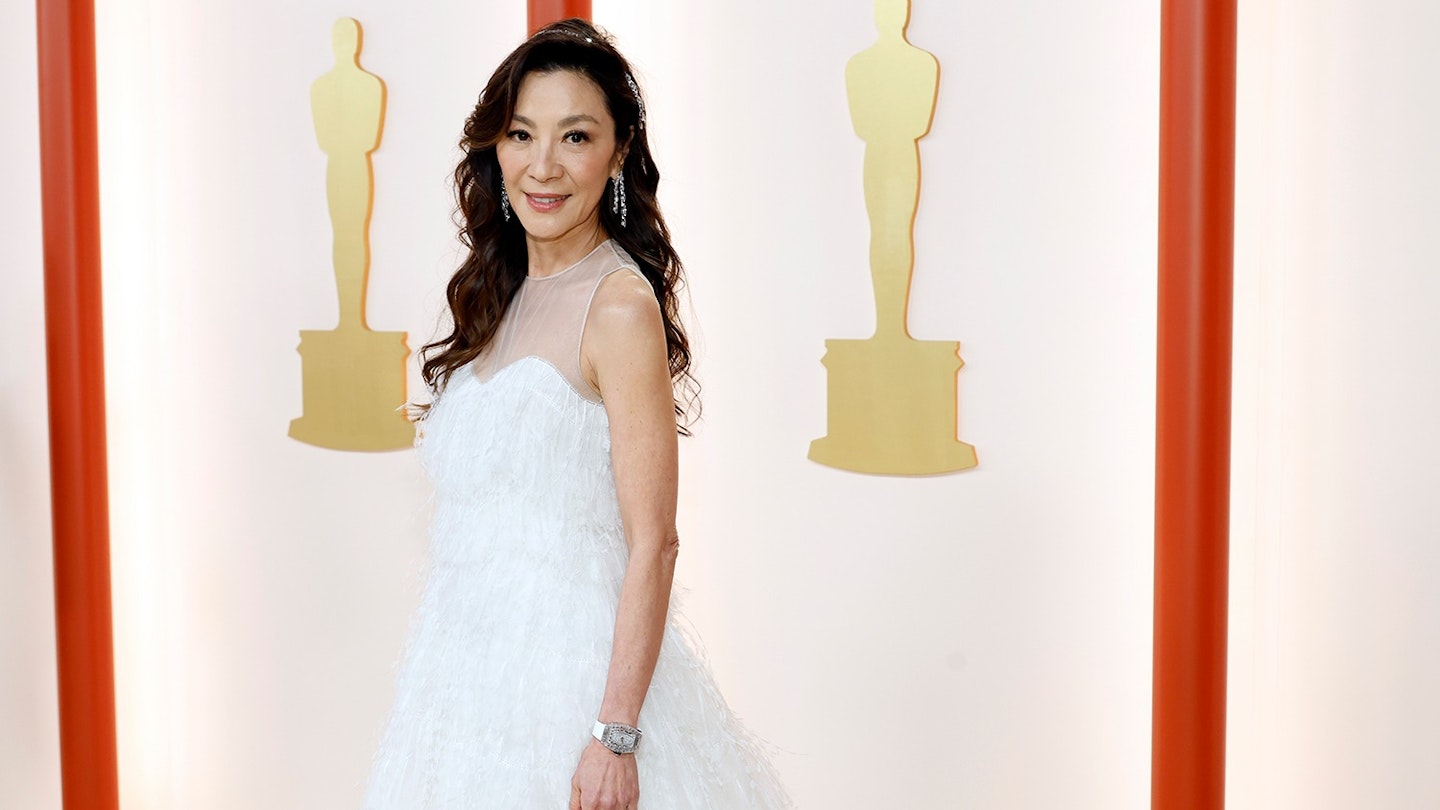 ––
23:10pm Question: has anyone lost a naked Sylvanian Families figure on the Oscars red carpet? Because Bill Nighy has found it.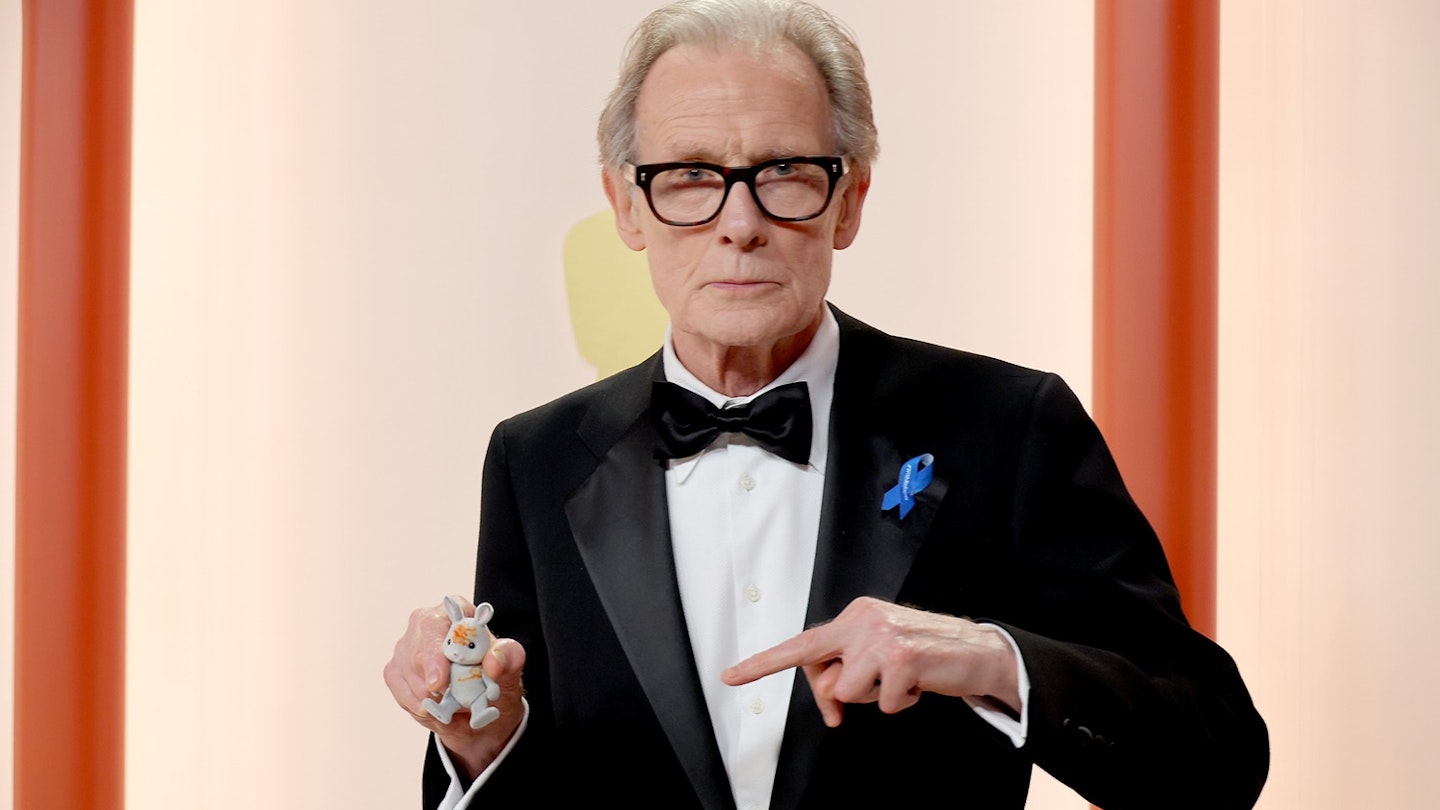 ––
23:06pm Blimey, still an hour to go – but the arrivals are coming thick and fast. In fact, here's Austin Butler making his entrance while the pre-show chat continues. A little less conversation, a little more Oscars please…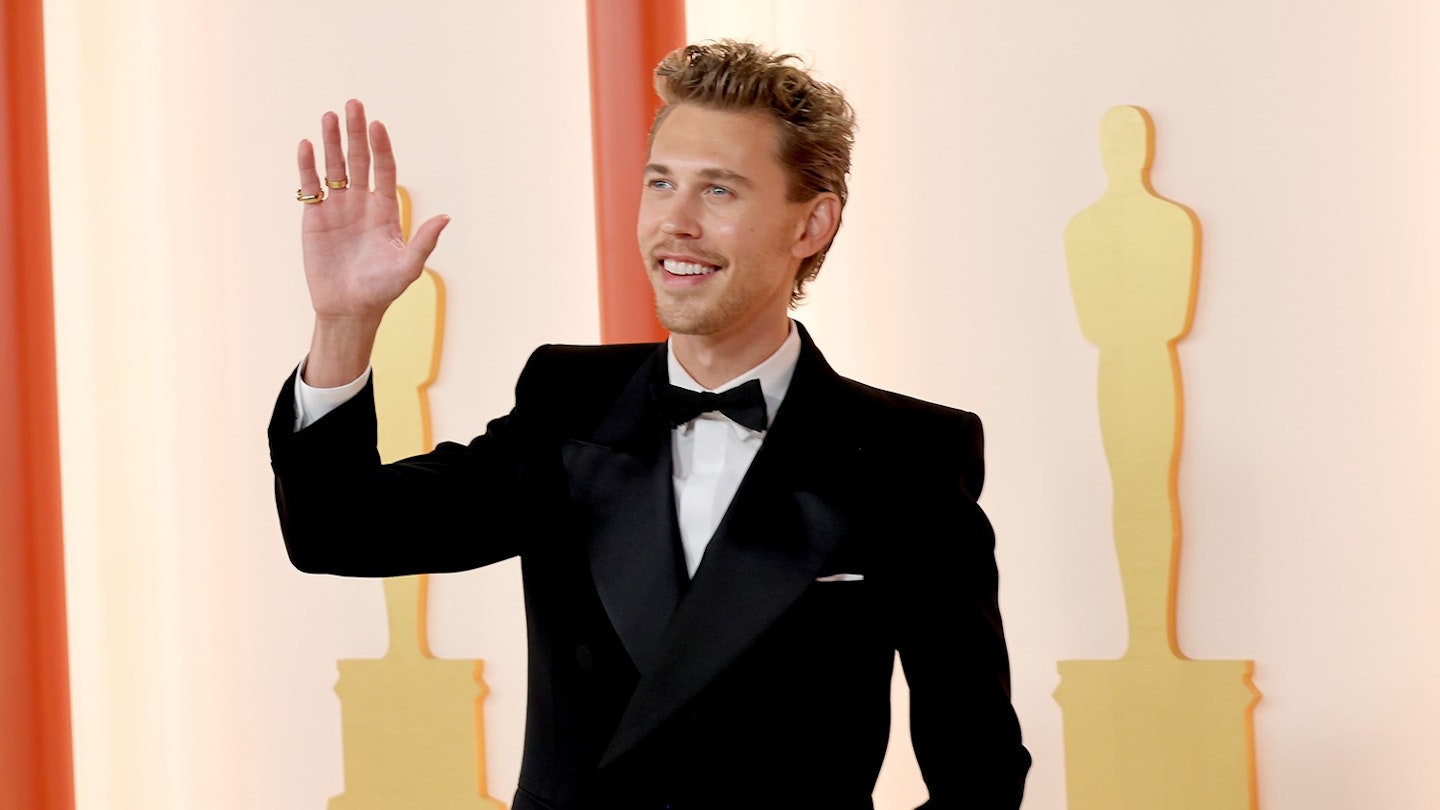 ––
22:30pm Hello everyone, and welcome to the Empire Oscars live blog! We're here with mountains of snacks (Chilli Heatwave Doritos, a bag of crispy M&Ms, and Fruit Pastilles included), and we're ready for the night to begin. Which is bad news, because there's still an hour and a half until the awards ceremony actually starts. For now, it's time to re-caffeinate, load up on snacks, peruse the nominees once more, get your sweepstakes in line – and see who's rocking it on the red carpet. Stay tuned here for the snazziest outfits as they come…