Even in an age of CG effects and ever-evolving performance capture, there's something special about great practical make-up effects. Just as they did 90 years ago at the dawn of cinema, a well-realised combination of make-up and actor can create an indelible movie monster that lingers in the mind long after the credits roll. Here, we have gathered backstage images of some of those monsters as they were created, showing the artists who made them at work...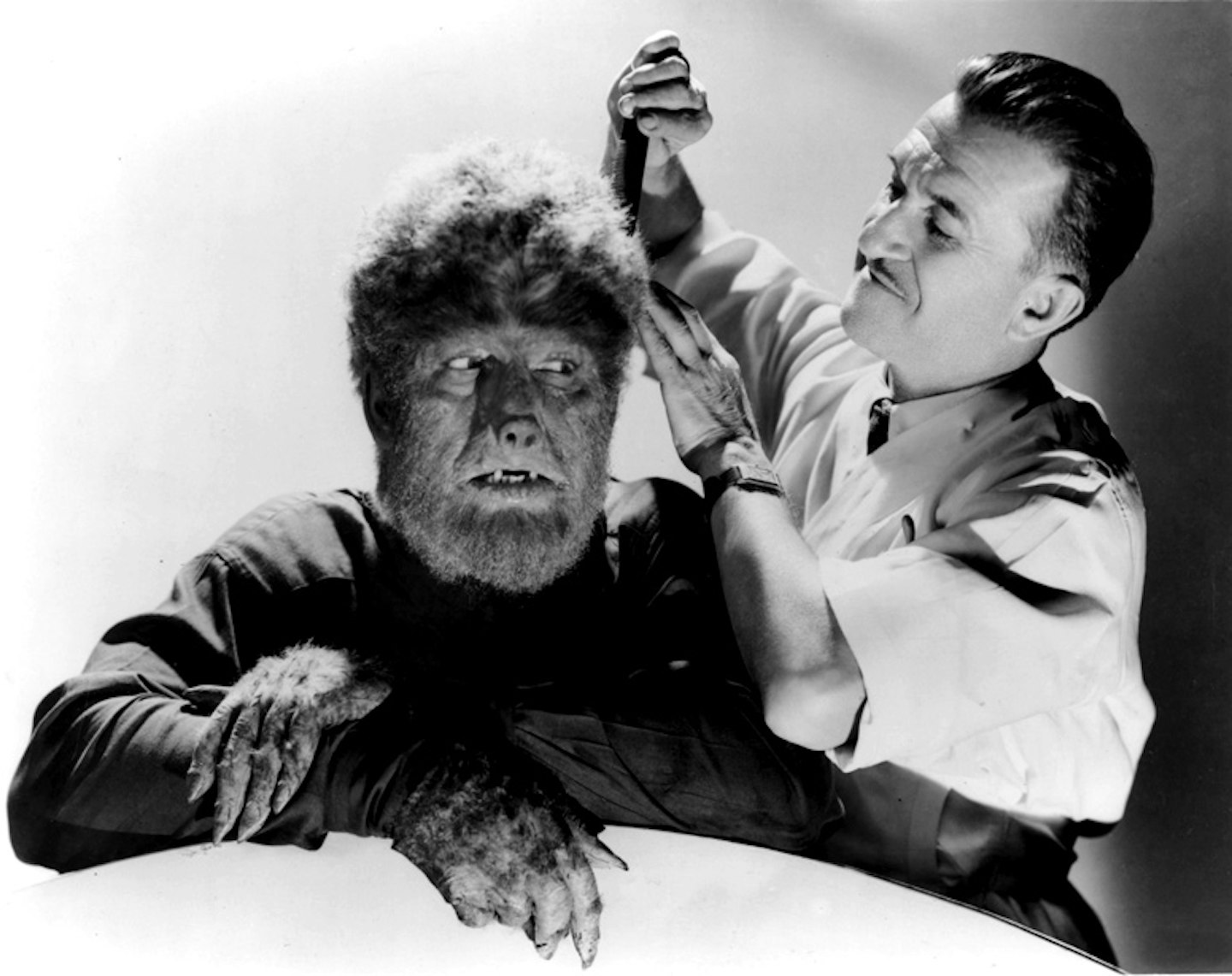 ***Actor: ***Lon Chaney Jr
Make-up Artist: Jack Pierce
Hours In The Chair: 9
Here you can see the Wolf Man (Lon Chaney Jr.) shooting make-up artist Jack Pierce a rather dirty look while he combs through that yak hair. Chaney Jr. loathed the tiresome and uncomfortable make-up process that his iconic role demanded. The process involved rubber prosthetics, wigs, and crucially, thousands of yak hairs for his swollen pompadour. Unfortunately for Chaney, this took six hours to apply and three more to take off, which lead to tensions between the make-up maestro and actor, who reportedly grew to hate each other. Still, it can't have been that bad, because both signed up for four more Wolf Man films.
---
FRANKENSTEIN MEETS THE WOLFMAN (1942)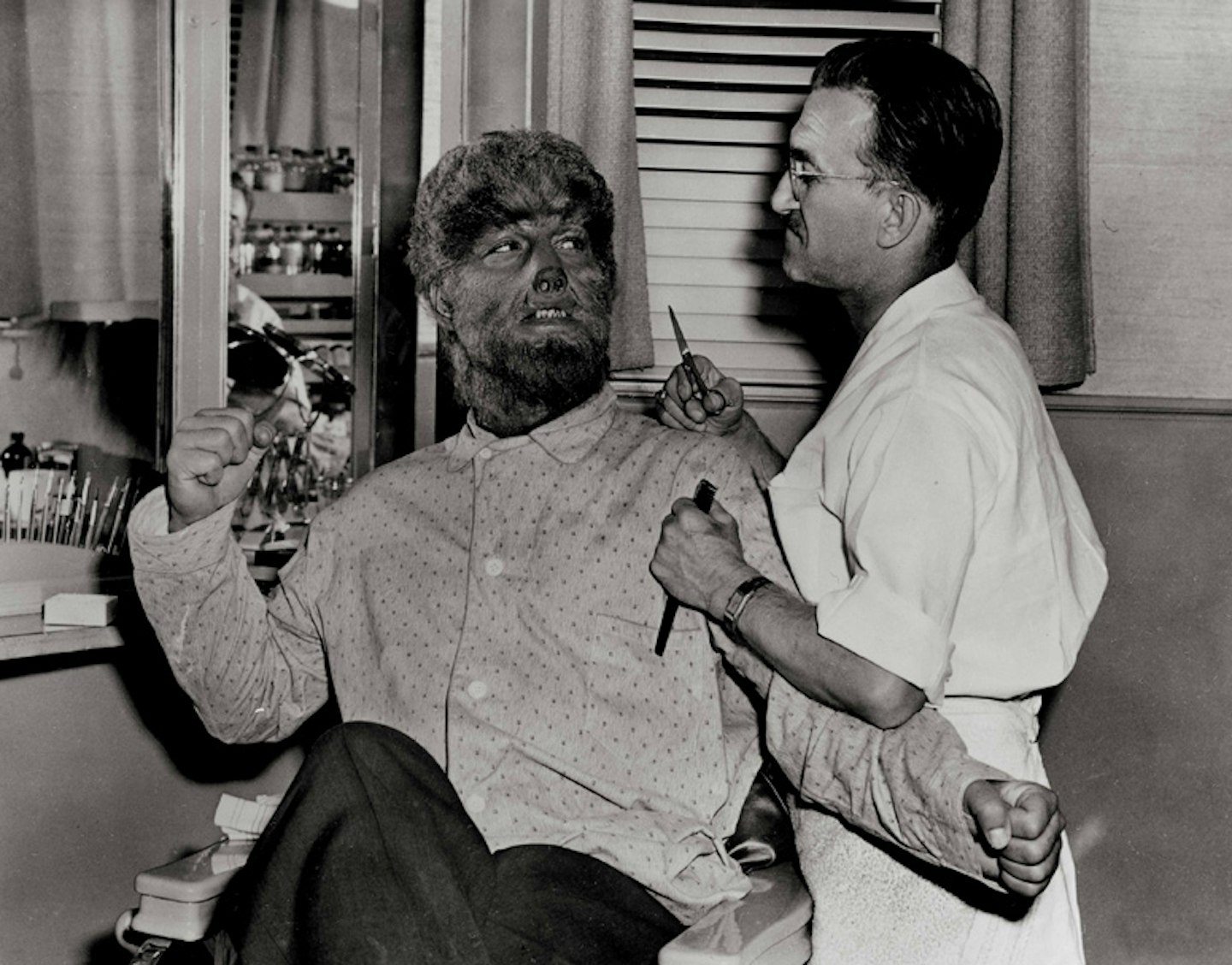 ***Actor: ***Lon Chaney Jr.
Make-up Artist: Jack Pierce
***Hours In The Chair: ***9
Didn't believe us about the hatred? Look closely here and you'll see Lon Chaney Jr. and make-up artist Jack Pierce pretending that they don't secretly want to punch each other in their second Wolfman film. This time, Pierce attempted to simplify his method by rebuilding the nose and increasing that pompadour hair. However, the sequences showing the Wolf Man's transition into a beast required constant touch-ups as Chaney posed, shooting a few frames of film, and lined himself up with etched glass to ensure he stayed still for the next shot. The fact that Chaney was required to stay motionless (and toiletless) for hours at a time no doubt added to the tension between the two. Chaney complained of the removal process that, "What gets me is after work when I'm all hot and itchy and tired, and after I've got to sit in that chair for forty-five minutes, while Pierce just about kills me, ripping off the stuff he put on me in the morning."
---
BRIDE OF FRANKENSTEIN (1935)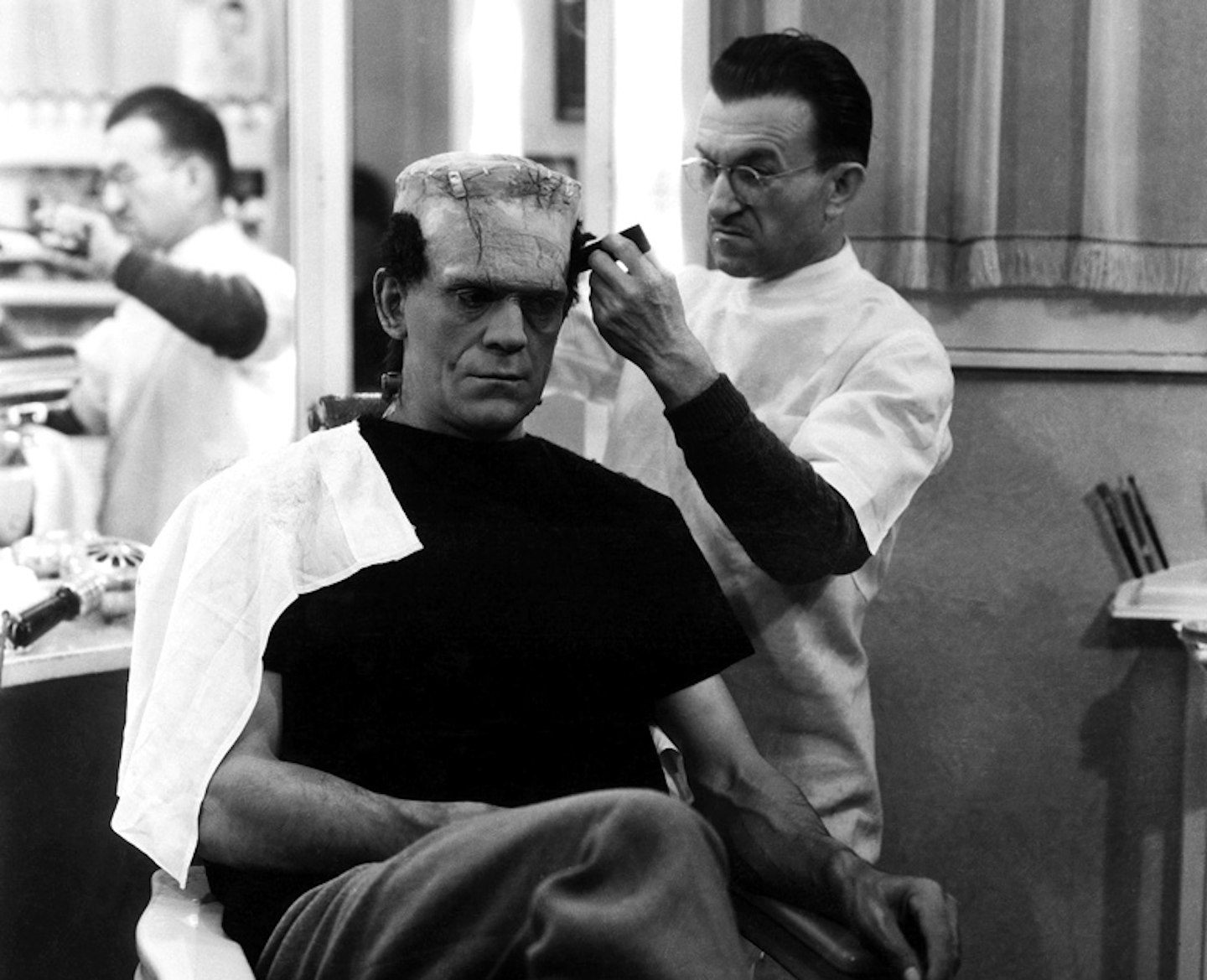 ***Actor: ***Boris Karloff
***Make-up Artist: ***Jack Pierce
Hours In The Chair: 4
The Wolf Man may have wanted to punch him, but Jack Pierce had a better working relationship with Frankenstein's monster, Boris Karloff, on the set of Bride of Frankenstein. Karloff and Pierce collaborated on this updated look so that audiences could see that the Monster survived his fiery death in the previous film, with extra burns and scarring. Karloff sat in the chair for four excruciating hours daily, while Pierce applied a cranium stuffed with collodion, cotton, and greasepaint, making Karloff a highly flammable monster. Happily, the actor didn't suffer his character's fate.
---
THE MUMMY (1932)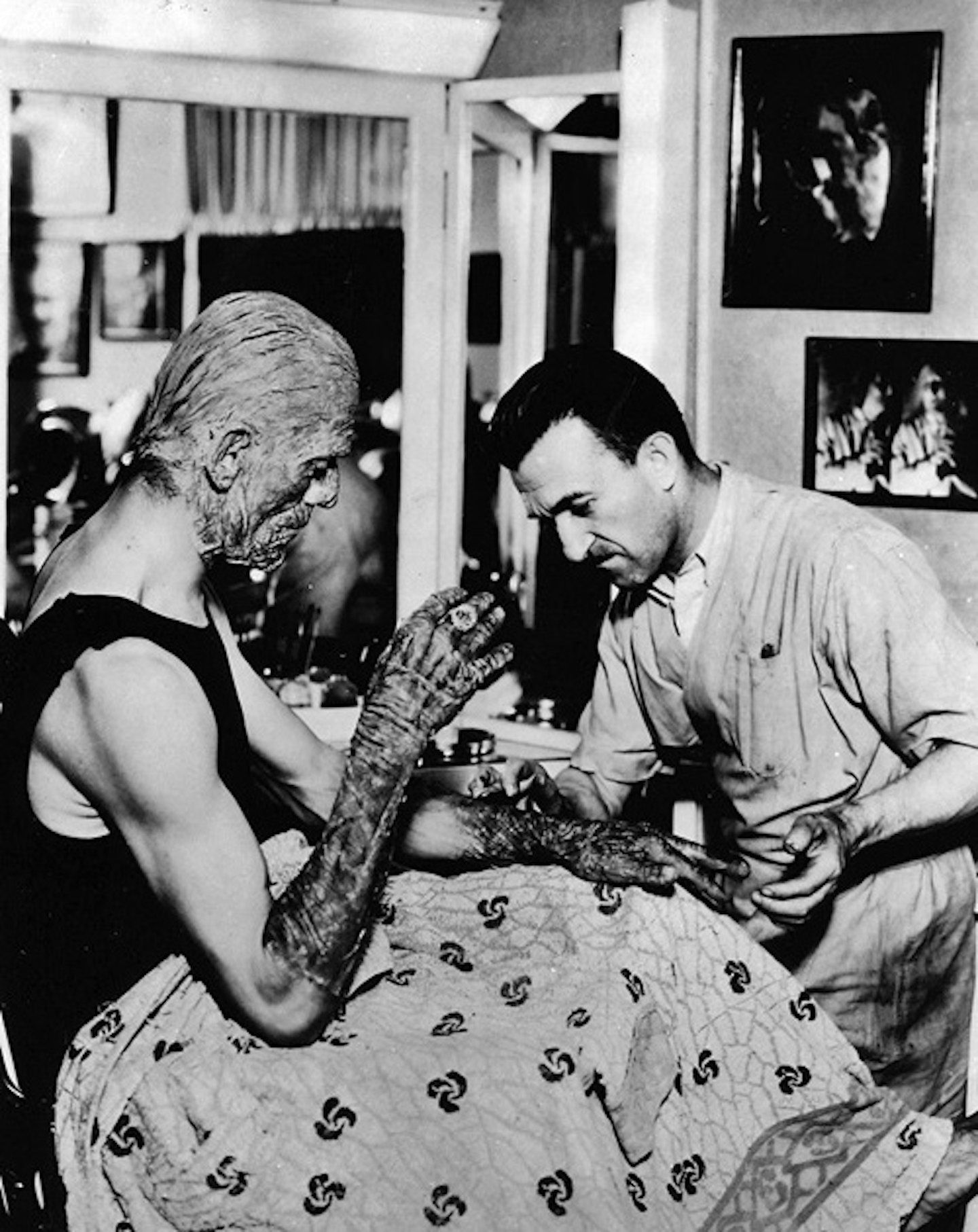 ***Actor: ***Boris Karloff
***Make-up Artist: ***Jack Pierce
***Hours In The Chair: ***10
Rivaling Lon Chaney Jr's grueling transformation into The Wolf Man, Boris Karloff spent eight hours in the chair, plus two hours of removal, to become Imhotep in The Mummy, which he called "the most trying ordeal I have ever endured." Jack Pierce went all out to create Imhotep's look, with a photograph of King Seti I serving as inspiration. The look demanded crucial detailing in the make-up, as Pierce pinned back Karloff's ears and eyes, wrapped him in bandages for authenticity's sake, applied clay to his hair and crafted a decaying nose. Poor Karloff only had two simple pleasures during the ordeal: tea and a smoke. Unfortunately as regards his tea-drinking, Pierce made one painful mistake: he forgot to add a fly.
---
TALES FROM THE CRYPT (1972)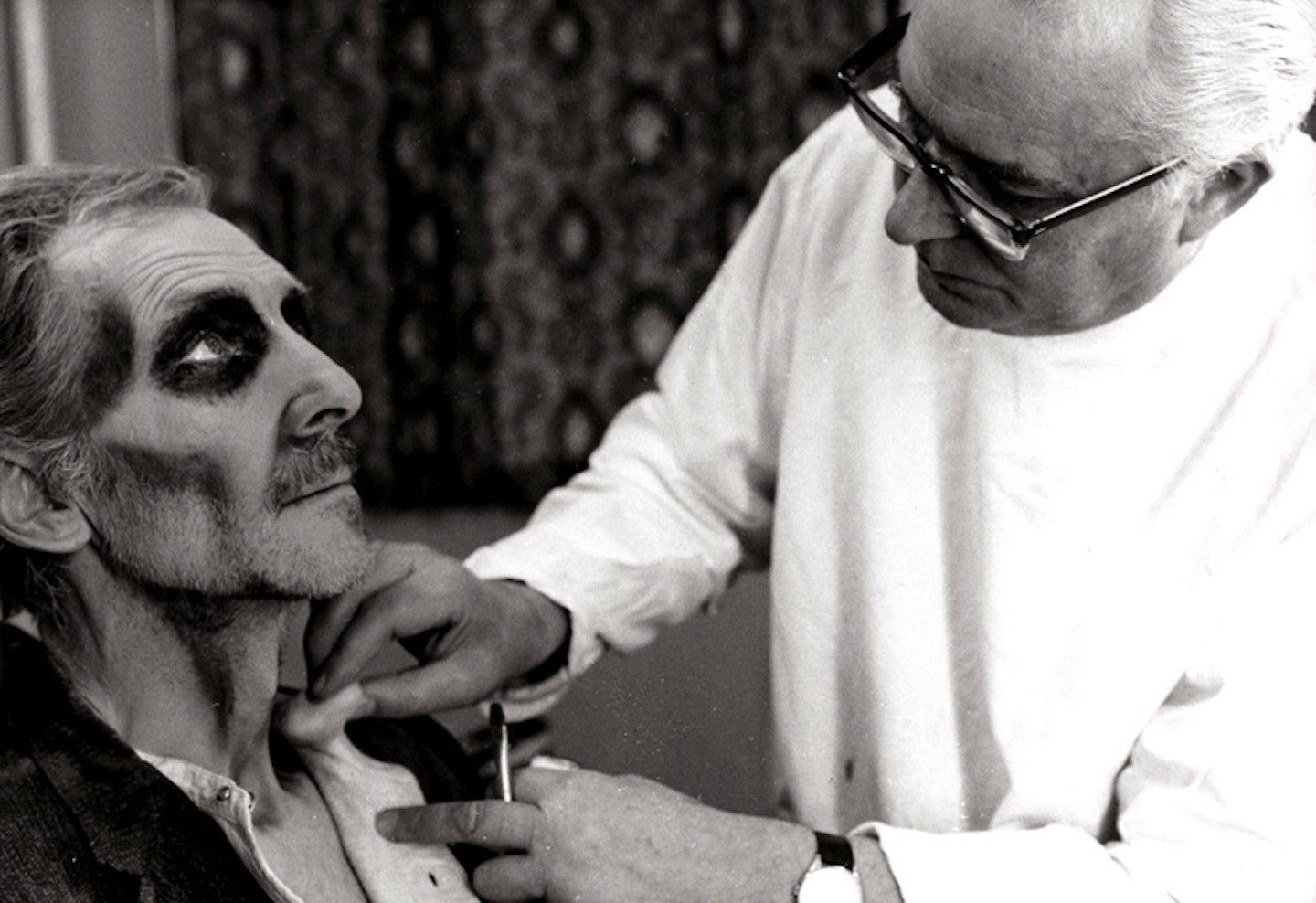 ***Actor: ***Peter Cushing
***Make-up Artist: ***Roy Ashton
***Hours In The Chair: ***3
Who says that transforming into one of the living dead can't be a therapeutic experience? Peter Cushing gave one of his most poignant performances as Arthur Grimsdyke in this anthology film. Cushing's wife Helen had died a year before the production, which lent authenticity and pathos to his performance as the downtrodden widower who talks to his wife's photo. Roy Ashton, the Hammer Horror make-up whiz, collaborated with Cushing to create his zombie look with rubber prosthetics for Grimsdyke's rotting flesh and grimy chompers, supplied by Cushing. It was the only time in Cushing's career that he donned monster make-up – he was more often to be found fighting monsters or playing internally monstrous men – but what a softie zombie he was.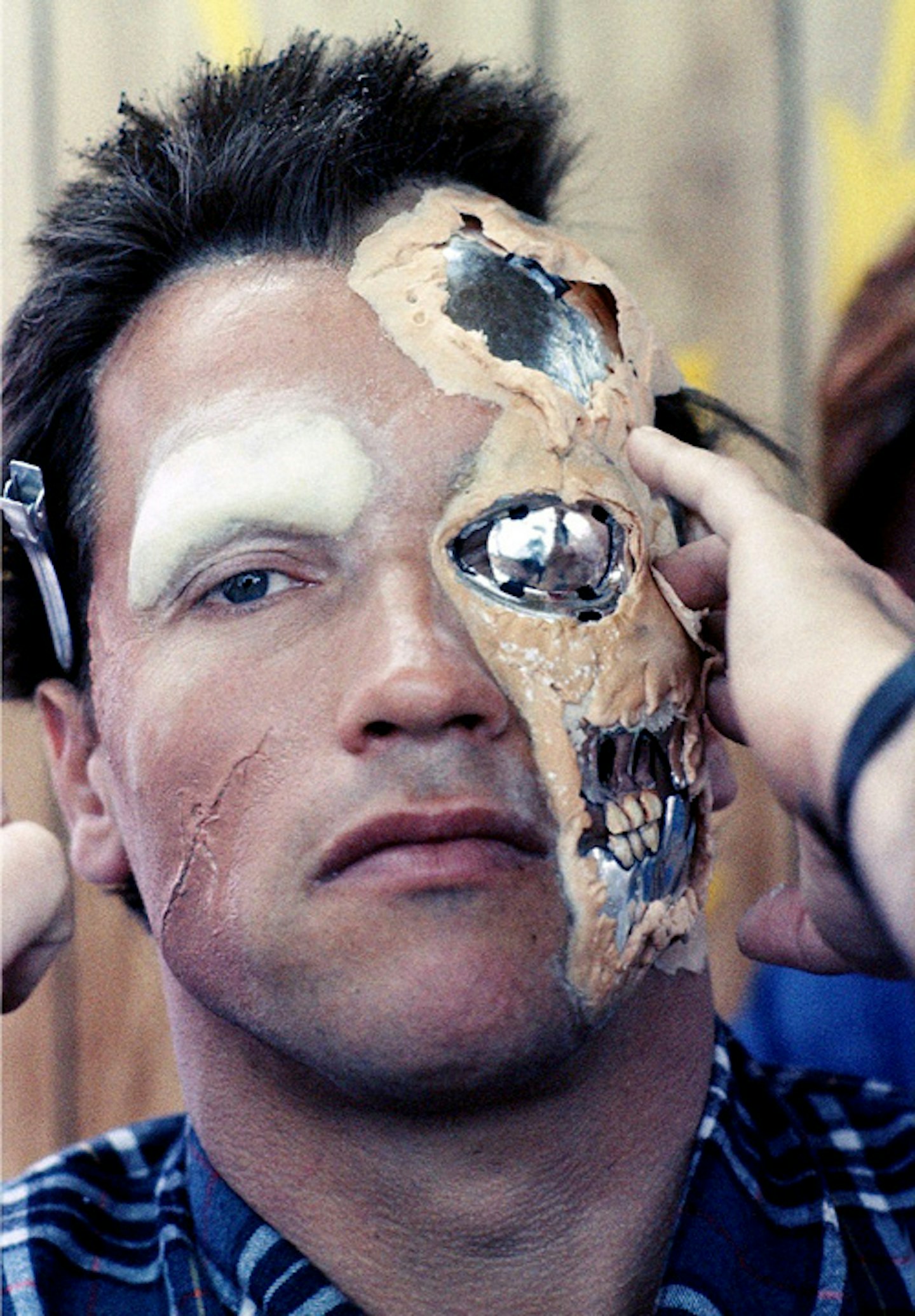 ***Actor: ***Arnold Schwarzenegger
Make-up Artist: Stan Winston
***Hours In The Chair: ***5
If OJ Simpson hadn't looked "too nice" – ahem – we might have had a different robotic killer for The Terminator. Arnold Schwarzenegger pipped Simpson and Lance Henriksen to the role in James Cameron's film and, as a reward, endured five hours in the make-up chair. Cameron initially wanted The Godfather and Taxi Driver make-up artist Dick Smith to created the "ripped flesh" look for the cyborg but Smith, daunted by the task, passed the job onto friend Stan Winston. Soon-to-be-legend Winston crafted the look with chrome metal, animatronics, and latex material. The results raised the bar at the time, even if they do look faintly dated now.
---
A NIGHTMARE ON ELM STREET (1984)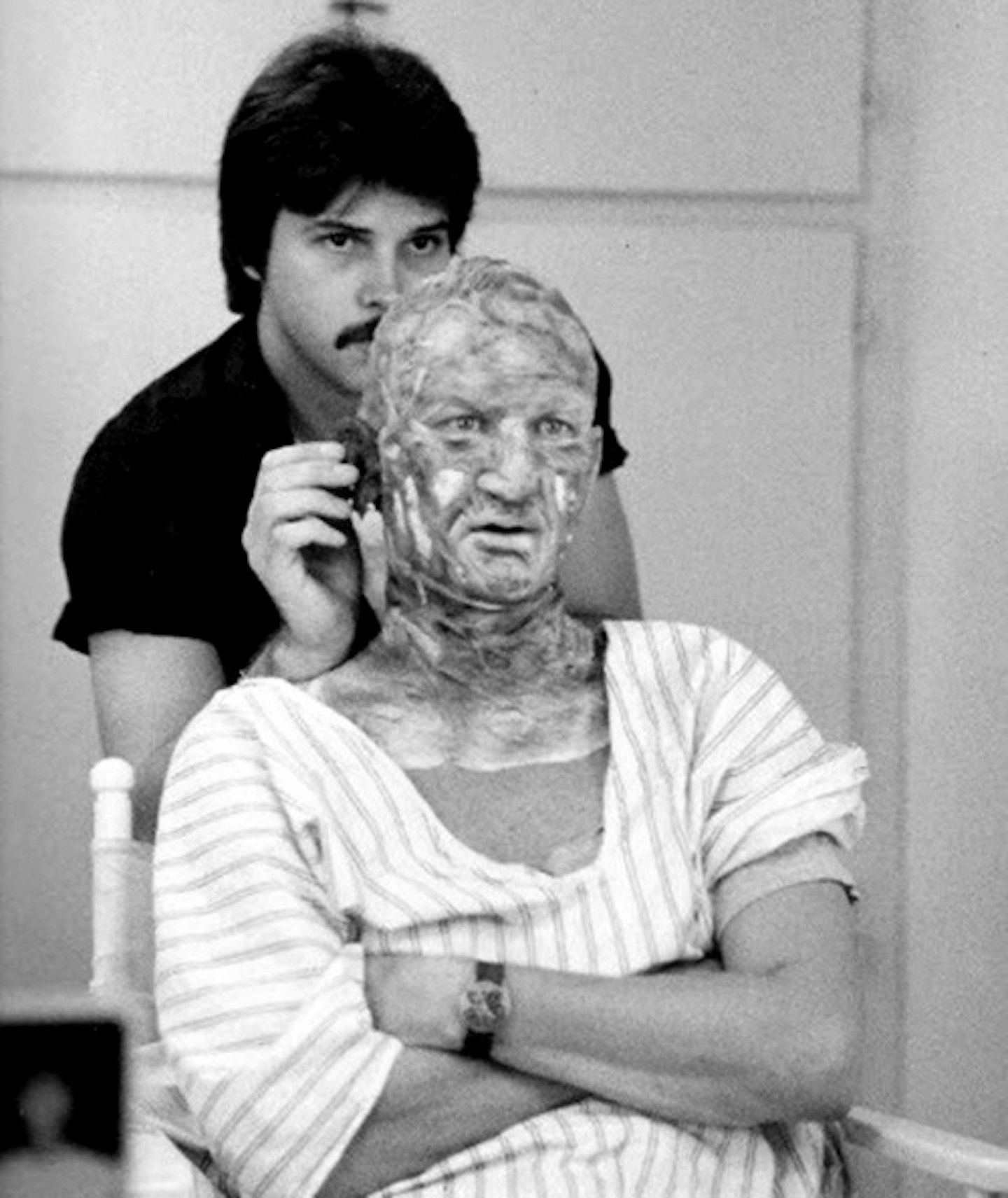 Actor: Robert Englund
***Make-up Artist: ***David B. Miller
Hours In The Chair: 3-6
Here is Robert Englund looking, perhaps, a little sceptical of David B. Miller's initial design in the first make-up test on the set of A Nightmare On Elm Street. This photo reveals the subtler look that Miller initially created, with whiter skin, exposed facial muscles and burns. Director Wes Craven wanted something more drastic and horrifying for the killer, so Miller looked at photographs of burn victims obtained from the UCLA Medical Center and redrafted his efforts. The Dennis The Menace-clad killer has gone through many minor makeovers in the subsequent sequels and prequels, as he terrorised teenyboppers from Johnny Depp to Kelly Rowland across the decades since.
---
LA BELLE ET LA BÊTE (1946)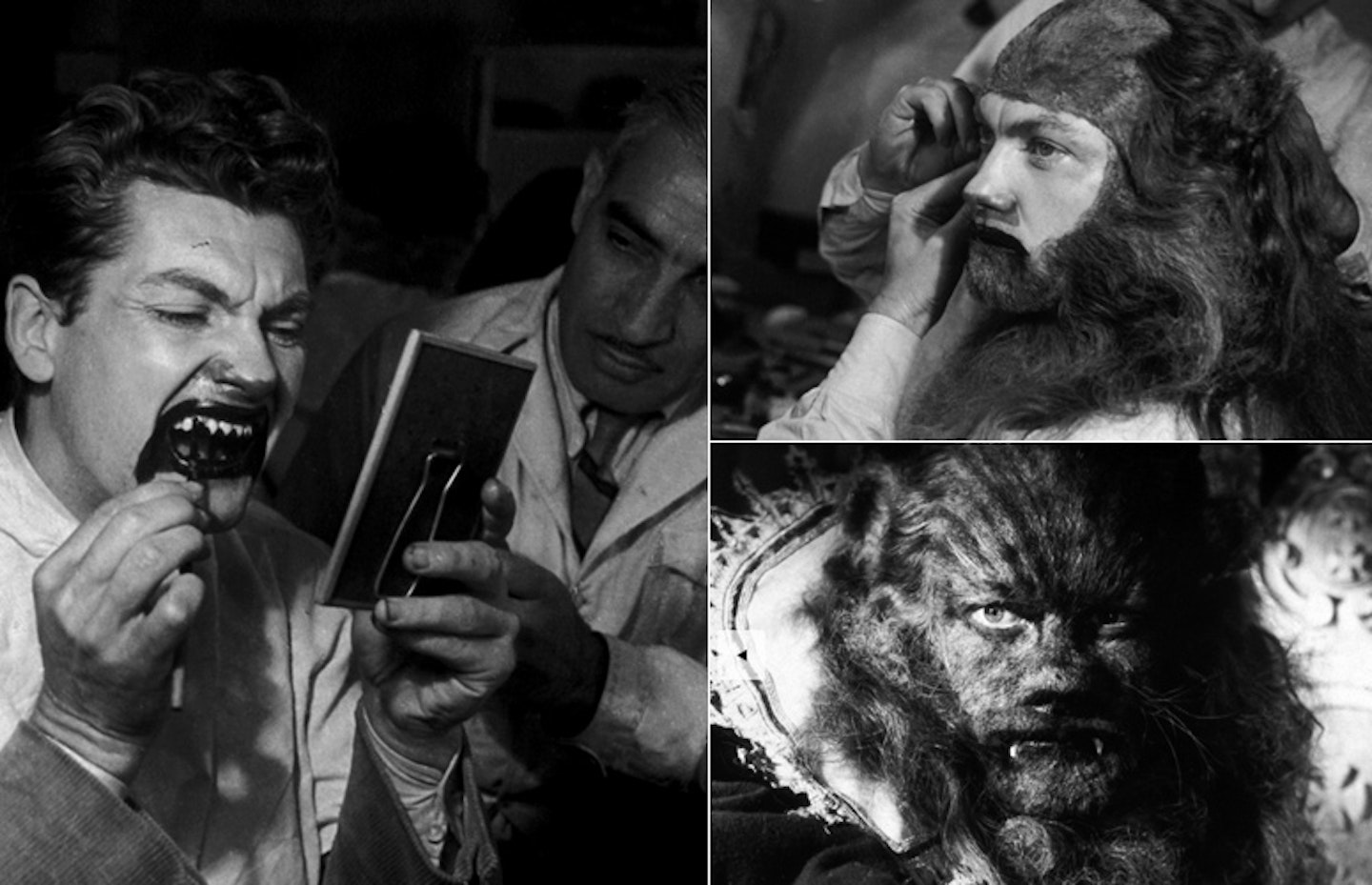 ***Actor: ***Jean Marais
Make-up Artist: Hagop Arakelian
Hours In The Chair: 5
Was there ever as gorgeous a monster as Jean Marais' beast in La Belle et La Bête? Marais collaborated with partner Jean Cocteau to create this iconic creature, based partly on the model provided by Marais' dog Moulouk, who inspired a change from the original notion of a stag-like head. Make-up artist Hagop Arakelian built the mask like a wig, weaving animal hair on a base of webbing, which allowed for more facial movement so that Marais could emote without the constraints that Lon Chaney Jr suffered in his Wolf Man getup. Much like Belle, we were almost dismayed when the beautiful Beast transformed into the handsome Avenant at the end.
---
X-MEN: FIRST CLASS (2011)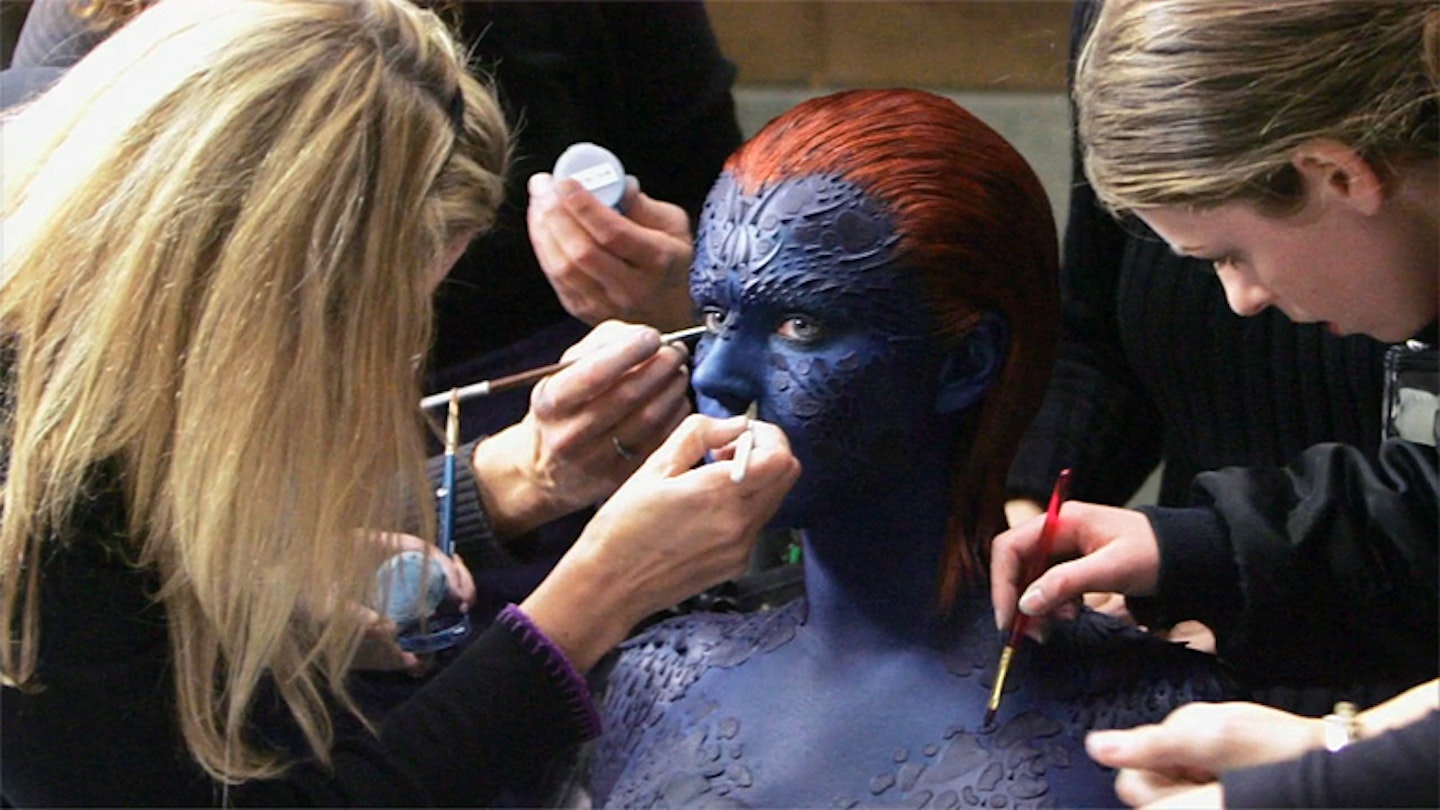 ***Actor: ***Jennifer Lawrence
Make-up Artist: Frances Hannon
Hours In The Chair: 8
Jennifer Lawrence doesn't want your sympathy for the arduous process of becoming Mystique in X-Men: First Class, because she claims it was just like a sleepover, albeit a weird naked one involving quite a lot of blue. The first X-prequel required Lawrence to stand up or sit on a bicycle seat so make-up artist Frances Hannon and her team could attach the scales, apply 3 layers of blue base and five more layers of splattering paint. Lawrence was stoic, but the paint gave her blisters and skin irritation. Thankfully, in the second installment of the series Lawrence wore a body suit and was painted only from the neck up. This time around, therefore, the sleepover was less naked and took only three hours.
---
HELLBOY (2004)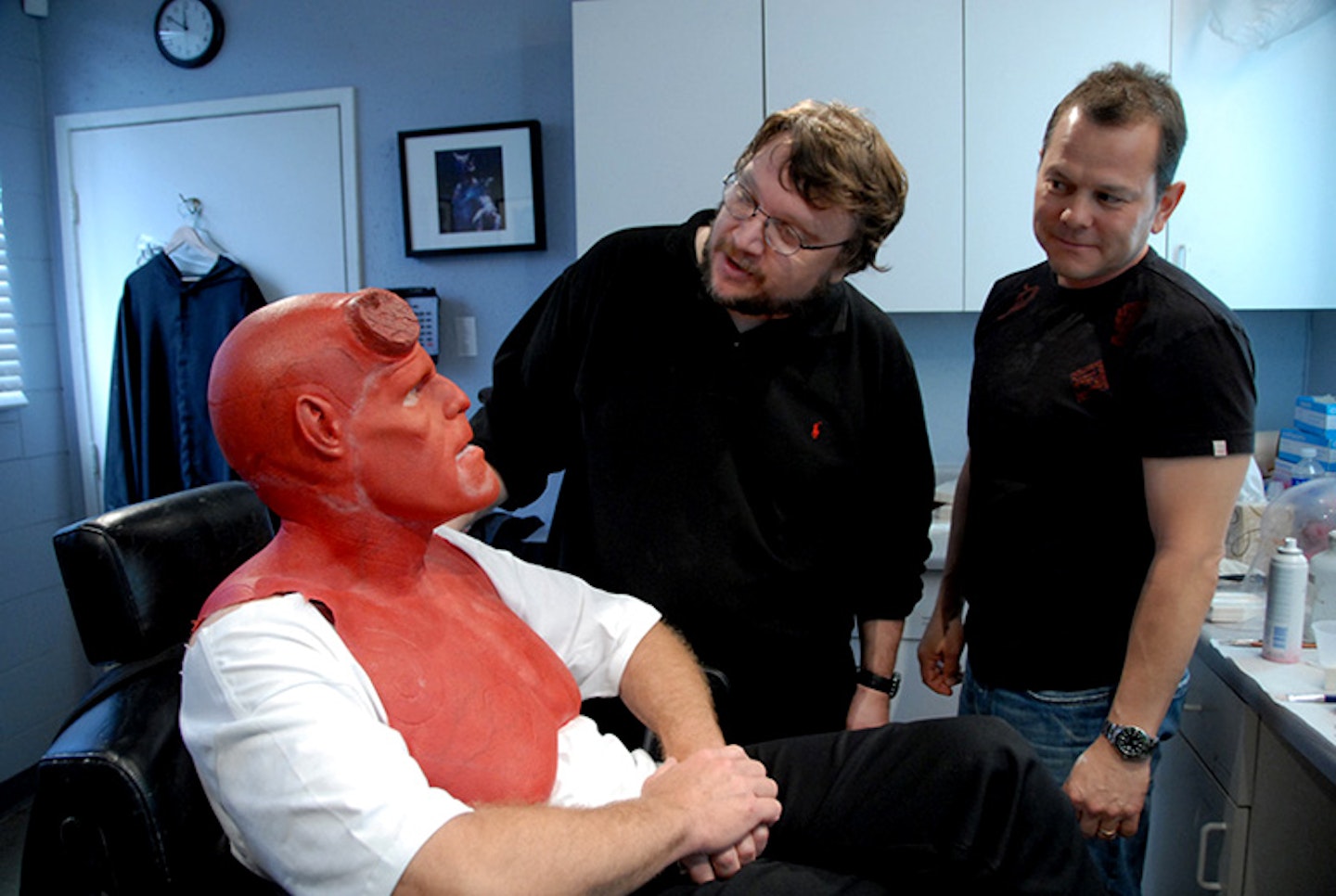 ***Actor: ***Ron Perlman
***Make-up Artist: ***Jake Garber
Hours in the Chair: 4-5
For Hellboy, Ron Perlman – no stranger to creature effects after the TV series Beauty & The Beast and many other sci-fi roles – personally chose visual effects make-up artist Jake Garber to create the iconic character. The pair had previously worked together on Star Trek: Nemesis, creating Perlman's monstrous Reman Viceroy, and clearly got along well. For four hours each day on Hellboy, Garber and his team applied a full face prosthetic to Perlman, foam pieces to his back and chest to create Hellboy's beefy body, and that snazzy samurai wig. Del Toro and Perlman have nixed plans for a Hellboy III due to budget concerns and at least partly because of the long make-up hours, but the actor went back to the make-up chair to recreate the character one more time for a young fan for the Make-A-Wish Foundation.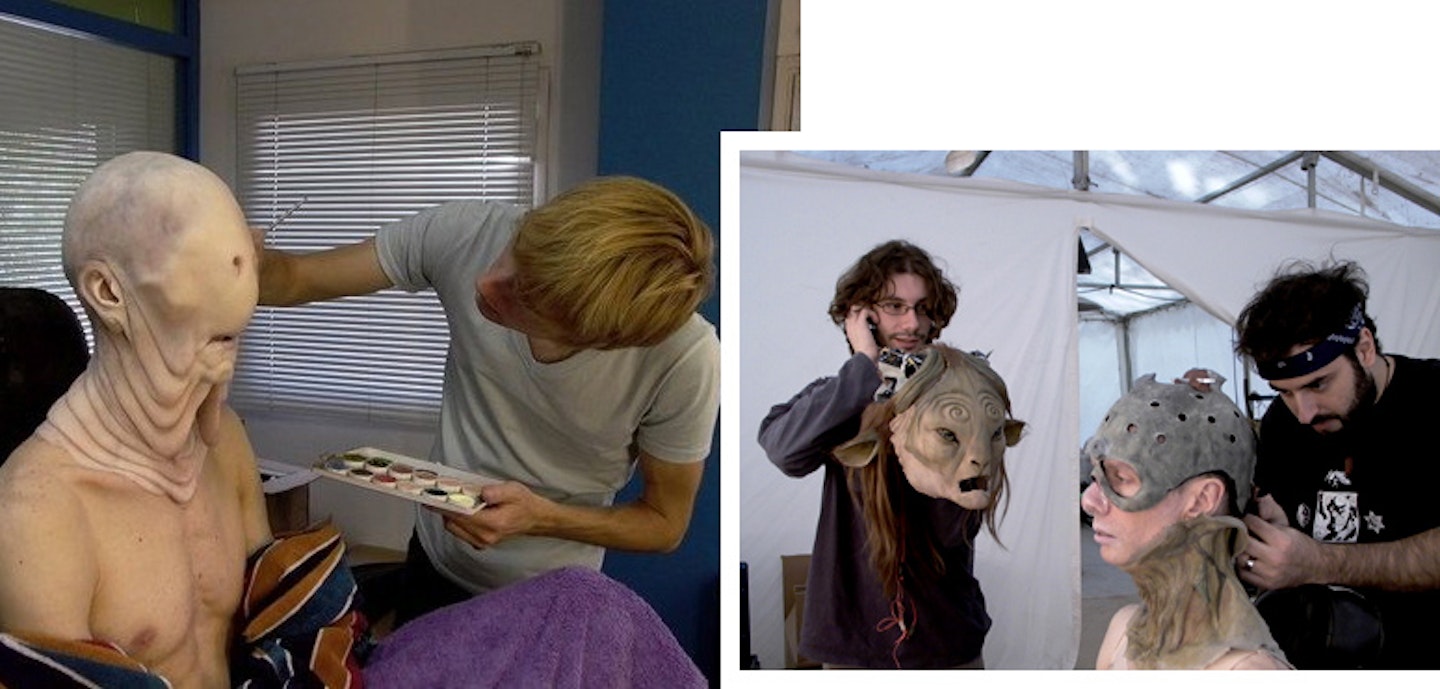 ***Actor: ***Doug Jones
***Make-up Artist: ***Arjen Tuiten
***Hours In The Chair: ***5
Poor Doug Jones had to find his bearings through his nostrils as make-up artist Arjen Tuiten applied the Pale Man prosthetics on the Pan's Labyrinth set. Guillermo Del Toro's frightening fairytale was stunningly realized at least partly thanks to Jones' eerie pair of performances as the Faun and Pale Man. Tuiten and his team spent five hours gluing latex and silicon onto Jones to achieve that saggy and scary appearance as the Pale Man. The sequence was planned to be a five-day shoot, but finished earlier, because the dedicated Jones went to bed with his arms and torso material on to save time each day.
---
CAPTAIN AMERICA: THE FIRST AVENGER (2011)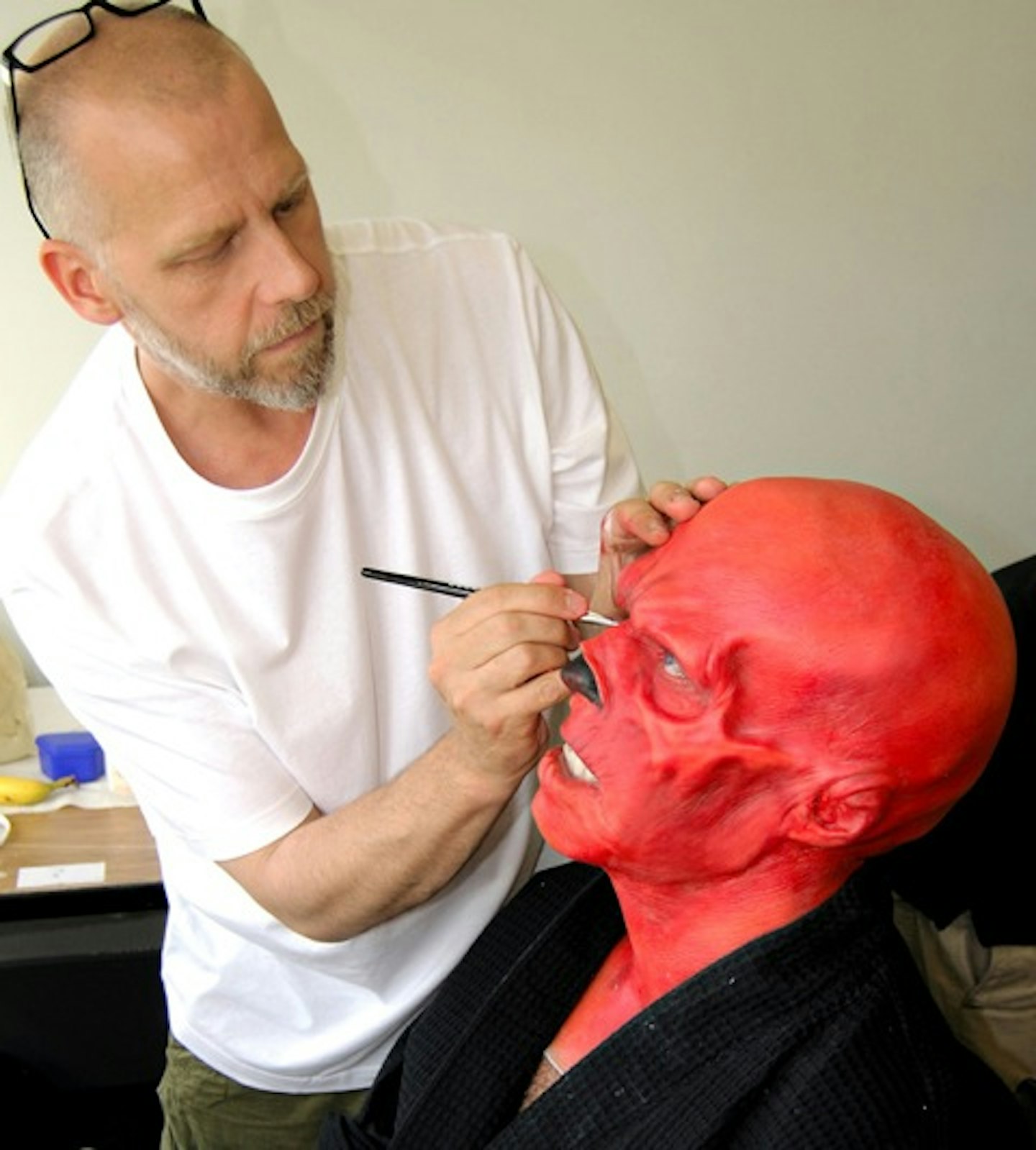 ***Actor: ***Hugo Weaving
Make-up Artist: David White
***Hours In The Chair: ***3.5
There was lots of room for prosthetics designer David White to improve upon the Red Skull's shriveled raisin appearance in the dreadful 1990 version of Captain America. For the good version, with Hugo Weaving in the chair for 3.5 hours, White and his team made a red silicon mask with high bony cheekbones and exposed muscle to give the character that added menace. The make-up was then enhanced with CG elements to remove the tip of Weaving's nose and slim down his face to make it even more skeletal. After filming, Weaving voiced a reluctance to return to the role, in part due to the make-up hours. No word as to whether he's feeling the same way about his Megatron job…
---
THE EXORCIST (1973)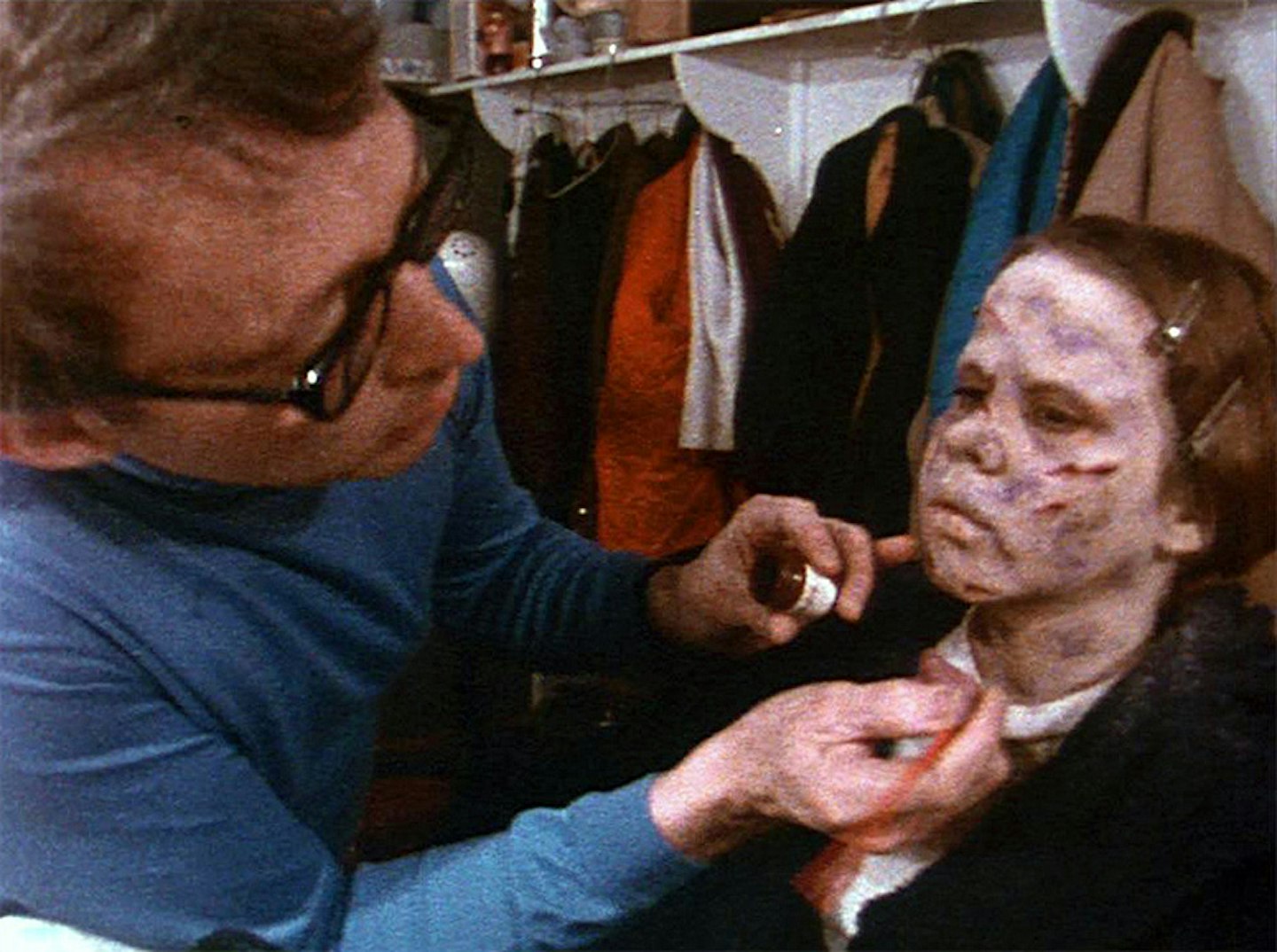 Actor: Linda Blair
***Make-up Artist: ***Dick Smith
Hours In The Chair: 2-4
Make-up pioneer Dick Smith has The Beverly Hillbillies and The Flying Nun to thank for keeping Linda Blair sitting still in his make-up chair on The Exorcist. Smith installed a mini TV for the young actress to watch as he painstakingly worked, after she had already endured seven life-cast sessions before Smith and director William Friedkin settled on that gashed, scarred look for Reagan. Smith was impressed with Blair's stamina, which kept her going through multiple reshoots for the pea soup scene where Campbell's soup was replaced by a mix of Andersen's soup and oatmeal for that unholy brew. Incidentally, Smith brought along a young protégé for the ride on this film to learn how to create such chunder-worthy scares: future effects maestro Rick Baker.
---
AN AMERICAN WEREWOLF IN LONDON (1981)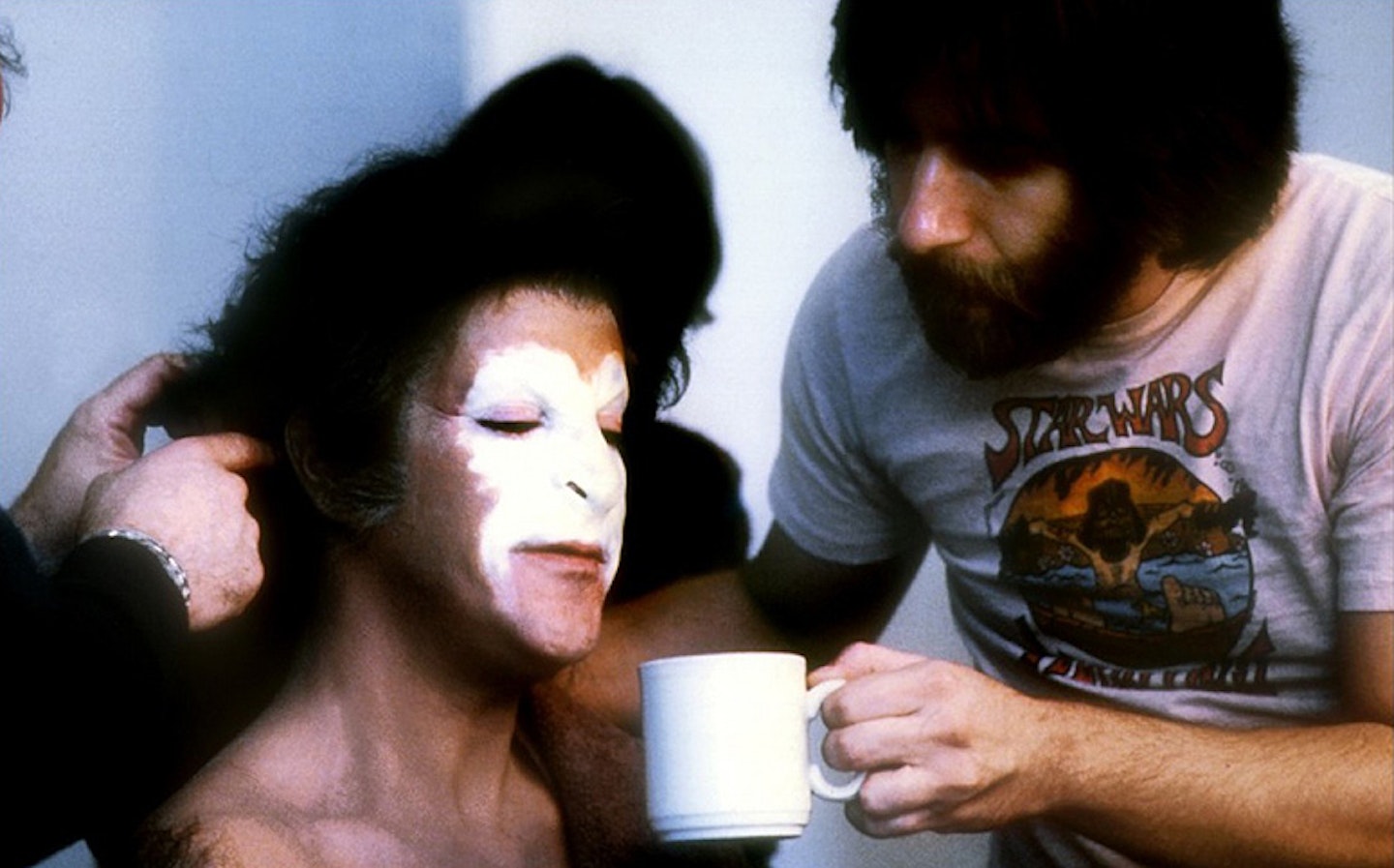 Actor: David Naughton
***Make-up Artist: ***Rick Baker
***Hours In The Chair: ***10
Rick Baker put actor David Naughton through the wringer to create the painstakingly detailed werewolf metamorphosis, while a grinning John Landis looked on with glee. Baker and Landis wanted to create a realistic transformation, with none of the slow dissolves of the old Wolf Man movies. Naughton was in the make-up chair for over 10 hours as Baker applied latex, silicon, thousands of hairs, and prosthetics to achieve that stretched look. The Academy took note and created the Outstanding Achievement in Make-up Award in 1981 to honour Baker's stunning work. Baker has since surpassed his mentor Dick Smith, with seven wins of an award that might as well be named after him.
---
THE FLY (1986)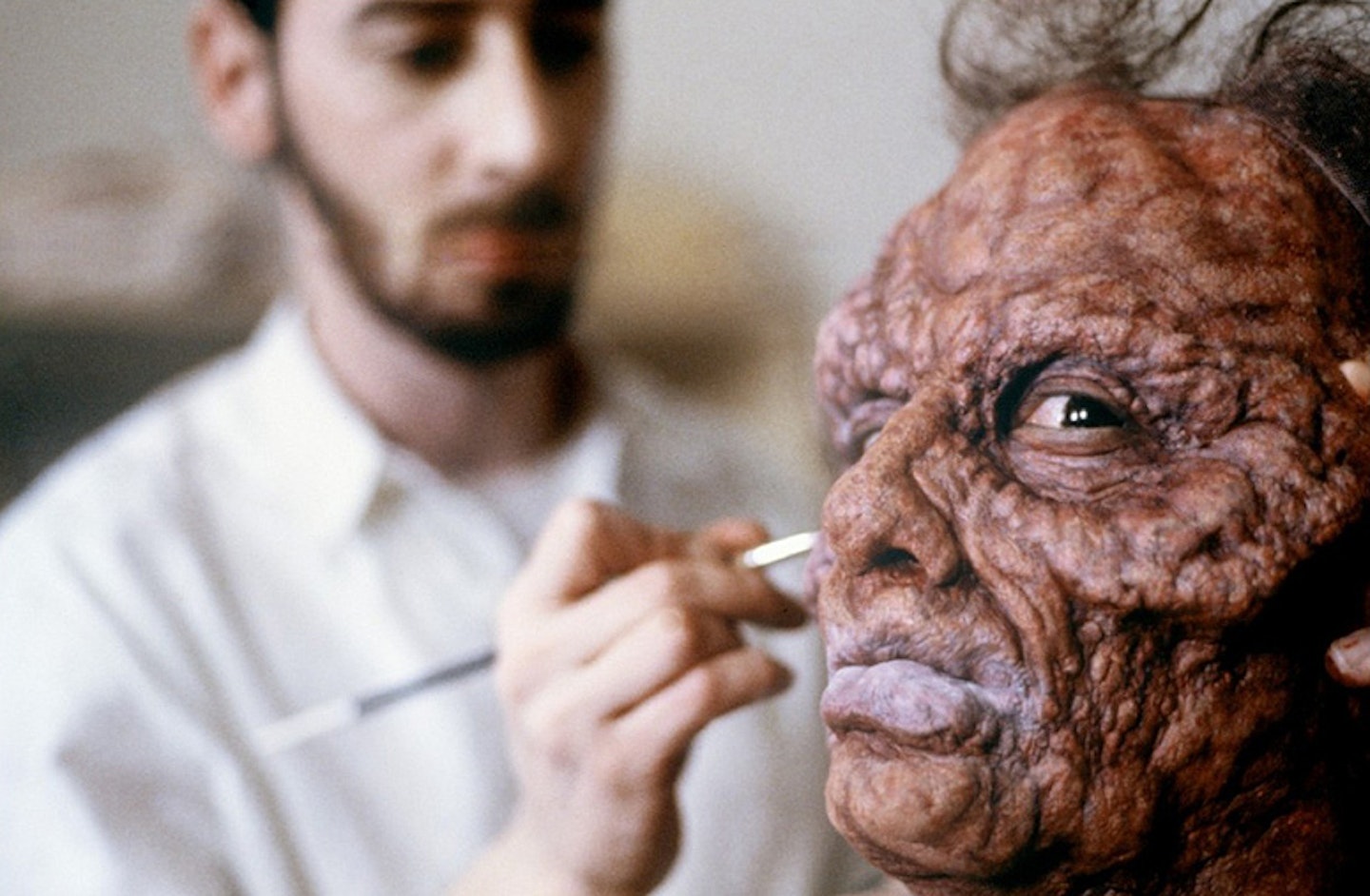 ***Actor: ***Jeff Golfblum
***Make-up Artist: ***Chris Walas
Hours In The Chair: 5
This picture shows Jeff Goldblum morphing into one of the less grotesque stages of his "Brundlefly" development on the set of David Cronenberg's The Fly. You could always trust Cronenberg to improve upon the 1958 original and deliver a seriously neurotic and randy monster in what became a body-horror classic. Cronenberg recruited make-up artist Chris Walas to depict Goldblum's gradual metamorphosis, which was something of a metaphorical aging process for the character, who loses his hair and teeth. Goldblum was up for the challenge, and sat through five hours of gruelling prosthetics and make-up to become the Brundlefly. Walas won an Oscar for his work, and went on to direct the sequel with its equally horrid Brundlefly Jr.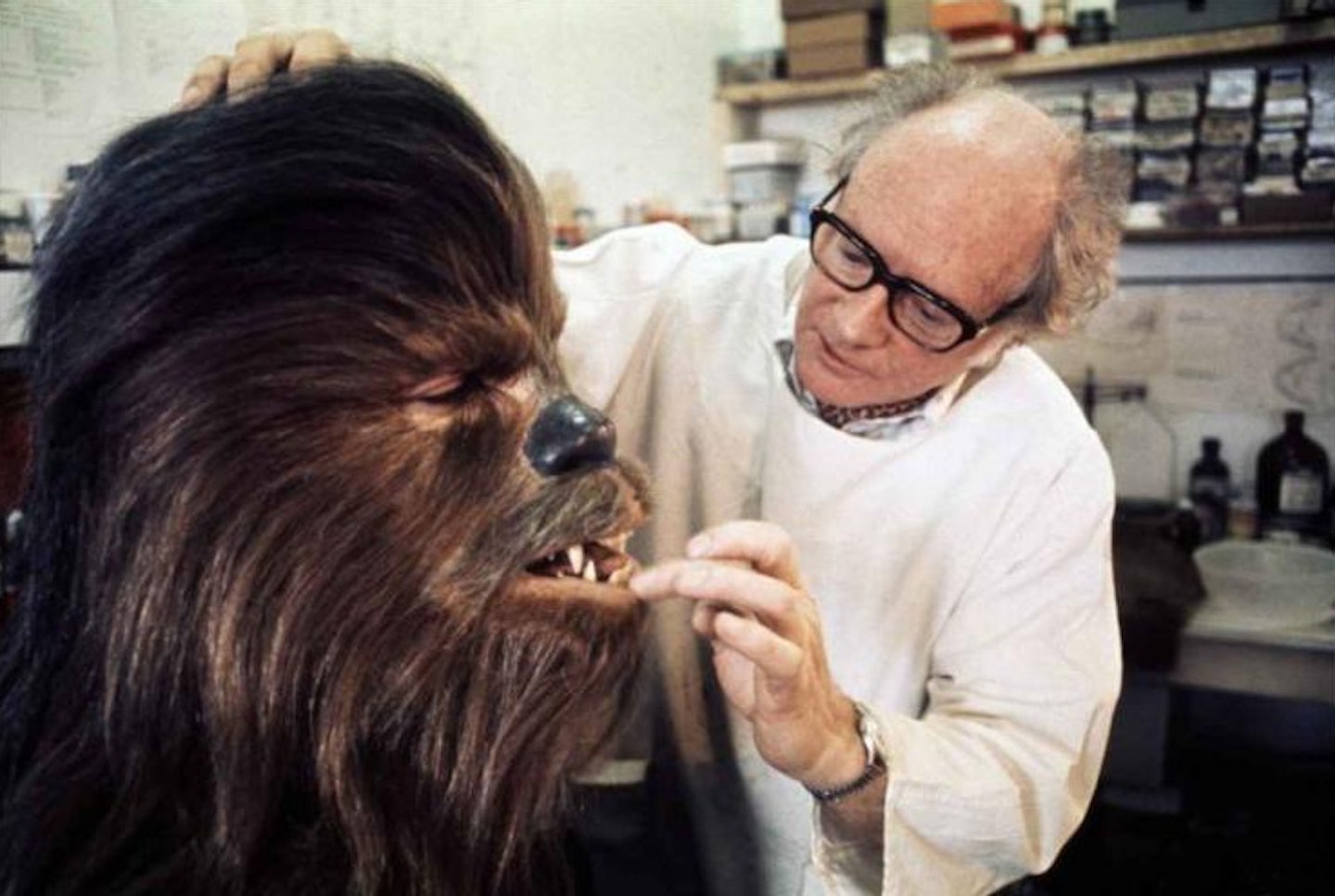 Actor: Peter Mayhew
Make-up Artist: Stuart Freeborn
***Hours In The Chair: ***5
Stuart Freeborn puts the finishing touches on Peter Mayhew's Chewbacca on the Star Wars: A New Hope. One of the cuddlier monsters on our list, Chewbacca was initially going to be created in the same way as The Wolf Man, with yak hair attached to Mayhew's face. But Freeborn decided to create a mask for the iconic monster instead, with Mayhew in the make-up chair for five hours as Freeborn applied latex and foam so that everything stayed in place amidst the sweltering conditions under the studio lights. Freeborn took his inspiration from the apes he developed on Stanley Kubrick's 2001: A Space Odyssey, albeit in a cuter and less realistic version.
---
THE WOLFMAN (2010)
Actor: Benicio Del Toro
***Make-up Artist: ***Rick Baker
***Hours In The Chair: ***3-4
After three hours in the make-up chair, Benicio Del Toro follows Lon Chaney's example and throttles his make-up maestro Rick Baker. We *think *he's joking. Despite the messy final product of Joe Johnston's remake, you couldn't fault the earnest dedication of horror fans Baker and Del Toro, who wanted to pay homage to Chaney's original. Del Toro sat in the chair for three hours so that Baker could apply the "old-school" Jack Pierce method of yak hair and prosthetics. It certainly provided a horrific transformation that matches Baker's work in An American Werewolf in Paris. In this case, there wouldn't be four more sequels, but we have a feeling that Pierce and Chaney would have appreciated their homage.
---
LOOPER (2012)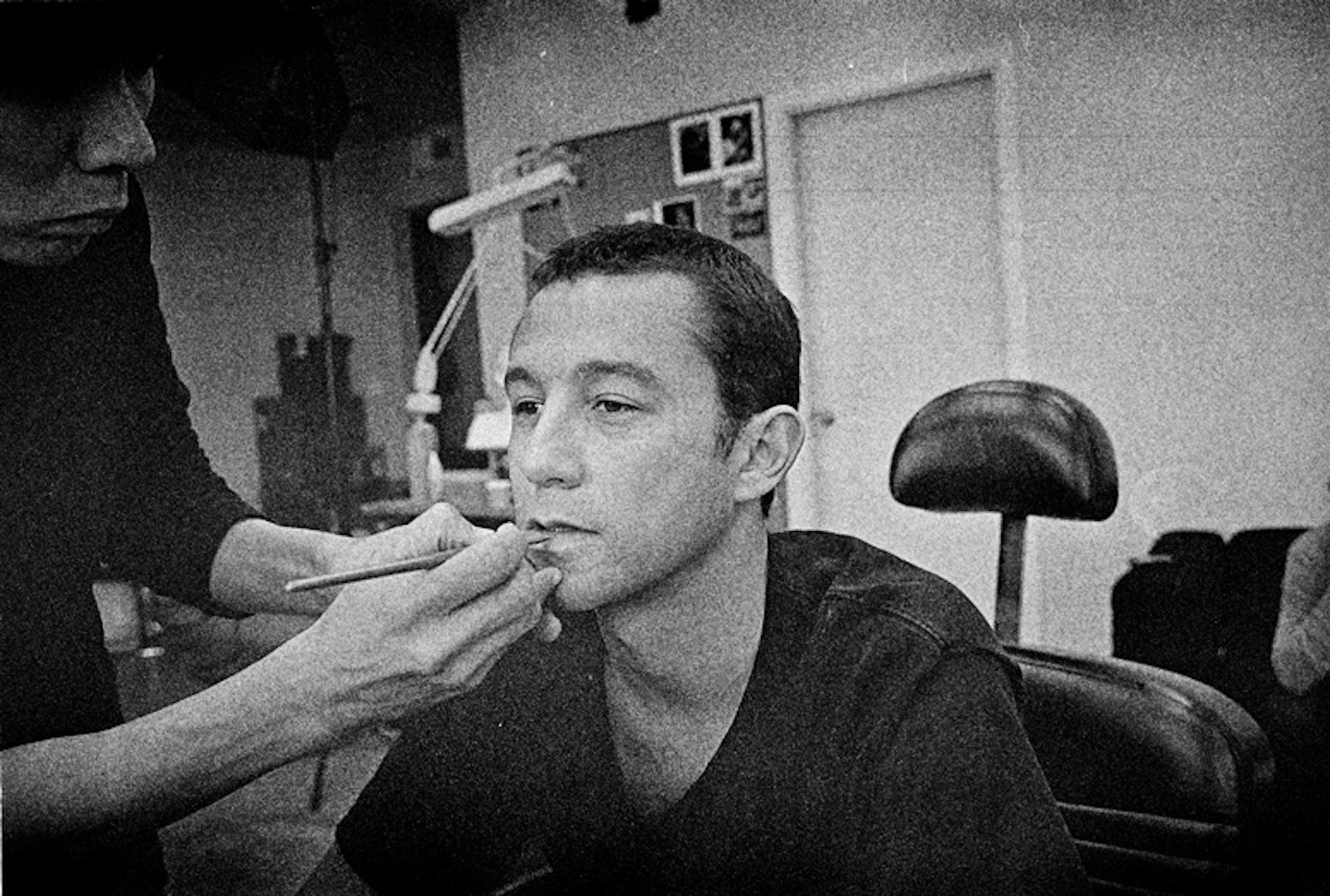 ***Actor: ***Joseph Gordon-Levitt
Make-up Artist: Kazuhiro Tsuji
Hours In The Chair: 3
We're not saying that Bruce Willis is a monster, but make-up wunderkind Kazuhiro Tsuji faced a mammoth task turning Joseph Gordon-Levitt into a younger Willis. In fact, Tsuji was wondered if the project might be career suicide. "It could ruin my reputation by doing this job, because not much could be done. Most of the features that Joe has, you almost have to cut the nose off to make it look like Bruce Willis." Thankfully, Tsuji laboured on to create a transformation that included shaping Levitt's nose, cutting off half of his eyebrows and extending his lower lip. The diner scene where the two killers meet was a perfect showcase of Tsuji's work, which even impressed his doppelgänger, Willis.
---
PLANET OF THE APES (1968)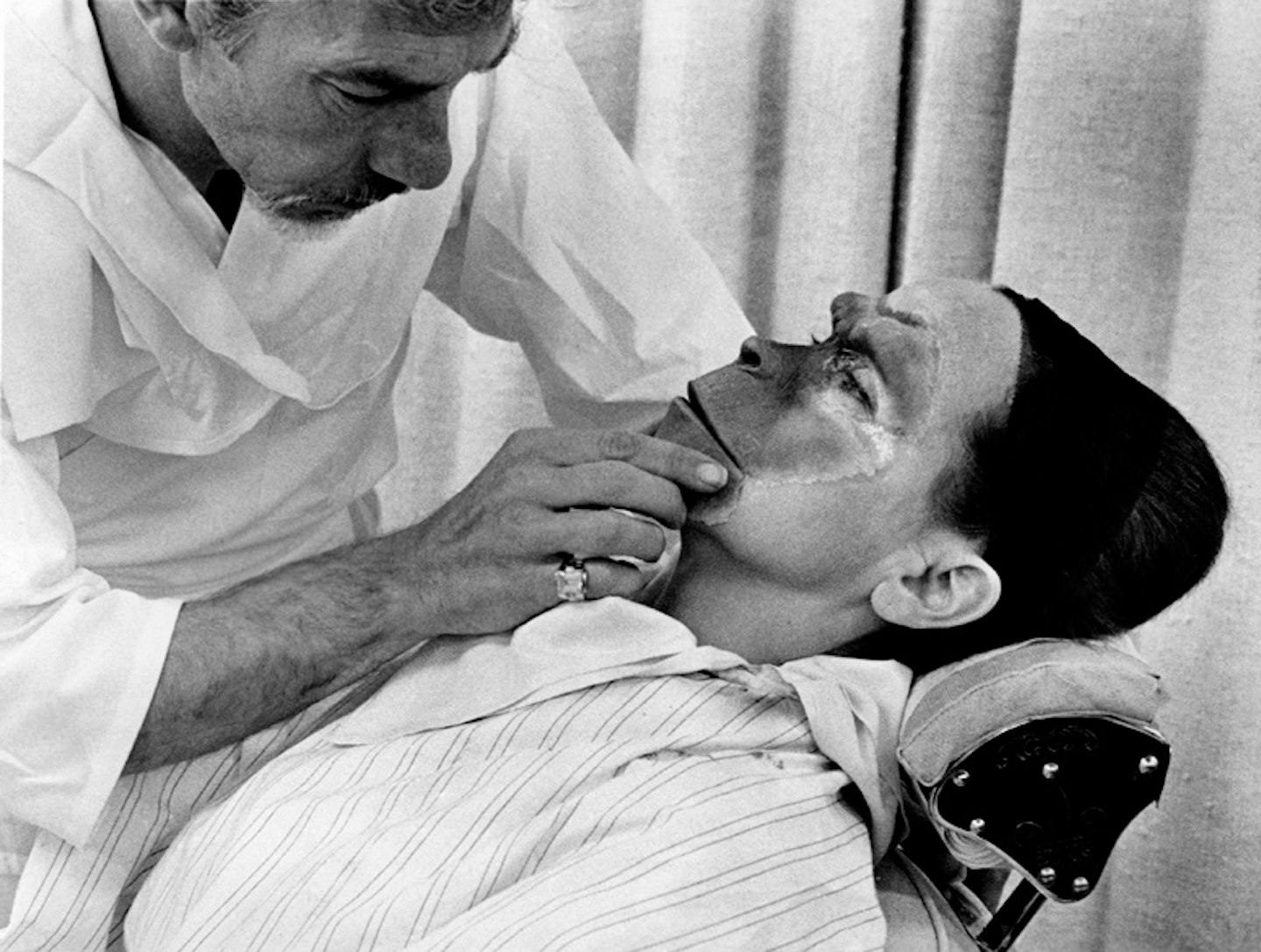 Actor:** **Kim Hunter
Make-up Artist: John Chambers
Hours in the Chair: 3-5.5
Here we see Kim Hunter being painted as Zira by make-up artist/CIA consultant John Chambers (this is the guy John Goodman played in Argo) for an early make-up test on set of Planet Of The Apes. Before Andy Serkis suited up in his motion-capture uniform to play Caesar in the reboot, the make-up for the Apes franchise was applied the hard way with painstaking detail by Chambers, taking up to five hours for each ape on set. Chambers studied apes at Los Angeles Zoo to develop the designs and later simplified his prosthetics so that the Hunter and Roddy McDowell could voice their lines without sounding hollow due to their elaborate make-up. Chambers' designs won him an honorary award for his make-up design, long before Rick Baker's werewolf work established the category for unsung make-up heroes.
---
THE PHANTOM OF THE OPERA (1925)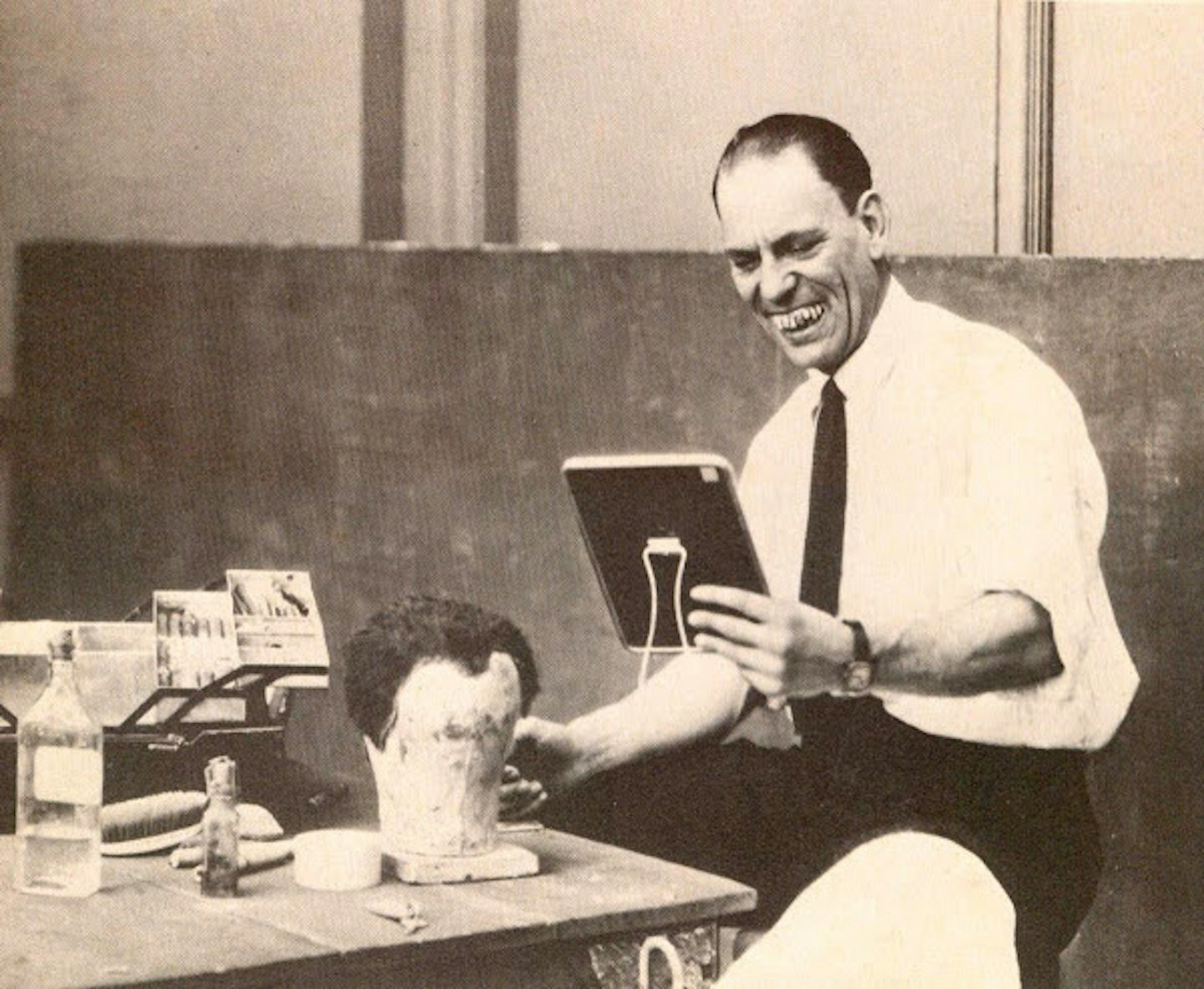 Actor: Lon Chaney Sr.
Make-up Artist: Lon Chaney Sr.
Hours In The Chair: 2.5
"The Man Of A Thousand Faces," Lon Chaney Sr., checks out his grimy choppers on set of The Phanton Of The Opera. Chaney was a true pioneer in make-up and prosthetic artistry in the silent era thanks to this terrifying Phantom – a look he devised himself – and his work as Quasimodo in The Hunchback. Chaney Sr. endured multiple nosebleeds during the shoot, because to achieve his skull-like appearance he inserted fish-hooks into his nostrils, attached to transparent fishing-line inserted in his hairline, to pull the nose up. In the climactic scene where the Phantom's face is revealed, he shouts, "Feast your eyes, glut your soul on my accursed ugliness!" Apparently it worked on audiences, some of whom had to be revived with smelling salts at cinemas in New York.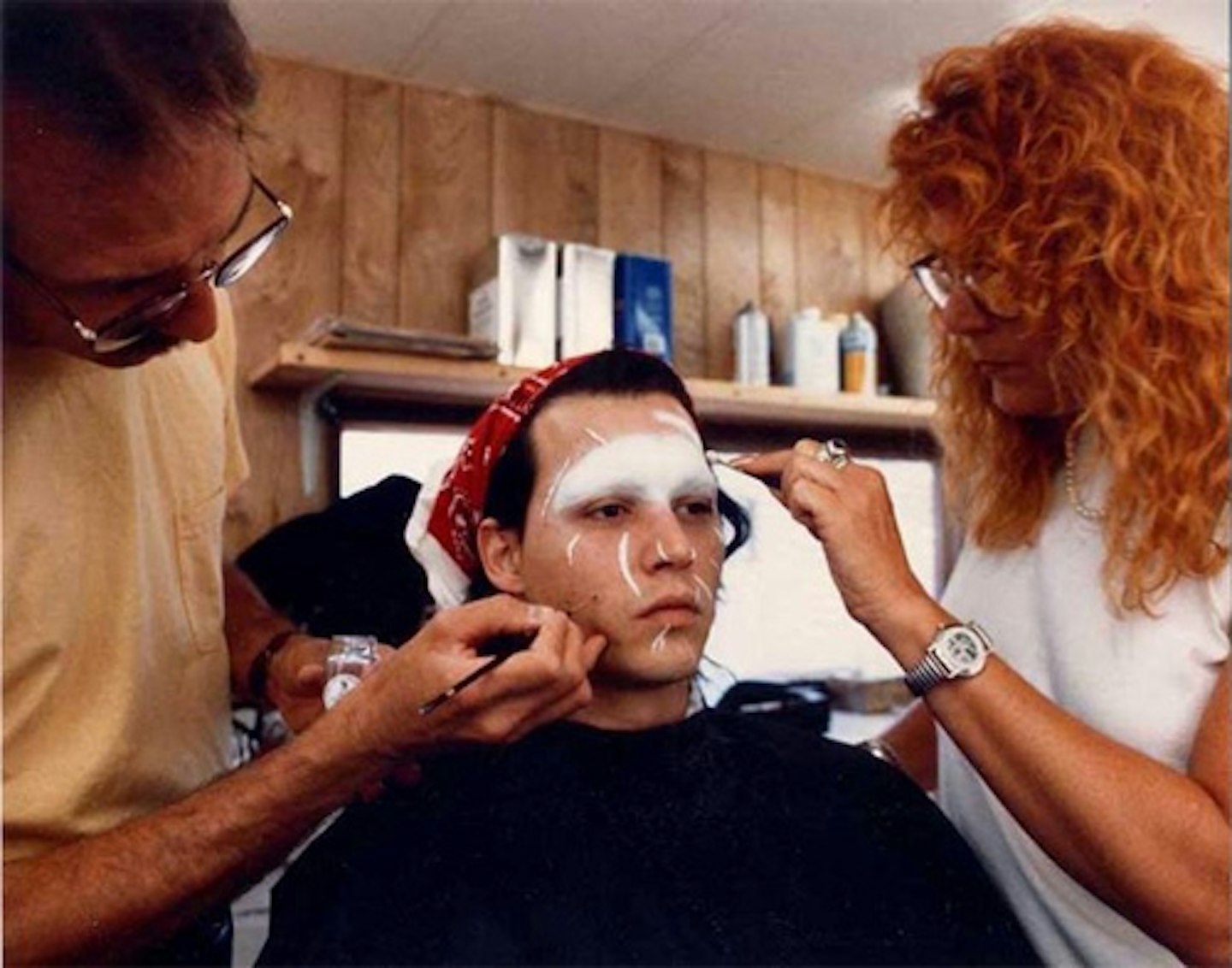 ***Actor: ***Johnny Depp
***Make-up Artist: ***Stan Winston, Ve Neill
***Hours In The Chair: ***1.5
If the studio bosses had their way, it would be Tom Cruise in that chair rather than the then relatively-unknown Johnny Depp. But Tim Burton stuck by his original choice, with Depp not only keen on the story but also desperate to shake off his 21 Jump Street heartthrob status. Burton recruited make-up artists Stan Winston and Ve Neill to tear down that image with the weird and ghostly Edward, looking to the eerie make-up of The Cabinet Of Dr. Caligari for that tousled hair and ghostly pallour. The make-up process whittled down from 3 hours to 1.5 hours as Burton and the designers decided to not to make Edward so grotesque that it would take away from Depp's innocent and childlike performance. Unfortunately for Depp, the results were so charming that it only increased his heartthrob currency, which has endured for about 20 years since.
---
THE LONE RANGER (2013)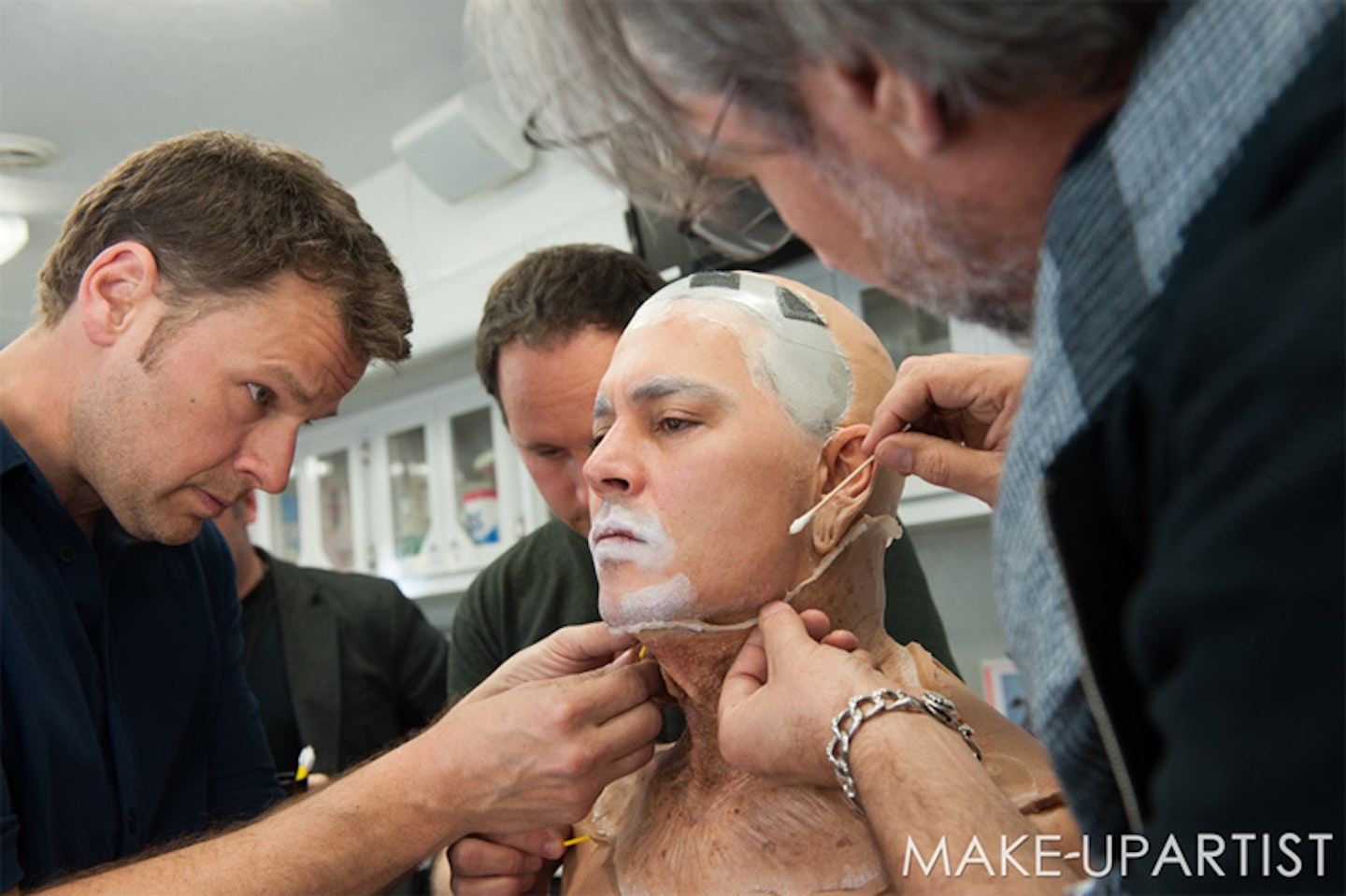 ***Actor: ***Johnny Depp
***Make-up Artist: ***Joel Harlow
***Hours In The Chair: ***1. 5
While the film is somewhat messy, Johnny Depp's transformation into Tonto was strangely beautiful. Of course, Depp's casting in the role understandably angered many Native Americans, but once in the part, Depp looked to painter Kirby Sattler's work "I Am Crow" which featured an older Native American man with black and white stripes across his face. It was Depp's idea that the crow seen passing over the man would be plonked on Tonto's head as his spirit guide. Make-up artist Joel Harlow spent hours perfecting Depp's old-age prosthetics for the beginning of the film, which impressed fellow make-up pioneer Dick Smith (who had created the old-age make-up for Dustin Hoffman in Little Big Man) and for the first time made us believe that Johnny Depp might eventually start aging.
---
THE ELEPHANT MAN (1980)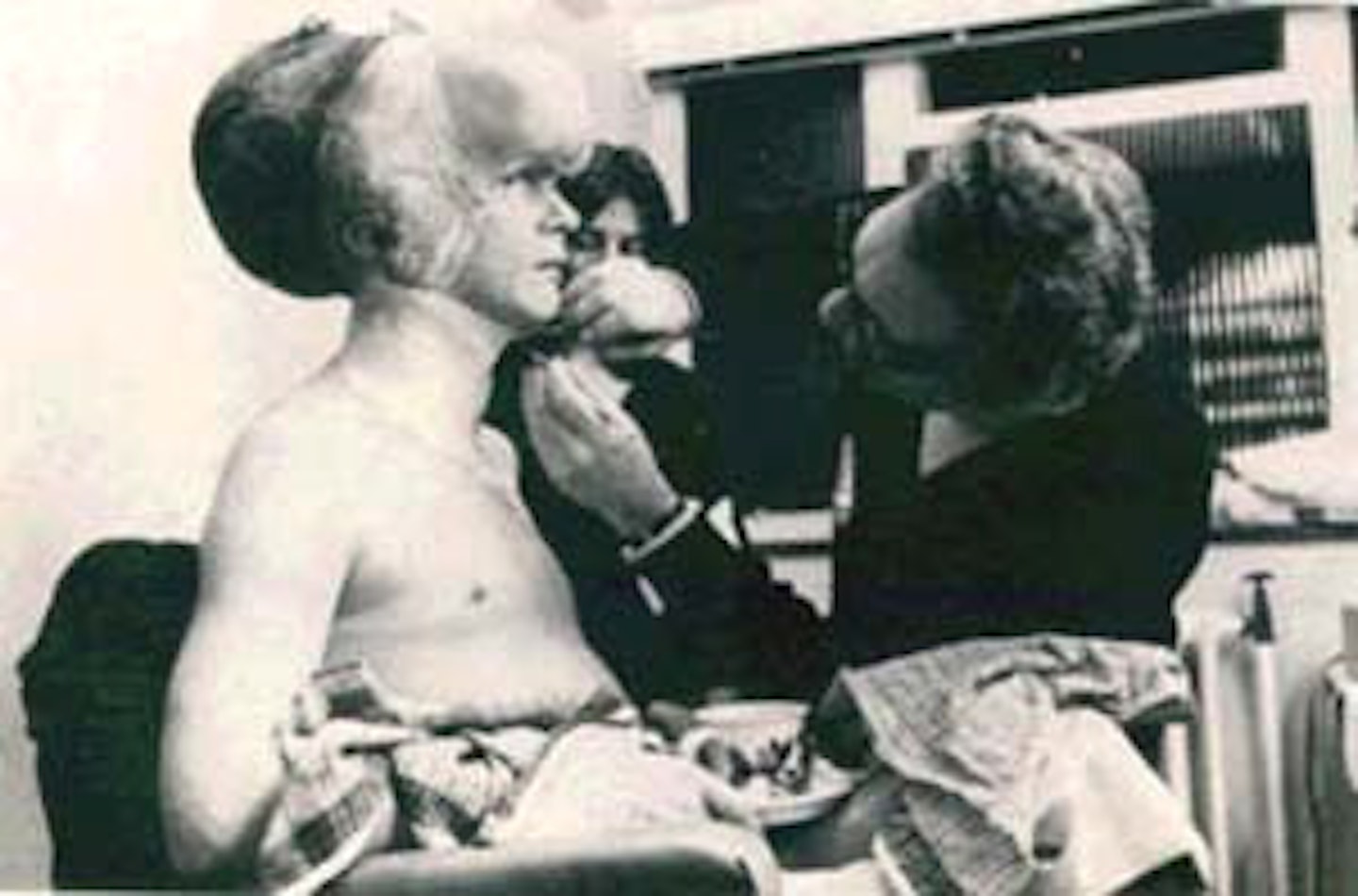 Actor: John Hurt
Make-up Artist: Christopher Tucker,
***Hours In The Chair: ***7
Director David Lynch wanted to go all out for his second feature, The Elephant Man, and that included designing the prosthetics for John Merrick's head and body. Thankfully, he passed the laborious task on to veteran make-up artist Christopher Tucker, who crafted his prosthetics after looking at real casts of John Merrick's body at the Royal London Hospital. John Hurt signed on immediately but soon became angered by the seven hour make-up process, complaining to his wife, "I think they finally managed to make me hate acting." While Rick Baker won the first Academy Award for Best Make-up in 1982, Tucker's work for this film nudged the artform towards that milestone, and a letter signed by actors, technicians, and industry vets urged the Academy to honour his work.
---
ED WOOD (1994)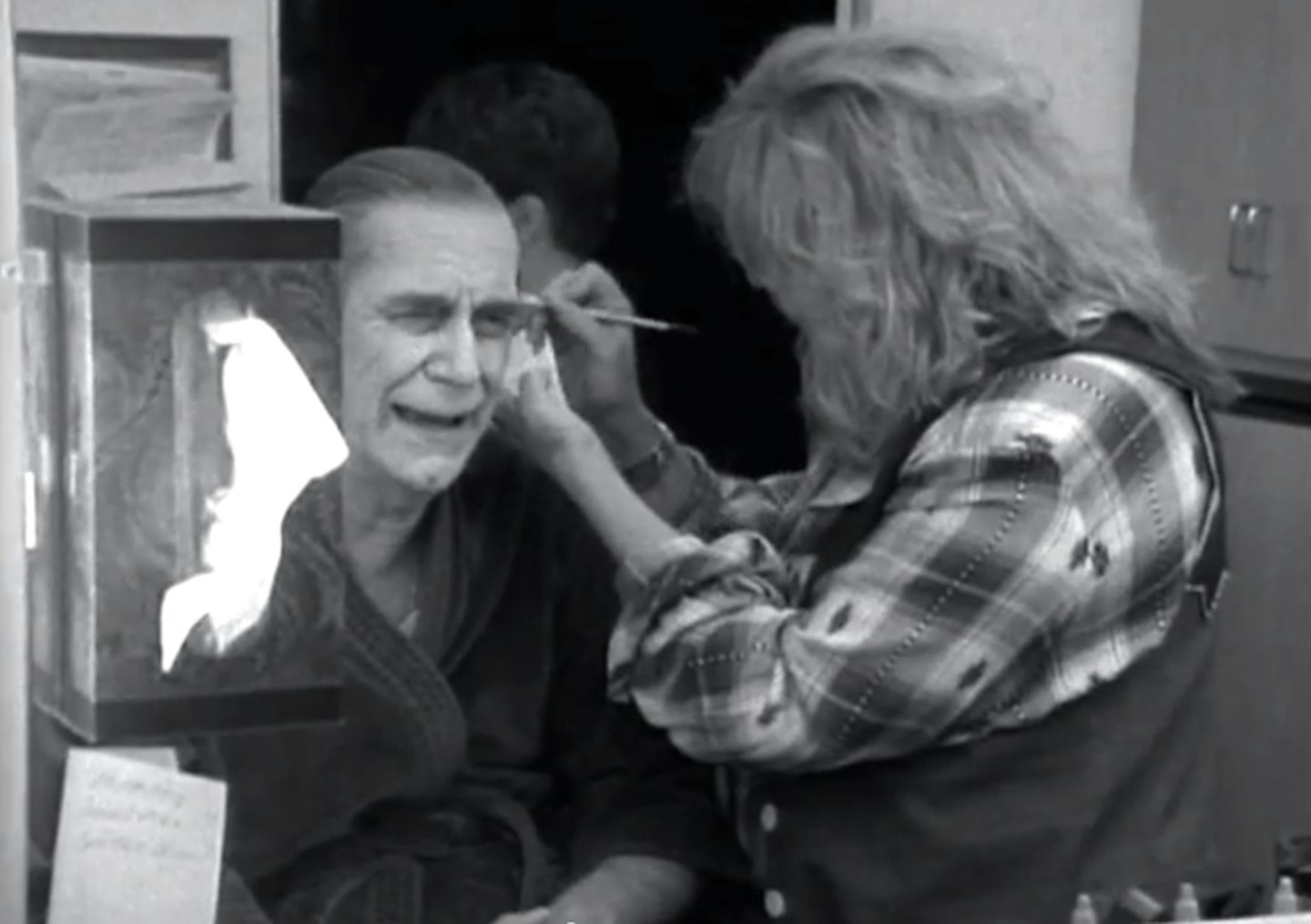 Actor: Martin Landau
***Make-up Artist: ***Ve Neill
***Hours In The Chair: ***2
Martin Landau practices his Bela Lugosi cackle in the make-up chair on the set of Ed Wood. As soon as Rick Baker heard about the project, he had written a letter to Tim Burton begging to do the make-up, as he was (and is) a huge Lugosi and Wood fan. But Baker and his team had their work cut out, because Landau had completely different features from the actor, which meant creating a new chin, bigger ears, and getting rid of Landau's prominent lips. And once Burton decided to shoot in black and white, Neill had to apply special make-up so that Lugosi looked authentic on screen. The work paid off though: the Academy rewarded Landau, Neill and Baker that year for Best Supporting Actor and Best Make-Up in recreating one of horror's biggest stars.
---
THE DARK KNIGHT (2008)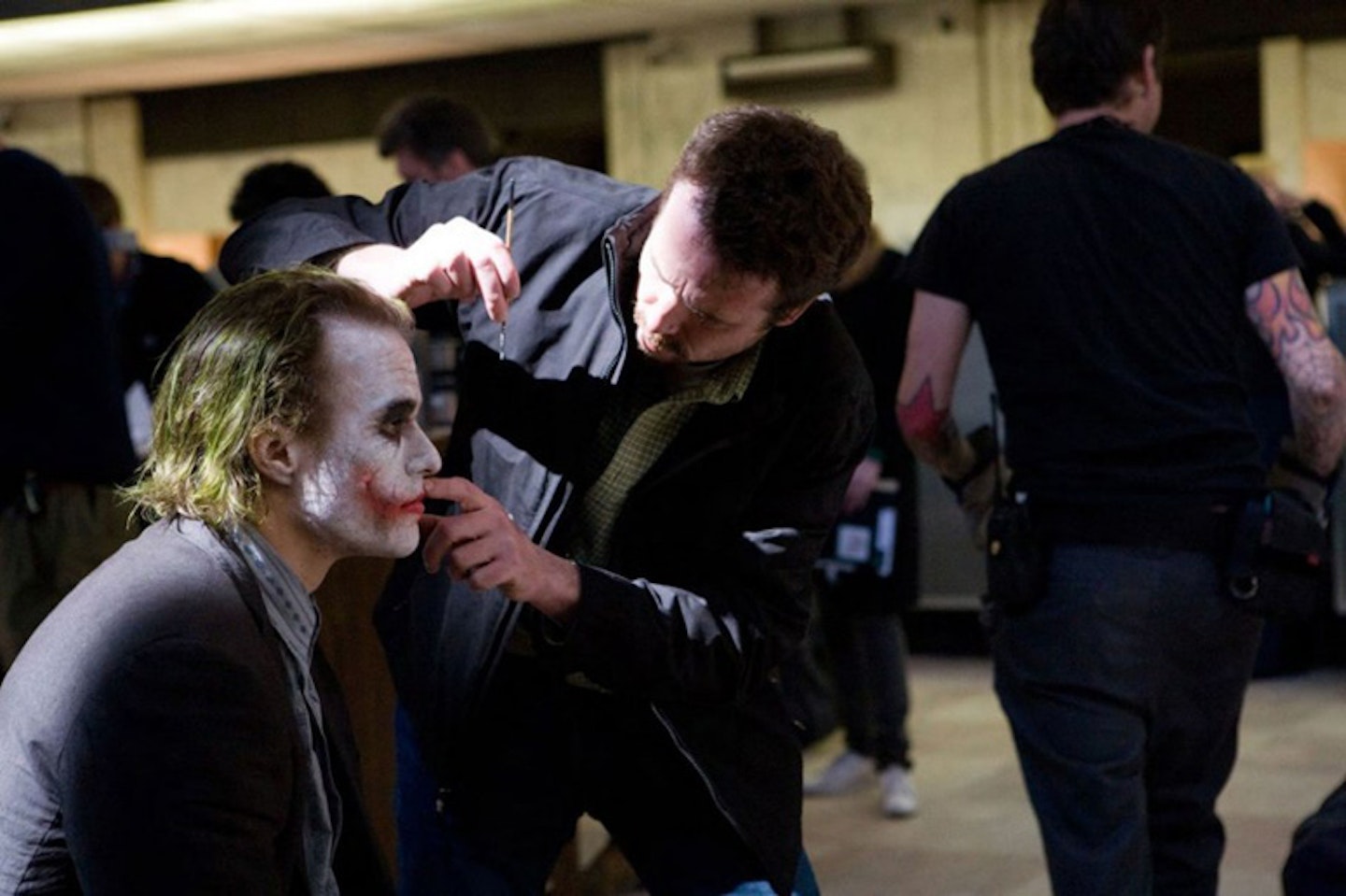 Actor: Heath Ledger
Make-Up Artist: Conor O'Sullivan, John Caglione Jr.
***Hours In The Chair: ***1
Heath Ledger's transformation into the chaos-worshipping Joker is one for the ages, but it was helped immeasurably by his make-up. Anchored by silicone scars, made in an innovative way that made them lighter and easier to apply, and covered in garish make-up that disintegrated as the film progressed, he's a charismatic, compelling nightmare. "It took myself and Rob Trenton three years and about £25,000 to work out the method," said prosthetics designer O'Sullivan. "On the test day Heath was very involved with the painting, and between him, John [Caglione, Jr, make-up artist] and Chris [Nolan] they gravitated towards a Francis Bacon painting that Chris kept referring to. The scarring set the position of the red 'smile' and gave a physical deformity to the whole thing, while the black-and-white makeup gave the ragged clown look."