"I know, it's a lot – the hair. the bod...when you're staring at a demi-god...:" So sang Maui, as voiced by Dwayne 'The Rock' Johnson in Disney's latest animated toe-tapper Moana, in cinemas now. The muscular shape-shifting demi-god is the undeniable star of the show, so we felt to talk to the film's directors, John Musker and Ron Clements, to talk us through how they made Maui. You're welcome.
The Voice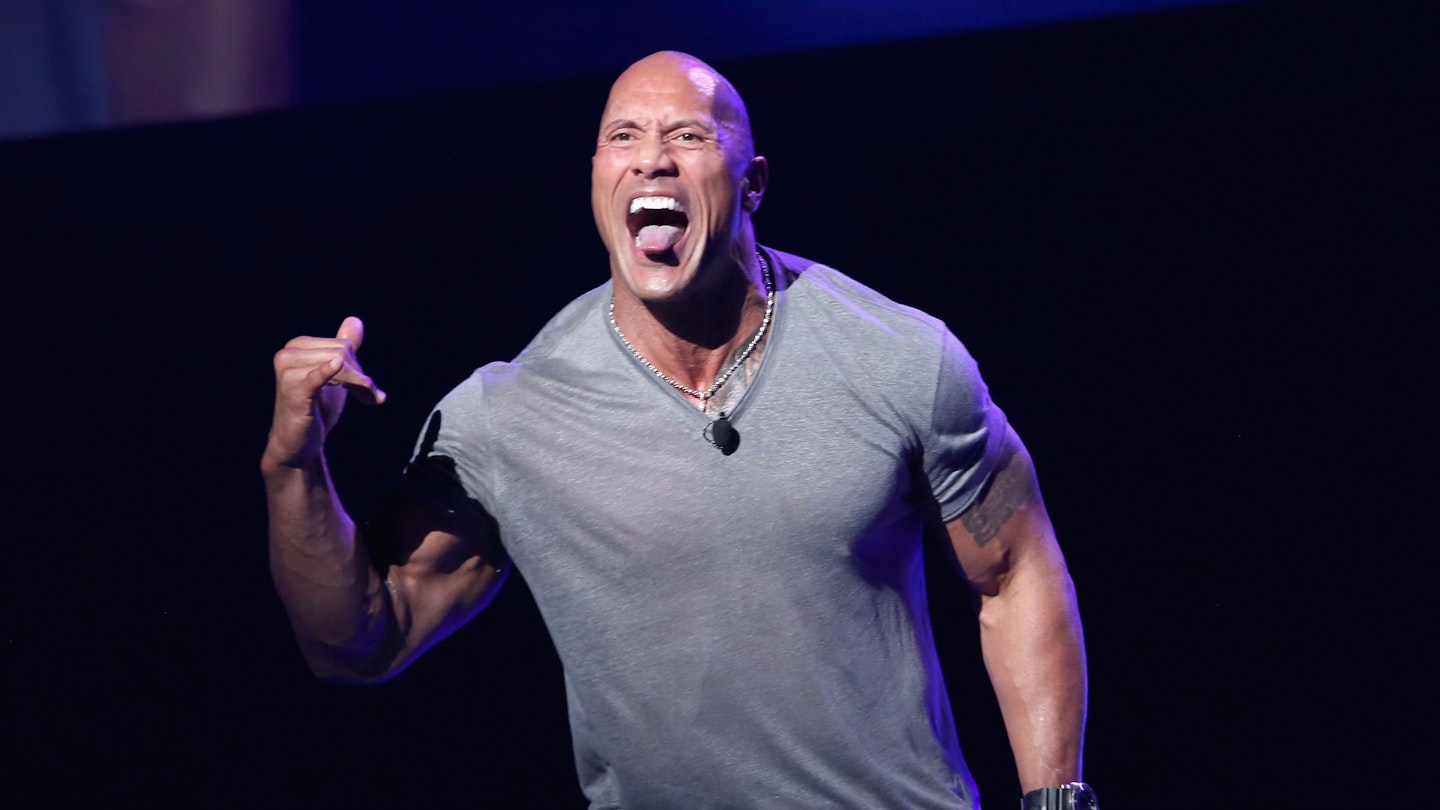 John Musker: It wasn't Dwayne right at the very beginning but very soon thereafter. When we were developing the idea, I was intrigued by the arena of the South Pacific, but I didn't really know much about Polynesian mythology. Then I discovered this character Maui, and I was amazed at these great tales of his great exploits, this demi-god who was bigger than life, a charismatic figure who did these amazing deeds. And he was pan-Pacific; he wasn't any one culture. As we developed it, we knew that Dwayne Johnson was part-Samoan, and it just seemed [to fit] his charisma, and the fact that he's bigger than life too. Why not hire a real demi-god?
It seemed only natural to give the People's Eyebrow its day.
Ron Clements: Also, it was part of the Maui myth that he had these cool tattoos, and of course Dwayne had tattoos, so that was a plus too.
Musker: So when we were developing it early, we had him in the back of our heads. Then we did finally approach him [and] we pitched him some of these storyboards. We played him some of the music and he was really excited about it. That's a couple of years ago now.
Clements: We showed him test animation, [set to] a track from his wrestling days. I remember that he said, "It doesn't matter what your name is!" Mark did a very fun job of putting that in Maui's mouth.
The mythology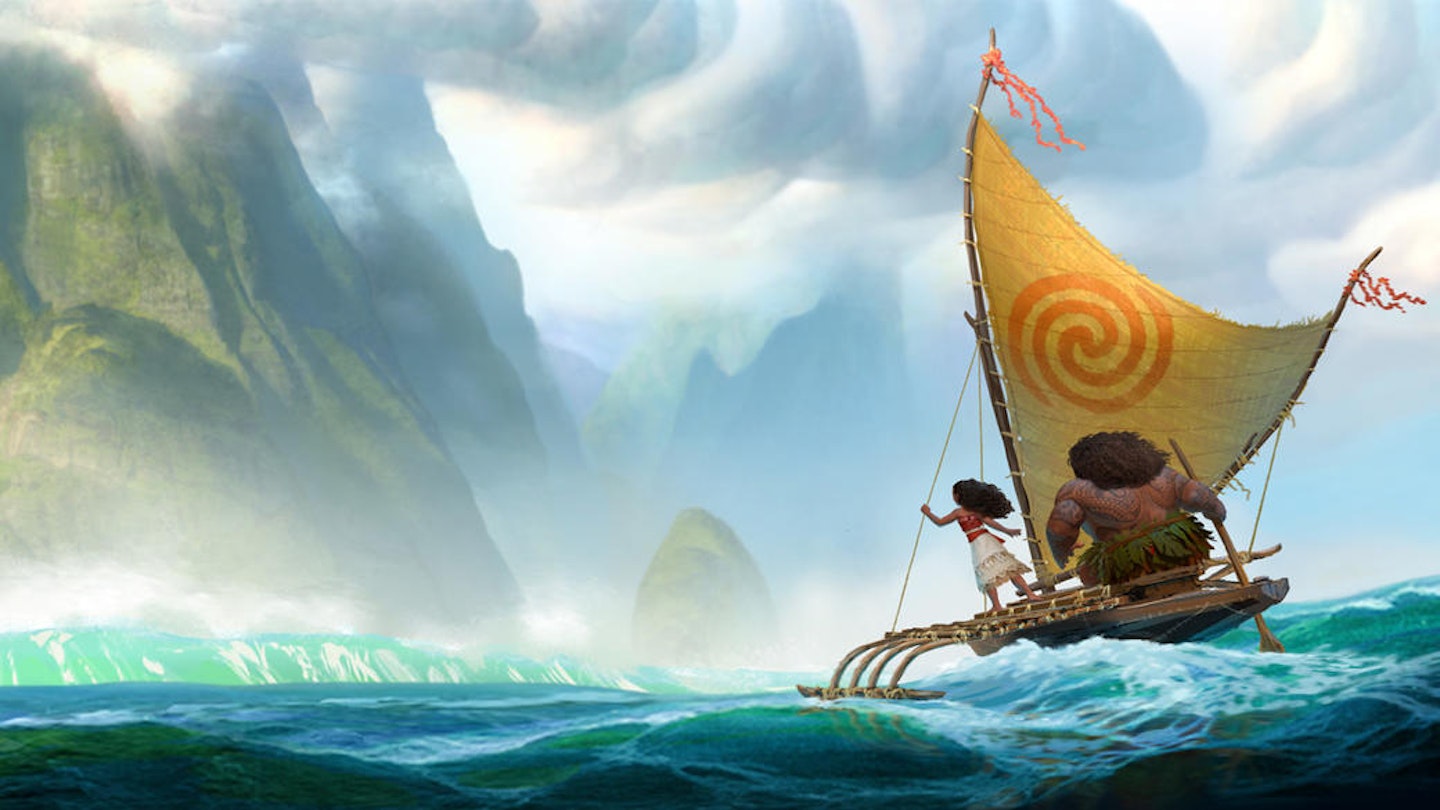 Clements: There's a book, Maui The Myth, that goes into the different Maui myths. There are many things to choose from! There are certain things that are common in just about every myth. He slowed down the sun and he pulled up islands, and his magical fish hook, are in all the myths. But there's a lot of variety.
Musker: Very early on, probably in consultation with our Oceanic Story Trust, some of the feedback we got from them was that they recommended not to draw the movie in one specific culture. There were bits from different cultures that we wanted to wed together in this story. It took on its own life and grew differently. Obviously with the islands being separated at times by whatever, politics etc, the cultures evolved differently.
Clements: In some cultures he's a straighter character, a little bit more of a Superman, and in some of the myths he's more of a trickster and he's more of a mischevious character. We sort of went with that version. He seemed more fun.
The eyebrow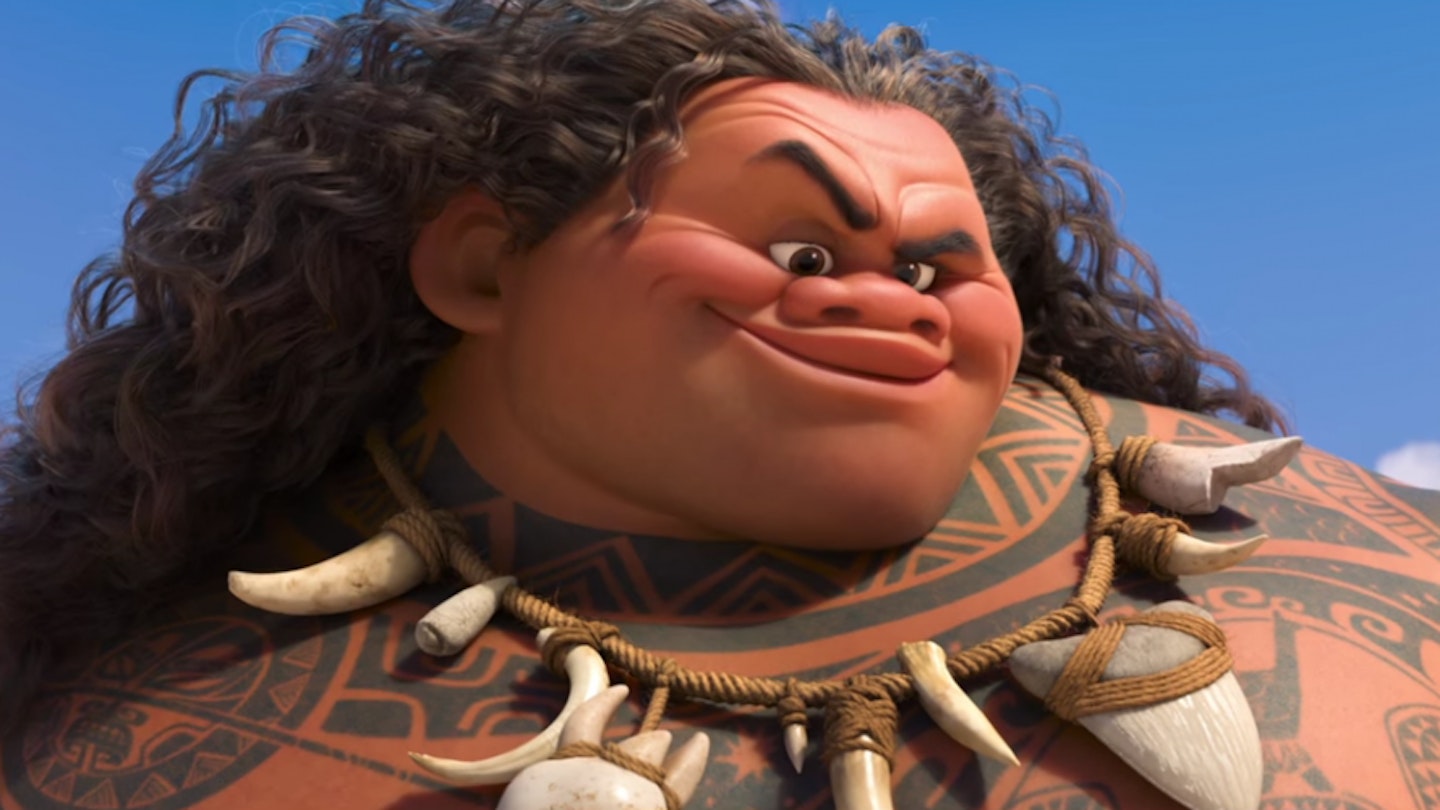 Musker: Once we had The Rock, we thought well, we've got to do something with that. We had Dave Pimentel, who's our head of story, storyboarding his introduction and he said, shall we go for it or not? And we went for it; we thought how Dwayne himself would react. But he enjoyed it! It seemed only natural to give the People's Eyebrow its day. It was part of Dwayne's persona.
The tattoos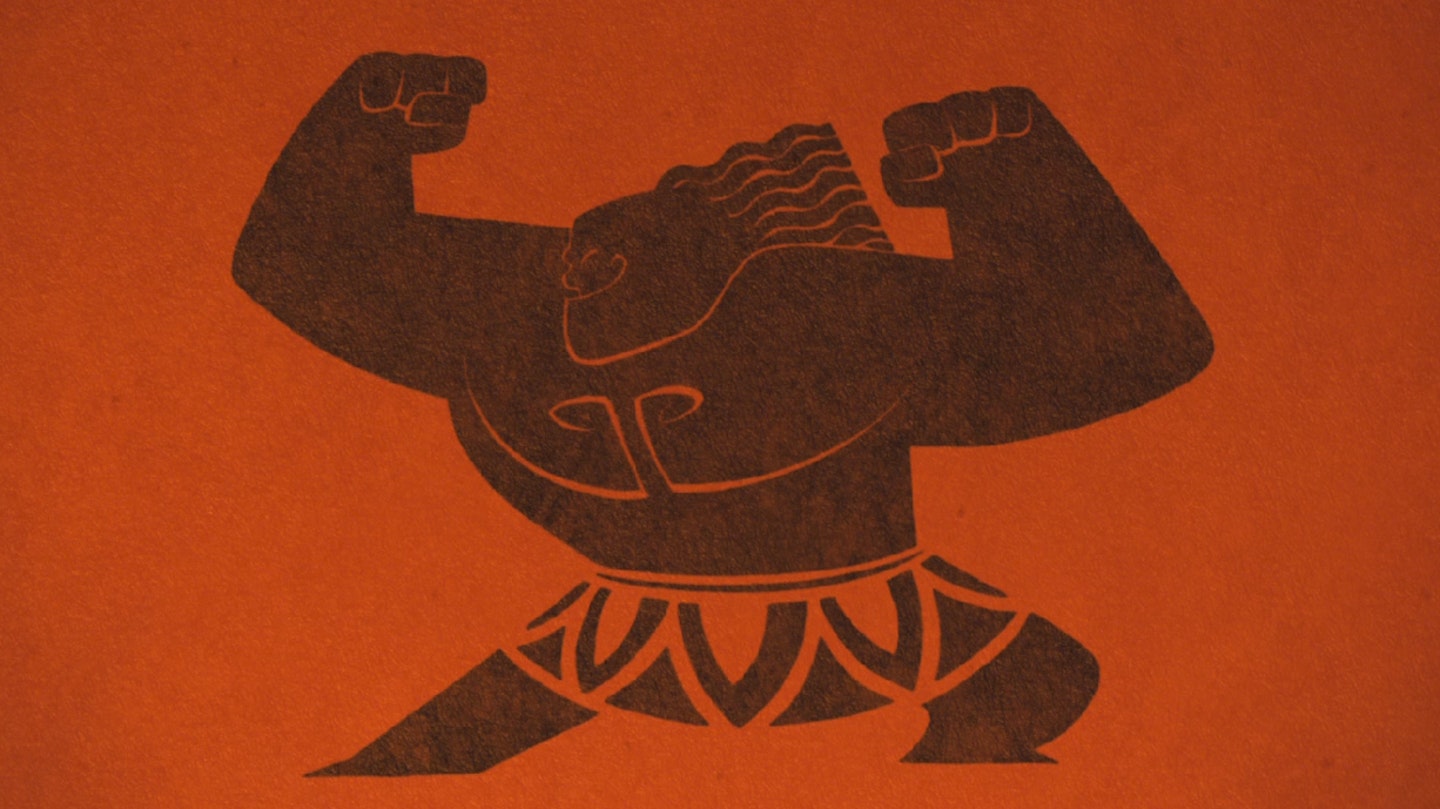 Clements: They're his trophies, his exploits and victories. His whole life is laid out on his body. And the tattoos come to life, particularly one that we call Mini-Maui – it's not referred to that in the movie – but he's Maui's alter-ego, almost his conscience.
Musker: Early on one of our development artists, Sue Nichols, did drawings of Maui with the tattoos coming to life and it just seemed like a great idea. On all our films we try to do something that exploits the fact that it's animation and not live-action. Eric Goldberg, who animated the Genie for us when we did Aladdin, supervised the hand-drawn animation. They've used [new] techniques to marry those tattoos to the other tattoos. They can put them under the skin like real tattoos are so they appear to be under the surface. It really looks cool. There's a very fun set piece song that Maui sings about his exploits, and they're illustrated in part by his tattoos.
The song
Clements: Lin [Manuel Miranda, Hamilton and Moana composer] had a lot of fun writing that song [You're Welcome]. He wrote it specifically for Dwayne. Lin is a big Dwayne Johnson fan.
Musker: Dwayne actually has a good voice. Lin wrote for his voice a little bit, but he did really well. Doing a song was one of the draws for him in doing this. I think he was a little nervous the day of the recording, but he came through. The Maui song is a tour de force, a really fun song, and I think Dwayne had a great time singing it. I think he'll be singing it more and more in the future.
The hair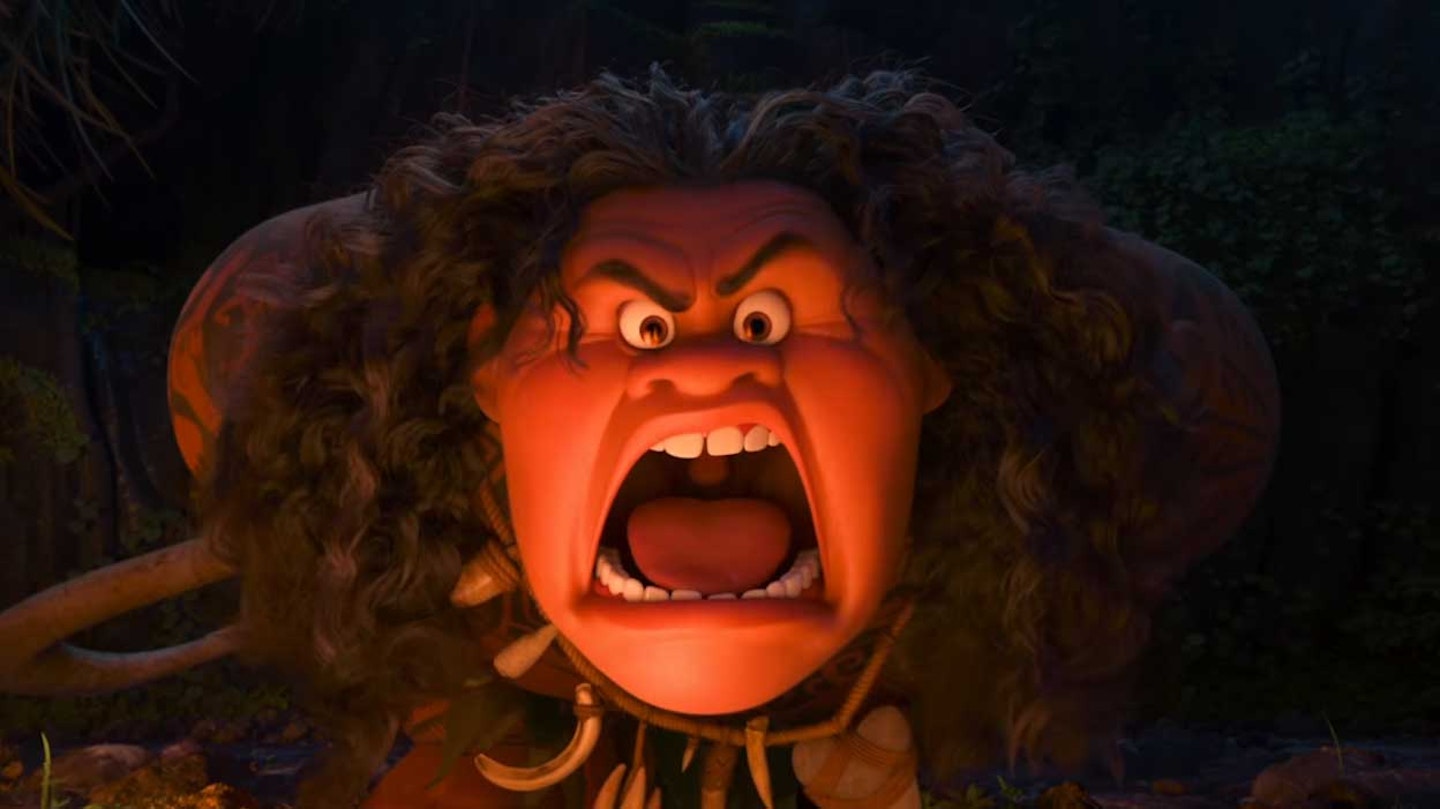 We thought he was of superhero-like proportions – a big, solid man-mountain kind of a guy.
Musker: The very first drawing that Sue Nichols, our designer, did, she actually drew him bald. So the first storyboard, before we had the Rock, he actually was bald. But as we got deeper into the project we got feedback from some of our Oceanic trust that they envisioned that hair was a big part of his mana. Mana is your kind of power. And his long hair was part of his power, so then we started doing versions with the long hair. By the time Dwayne got involved, he was a very long-haired fellow. When he's doing his musical numbers he's twirling and his hair all follows through in this amazing, rich way. Part of the movie, he does tie it up into a bun. Some of the stories about Maui talk about a top-knot kind of thing. Sort of a man-bun. He does sport that.
Clements: Maui is very proud of his hair.
The bod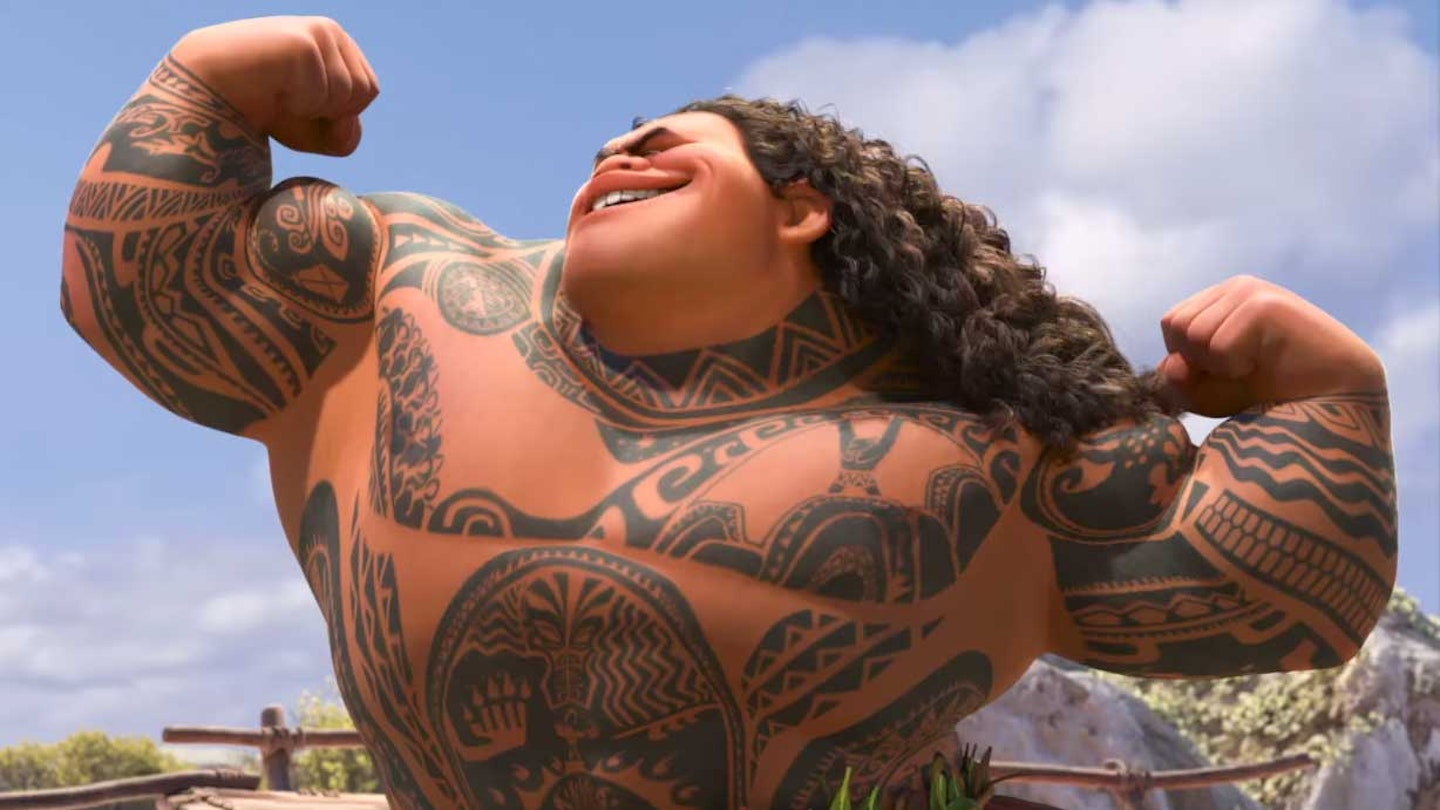 Musker: He was short of stature because we'd read about that in some of the myths. When we designed him, we really felt that he was a demi-god. He's gotta pull up islands, he's gotta battle monsters. So we thought he was of superhero-like proportions, broad-shouldered and a big, solid man-mountain kind of a guy.
Clements: He's a fun character to animate, bigger than life and caricatured, and that's part of the fun of the design. He's very strong, and certainly that's part of the story. This just seemed to fit in terms of the character.
The style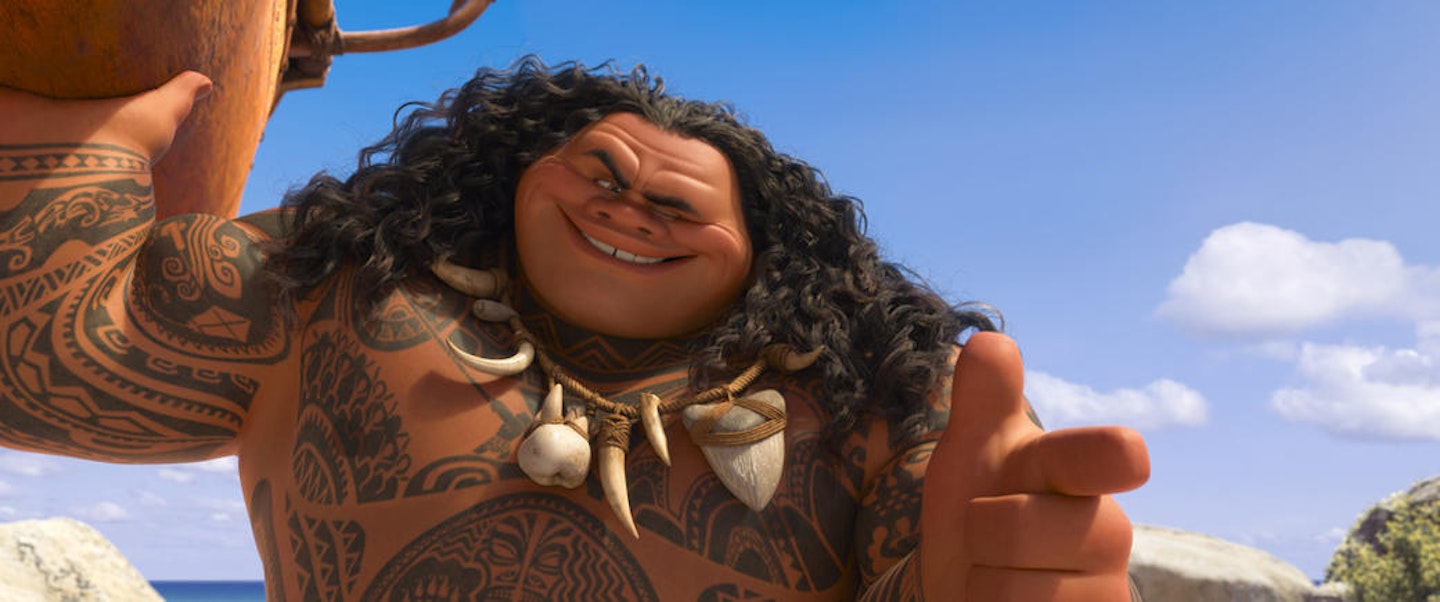 Musker: In this story he's been marooned on this island for 1000 years, [so] his shorts are leaves. We basically thought his necklace was a part of his exploits. They're a record of his battles and his great feats, like a charm bracelet around his neck.
The fish hook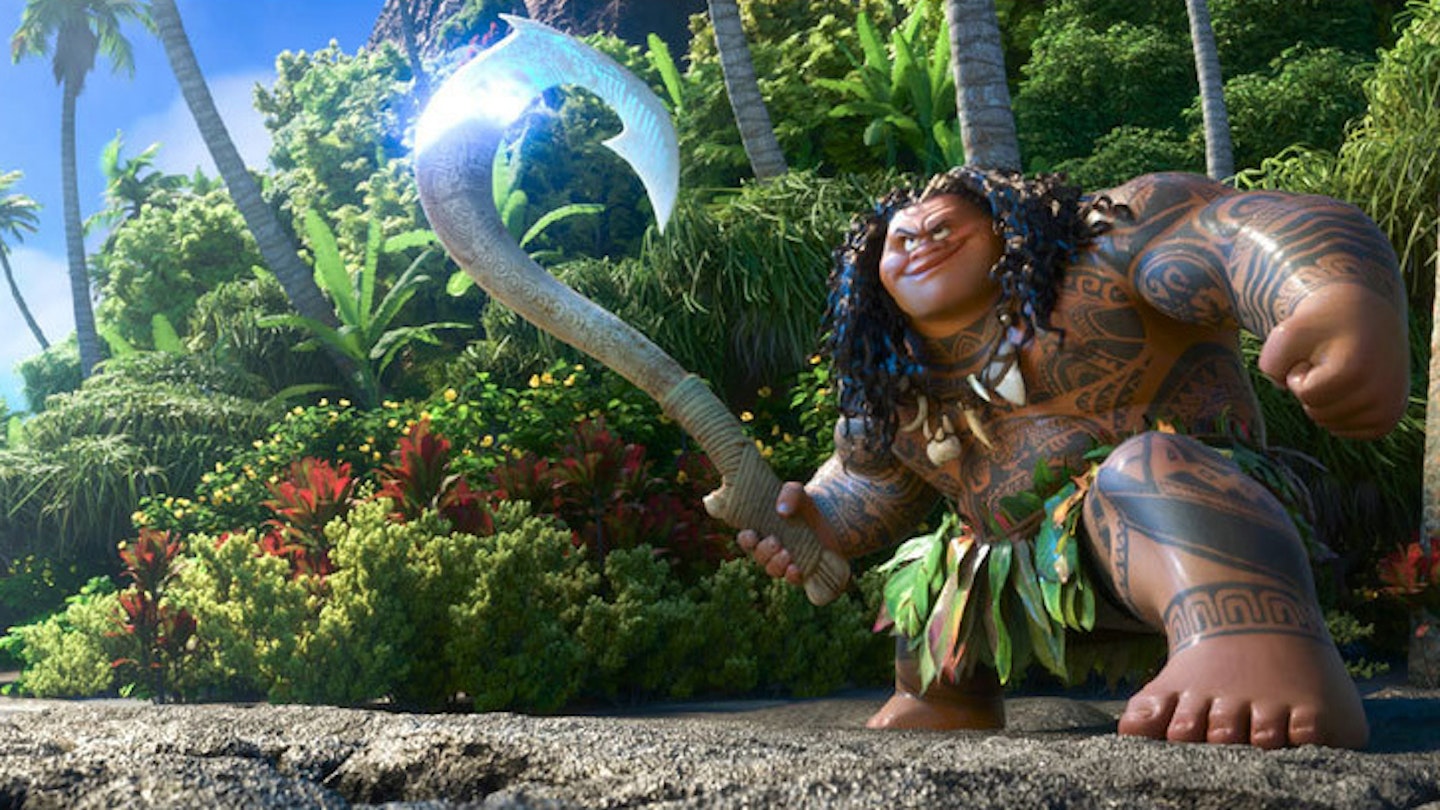 Musker: We wanted to make it really mythic, so it's inscribed with all this intricate detail that's sort of a pictographic that made it feel more that there's a story behind the hook, that it goes back thousands of years and exploits are written on it.
Clements: Part of the actual myth that we don't get into in the movie is that the fish hook was fashioned from the jawbone of his grandmother.
Musker: We did have that in early versions of the story. We had a whole episode where he met up with his grandmother who wasn't pleased about him taking her jawbone for the hook, but the movie got long so that episode went away. But it's a great story.
Moana is in cinemas now.