Ridley Scott's Napoleon takes on history's infamous invader. Prepare for psychological warfare.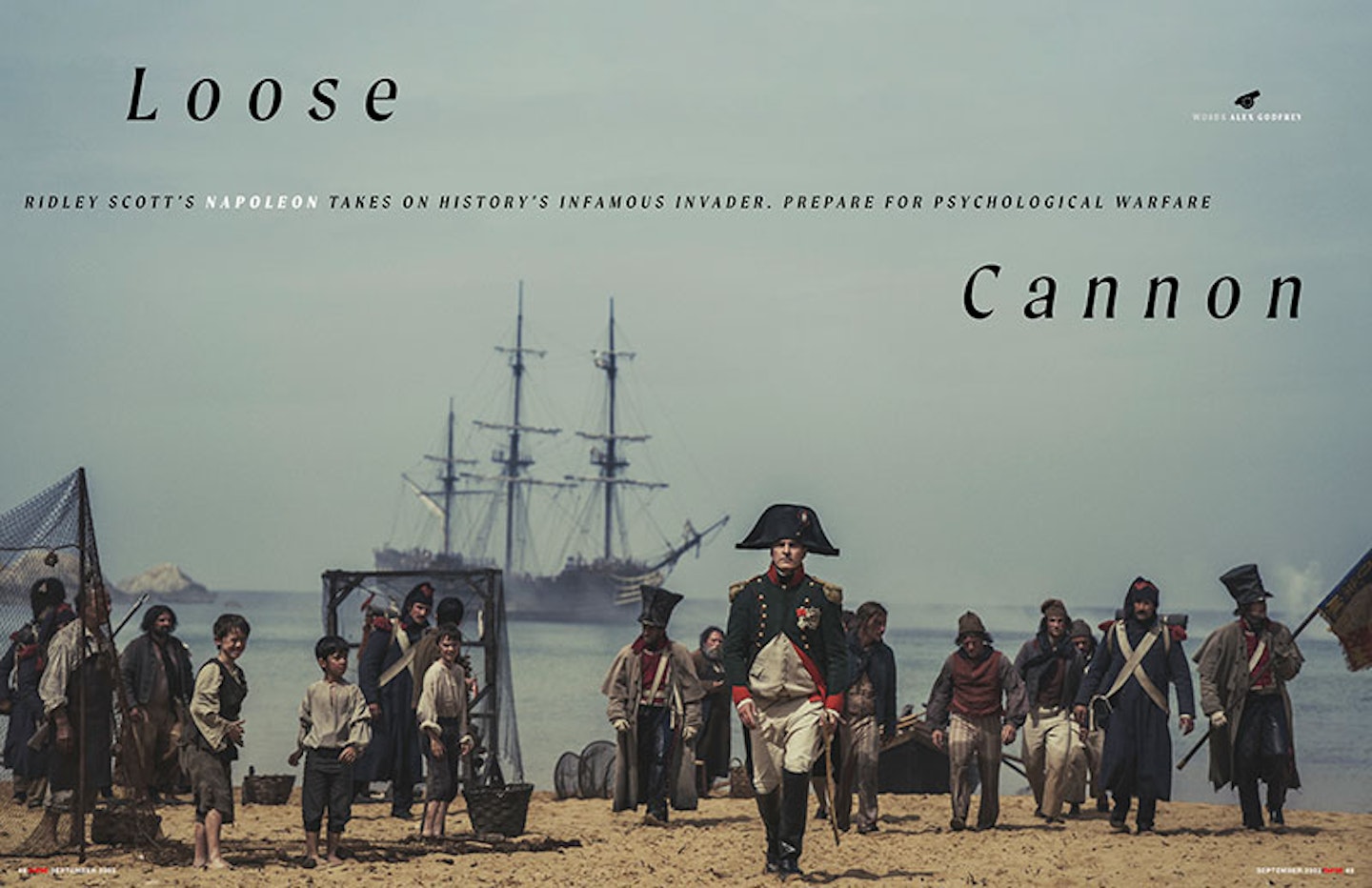 Read an extract of our world-exclusive Napoleon cover feature from our September 2023 issue below, or see the full piece here.
Shall we start with the piles? It might make sense to start with the piles. A good a window as any into how Ridley Scott has approached his latest, possibly oddest and definitely most idiosyncratic historical epic.
"Napoleon was a horseman, he suffered from piles," he tells us, throwing quite the curveball when we ask about the film's battle sequences. "That's varicose veins up your butt, right? I don't have them, but they're very, very painful, it ain't funny. It's like having a toothache up your butt. There's nothing you can do."
So there's a quick primer on haemorrhoids from Ridley Scott, in case you didn't know, and in case you wondered whether he has them or not. But back to Napoleon.
"We sense history might have been different had Napoleon not had a very bad attack of piles on the day of Waterloo. You heard this one?" We had not. "Okay. So I had him at Waterloo," he says of one of history's most famous battles, "sitting on the loo, and it's pouring with rain outside, and he does his business. He gets up, looks in the loo, there is blood. Then he does the day in battle, sweating and in agony with the piles. David [Scarpa, the screenwriter] said, 'Isn't this rather undignified?' I said, 'Maybe, but it's accurate.' But we took it out of the movie because it became too distracting."
So, the piles didn't make it. But this should give you an indication of what Scott is going for here. Napoleon covers a substantial sweep, taking in the Corsican-born French military commander's ascension from officer to King and Emperor, his conquering of nations, the rise, the fall, and the bogglingly erratic relationship with Joséphine de Beauharnais, who would obsess him from the moment they met until the moment he died, and yes, there are considerably huge battle sequences. But above all, it's a really rather eccentric character study.
To read this article in full, become an Empire member. You'll never miss an issue, be able to read every issue in full either on the website or in the app, PLUS you'll get access to member-only content and rewards.