To be fair, I feel like a stranger in a stranger land entering the first screening (6pm) of Taylor Swift: The Eras Tour. Screen 9 at a North London Vue cinema is about to be transformed into the SoFi Stadium in Los Angeles. I am surrounded by faded Taylor tees, the oldest person here by country miles. The running time is 168 minutes, an epic journey through the ten epochs of Swift's output. I'm not sure I'm ready.
I knew next to nothing about Taylor Swift before being asked to review this (the sum of my knowledge ran to something about 'a fella over there with hella good hair') so did a crash course in Swiftology via Spotify and Netflix (the Miss Americana doc and the Reputation concert tour film which, compared to this movie, looks cheap as chips). I am always a sucker for a cultural swoon — this started with being ten in 1977 when Star Wars came out— so was fascinated to see why the world is so gaga (not Gaga) for Ms. Swift. By the time the singer belted out show closer (no spoilers), it was clear as day. You can read what I thought of the movie here.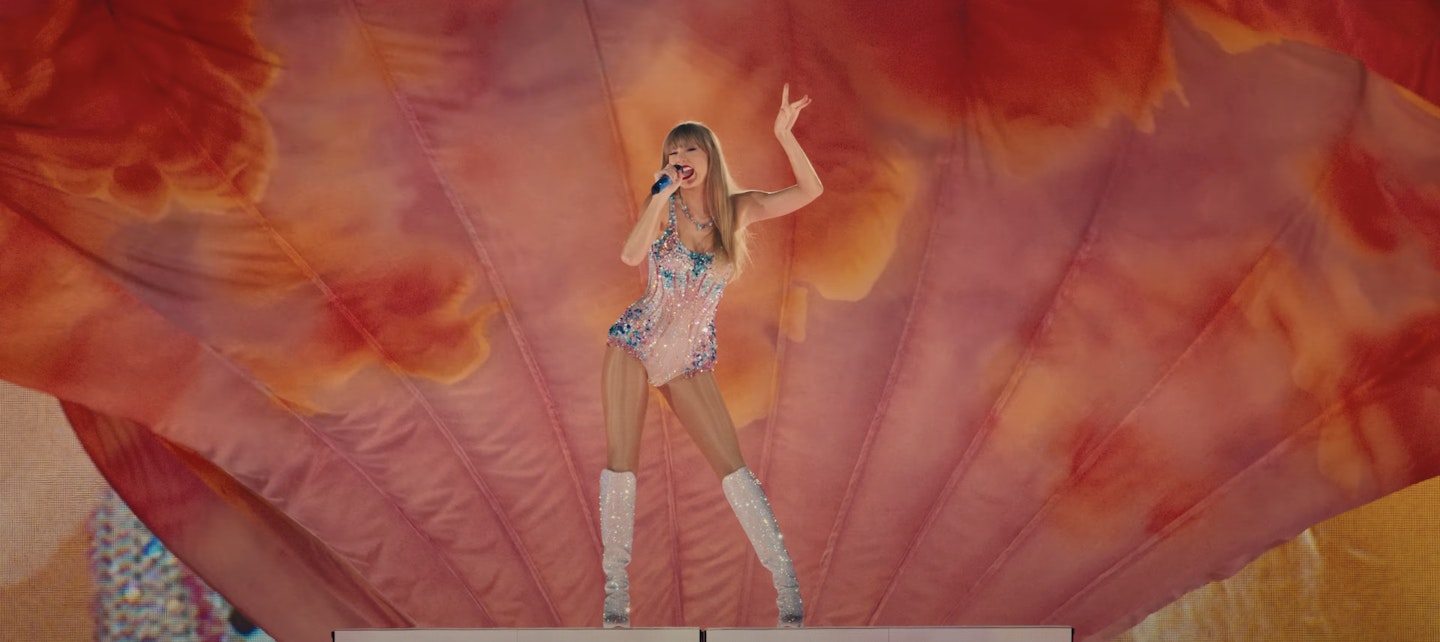 There were no press screenings for the Eras Tour movie so I had to purchase a ticket for the opening night. Even the prices are knowing easter eggs for clued-up fans aka Swifties (cinemas had to agree to the pricing structure before being allowed to show the film). The adult price is £19.89, a reference to both the year of her birth and the title of her fifth studio album. An even deeper cut, the kids' tickets are £13.13, a reference to 13 being her 'lucky' number. Frankly, I'm now wondering why Star Wars tickets aren't £11.38.  A Taylor of Swifties (what is the collective noun for Swifties?) are taking their seats and one of them announces, "GUYS! GUYS! I'M IN G13!!!!!". The pre-screening haggling for that seat must have been a negotiation to rival the Writers' Strike resolution.
After demo-appropriate trailers (2 animated features, one bad looking Glenn Powell rom com, The Color Purple, The Mean Girls Musical that playfully references the Swift film, Wonka, The Hunger Games prequel) the screaming begins with the appearance of the BBFC card, surely a first: in case you're wondering Taylor Swift: The Eras Tour was passed a 12A for 'infrequent strong language' — a 'vigilante shit' here, a 'fuck the patriarchy' there. And, as sure as American Dad follows Family Guy on ITV2, the moment the onscreen countdown that starts the film begins, a chorus of young female voices starts calling it out…
3
2
1
Quentin Tarantino once said that when you buy a ticket for his films, you pay for your whole seat but you'll only use the edge of it. If you're a tween at a Taylor Swift concert movie, your mum pays for your whole seat and you don't use any of it. From the moment opening number (redacted) kicks in, the Taylor of Swifties are up and dancing at the back of the stalls. It takes the set list to reach the bangers of 'Blank Space'. 'Shake It Off' and 'Bad Blood' for the older teens just in front of me, who had been merrily bopping in their seats, to move to the aisle and throw some shapes — tonight they're going to party like its 1989 (weirdly, on screen, the backing dancers are riding Tron-like bicycles and waving luminous hockey sticks). In hindsight this feels like where the concert reaches its zenith.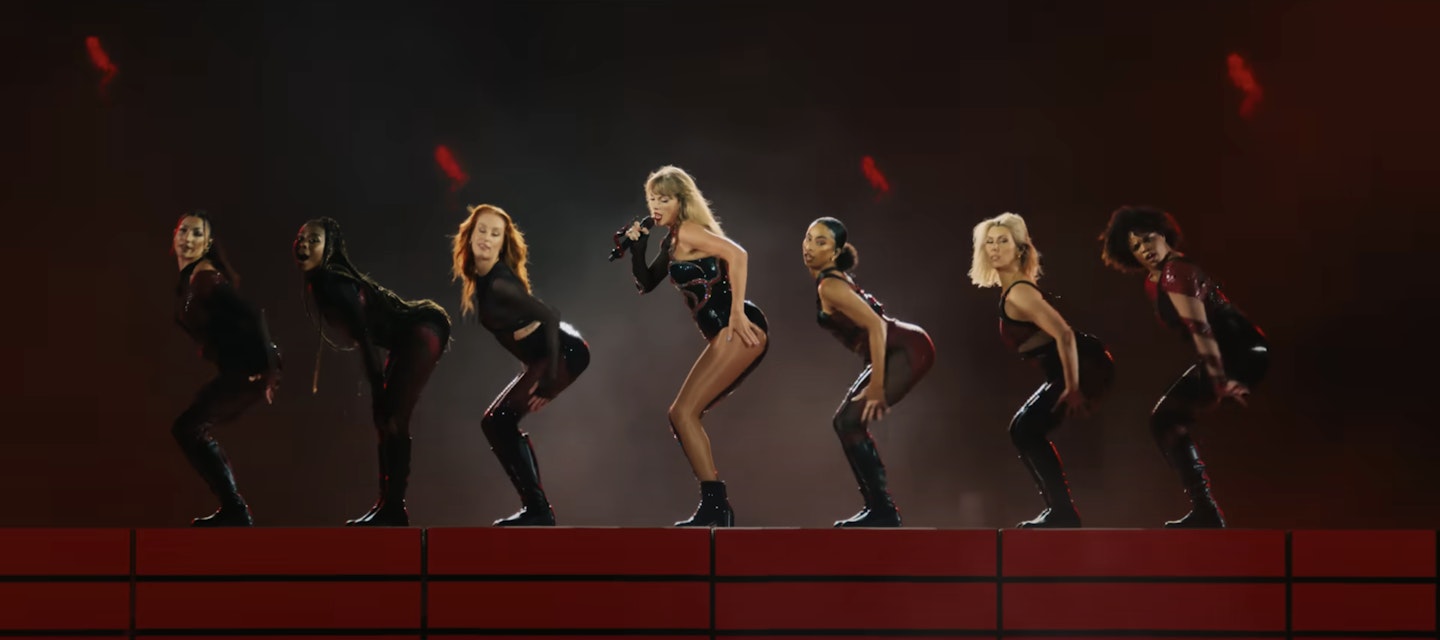 Despite Vue's pre-film on-screen warning about turning your phone off and not talking, every stricture of cinema etiquette is broken tonight. There is singing, clapping along (the drum patterns of 'Delicate' get particular Vue accompaniment) cheering, (every era subtitle gets a holler), dancing, filming the screen, taking to friends on Facetime, and during the Evermore section, a lot of waving iPhones in the air with the torch on (during this bit, Swift plays a piano covered in moss — she should really get The Repair Shop to look at that). The only difference between this and an actual Stadium gig is there isn't a taking-one-for-the-team dad trying to carry six supersized drinks down steep steps trying (and failing) not to spill a drop.
This is joy in its most unadulterated form. Who can argue with that?
At one American Eras Tour screening, the crowd got Taylor Lautner doing backflips in front of the screen. On this cold October night in N1, the best our screening can muster on the Old-Man-Action-Front is a dude going to the loo during 'All Too Well' (fair play it is 10 minutes and acoustic). As the movie builds to its finale, the Taylor of Swifties have surreptitiously moved down to the front row like ninjas and are giving it everything, loud and proud. At this point there's no difference between the energy in Los Angeles and the energy just off Upper Street. I appreciate the thought of this behaviour might bring some of you and Martin Scorsese out in hives but — in the room where it happens (sorry that's a different cultural phenomenon) — it's joy in its most unadulterated form. Who can argue with that?
After the film finishes with 'Long Live' playing over the end credits, accompanied by footage of delirious fans, I catch up with some more delirious fans — Mabel (13), Ella (13), Sasha (11), Agata (13) — who are currently in a heated argument over the best Era with an intensity usually reserved for Alien vs. Aliens debates. "1989 is amazing but Speak Now is the best," says Ella definitively to a chorus of approval. "Folklore!" shouts Mabel "'The Last Great American Dynasty' is the best song." When asked why they are such big fans, Agata suggests. "She's such an amazing person, she writes such good songs, you can relate to her. She's such an…amazing person…that…" Overwhelmed and tear-y, Agata can't continue. "It's okay," Sasha reassures me seeing my concerned face. "She's been crying the whole time."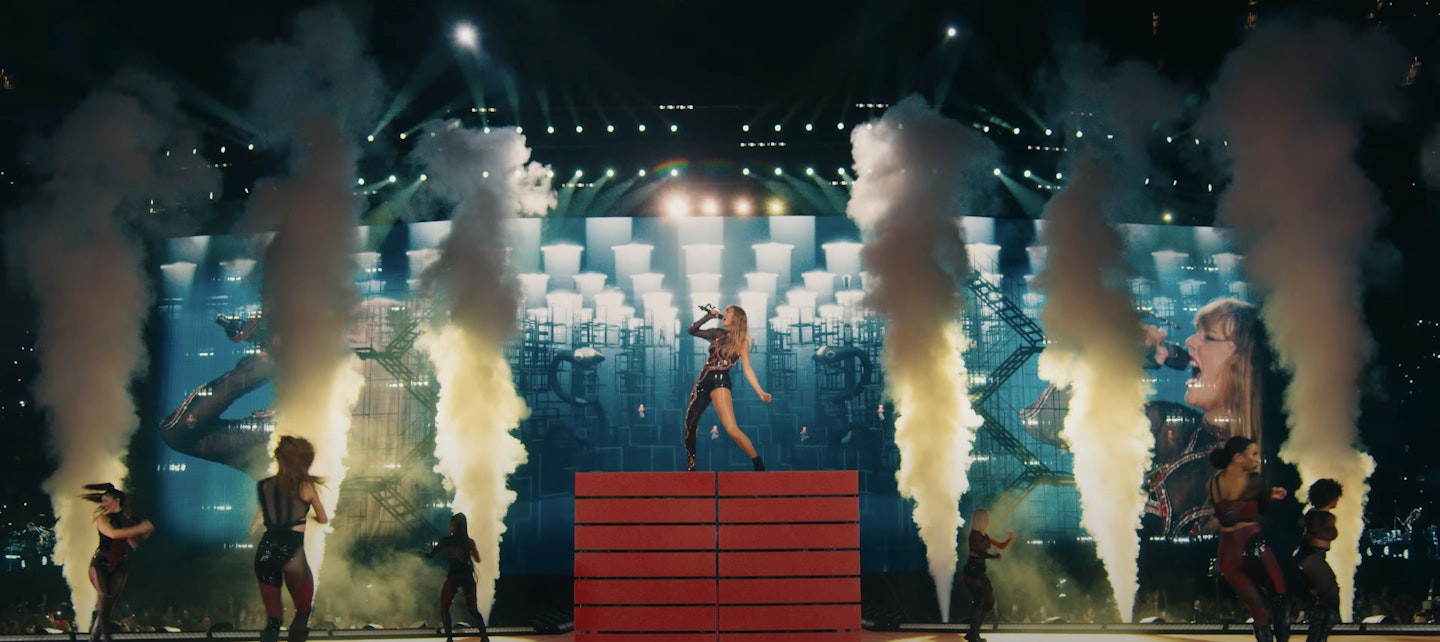 Unable to get tickets to see the tour next summer — "I spent my whole English lesson trying to get them," says Ella — the gang feel satisfied. "I think it's just as good," says Sasha to general murmurs of approval.  "It's good that she's done this," chimes Mabel. "It means more people can reach out to her and watch it — people who can't afford the expensive tickets." Swift should feel honoured to have such charming, thoughtful, committed fans as these.
"I thought it was wonderful," says chief Swiftie wrangler Kate once the yoots have had their say. "I didn't know what to expect. She was brilliant, she's such a great role model. I loved the dancers. Not what they used to be, just a whole bunch of diverse people, different shapes and sizes. It was really lovely to see all our girls have such a great time."
Whatever you think of Swift and her music, there's something undeniably moving about being surrounded by a crowd feeling something so deeply and expressing that feeling so passionately. It's also a reminder of how, when you are young, pop culture becomes not only a glue for friendship but also a key former of identity. I retain very little of the minutiae of what I learnt in school but can recite lyrics of songs I loved as a teen word for word.  Mabel, Ella, Sasha and Agata might not remember the details of the hydrological circle from their Geography GCSEs 40 years from now but will probably never forget the chorus of Anti-Hero ("It's me, hi, I'm the problem, it's me"). It's in their DNA now, Taylor made.