A lost soul, facing insurmountable odds, hoping to survive. As Gravity turns ten, director Alfonso Cuarón reveals how its on-screen events mirror his battle to make it.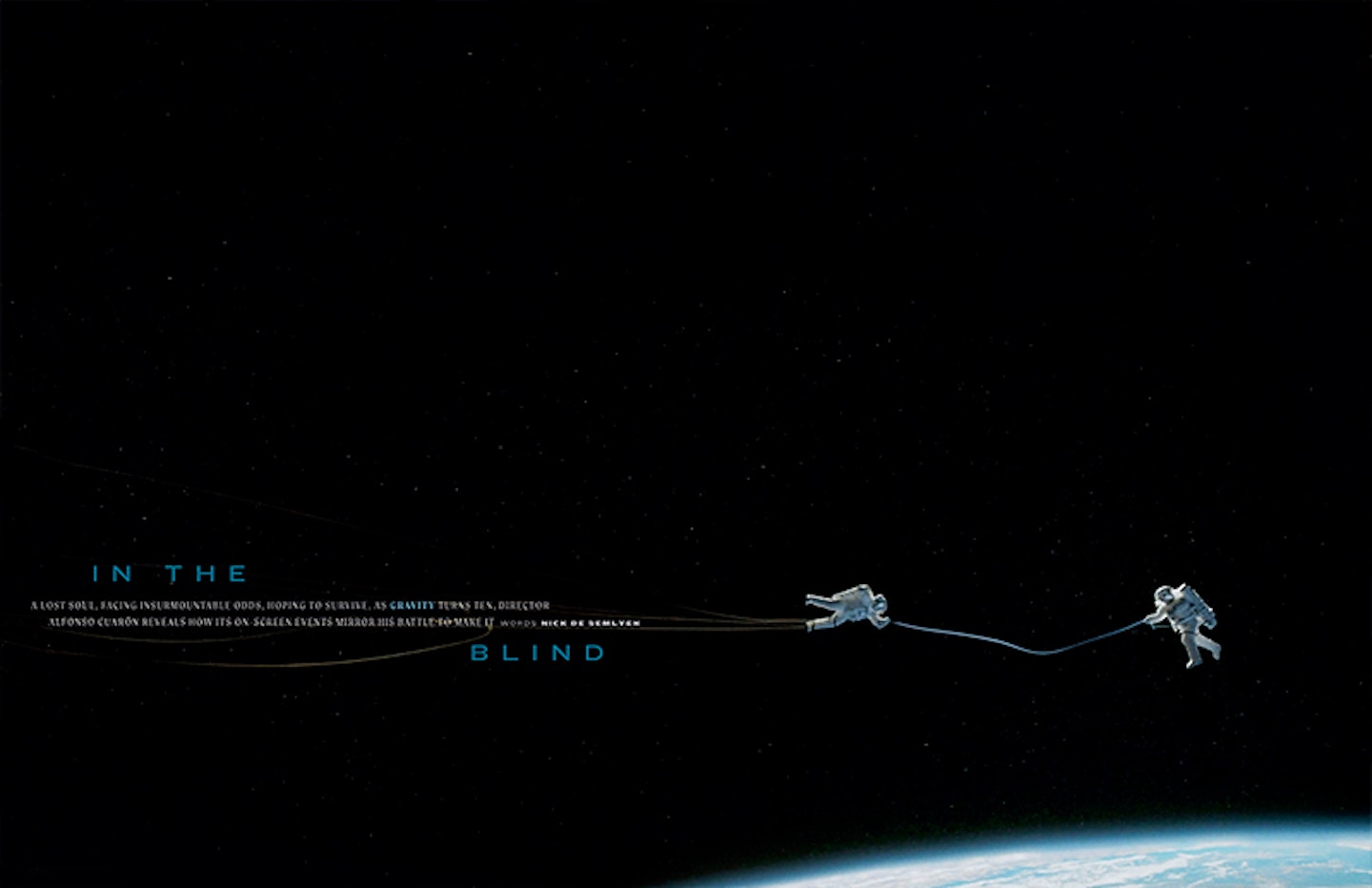 Read an extract of Empire's exclusive Gravity 10th anniversary feature from our November 2023 issue below, or see the full piece here.
"'This movie inspired me to become an astronaut!' – said no-one ever."
So reads one review of Gravity on Letterboxd, and the cyber-joker kinda has a point. Essentially Uncut Gems in space, Alfonso Cuarón's 2013 off-planet thriller is monumentally, heart-rate-spikingly intense, charting one very bad day in the life of Dr Ryan Stone (Sandra Bullock), an engineer on her first-ever space mission. Billed as "a Space Suspense in 3D" on the front page of its screenplay, written by Cuarón and his son Jonás, it moves at bullet speed — as does the incoming debris which strikes the Explorer craft in the film's opening, wiping out most of the crew and setting Stone and colleague Matt Kowalski (George Clooney) on a seemingly hopeless quest to get back to Earth. With its lean plot, minimal dialogue, life-affirming themes, smart visual metaphors and stunning spectacle, often captured in sinuous long takes, Gravity is a filmmaking tour de force which won Cuarón the Best Director Oscar and grossed $700 million worldwide. And while it may not have inspired many people to apply to NASA, it might well have compelled a whole lot of others to consider going into filmmaking.
Despite its triumphant outcome, the process of making this most cutting-edge of blockbusters was no spacewalk in the park. In fact, it was almost as anxiety-inducing as Ryan's experience. With seemingly no way to translate the action — set almost entirely in zero-G — onto the screen, Cuarón and his team had to create a brand-new way of making a film, labouring for five-and-a-half years without having any assurance of success. "Houston in the blind" is a repeated line in the film, as Ryan and Matt try to transmit messages to Earth, with no idea whether anyone can hear them. For Cuarón, as he recounts to Empire ten years on from the movie's release, his Gravity experience was every bit as much a test of faith.
To read this article in full, become an Empire member. You'll never miss an issue, be able to read every issue in full either on the website or in the app, PLUS you'll get access to member-only content and rewards.