Through the initial Coronavirus lockdown, a handful of major Hollywood blockbusters fought to continue filming with industry-leading safety measures. Among those on the filmmaking frontline was Tom Cruise, taking on a seemingly impossible mission of his own – finding a way of forging ahead with Mission: Impossible 7. That meant shooting the series' signature seismic stunts across multiple locations with director Christopher McQuarrie as normal, in circumstances that were anything but – while also dealing with the small matter of finishing post-production on Top Gun: Maverick remotely too.
In Empire's Summer 2021 issue – on sale now at all good newsagents – we went on set of M:I7 with Cruise himself for a world-exclusive interview and shoot to capture his mission to save movies, marking the return of the big screen in the UK and beyond. It's a conversation that goes to the heart of his efforts to get Mission back up and running and Maverick to touch down safely, in which he talks about shooting spectacle designed for the big screen, and the importance of saving cinemas.
Read an extract right here, and find the full story in Empire magazine – available on newsstands now.
———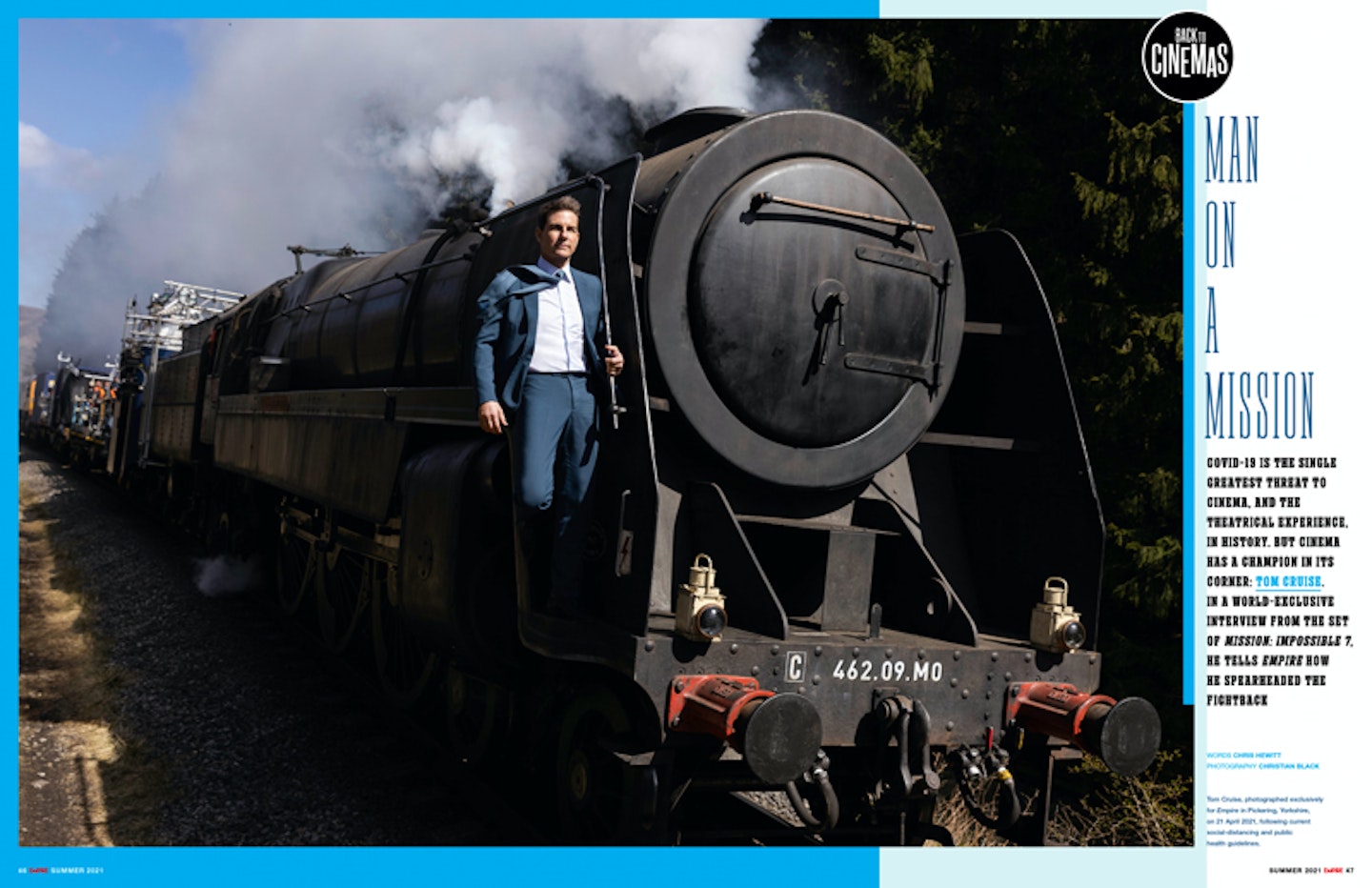 On a bright, crisp Norwegian day last September, Tom Cruise walked onto the set of Mission: Impossible 7, ready for the first day of filming. Then he got onto a motorbike, revved the engine, twisted the throttle, accelerated along a long ramp, and drove straight off a cliff.
At the exact moment he did so, as gravity tugged at him and tried to turn him into Tom Cruise pizza on the rocks of the Helsetkopen mountain a few hundred feet below, a million things raced through his mind. There was all the technical stuff, of course, that he needed to do to avoid that grisly fate. Things he had been in training for months to turn into muscle memory, so that the single-most dangerous stunt of a career filled with death-defying derring-do would go off without a hitch. "If the wind was too strong, it would blow me off the ramp," he explains. "The helicopter [filming the stunt] was a problem, because I didn't want to be hammering down that ramp at top speed and get hit by a stone. Or if I departed in a weird way, we didn't know what was going to happen with the bike. I had about six seconds once I departed the ramp to pull the chute and I don't want to get tangled in the bike. If I do, that's not going to end well."
Yet there was something else there too. A sense of peace. Of a weight being lifted from his shoulders. Because there had been a time, not too long before, when it seemed that this day would be a long way off. If it even came at all. Not just for Mission 7, but for movies in production and pre-production all over the world, whose schedules had been ravaged by the Covid-19 pandemic. In just a few short months, a disease that had brought the world to its knees had been merciless in its impact upon the film industry. "All those emotions were going through my mind," admits Cruise. "I was thinking about the people I work with, and my industry. And for the whole crew to know that we'd started rolling on a movie was just a huge relief. It was very emotional, I gotta tell you."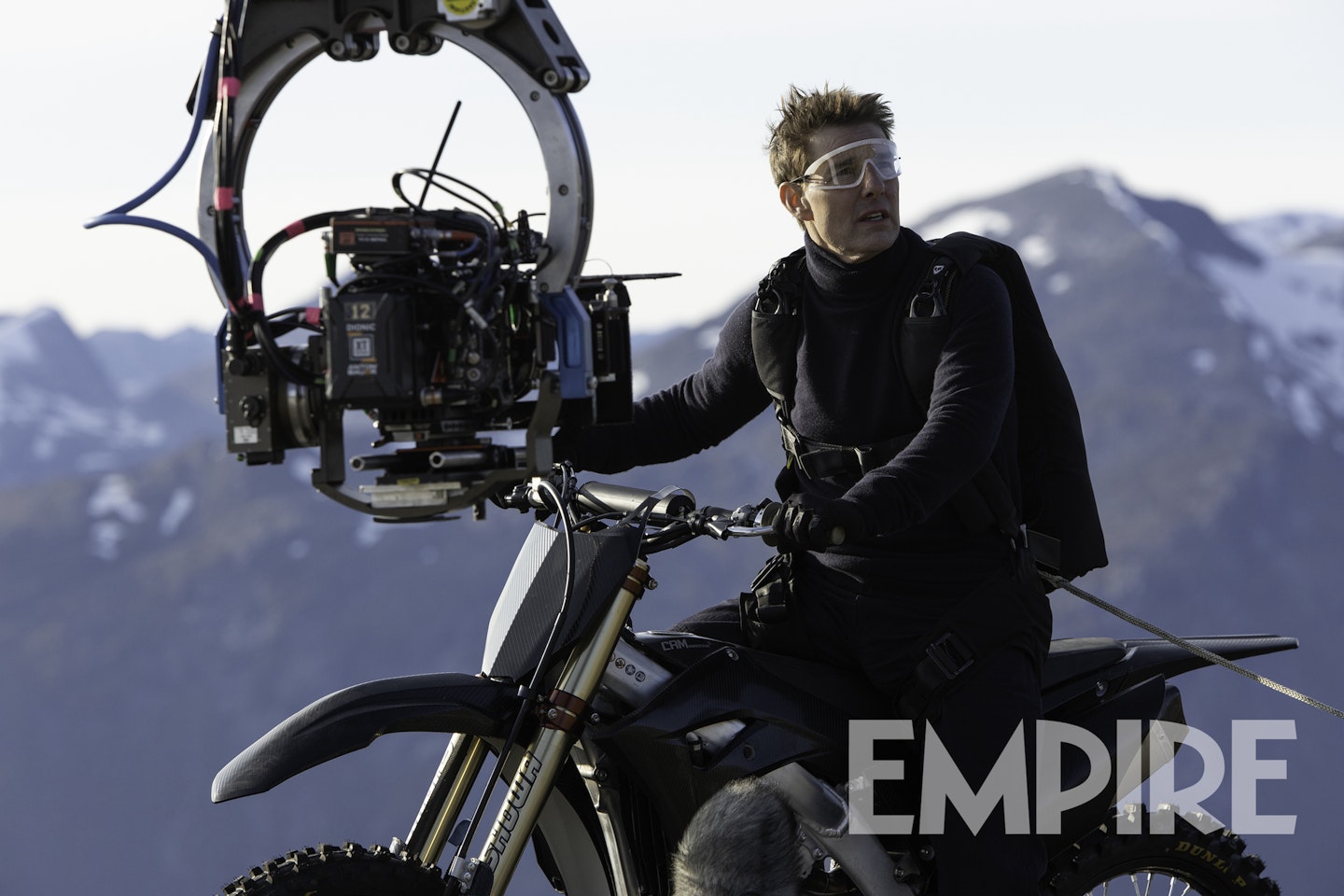 Parachute safely deployed, Cruise made a successful landing. And promptly went back up and did it again. And again. And again. In total, he would do the stunt six times before he, and Mission 7's writer-director Christopher McQuarrie, were satisfied. It was the first step in a grand fightback against the most devastating threat the film industry has ever faced. The battle to save cinema had begun — and at its vanguard, the biggest movie star in the world.
———
For Cruise, COVID-19 began the same way as it did for most of us: as an abstract concept, a name peppered throughout news reports, gradually gaining prominence until it became unavoidable headline news, and then, in February 2020, life-altering reality. "We were reading about the pandemic," he says. "McQ [McQuarrie's nickname] was in Venice. I was working on prepping Mission and working on Top Gun." He was a couple of days away from making the trip to Italy when he got a call from Paramount, the studio behind both Top Gun: Maverick and the Mission movies. "They said, 'Don't come. Just wait a beat.'" Before the beat had even been counted, they called again. "They said, 'We're shutting the film down.' It really just dropped like a hammer, to be honest."
Mission wasn't alone. Productions everywhere, of all shapes and sizes, were shuttered as the film industry tried to figure out how to deal with the challenges posed by a disease that thrived upon close contact. Thousands of people, from crew members to cinema workers, suddenly found themselves out of jobs. In shutting down a production of the size of Mission, which can employ up to 1,000 people at a time, Paramount was admitting that the future of the film industry was opaque at best. "They shut everything down," says Cruise. "They closed down all of our editing rooms, our scoring, every aspect on Top Gun, and on our movie [Mission] they sent everyone home. And that was it. They were already making arrangements that maybe in a year we'll do it, if at all."
I told the studio and I told the industry, 'We're going back. We're going to get everyone back to work.'
Cruise, to put it simply, wasn't having it. This is a man who, over the course of his astonishing five-decade career, has accrued perhaps more power than any actor in the history of cinema. He can pick up a phone and arrange for Times Square or Trafalgar Square to be shut down for filming. So Tom Cruise did perhaps the most Tom Cruisey thing in the history of Tom Cruising. He looked Covid-19 right in its nucleus and refused to budge.
"I've produced 30 to 40 movies," he says. "I am responsible for thousands, if not tens of thousands, of jobs. All my friends in the industry, people that are in distribution, and my crew were like, 'What are we going to do? I could lose my house!'" So I told the studio and I told the industry, 'We're going back. We're going to get everyone back to work. We're going to start shooting in the summer. And we're going to figure out how to do it safely.'"
What followed was an up-at-dawn, pride-swallowing siege that he will never fully tell us about. "It was seven days a week, it was around the clock, just dealing with a lot of high emotions with people, and helping them through it," says Cruise. It wasn't a case of rewriting the rulebook. There was no rulebook for shooting during a pandemic. So one had to be written from scratch, and Cruise was at the heart of establishing new protocols. The conversations weren't just confined to Mission, or Top Gun, or Paramount chief Jim Gianopulos. They were industry-wide. "Other studios, I was informing them what we were doing, and how we were doing it, and the protocols in place," explains Cruise. "And other films followed as a result. They were like, 'Well, Mission's going, they're not stopping.' I kept calling friends, saying, 'Get your movie back, here's what I'm doing.'"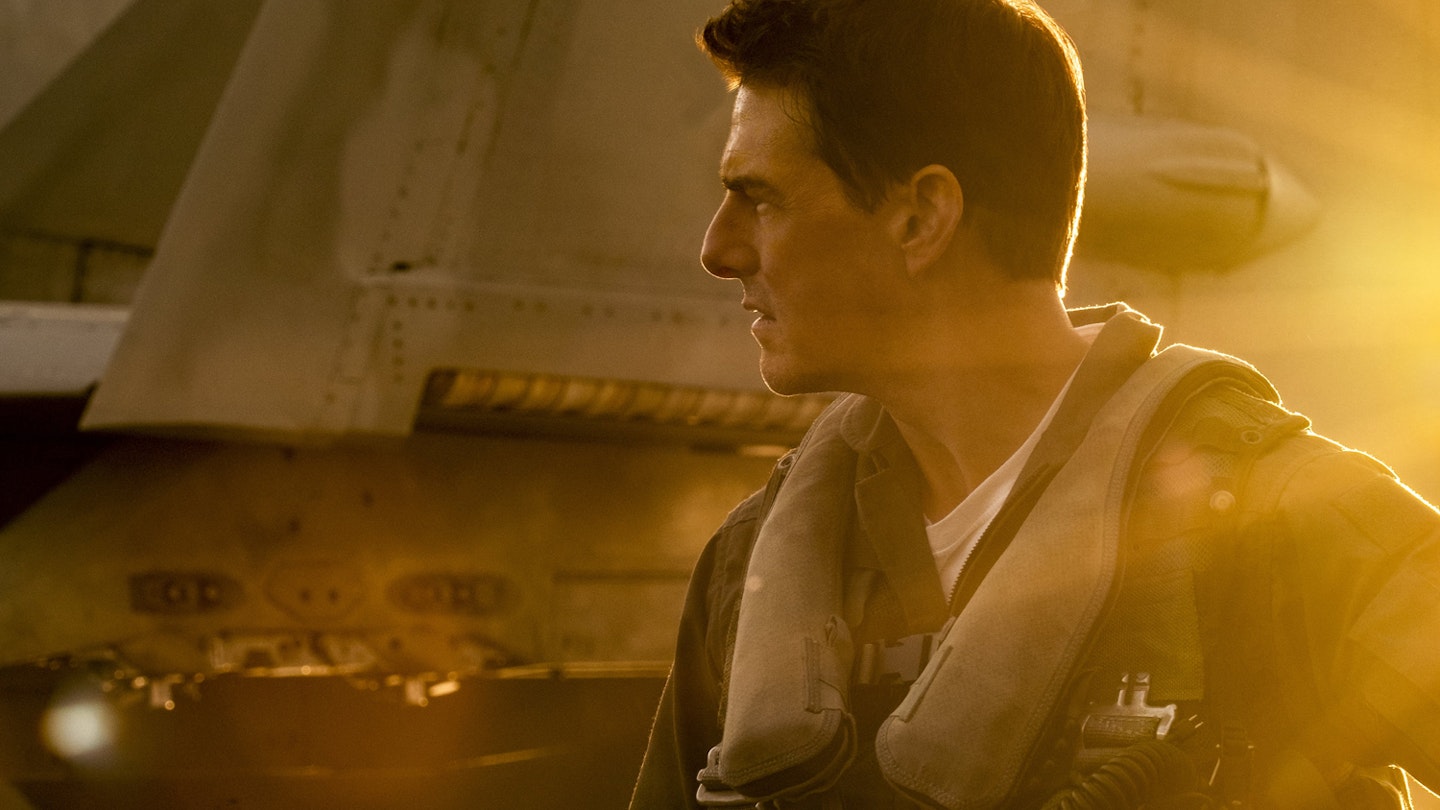 What he was doing involved social distancing and masks on set. Naturally. But beyond the general recommended response, sacrifices were made, bubbles embraced. A typical day would see an actor or head of department leave their hotel room, get into a car, drive to set, shoot their scenes, get back into the car, and stay in the hotel until needed. Make-up was mainly a DIY affair, although the principal actors would still have someone do the needful for them. With one artist per every two actors, that meant hiring additional staff. Technical departments were split into pods, the idea being that if even a single person in a pod (of, say, five people) either contracted Covid, or was tagged by a test-and-trace app, that pod would be quarantined, with the second pod stepping up.
On a larger scale, this approach was ramped up for crowd scenes in the film's Abu Dhabi shoot, with groups of 30 or so extras put up in hotels, and the same principle applied. Even getting permission to film in Abu Dhabi, and Norway, and Italy (for a car-chase sequence in Rome and a suspense sequence in Venice) wasn't easy. "We had to create protocols with studios and insurance companies, and work on laws in each country," says Cruise, perhaps the only actor with the power to call up actual governments and get them to look at the fine print. "Assuring them how we were going to film in the country. There were times when people said, 'It's not going to happen.' And I just kept saying, 'It is happening.'" In Mission: Impossible — Rogue Nation, Alec Baldwin calls Ethan Hunt "the living manifestation of destiny". It's not hard to see who McQuarrie was thinking of when he wrote that line.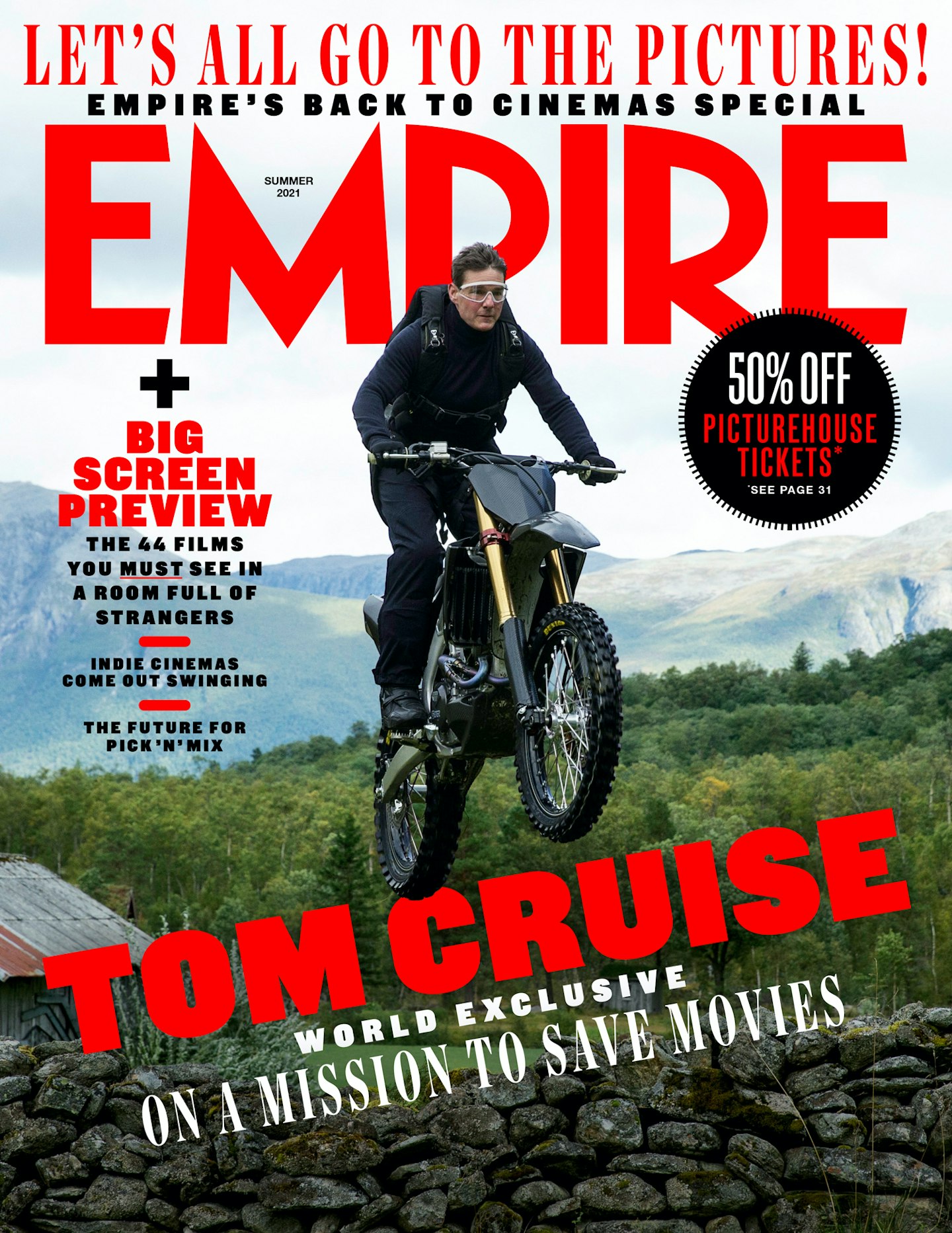 Read the rest of Empire's world-exclusive Tom Cruise story in the Summer 2021 issue – on sale now.