Ready for some cuddly violence? Here's what you need to know about the upcoming horror video game adaptation...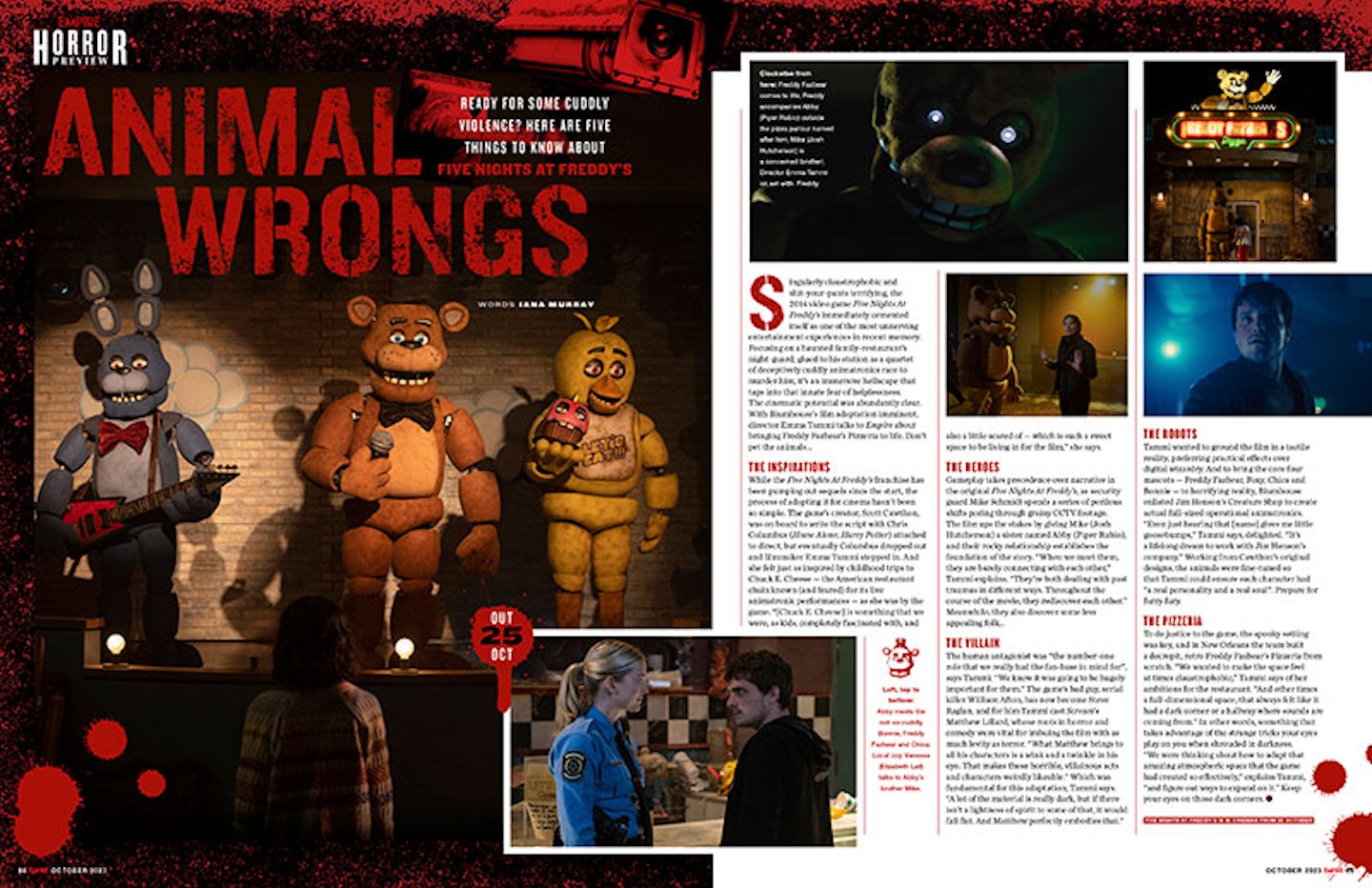 Read an extract of Empire's exclusive Five Nights At Freddy's feature from our October 2023 issue below, or see the full piece here.
Singularly claustrophobic and shit-your-pants terrifying, the 2014 video game Five Nights At Freddy's immediately cemented itself as one of the most unnerving entertainment experiences in recent memory. Focusing on a haunted family-restaurant's night-guard, glued to his station as a quartet of deceptively cuddly animatronics race to murder him, it's an immersive hellscape that taps into that innate fear of helplessness. The cinematic potential was abundantly clear. With Blumhouse's film adaptation imminent, director Emma Tammi talks to Empire about bringing Freddy Fazbear's Pizzeria to life. Don't pet the animals...
THE INSPIRATIONS
While the Five Nights At Freddy's franchise has been pumping out sequels since the start, the process of adapting it for cinema hasn't been so simple. The game's creator, Scott Cawthon, was on board to write the script with Chris Columbus (Home Alone, Harry Potter) attached to direct, but eventually Columbus dropped out and filmmaker Emma Tammi stepped in. And she felt just as inspired by childhood trips to Chuck E. Cheese — the American restaurant chain known (and feared) for its live animatronic performances — as she was by the game. "[Chuck E. Cheese] is something that we were, as kids, completely fascinated with, and also a little scared of — which is such a sweet space to be living in for the film," she says.
To read this article in full, become an Empire member. You'll never miss an issue, be able to read every issue in full either on the website or in the app, PLUS you'll get access to member-only content and rewards.