Denis Villenueve's Dune was a miracle – a gorgeous, intelligent blockbuster that took us to a startling new world. Now, as he puts the finishing touches to Dune: Part Two, he tells us how everything's about to get weirder… and wormier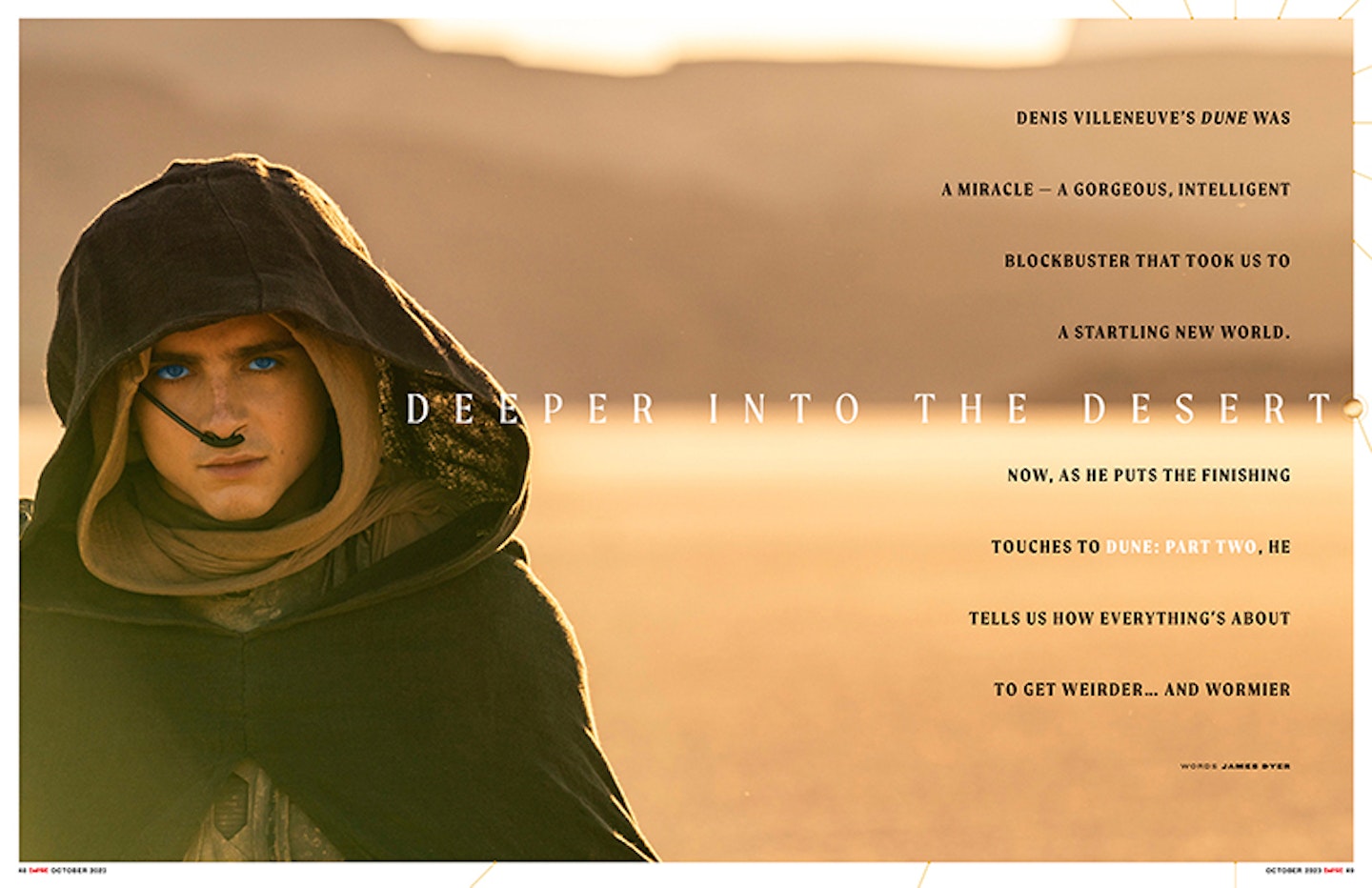 Read an extract of Empire's world-exclusive Dune: Part Two cover feature from our October 2023 issue below, or see the full piece here.
On the planet Arrakis — or the deserts standing in for it, at least — three men were searching. Hunting. For the perfect type of sand.
Arrakis, home to the Spice, is felt in every breath of Frank Herbert's original Dune novel. An inhospitable, barren world, home to humongous worms and winds that can cut metal, its unique character forms the heart of the entire story. Which is why, for Dune: Part Two, director Denis Villeneuve, cinematographer Greig Fraser and production designer Patrice Vermette spent an inordinate amount of time trekking through the desert and staring at tiny yellow grains.
"For my mise-en-scène, I'll want a particular shaped dune. But Greig Fraser, on the other hand, will need that same shape to be in a specific light," Villeneuve explains. "So Patrice spent weeks and weeks casting sand dunes in the desert! We looked like madmen."
Sand. It's coarse, and rough, and irritating, and it gets everywhere. Anakin Skywalker had the right of it, but when you're shooting a desert epic almost entirely on location, gritty little granules are an unfortunate fact of life. "I still find it every morning in my shoes," winces the director. "We're sand-traumatised, for sure."
Vermette spent months carrying bottles of the stuff around with him on the first film, just to make certain the colour and texture were a perfect match as they hopped between Abu Dhabi's Liwa desert and the Wadi Rum in Jordan. Now, though, he found himself with the unenviable task of having to start again from scratch. "We didn't repeat a single location," he says with pride. "We found completely fresh spots to tell our story this time around." Every grain, pebble and rocky outcrop was chosen anew for Dune: Part Two. For these filmmakers, fixated with making their return to Arrakis just right, there was no length to which they would not go.
To read this article in full, become an Empire member. You'll never miss an issue, be able to read every issue in full either on the website or in the app, PLUS you'll get access to member-only content and rewards.