Empire is in an airfield 20 miles north of London, alone in a non-existent crowd, being serenaded by the ghost of Freddie Mercury. Blaring out from monolithic speakers are those trademark call and responses – "Aaaaaay-oh!" – while on an exact recreation of the Live Aid stage in unmistakeable white vest and jeans, a heavily moustachioed Rami Malek struts about, fist in air, neck swung back. Right on cue, he and the actors playing the rest of Queen launch into Hammer To Fall, just as they did that day in 1985, taking Wembley Stadium and a global TV audience by storm. As the chorus kicks in, Bryan Singer calls cut, happy with the take. "Can someone bring me a computer with Live Aid?" the director asks, shattering the illusion. Just as we were getting into it.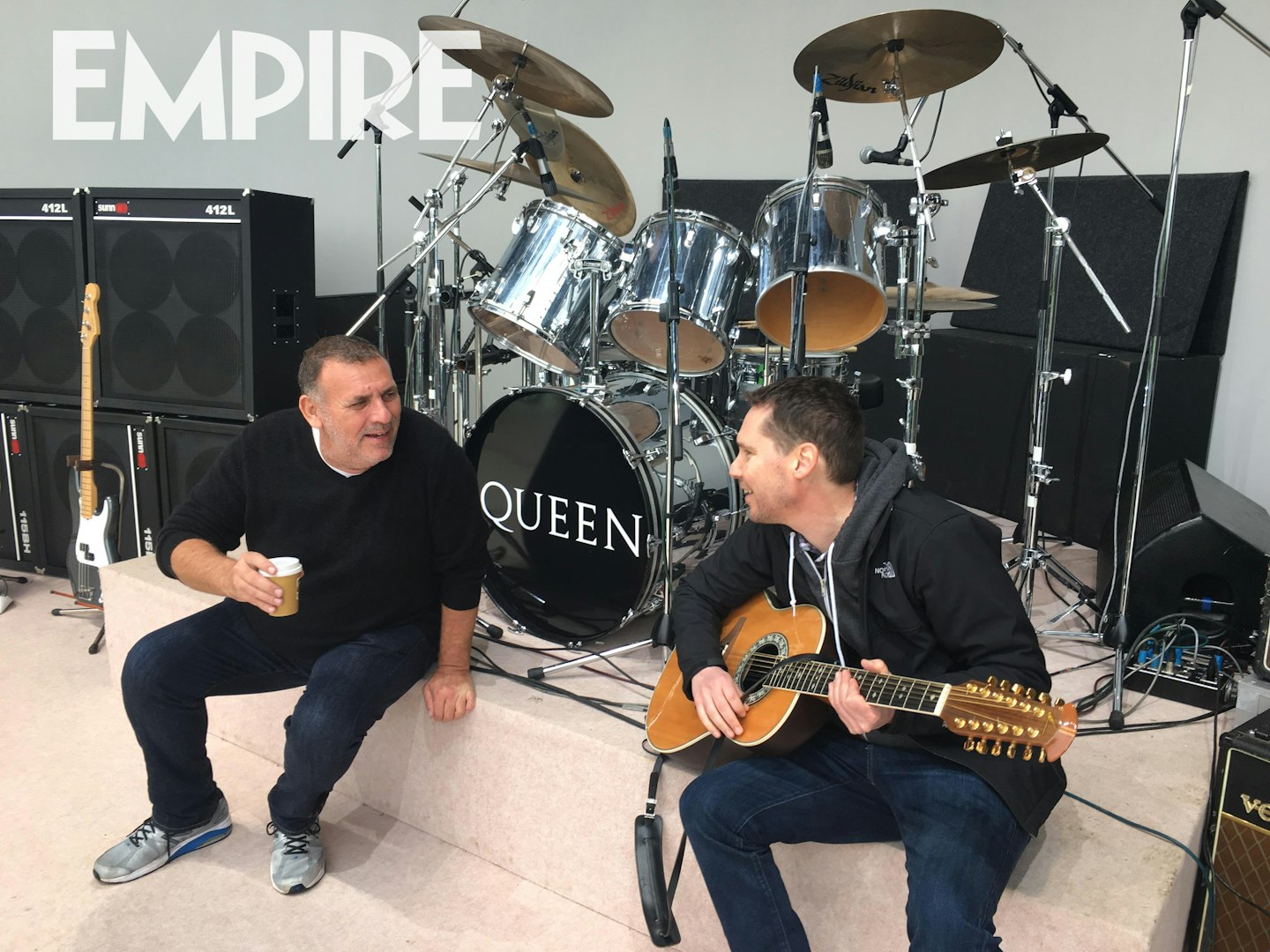 This is week one of the Bohemian Rhapsody shoot, and it's been a long time coming. 26 years since Mercury died, and seven years since Queen's guitarist Brian May announced that Sacha Baron Cohen would be playing the singer in a film. The idea originated with Cohen and screenwriter Peter Morgan; after discussions between the two, Morgan wrote a script, and in 2010 called producer and Queen fan Graham King, suggesting he come on board. King was shooting Martin Scorsese's Hugo, which starred Cohen, and they talked.
"He was very gung-ho to play Freddie," says King now, in a cosy trailer just a few yards from the stage. Cohen, although not officially attached, was courting the likes of David Fincher and Tom Hooper, but King didn't feel the script was there yet. Then in July 2013, Cohen reportedly walked, rumoured to have had a darker vision than others were comfortable with. "I sat with Sacha and I said, 'I don't know how we're gonna go on the same page," says King now.
In March 2016, Cohen appeared on Howard Stern's radio show, saying that one of Queen said Mercury should die halfway through the film, which would then show the band going "from strength to strength." Hinting at a difference of approach between Cohen and the band, he spoke of how wild Mercury was, how extreme his lifestyle was, and that the band "wanted to protect their legacy." Responding in an interview, May said that Cohen "became an arse".
I want people to leave the cinema in tears but with a smile on their face.
"I think he was just upset about not being able to tell the story he wanted to tell and I think maybe this was the way he vented," says King of Cohen. The band, he says, have input, but no script approval. "The annoying part is that all the press about Brian May wanting control – that was never the case. [Cohen never explicitly pointed the finger at May.] The deep hurt I saw in Brian, from getting attacked like this… For me, the biggest fear was that Brian and Roger were gonna call me up and say, 'You know what? I don't think we should move on and make a film anymore. It's just too much.' There was no version of the script where Freddie died halfway through the movie. It was from a very early draft a story where Live Aid bookended the film." The creative clashes were, had been a problem.
"Sacha definitely wanted to take the film in a direction that myself and the band didn't feel was the way to take it. I didn't feel the vision he had in his head was going to match up with the story that I wanted to tell, the celebration of Freddie's life, the music." There will be darkness in the film, says King, but it will be balanced by that celebratory tone. It will explore Mercury's sex life and touch on his HIV – but it does finish with Live Aid, six years before his death. Most important, he says, is that it communicates Mercury's magnetism, and tells a story about "an immigrant kid, born in Zanzibar and raised in Mumbai, coming to England and becoming this guy wearing a fur coat and nail varnish on Top Of The Pops. And then at the height of his career catching the virus. I want people to leave the cinema in tears but with a smile on their face."
King takes Empire backstage, where Malek is jumping up and down, ready for another take. Singer gives him a bit of mic stand direction, showing him how to wield it like a rifle, almost: "So the crowd really get the message." Ready to go, Malek bounces back out. Everyone seems pumped up. All on the same page. One vision.
Bohemian Rhaposdy is due for release in 2018.