In a landscape filled with familiar faces, he seems to have come from nowhere. But, as the team behind Blue Beetle tell us, Jaime Reyes' big-screen debut has been a long time coming – and the first live-action leading Latino superhero is more than ready.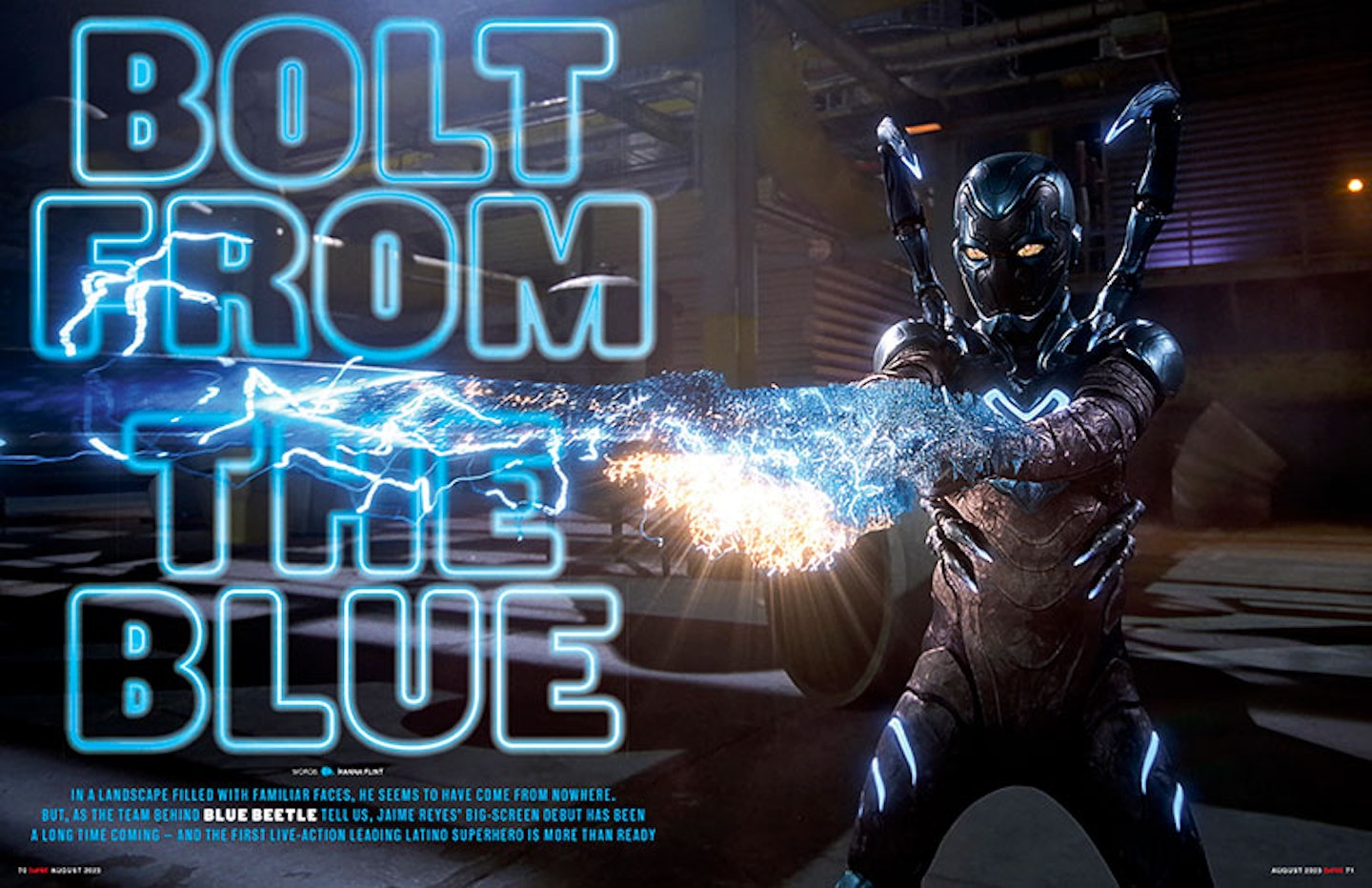 Read an extract of our exclusive Blue Beetle feature from our August 2023 issue below, or see the full piece here.
Not for the last time, Xolo Maridueña felt somewhat out of his depth.
In 2015, at 14 years old, he was cast in a small role in Twin Peaks: The Return, the third season of David Lynch's head-scratching, nightmare-inducing show. The world had no idea what to expect, and on set, Maridueña was given barely any information himself.
"It was super-secret squirrel," he tells Empire now. "You know nothing about the character, nothing about the project. I'm playing 'Boy' — even now, my character is just named 'Boy' [in a short, romantic 1950s sequence towards the end of the now iconic eighth episode]. The scene is just me walking with this girl." He did a take; it seemed fine. Enter the director. "I remember, chain-smoker David Lynch walks over and he's like, 'Yeah, that was good. But this time, I want you to pretend you're walking on clouds the whole time.' Confused but eager to please, the young teenager sized this up. "I'm like, 'This is really arbitrary. I guess I'll try.'" So he did. "I don't know what decision I made. He walks back over and says, 'That was perfect.'" Maridueña was happy. "Yeah, so if you need any cloud-walkers, I suppose I'm your guide."
Six years later, and the actor was once again walking into the unknown. It was August 2021, and a 20-year-old Maridueña arrived for a general meeting at Pasadena's Arroyo Chop House with then Warner Bros. president Walter Hamada.
"I was so confused, so scared," Maridueña remembers. "Like, 'Why is this guy coming out of the woodwork to meet with me?' It was so weird." At a table, director Angel Manuel Soto and screenwriter Gareth Dunnet-Alcocer were waiting, and Soto, without warning, asked him if he'd like to play the lead role in Blue Beetle. Maridueña cried, said yes, and called his mum.
To read this article in full, become an Empire member. You'll never miss an issue, be able to read every issue in full either on the website or in the app, PLUS you'll get access to member-only content and rewards.