Platform: PS4 (with PSVR)
Forget everything you know about Tetris. While this re-imagining of the timeless classic retains the series' addictive Tetromino-dropping gameplay, it shares little else with the title first enjoyed on the Game Boy's monochromatic screen. A brilliant, absorbing blend of sights, sounds, and the immersion-ratcheting effects of virtual reality (though it can also be played without PlayStation VR), Tetris Effect builds something entirely fresh off the franchise's familiar foundation.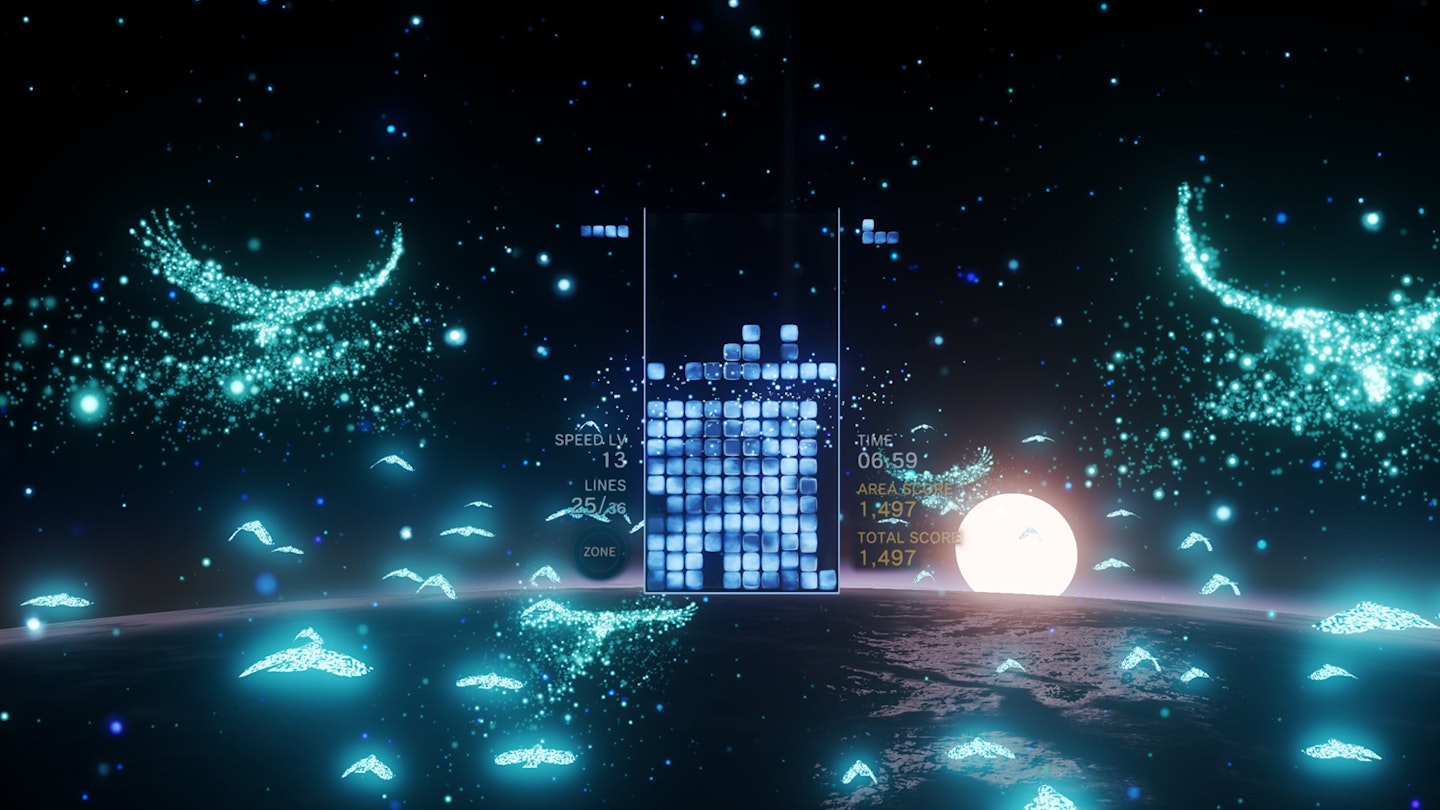 Its hypnotic music and audio effects, as well as its eye candy-coated visuals and animations, deserve much of the credit for turning a seemingly simple puzzle game into a sense-stinging transcendent experience. But the bar is raised further by the fact you're often triggering – and at least altering – the aforementioned presentational elements with your actions. Get into the groove, and you might forget – for a few seconds, anyway – there's a real world beyond the virtual one pulsing inside your headset.
It significantly tweaks the franchise's gameplay template.
Beyond its endlessly engaging audiovisual design, and its varied, interactive stages – from beneath the sea to the surface of the moon – Tetris Effect significantly tweaks the franchise's tried-and-true gameplay template. A number of new mechanics and systems make for a deeper, more nuanced experience that often increase the challenge, but also balance it with brand new strategic options. Most notably, players can temporarily pause the game's lightning-quick pace with Zone, a powerful resource that's accrued by clearing lines just like you did back in the day.
Tetris Effect shines brightest during its Journey campaign, but it also packs a ton of replay into additional, challenge-specific modes. If you're a Tetris fanatic craving a fresh way to experience your favorite game, a PSVR owner looking to justify your pricey hardware purchase, or even a complete newcomer to the puzzle-game genre, Tetris Effect should fit into your library as perfectly as that final, line-obliterating block.