With its motion-sensing Joy-Con controllers and hybrid portable/fixed-console nature, Nintendo's Switch might just be the best party-gaming device ever devised. So it makes perfectly good sense that the Japanese company would bring Mario Party, its long-running party-game franchise to the Switch.
For this iteration, Nintendo has pulled out the stops, treating Mario Party to a revamp which is sufficiently major to warrant the Super prefix. Not that Super Mario Party will feel remotely unfamiliar to anyone who has played a Mario Party game in the past.
As is typical for the franchise, a virtual board game forms the heart of Super Mario Party, in which four players (the game will drop AI players in if you have fewer participants) make their way around a board in search of stars and coins. But even the board game element of Super Mario Party has received a shake-up: each character gets their own die as well as the normal one, which might, for example, let you throw a seven but also carry a one in three risk of not progressing around the board at all.
Various tweaks make Super Mario Party's board game element as hilariously brutal as the likes of Mario Kart. Landing on Ally spaces, for example, gives you a permanent boost as you will acquire a buddy who also gets to throw a die at each turn, and there are countless opportunities to steal other players' coins or stars. Whoever brings up the rear is given a helping hand before the game's last turn and, even if you think you've won, there's a post-game bonus round which rewards players for specific things they did in the game.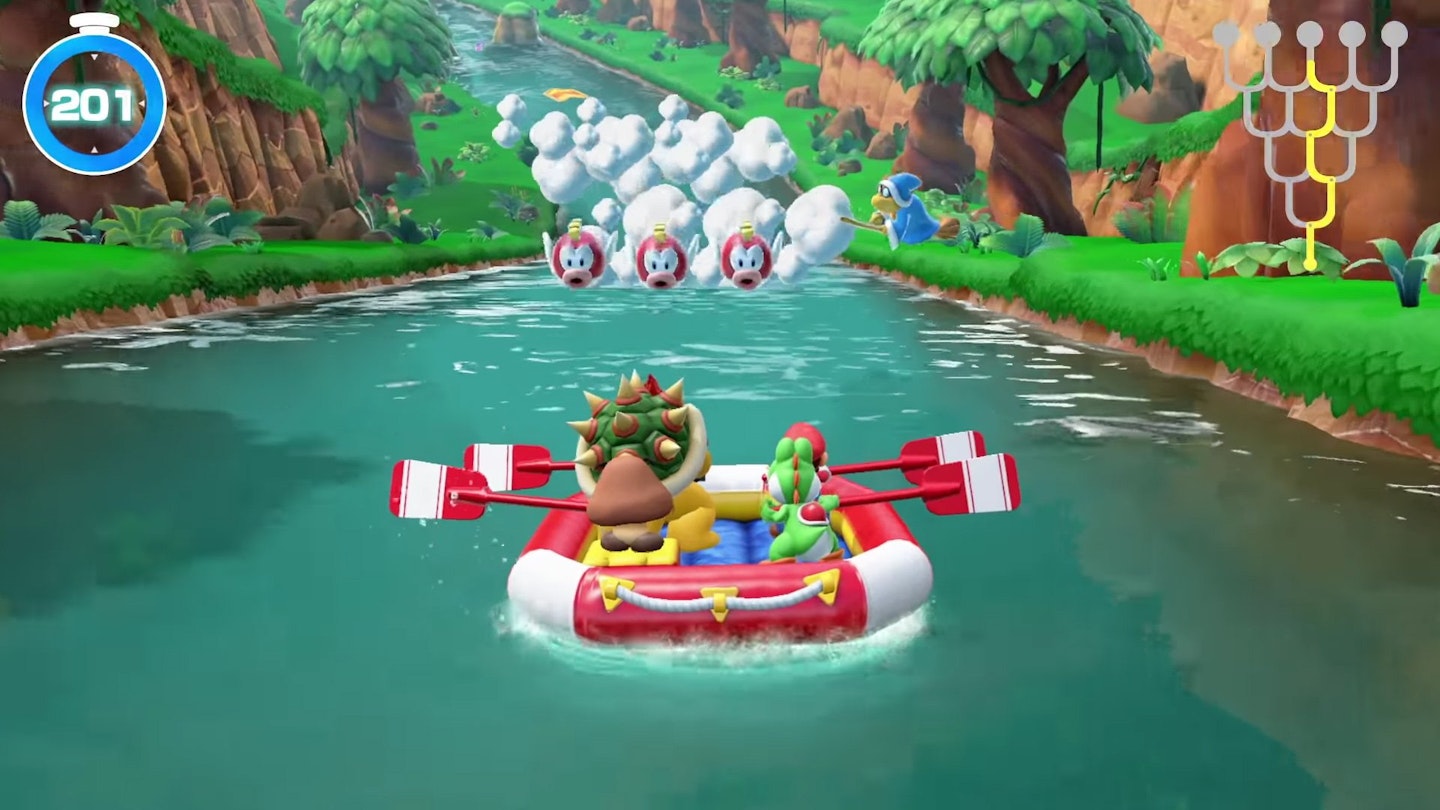 Super Mario Party's board game section is better than ever: it's surprisingly complex, packed with hilarious occurrences, often downright unfair in a thoroughly beguiling manner and the perfect means of keeping four people (whether young or adult) enthralled for over an hour. There are only four boards at launch, but Nintendo promises to add more as downloadable content, and if you want to make proceedings even more tactical, you can play a variant called Partner Party, in which two teams of two players compete against each other.
Beyond the board game, there's more to Super Mario Party than any of its predecessors. It contains a vast store of 80 mini-games, 56 of which are unlocked when you boot up the game for the first time, and the more you play Super Mario Party, the more new mini-games you open up. You can jump in and play whichever mini-games you fancy, or indulge in some more structured mini-game-centric contests.
Mariothon pits players against each other in sequences of five mini-games, and Square Off consists of 16 mini-games; each winner gets to fill in a square on a 4x4 grid (claiming opponents' squares if you enclose them between two of your own), and the player with the most coloured squares at the end wins – which might bear absolutely no relation to the player who won the most mini-games.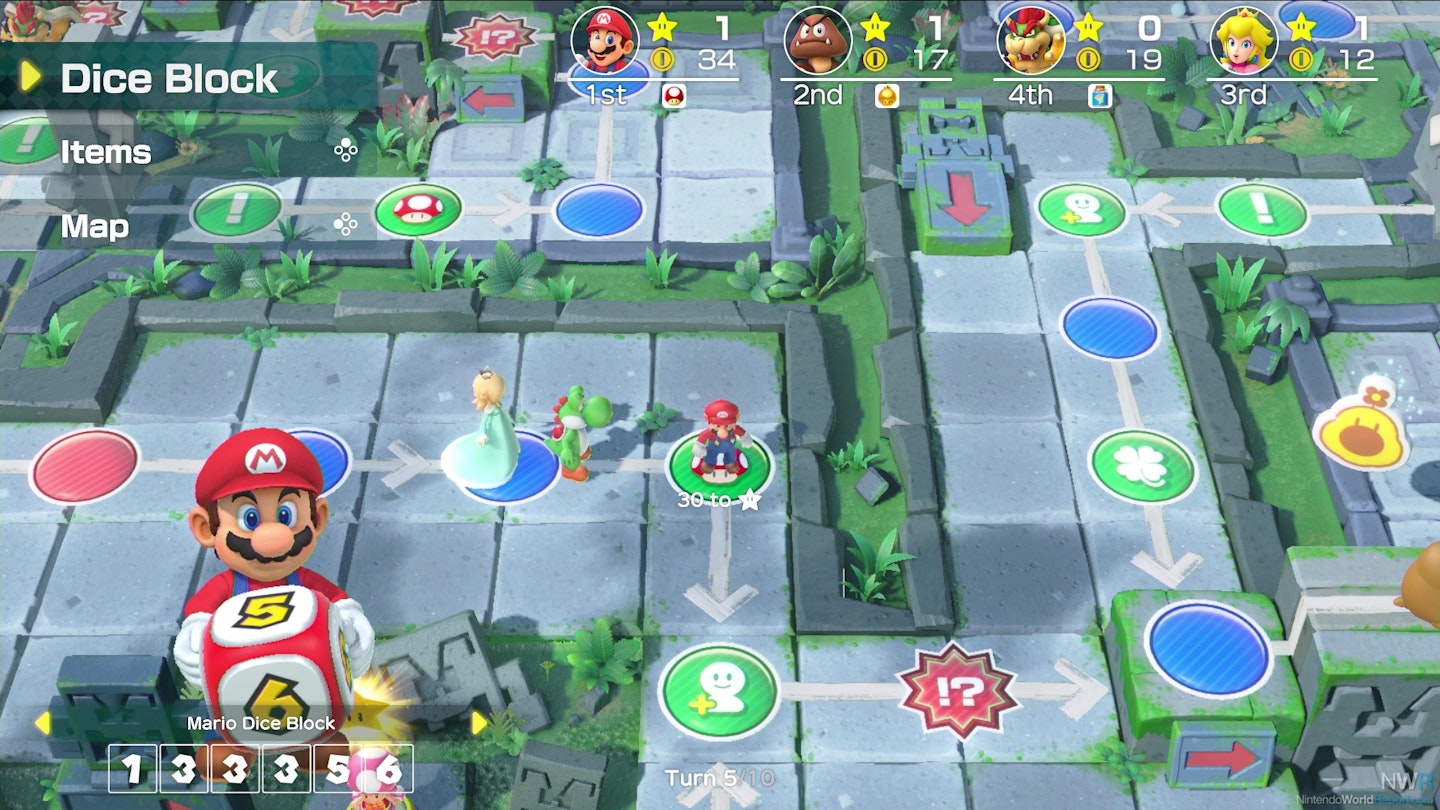 The mini-games themselves are great, making fine use of the Joy-Con's abilities. You might find yourself flipping a saucepan in a quest to be the first to cook a cube of virtual beef on all six sides, wielding a Joy-Con in a pumping action to climb a flagpole, or competing with your fellow players to take centre stage in a photographer's paparazzo shots. At times, there's a near-WarioWare level of bonkers to some of the things you find yourself doing.
And not all of the mini-games pit all the players against each other – in the board game element, for example, you often find cleverly balanced 3-versus-1 mini-games, and there are 2v2 team-based ones, as well as mini-games which require co-operation between all four players.
This is the consummate party ice-breaker.
The latter crop up most commonly in an intriguing co-op section called River Survival, which has an OutRu-like flavour, since you can pick several paths down a river, which your party of four must navigate in a raft, wielding Joy-Cons like paddles. As well as manoeuvring to hit speed-ups and avoid obstacles, the river is studded with balloons; if you paddle into them, they launch mini-games which buy you extra time to reach the end of the river. River Survival is co-operative all the way through – which is refreshing in a game where you're otherwise looking to beat all comers.
There's also a Sound Stage, dedicated to rhythm-based mini-games and, most innovatively of all, Toad's Rec Room, which contains some games designed to be played with two Switches linked together. One such game involves matching banana halves by laying the Switches flat and moving them into the correct orientation. Also in Toad's Rec Room, you find a number of games which pit two teams of two players against each other, with each team getting their own Switch to provide different visual perspectives.
Above all that, there are hidden Gems to collect - you receive hints as to their whereabouts as you play the game - as well as stickers and various other items, which can be purchased with the in-game Party Points currency. There's also an online option for Mariothon – a first for a Mario Party game – which unfortunately requires a Nintendo Online subscription.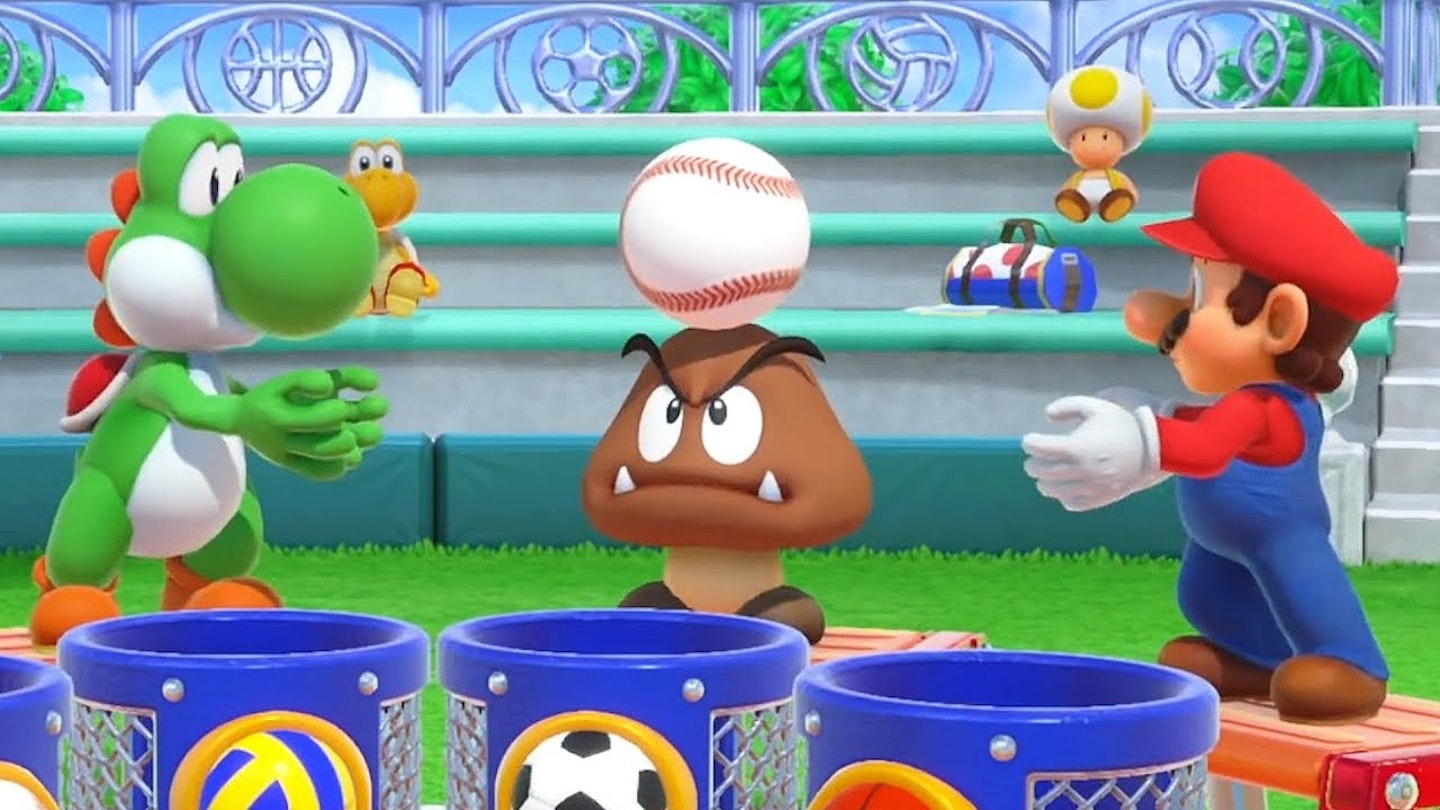 Super Mario Party is way more substantial than its predecessors, and has a lot more replay value, especially when you become obsessed with establishing new records in your favourite mini-games. Like its predecessors, it's an agreeable and fun piece of froth – it isn't one of those essential purchases that might persuade you to invest in a Switch.
However, it feels vastly more innovative than any previous Mario Party games, and would be a fine item to have at hand for the likes of post-pub gatherings or family get-togethers at Christmas. It's not one of those games that will leave the impression that it has the chops to change the world, but it is the consummate party ice-breaker. Hardcore Nintendo fans will love it, and it will also come in handy for those who want to show off the Switch's credentials as a source of party-gaming.