If Final Fantasy is the RPG franchise where Square Enix is happiest experimenting with the genre's form, Dragon Quest is its hallowed ground – almost sacrosanct and unchanging across the years, something its most ardent fans cherish. That dedication to tradition can work against it though, causing it to seem stagnant to more casual players.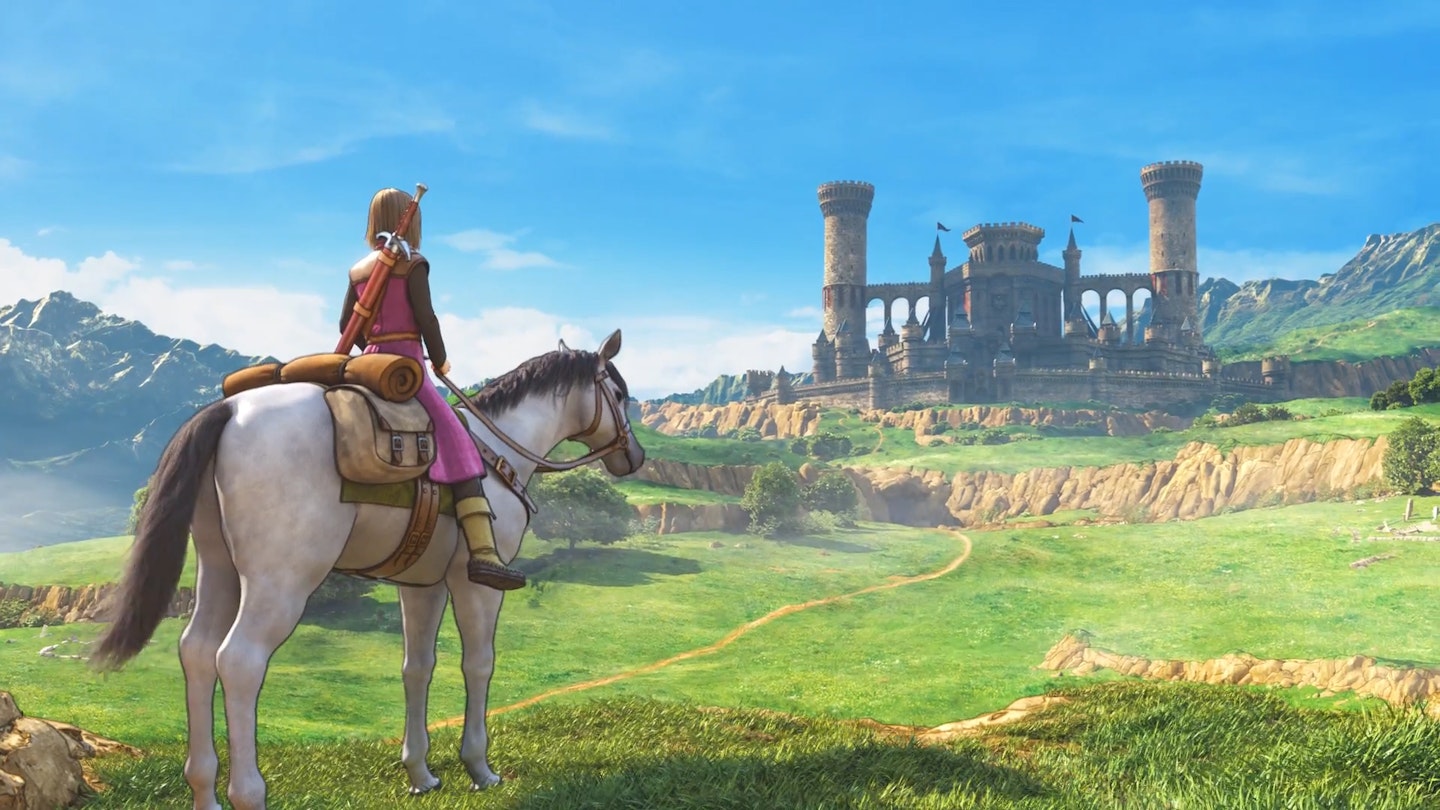 Yet for its first outing of the PS4 generation (not counting the Japan-only, online-only Dragon Quest X), the eleventh core entry is borderline experimental, at least within the franchise's constraints. Narratively, it aims bigger, with your (series typical) nameless protagonist setting out from humble beginnings only to find he's the reincarnation of an ancient power known as 'the Luminary'. While the lengthy journey that follows still ticks lots of JRPG boxes – travelling betweens towns and villages, battling through caves and dungeons, and fulfilling objectives to move the quest along, Dragon Quest XI surprises by placing almost as much importance on supporting party members and their back stories as it does on your main hero. In particular, a seemingly frivolous jester-type character named Sylvando proves to have a deeper role to play.
Dragon Quest XI dramatically expands on the world it all takes place in.
Likewise the battle system, while still a very traditional turn-based system at heart, shows some evolution. The default is a line of party members taking it in turns to attack, but the game also allows you the option of roaming around the fight area, allowing you to literally run away if necessary. It's similar to the Tales Of series' real-time combat, although lacking the directionality of that series – here, no matter where you're positioned, attacks have the same impact, with no physical dodging.
A nice touch for more seasoned JRPG fans is the ability to set up handicaps to increase the challenge. Playing under these so-called 'Draconic Quest' rules lets you make enemies tougher, prevent you equipping armour, stop you buying items from shops, or several other modifiers, providing a more customised and challenging experience.
One area Dragon Quest XI does dramatically expand on is the world it all takes place in. It's not quite an open world in the vein of The Elder Scrolls, but the vast setting of Lotozetasia is far more expansive than its predecessors, with space to explore and tantalising nooks and crannies dotted about to tempt you into doing so. It's even big enough to require a horse to get around. There's also a new campsite feature, allowing you to rest up and chat to party members when far from a town, building a nice sense of camaraderie between them with quieter, more personal moments. These also often help move the story along.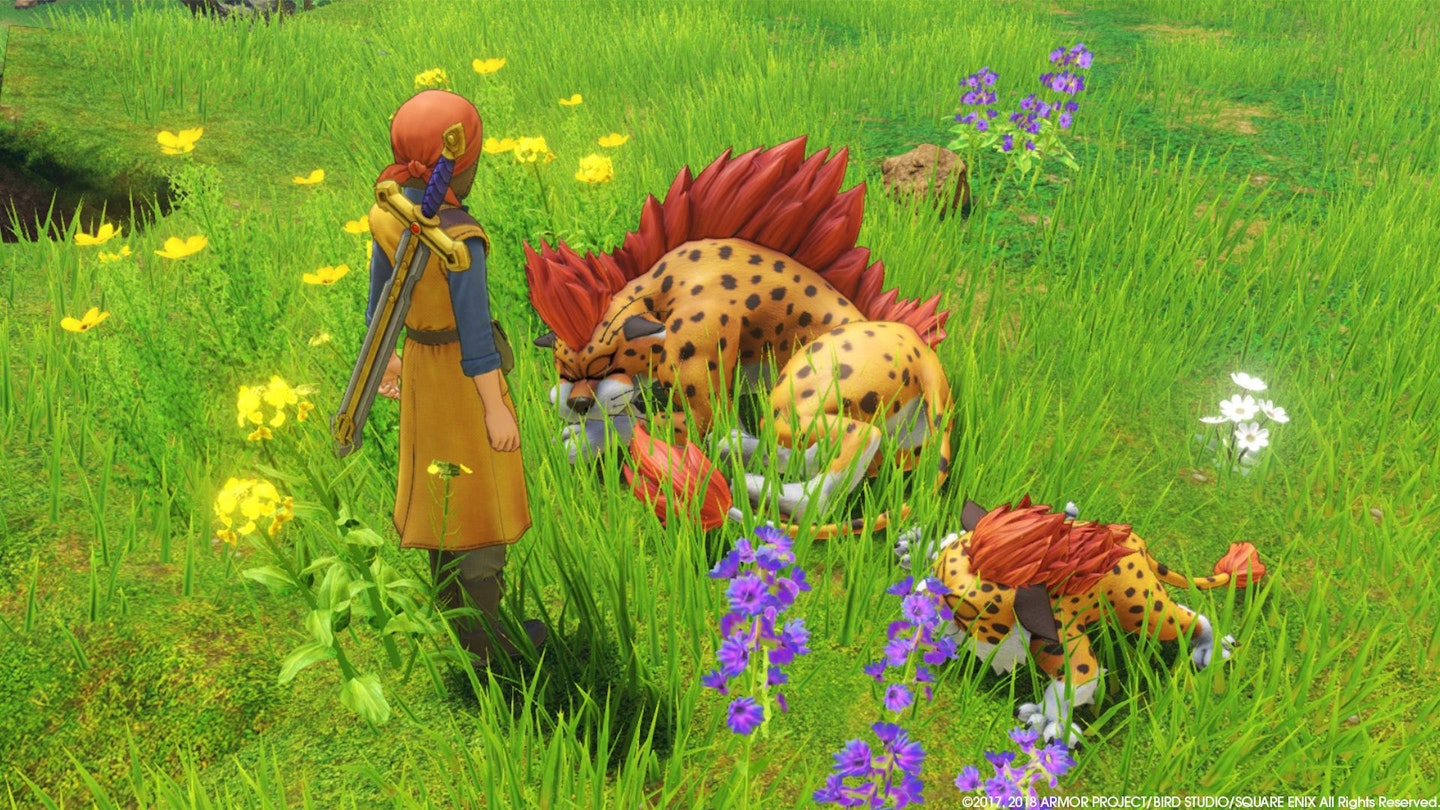 The world is beautiful, too – easily Dragon Quest's most visually impressive outing to date. The verdant wilds are packed with beautiful plants and colourful roaming monsters, while cities are staggeringly detailed. It may be slightly jarring at first, having such intricate environments populated by anime characters designed by Dragon Ball creator Akira Toriyama, but it works surprisingly well, resulting in a game that looks unlike any other.
All these tweaks still may not amount to enough of a progression for anyone who's found themselves frustrated by the pace of previous Dragon Quest games, but for series loyalists this is a contender for best instalment. For those yet to experience the series' charms, there's never been a better chance to try it out.