The last three years have been a long road to recovery for Cyberpunk 2077. The game's disastrous 2020 launch, in which it arrived littered with bugs and barely playable on console (resulting in it being temporarily delisted from the Playstation store), still haunts the memories of those who had been expecting great things from CD Projekt Red's follow-up to The Witcher 3. Thankfully, the studio has performed a long-haul course correction, squashing bugs, streamlining gameplay and polishing the expereince to a high sheen. The game's redemption comes to a fitting conclusion here with Phantom Liberty, 2077's first (and last) paid expansion.
Accessible early on during the base game's main campaign, Phantom Liberty brings players to Dogtown, Night City's lawless badlands, in search of a downed plane carrying the President, who may be willing to help the player character, V, get rid of the implant manifesting Keanu Reeves' Johnny Silverhand as the anarcho-punk devil on their shoulder.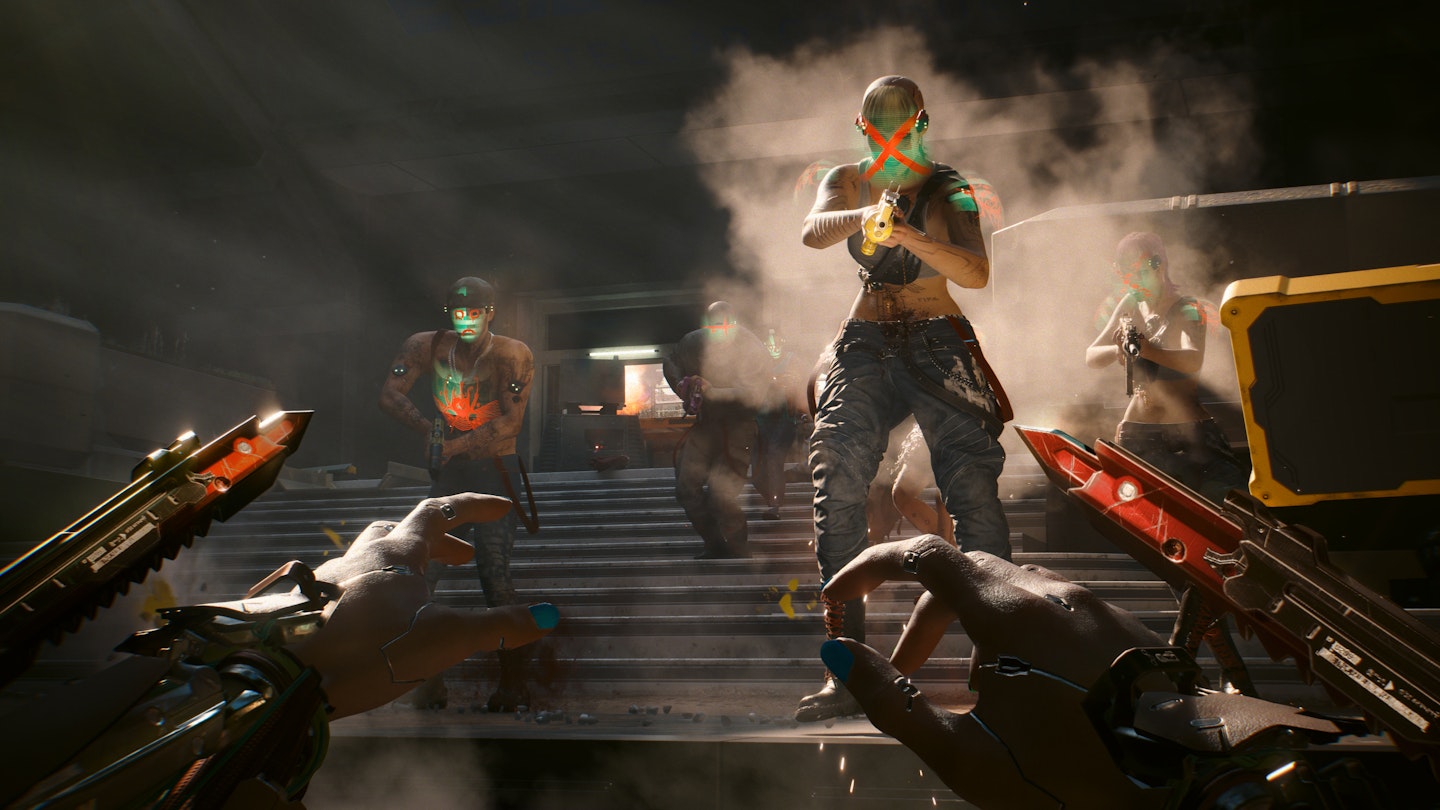 This high-stakes opener sets the stage for a rich and knotty spy caper, one crammed with plot twists, hard choices, and world-shifting repercussions that can even impact the ending of the main game, all fuelled by a fierce sense of momentum which the original campaign struggled to cultivate until its later acts.
Phantom Liberty's 20 hour story is elevated further by Idris Elba's government agent Solomon Reed, whose earthy charisma belies a mercurial moral compass. Elba wasn't motion-captured for the role, but it's a testament to both the gravitas he brings to the voice performance, and CD Projekt Red's facial animation tech, that you could easily spend every interaction with Reed believing that he was.
Phantom Liberty presents the definitive Cyberpunk experience that you probably first imagined playing three years ago.
Another star of the show is Dogtown itself, a pell-mell playground that's dynamic and dangerous in equal measure, continually revealing new layers to itself as you ascend its skylines and plunder their secrets. Luckily, Phantom Liberty provides V with plenty of new weapons to match their new surroundings, many of which liven up 2077's combat thanks to unique, gadget-like tricks, handling like gear that Q might have gifted 007 in a far future Bond film.
Phantom Liberty also launches alongside Update 2.0, a free patch for all Cyberpunk 2077 players that represents a sweeping overhaul of the game's core systems and mechanics, such as a streamlined progression tree, all of which are exploited by Phantom Liberty to showcase 2077's rebirth as the mature, sophisticated role-playing game that CD Projekt Red had always intended to make.
In this way, Phantom Liberty presents the definitive Cyberpunk experience that you probably first imagined playing three years ago. A backhanded compliment, perhaps, but spend just a few hours exploring Night City again, and you'll soon disover why the wait has absolutely been worth it.