Episodes viewed: 6 of 12
Streaming On: Apple TV+
Whether it's sweating along to Joe Wicks, cultivating a raccoon-themed paradise in Animal Crossing, or Taylor Swift's sudden swerve to alternative rock, there are certain things that will be forever synonymous with helping us struggle through pandemic life. Apple's Ted Lasso is one of them. Arriving with little fanfare in August 2020, Bill Lawrence's comedy — spun out of a spoof promo for NBC Sports' Premier League coverage — was initially greeted with the same eye-rolling scepticism as the show's ebullient, moustachioed coach. Touting a similar fish-out-of-water schtick to last year's Intelligence and the thematically similar The First Team, Ted Lasso's arrival seemed to make little impact. But then something magical happened. Like the beleaguered Premiership team Lasso is brought in to coach, viewers were slowly won over by Ted's folksy charm, corndog colloquialisms and indefatigable optimism. Over the course of ten glorious episodes, Ted Lasso became appointment Friday viewing, bringing a concentrated burst of feel-good joy to dispel the Covid funk.
This season's main strength isn't in its ability to score so much as a willingness to pass.
If there were concerns the show's effectiveness might be lessened by the crisis abating, Season 2 dispels them in short order. Easing off the 'not in Kansas anymore' routine, year two expands the show thematically and emotionally, with a wealth of storylines that extend beyond the pitch. One romcom-themed episode riffs happily on Notting Hill and Jerry Maguire (with pitch-perfect ending to suit), while a heart-melting festive episode brings Christmas cheer in abundance. Ted finds a new foil in stony-faced club shrink Dr Sharon (I May Destroy You's Sarah Niles), while both Juno Temple's effervescent WAG Keeley and Hannah Waddingham's uptight club owner Rebecca both find new emotional depths (the latter using a hook-up app called 'Tumescent'). Meanwhile, Brett Goldstein's gruff and growly Roy Kent emerges as an early MVP, bringing both laughs and feels as his surly hard man tries to find meaning in coaching girls' five-a-side.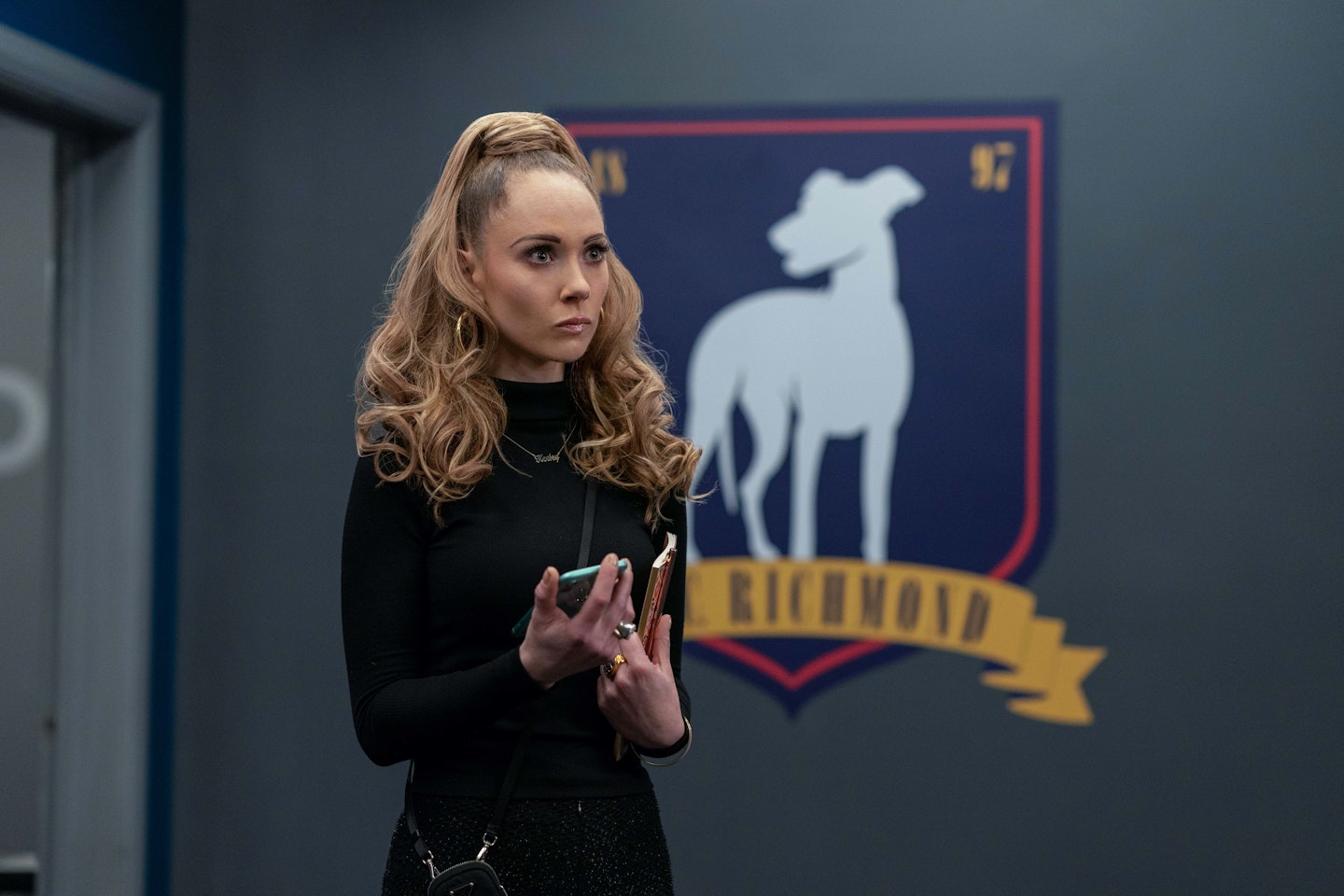 But this season's main strength isn't in its ability to score so much as a willingness to pass. The secondary characters really come into their own this time around, with Jeremy Swift's Higgins proving a surprise comedic powerhouse, while several of the players step up to take main storylines, including Cristo Fernández' striker Dani Rojas ("Football is life!") and Toheeb Jimoh's soulful Sam, who stages a political protest against one of the team's sponsors that feels particularly pointed post Euros. Nick Mohammed, meanwhile, remains the show's secret weapon, throwing himself into his character Nathan's new role as assistant coach and providing an ongoing masterclass in the art of deadpan delivery.
Ted Lasso might not be laugh-out-loud funny, and the title character's good ol' boy schtick won't be to everyone's taste ("He's a wigwam and a teepee right now," he says of stressed-out captain Isaac. "He's two tents"), but both he and the show are blessed with an almost preternatural affability that it's near impossible not to love. A footie show that requires no interest in the game, this is a big-hearted underdog story in which a boundlessly optimistic man tries to help everyone around him become better humans. A life-affirming, good-natured series about self-actualisation and a diverse team of socially conscious young footballers, whose dedication to their side is matched only by the size of their hearts. After the events of Sunday 11 July, never mind the pandemic, what could possibly resonate more than that?