In the heavenly sitcom The Good Place, Adam Scott played a douchey demon from hell; in Severance, he is a decent guy stuck in a kind of corporate purgatory. Like John C. Reilly or Olivia Colman, Scott has always been adept at leapfrogging between comedy and drama, and here he leans heavily on the latter with a light sprinkling of the former. Outside the hours of nine-to-five, his Mark is a grieving loner trying to get his life on track; when he descends into the crisp, featureless basement of his office building, he becomes a different person, a microchip in his brain mentally partitioning him into an entirely separate existence, like a cerebral clone.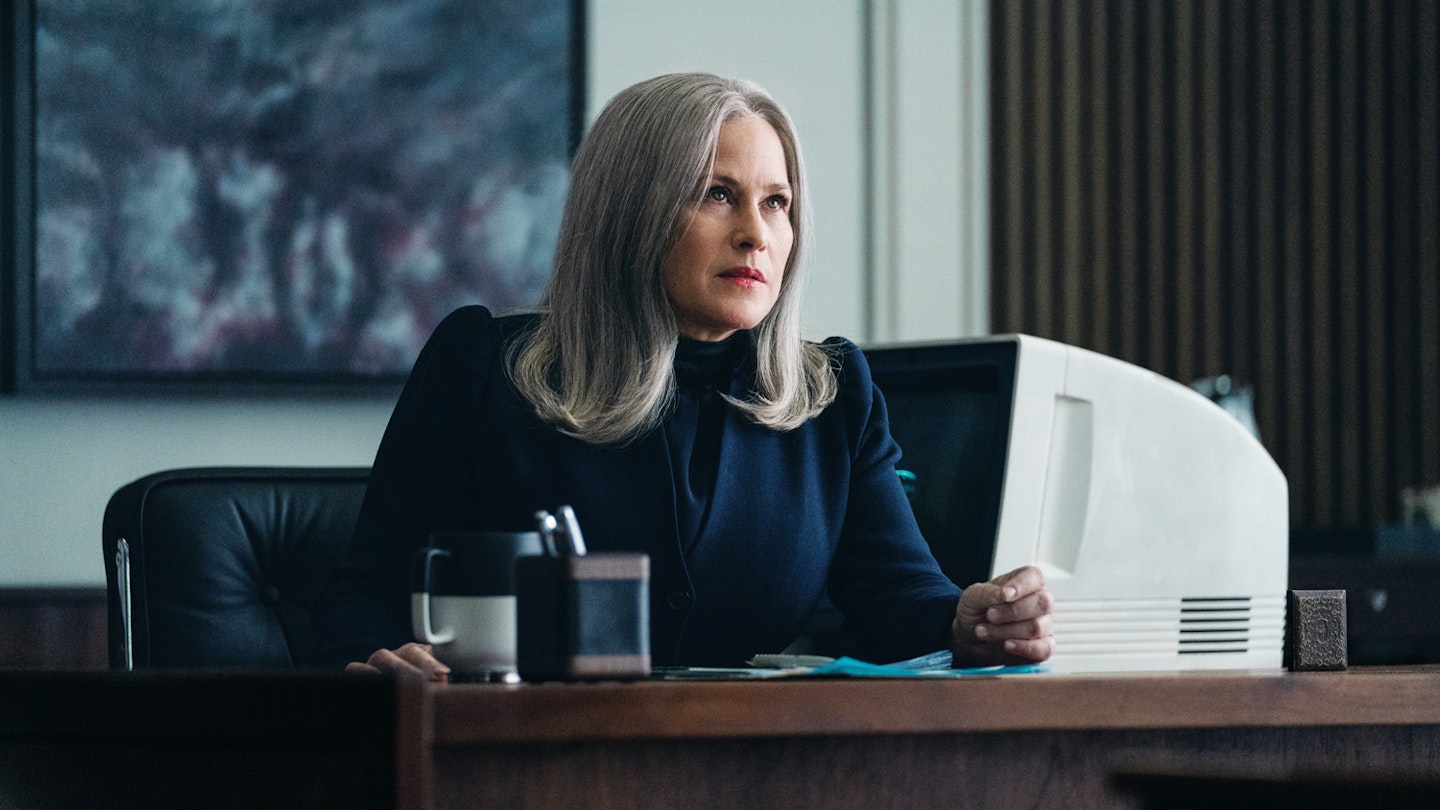 It's an enjoyably committed take on the concept of 'work-life balance': a business seminar writ large, monstrous and science-fictiony. What helps is some remarkable lead direction from Ben Stiller (who helms six of the nine episodes, with Aoife McArdle directing three), making a significant gear-change from his earlier comedy work — this is quite a step up from, say, Zoolander 2. Closer in approach to his underrated 2013 film The Secret Life Of Walter Mitty, the aesthetic here is crisp, cold and clinical, presenting a brutalist, hyperreal vision of office life. It's as if Wes Anderson designed the Matrix, stylised and symmetrical, and while it's rarely subtle — and even sometimes a little too blunt — it's satisfying to watch a show with so much intention and craft behind it.
Patricia Arquette gives an especially glorious gothic performance, serving looks that could silence Meryl Streep's Miranda Priestly.
That stylisation extends to the performances, and while Adam Scott is giving off everyman vibes — like Jack Lemmon in The Apartment or Ron Livingston in Office Space — his superiors are calculated and icy. Patricia Arquette gives an especially glorious gothic performance as the head of his department, serving looks that could silence Meryl Streep's Miranda Priestly and providing bizarrely formal comfort to her workers ("A handshake is available upon request," she offers at one point). There's a hell of a strong cast there, too — it's a joy to see John Turturro and Christopher Walken in particular, sparking off each other as company men finding a forbidden friendship (or more).
As the series unravels, it becomes clear there's a conspiracy afoot, and while the drip-drip of revelations can sometimes feel frustratingly measured — 'mystery box' procedurals have hardly ever been more in vogue, after all — it will still manage to trip up your expectations more than once. And at a time when office life in the real world is under such dramatic transformation, with people examining their work-life balance closer than ever, here is a frighteningly speculative, Twilight Zone-esque take on capitalist corporate culture run amok, one we didn't even know we needed.