Right from the very start, the thing we've known about Star Wars series Skeleton Crew is that it centres on a young cast – its codename title, 'Grammar Rodeo', was cribbed from a Simpsons episode in which Bart Simpson and his school friends rent a car with a Fake ID and get in over their heads on a road trip adventure. And that's the kind of realm Jon Watts and Christopher Ford's series will be playing in – just, in the Star Wars galaxy. The teaser shown at Star Wars Celebration depicted a group of galactic kids who escape the school and suburbia of their quiet planet, and head off into the stars – where pirates, a Jedi, and danger awaits.
Beyond that deep-cuts Simpsons reference, the biggest reference point here is Amblin – whose films like E.T. and The Goonies saw diminutive characters face real dangers. And it helps that Lucasfilm president Kathleen Kennedy knew that world inside-out. "The way Kathy explained Amblin to us was that they never thought of those as kids' movies. They just happened to have kids," Ford tells Empire at Star Wars Celebration. It's a sentiment that they're bringing over into Skeleton Crew. "All the stakes are as real as possible: the kids think they're in Andor." Those kids, specifically, are Ravi Cabot-Conyers, Kyriana Kratter, and Robert Timothy Smith, unveiled on stage at Celebration, plus Ryan Kiera Armstrong (who was unable to attend the event).
Together, they'll be facing threats including The Mandalorian Season 3's rabble-rousing pirate Vane (this is set in the same New Republic era of the timeline), while Jude Law's mysterious character is teased as a Jedi. Though, the actor tells Empire, his role is "complicated" – his part in shepherding these younglings might not be so simple. "They need guidance, but they're vulnerable," Law says. "And so throughout, the people they meet, you question all of them. Is my character nice? Is he not? You just want them to be alright and get back home. But if you know Jon and Chris' work, you'll know that the kids aren't always safe." Get ready to step into an all-new perspective in Star Wars. "Seeing this galaxy, this world that we've all grown up loving, and the jeopardy, the divides, the heroes, the villains, through the eyes of children, is brilliant," says Law. Hopefully, we can at least trust him on that.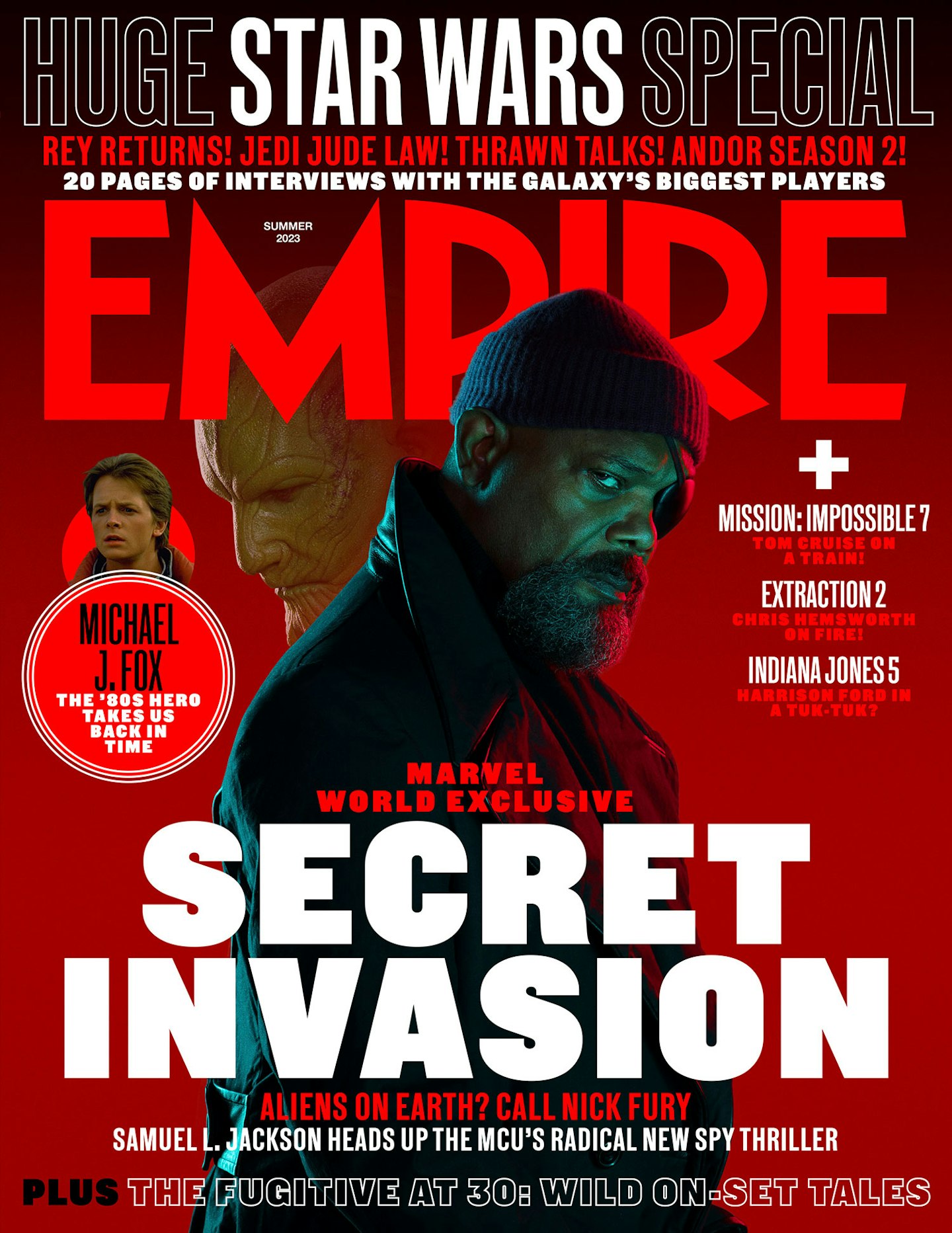 The upcoming Secret Invasion issue of Empire features a massive 20-page Star Wars blowout, getting stuck into the future of the saga with huge new interviews, and photoshoots with the galaxy's brightest stars – talking to Kathleen Kennedy, Dave Filoni, Rosario Dawson, Tony Gilroy, Diego Luna, Jude Law, Katee Sackhoff, Mary Elizabeth Winstead, Andy Serkis, Amandla Stenberg and plenty more. From Ahsoka, to Andor Season 2_, to The Mandalorian_, The Acolyte, and the trio of upcoming movies, it's an expansive trip through everything Star Wars has to offer in the coming years. You won't want to miss it – pick up a copy when it hits the shelves on Thursday 11 May, or become an Empire member now to access the issue in full on launch day. You can also pre-order a print copy online now here.
Portrait photographed by Zoe McConnell exclusively for Empire at Star Wars Celebration at ExCeL London. Set build by Simon Godfrey Design.