It's over ten years ago now that Katee Sackhoff first played Mandalorian warrior Bo-Katan Kryze in the Star Wars universe. While the character's live-action debut came in Season 2 of The Mandalorian, with Sackhoff herself donning Bo-Katan's armour, her history with the character goes right back to 2012, when she was introduced in The Clone Wars animated series. Reappearing across multiple seasons (and also in fellow animated series Rebels), the character has a longstanding history in the galaxy far, far away – and Sackhoff has been there the whole way.
And now, with Bo-Katan making an even bigger dent in The Mandalorian Season 3, she's so in tune with the character that executive producers Jon Favreau (who also voiced Bo-Katan's fellow Mandalorian fighter Pre Vizsla in The Clone Wars) and Rick Famuyiwa regularly sought her expertise while shooting the latest batch of episodes. "I've lived in this woman's skin for a long time now," Sackhoff tells Empire in our world-exclusive The Mandalorian Season 3 issue. "One of the things that Jon and I focus on is where she is in the moment, what peppers her experience. Jon and Rick, every single day, defer to me, which is a crazy experience, to have these masters asking me what I feel." Evolving from a solely voice role to a physical performance, it's still the same Bo-Katan inside. "It respects the craft, and the years that I have put in," says Sackhoff. "I really do know her – her pain is my pain. When she experiences something, I really feel it."
And not just emotionally. While five different women donned Bo-Katan's armour throughout the shooting of Season 3, some of the action moves still came down to Sackhoff. "If one person has a better skill-set than the other, well, that person needs to put the suit on that day," she explains. "That being said, I have a wicked knee-slide. I've been practicing my knee-slides on my mum's kitchen with dish rags since I was five years old, so when that knee-slide comes up, you'll know: that's me. There are holes in my suit because I had to do that so many times. I came home with so many bruises on my knees. But I love that. If I came home with bruises, it was a good day!" Get ready: the journey to Mandalore is going to be full of adventure.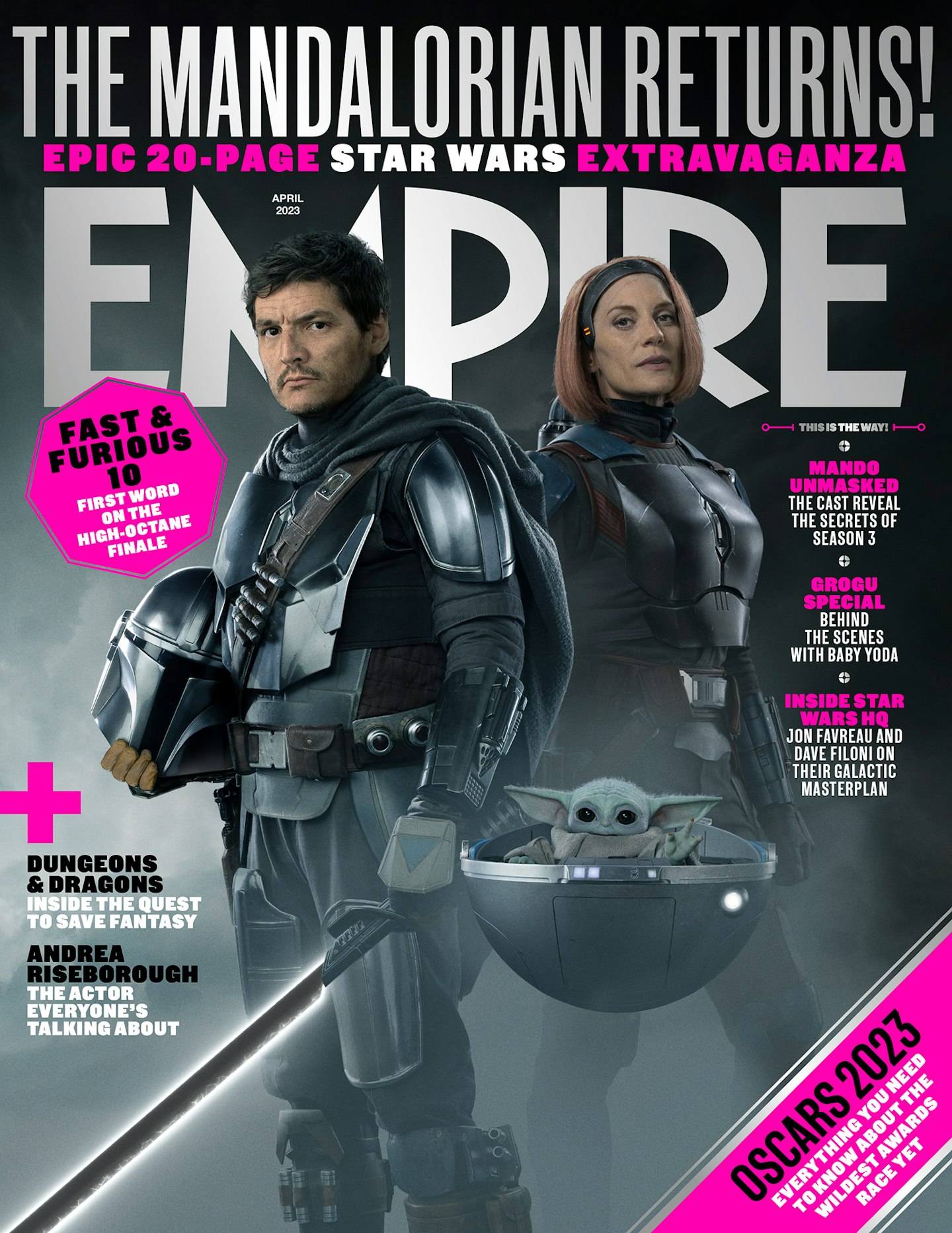 The new issue of Empire takes a world-exclusive dive into The Mandalorian's epic return in a massive 20-page blowout packed with major interviews, never-before-seen images, fresh concept art, and much more. We get under the helmet with the Mandalorians themselves, Pedro Pascal, Katee Sackhoff and Emily Swallow; we go long with Mandalorian creators Jon Favreau and Dave Filoni in a huge new joint interview, spanning their entire journey with the show so far and what comes next; plus, we go back to the beginning of Grogu in an all-new oral history. Prepare to hunt down a copy when it hits newsstands on Thursday 16 February – or become an Empire member now to access the issue in full on launch day. You can also pre-order the issue online now here. The Mandalorian returns to Disney+ on 1 March.