It's taken 15 years – but after all this time, Ahsoka Tano is finally ready to lead her own Star Wars series as the headline act. All those years ago, she debuted in The Clone Wars movie and its subsequent series, devised by George Lucas, along with his padawan Dave Filoni, as a teenaged apprentice to Anakin Skywalker. Since then, Ahsoka has seen her master turn to the Dark Side, rejected the doctrine of the Jedi Order, aided the Rebellion against the Empire, teamed up with the crew of the Ghost, faced off against Vader, taken a trip through the World Between Worlds – and all that before she even made her live-action debut, crossing paths with Din Djarin and Grogu in The Mandalorian, and meeting Luke Skywalker himself in The Book Of Boba Fett. Now, she's stepping into the limelight in Ahsoka – with Filoni shepherding the most important step of her journey.
While the Ahsoka series arrives in the wake of Mando, it's also picking up where she left off in animated form in Star Wars Rebels – reuniting her with fan-favourite characters like Sabine Wren and Hera Syndulla, themselves making the leap to live-action for the first time. And it's with them that Ahsoka – played by Rosario Dawson – will find a new purpose. She may be handy with her pair of lightsabers, and a master of the Force, but after what happened to her former Order, Ahsoka doesn't consider herself a Jedi. "She's a wanderer at this point," Filoni tells Empire, "and is in a lot of ways wary of any organisation as such because of the power that comes with it as a group." But her wariness of institutions contributes to the loneliness of her journey. "She walks a path that basically died out a long time ago," he explains. "And there aren't many like her left, if any. So that's a lonely thing. What is that life like? If you are a loner, you have a very small circle of friends. What is it like, then, when you try to open back up?"
With Ahsoka as the headline character, and several Rebels favourites becoming flesh-and-blood for the first time, the Star Wars animated series feel more vital than ever. And part of Filoni's test is to occupy a middle-ground, with viewers who may know Ahsoka's past adventures more closely than others. "The biggest challenge was, there's a whole bunch of audience that know her, and a whole bunch that don't," he says. But there's plenty of potential in that. "She has one foot in the Star Wars that a lot of people know because of her connection to Anakin, and yet she's all new and can go in her own direction, in her own way. I think that makes her an interesting bridge between what came before and what's really possible." It's not just whether the uninitiated will connect to it as much as Clone Wars and Rebels fans – the bigger question is, what will Ahsoka's co-creator, George Lucas, think? "It's almost like when you turn in a big paper at school," laughs Filoni. "It's like, 'Here it is!'" Fingers crossed it makes the grade.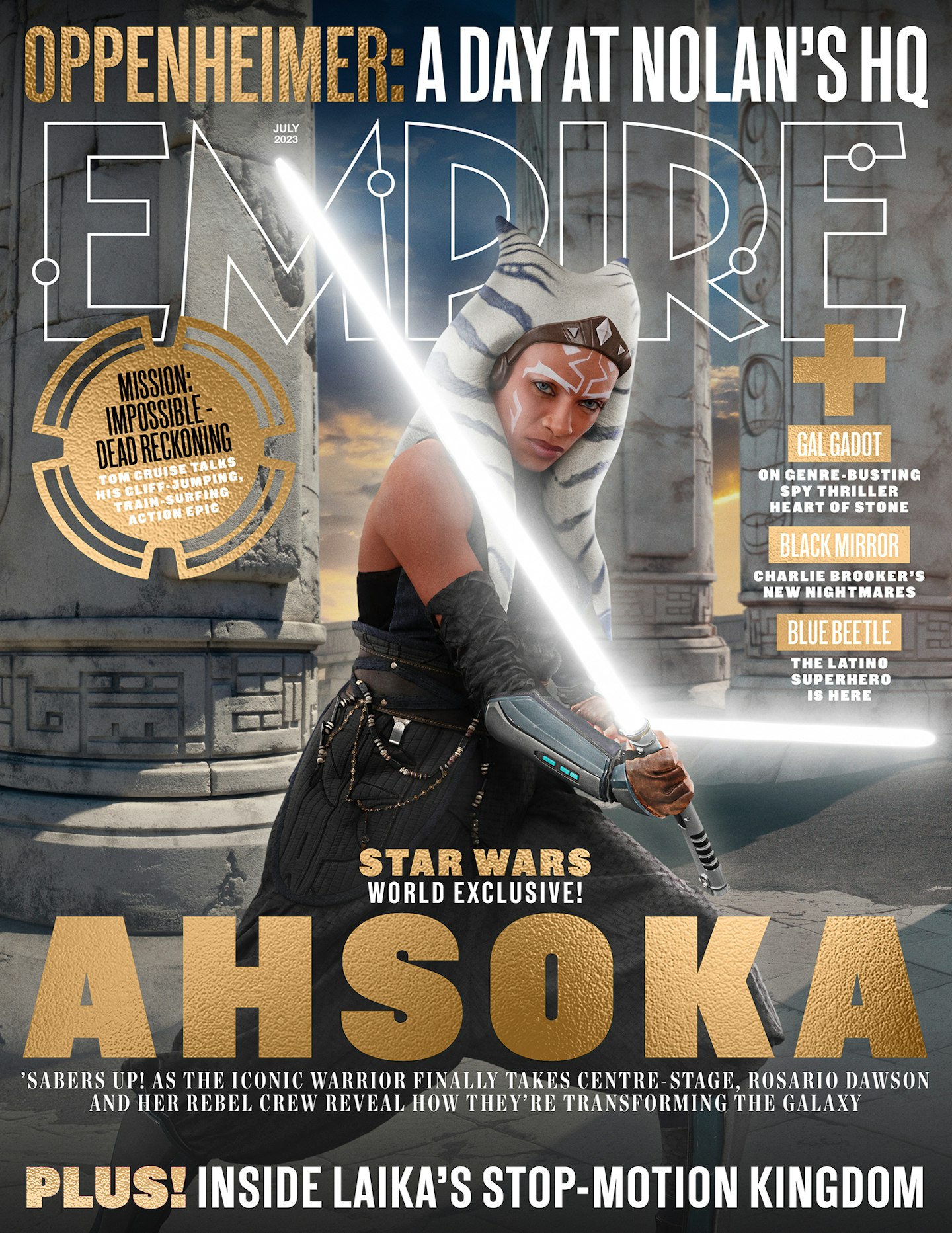 Read Empire's world-exclusive Ahsoka cover story – speaking to stars Rosario Dawson, Natasha Liu Bordizzo, Mary Elizabeth Winstead, Diana Lee Inosanto and the late Ray Stevenson, plus creator Dave Filoni and producer Jon Favreau – in the upcoming July 2023 issue, on sale Thursday 8 June. Become an Empire member to access the digital edition in full on launch day, or pre-order a print copy online now here. Ahsoka comes to Disney+ in August 2023.