Though it's not time for Jodie Whittaker's thirteenth Doctor to regenerate just yet – we have three specials this year to look forward to before she morphs into the next iteration of the tricksy Time Lord – New Year's Day 2022 did mark her final festive outing, joined by close companion Mandip Gill as Yaz, John Bishop, Aisling Bea and Adjani Salmon in a time loop adventure involving her pesky Dalek nemeses. We caught up with Whittaker and Gill ahead of the January 1st episode for Pilot TV's Review Of The Year podcast to talk about comedians, chemistry, and being a part of the Doctor Who legacy – listen to the interview in full there, and check out the highlights below.
PILOT TV: We're just getting over the thrill of Doctor Who: Flux, which has been an absolutely wild ride. Did the New Year's Day special match that level of excitement and adventure?
JODIE WHITTAKER: I think one thing that made it stand out, and that's really enjoyable for people who encountered the Flux and stayed with it for an epic six episodes, is that this is a contained story. It's standalone, and it doesn't require a lot of Whovian knowledge. You are immediately immersed into this world, this quite contained world full of high stakes and high energy, and it tells the entire story within that. And we get to meet these really brilliant and hilarious characters played by Aisling [Bea] and Adjani [Salmon], who were amazing to be on set with.
MANDIP GILL: Although we talked a lot. We didn't really get a lot done! [laughs] There's loads of themes in it; there's adventure, there's scary bits, there's romance.
JW: The jeopardy for us is massive.
MG: Yes. Huge, particularly for you.
JW: Yeah, we're stuck in a time loop, and a time loop with a Dalek is, you know, the Doctor's worst nightmare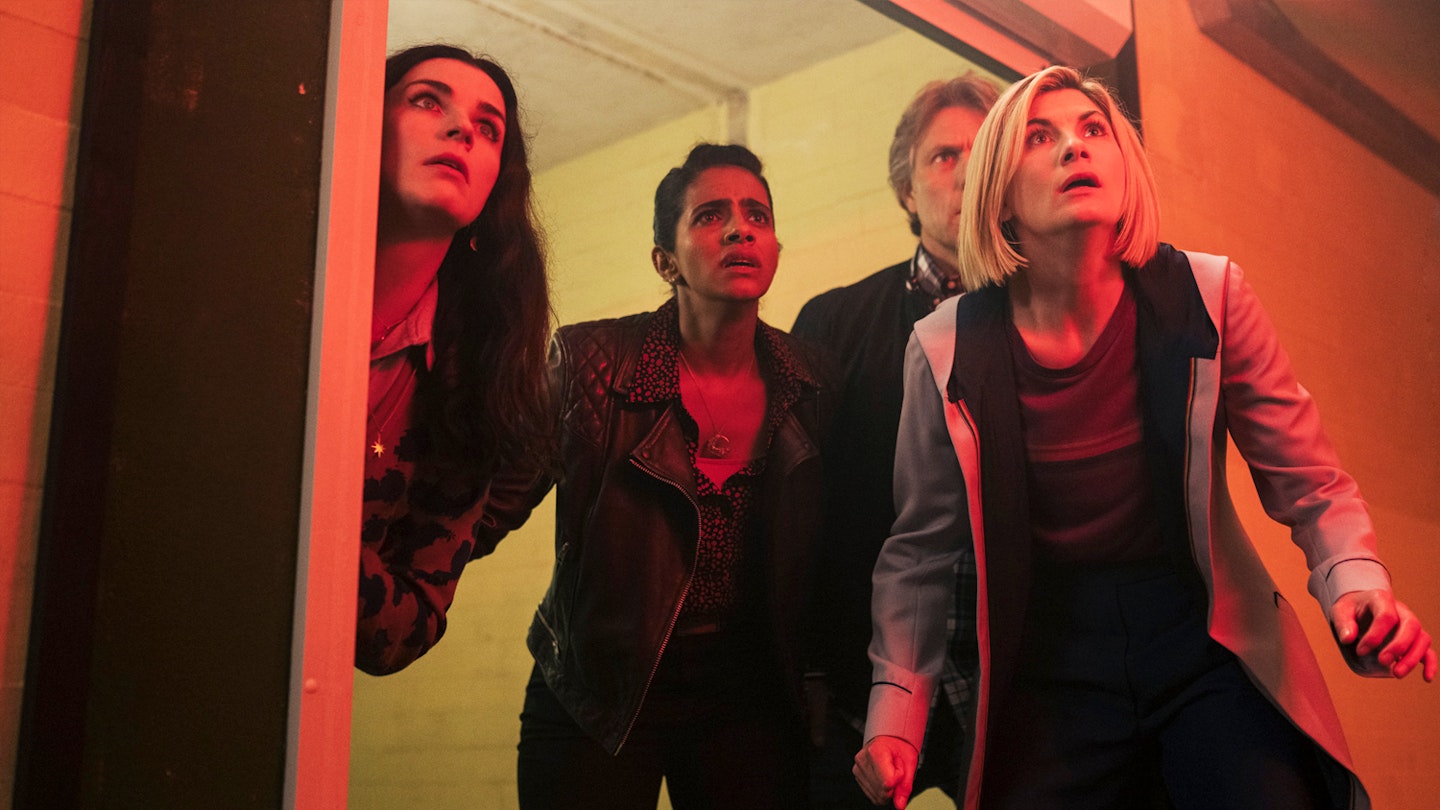 Aisling Bea is a phenomenon. We've had her on the podcast and she was just incredible. What was it like working with her?
JW: She's got her fingers in so many pies. She's incredibly talented. With both her and Adjani Salmon, just being on set with people who have not only come to be in our show, which we're so excited about, but they're creating their own stuff, they're making their own things that are wonderful, it was just amazing to be around such talented people. It's a real honor that they could come and do Doctor Who with us. It was great.
MG: As well, it was quite a small cast for this episode; there's only us five really, so it was quite intense. We were in some really cold tunnels just getting to know each other, having a laugh, and Aisling's just like a ball of energy. She does her own thing. She makes you laugh. She was doing little sitcoms about my life for me.
JW: We were really spoiled. There was me and Mandip and then three comedians!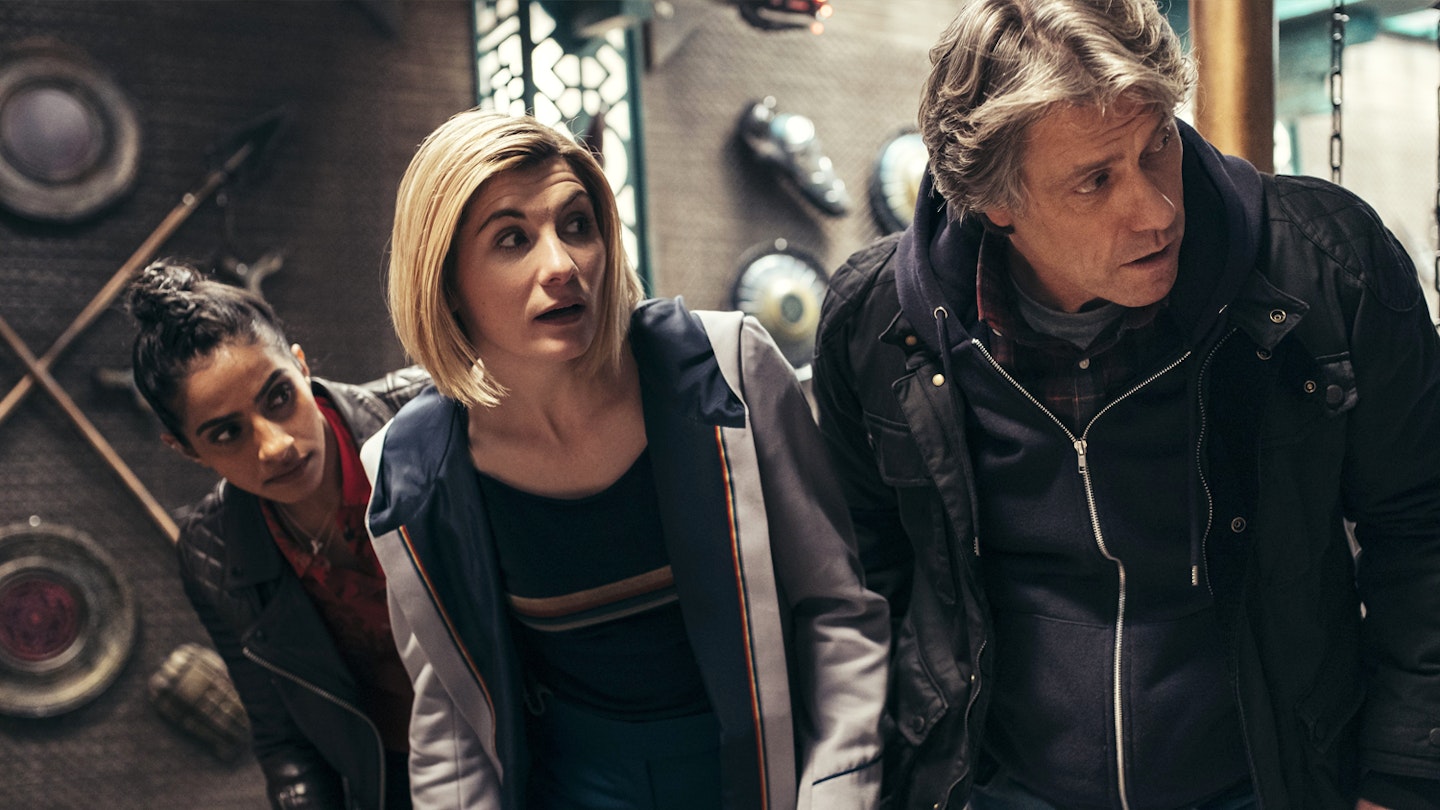 John Bishop [who plays Dan] has been a revelation in the show. It must have been a joy to work with him?
JW: Yeah, it's brilliant. He was like a kid in a sweet shop when we started, because the first things that we were shooting, a lot of it was him caged by Karvanista, or running down Karvanista's ship being shot at, trying to get into the TARDIS, and he just was like, 'Wow!' He really went for it with his stunts, and then he realised you aren't allowed to actually throw yourself on the floor, you need a stunt coordinator! You know when the TARDIS takes off, you do a bit of a jiggle – he threw himself everywhere!
MG: There was no ego. He was just like, 'I'm gonna do it this big' and I was like, 'Are you sure? Because we've got to do it a fair few times!' He just threw himself into it. He had such a good time. I love working with people that love being there, or are a fan of the show – when someone asks to take a picture with the sonic screwdriver, or says 'My son watches it, can I get a picture of you?' It's quite normal for us to be doing it, so these moments where people are so excited by it really makes you realise – we're in something absolutely epic.
JW: We've just come off a serial with Flux where we have these long relationships with other characters, so then to go from that to start shooting with Aisling and Adjani – it was immediate fun, and I think the chemistry between us all really comes out, but particularly between those two was wonderful. You're just forever blown over on this job. It's a really weird one; you think you hit your high all the time. And you just realise, on every new episode, something will happen where you think, like, there's still the best bits to come. And that's what's always been a joy about it.
And what about the chemistry between you two, in Flux particularly?
JW: We really really hate each other! [laughs]
Yeah, clearly! [laughs] But the scene in the last episode of Flux that where Yaz is talking to the Doctor virtually was so moving and interesting. A lot of people are talking about the love between the two of you.
JW: I think the thing about the relationship is – for the Doctor, for my Doctor, saying goodbye to Graham [Bradley Walsh] and Ryan [Tosin Cole] and the kind of heartbreak from that is one thing. But then if you think, for us, Yaz and the Doctor have gone on this massive journey. Previously, when I was imprisoned, that was over a nine month period. This is years now. So Dan and Yaz have been away and had no idea if they were getting back, and we show that kind of love and loyalty and friendship, and the fact that Yaz has chosen to be on this journey for a reason, because it is such a massive part of your life. But also I love that Yaz and Dan have this whole world that they navigate, and it's nothing to do with the Doctor.
Do you think, Mandip, that the love that Yaz has got for the Doctor has really come through? That it's kind of been there to interpret however we want, in a way.
MG: Yeah 100%, I think it has been all the way through. I think you've always seen that Yaz really cares about the Doctor. She's the one that's always been like, 'We need to get her back, I need to get back there'. She's always finding her. I do think there was a high in that last episode of Flux, and it doesn't just stop there, it's only gonna get greater and greater. They've just been through so much together. And if you think, me and Jodie only met each other on this job, and there is so much love between us as people – our characters have been together way longer than that.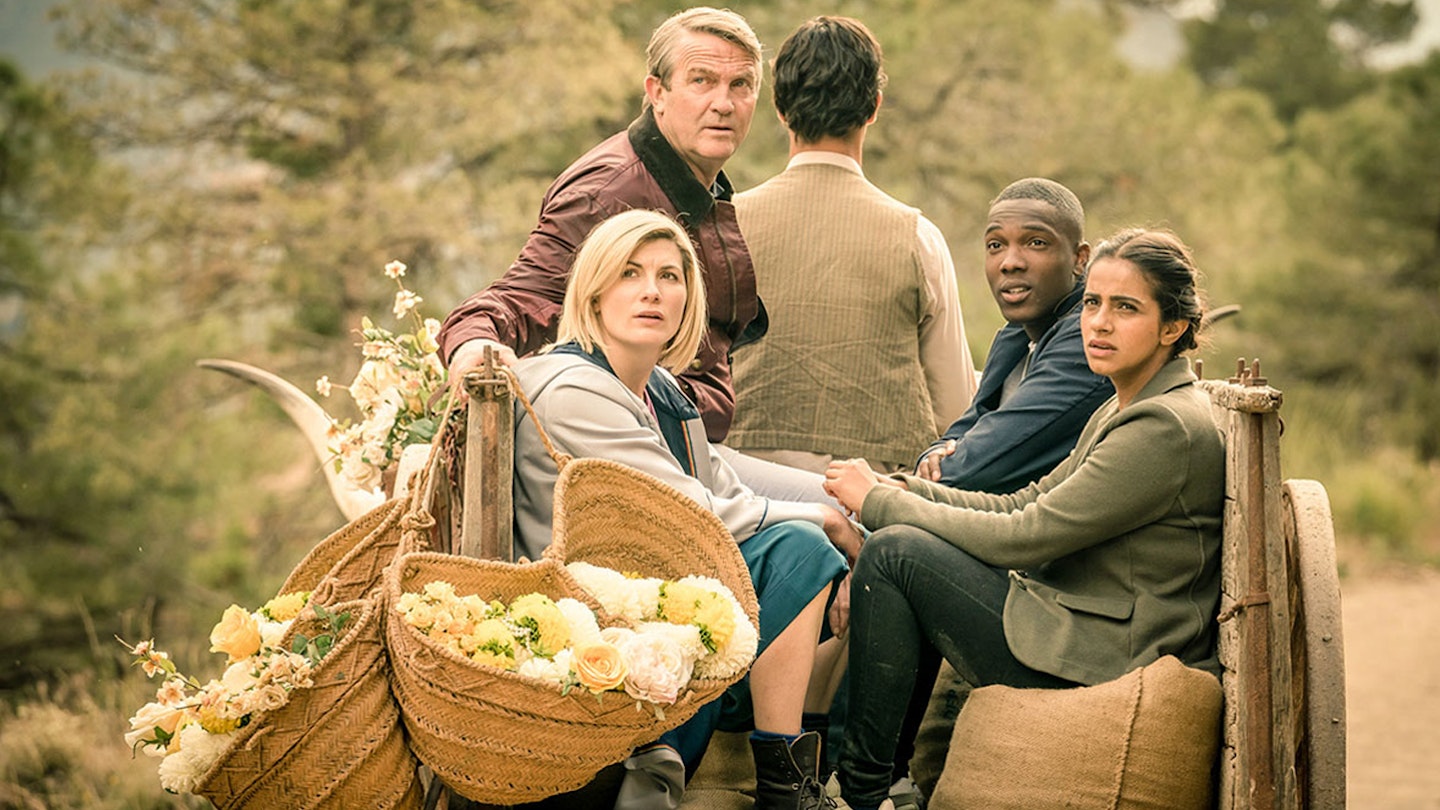 Jodie, you've said that Doctor Who has been the role of your life. Mandip, you're only young, but does this feel like one of the roles of your life already?
MG: It's like, where do you go from this? We're friends forever now. It is epic. We've had such an amazing time that now, I would expect to go on set and find best mates, but it's not going to be like that. Because we like to do everything together! We eat lunch together! What if no one lets me in their trailer?! [laughs]
Now that you've finished filming, what's been the most surprising element of the whole show for you?
JW: I would say, the genuine love of the crew and cast, and finding a brotherhood and sisterhood on set. I've worked on loads of jobs and had an amazing time. I've always been really lucky. I've never walked onto a toxic set. I've never been in a situation where I really was unhappy at work or any of that. I've been spoiled before I even got here, and then once you become a part of the family – the family being the crew and us guys – it's the most wonderful thing. It's the thing that fills me with the most grief about ending, because yeah, there's hard bits to everybody's job, but essentially, we are so lucky to go to work to play pretend. And we do it with people who are wonderful to be around. And to have that for such long periods of time. It's not a three month job. Obviously, if you do a six week film, you're gonna like everyone, because you've only got to be on form for six weeks. Whereas we've just shot a season that took a whole year of our lives, and you don't hit a wall with anyone. You walk into work, and you genuinely can't wait to see everyone.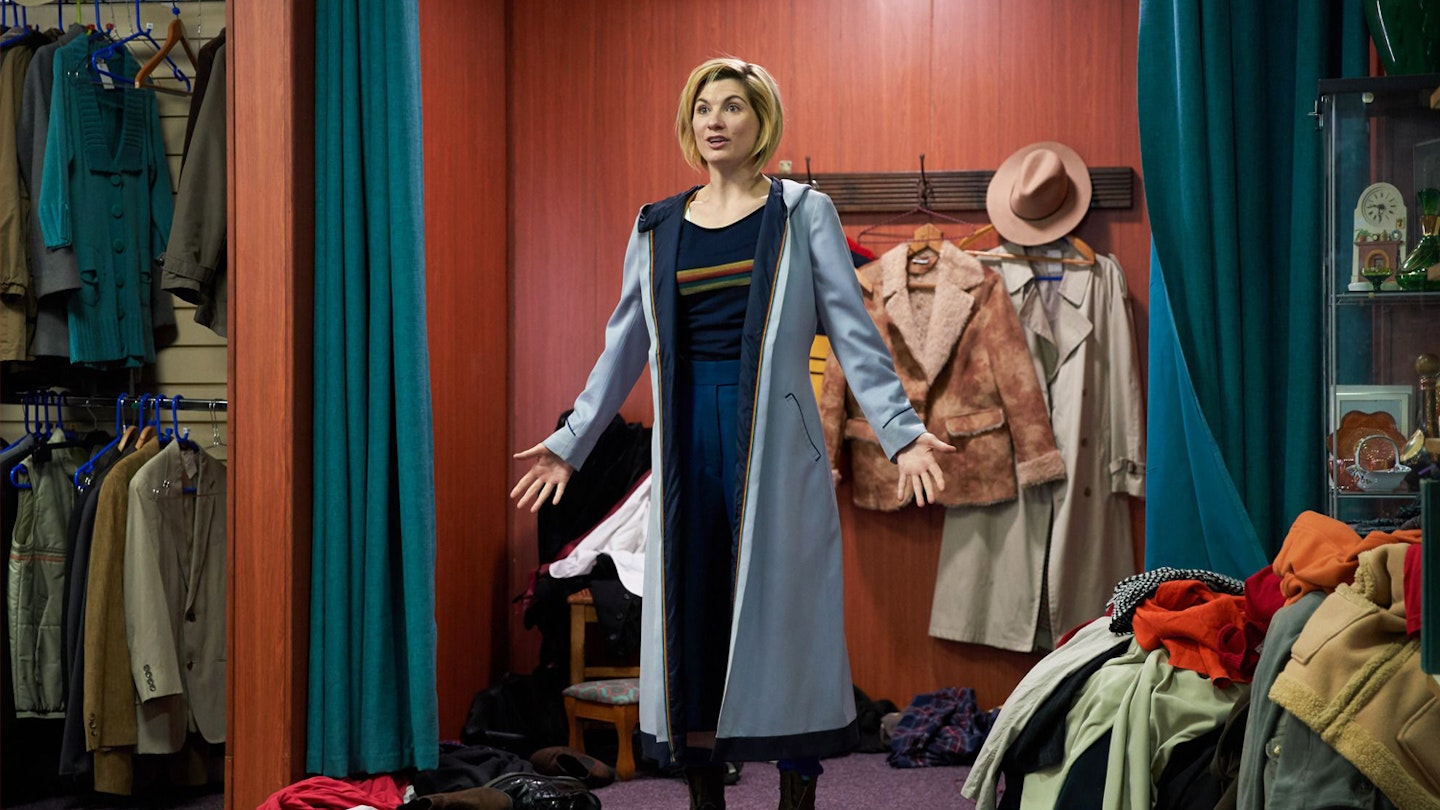 MG: You go into a job, and you do something, and you're excited to do it. You feel like you're going to do the job, and then it's going to be on air, and you 'give it back' sort of thing. Selfishly, with this job, it's just like a gift that keeps on giving. We get so much in return for what we do. You do the show, and it's for the fans, and it's out there, but we get to do so much that's about the show, and get to go places and continue to talk about it. People come up to us and talk about it all the time, we do press days. It's like, we're doing this for the rest of our lives.
JW: It never kicks out. That's the best bit. You know, it's going to move on. There's going to be new characters, there's going to be new Doctors, there's going to be new friends. There's going to be all those things – future, future, future. But even when we're like, 90, we'll still be part of it.
MG: I'll come back as Yaz when I'm 90. [laughs]
Which episode has been your favourite?
MG: My answer is 'Demons Of The Punjab'. It's about something that's so close to my heart. I was so happy that Chris had written about something that a lot of people didn't know about. It's history for a lot of people in this country, and around the world. We filmed abroad and had loads of Asian people in the cast, and I couldn't believe we'd done that, to be honest. I was so chuffed we'd done that, and that it was whilst I was in Doctor Who.
JW: I think mine is 'The Woman Who Fell To Earth', just because it was my very first episode. I transitioned into a different costume – that we'd created – and we firmly cemented this team. Everything about that time lived up to every expectation that had been built up over a lot of months for me. It lived up to all of it and I really enjoyed filming that.