Given its subject matter, the fifth film from Niki Caro (2002's Whale Rider) will undoubtedly draw comparisons with Schindler's List. By anyone's standards, that's a tough act to follow. A sincere and clearly heartfelt examination of a horrific chapter in history, The Zookeeper's Wife, it nonetheless (perhaps inevitably) falls a longer way short of Spielberg's Oscar-decorated film.
A sincere and clearly heartfelt examination of a horrific chapter in history.
Adapted from Diane Ackerman's 2007 non-fiction book, it follows Warsaw zookeepers Jan (Heldenbergh) and Antonina (Chastain) as they risk their lives to save Jewish townspeople from the Nazis by concealing them in their zoo home-turned-pig farm. Its opening scene is one of almost fairy-tale idyll — a lion cub curled round a young boy, the pair sleeping peacefully together as elephants lumber around freely outside the window. Antonina is seen personally greeting visitors as a bartender fixes drinks and gives a cheerful wave, this charming depiction of zoo life culminating with Adam the baby camel — a true scene-stealer — gambolling along with Antonina as she does the morning rounds. It's a picture of kindness and love, abruptly smashed to pieces moments later as the Nazis crash into town.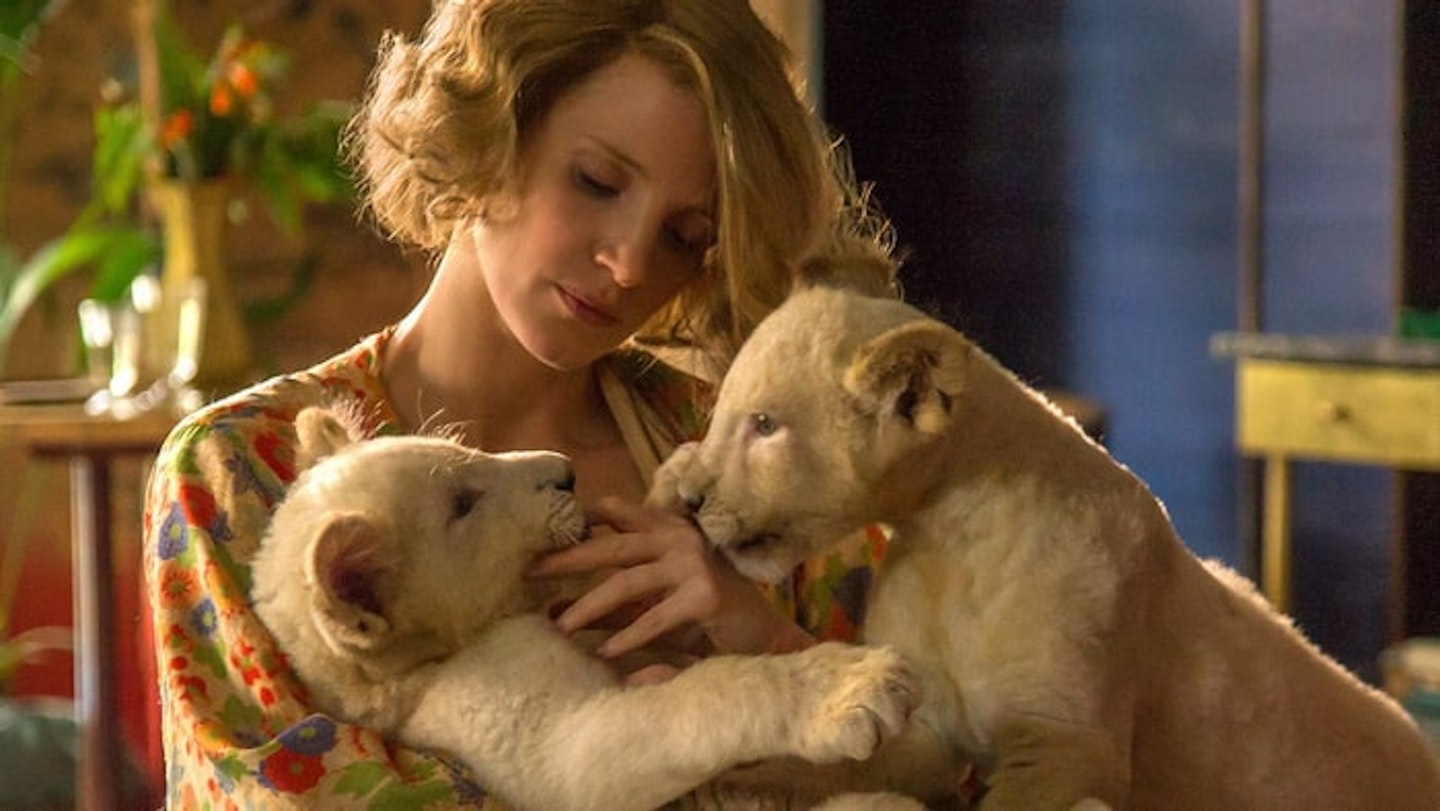 The film provides some striking and surreal imagery — a wallaby bouncing down a decimated street, for example — yet over the two-hour plus running time, such blunt contrasts become distancing rather than engaging. A recurring motif is that of the innocence of animals with the dark heart of humanity, here personified by, of course, the Nazis in general and Daniel Brühl's Lutz Heck in particular. Heck is drawn to Antonina — pre-war he was a fellow "animal lover" presiding over Berlin's zoo, but post-invasion he becomes an increasingly brutalised member of Hitler's regime whose work is based at the Zabinskis' bombed-out zoo. And, in keeping with the Nazis' obsession with genetics, his pet project is attempting to breed the extinct 'anroch' back to life. Credit is due to Brühl and writer Angela Workman who, rather than make Heck the pantomime villain, hint at layers to his personality, shades of grey beyond the increasingly blackened surface. But his character more often serves as juxtaposition in another dichotomy — highlighting Antonina's essential goodness. Credit to Chastain — she spends most of the film (quite reasonably) in or near to tears but presents Antonina's strength and inner dilemmas with quiet conviction — but this tendency towards dualities feels a little reductive and lacking in nuance, not helped by a tendency towards moments of Notebook-style sentiment in the last half hour.
As both war and film progress and we witness familiar, yet still disturbing, scenes of round-eyed Jewish boys and girls being lifted en masse onto trains to horrifying fates. It's then that themes of love, friendship and loyalty in the face of hatred and intolerance come to the fore. These scenes are no less powerful, or important, for their familiarity. With the forces of fascism somehow gorwing stronger in our world by the day, it's by no means a bad thing to again, and again, be reminded.