Vox Lux opens in a rush of bravura, a clean, crisp recreation of a Columbine-style shooting, which, following a thrilling ambulance ride, leaves sole survivor Celeste (a terrific Raffey Cassidy) with a back injury. It's a stunning, heart-stopping beginning that few films would recover from. Brady Corbet's absorbing but shallow sophomore effort just about holds up, following a similar path to his debut The Childhood Of A Leader by mixing fact and fiction to incrementally chart the making of a monster. But this time he swaps fascist politics for the sparkly world of pop as Celeste grows up to be a Britney-Katy Perry-Gaga-styled diva attacked by Natalie Portman on ferocious form.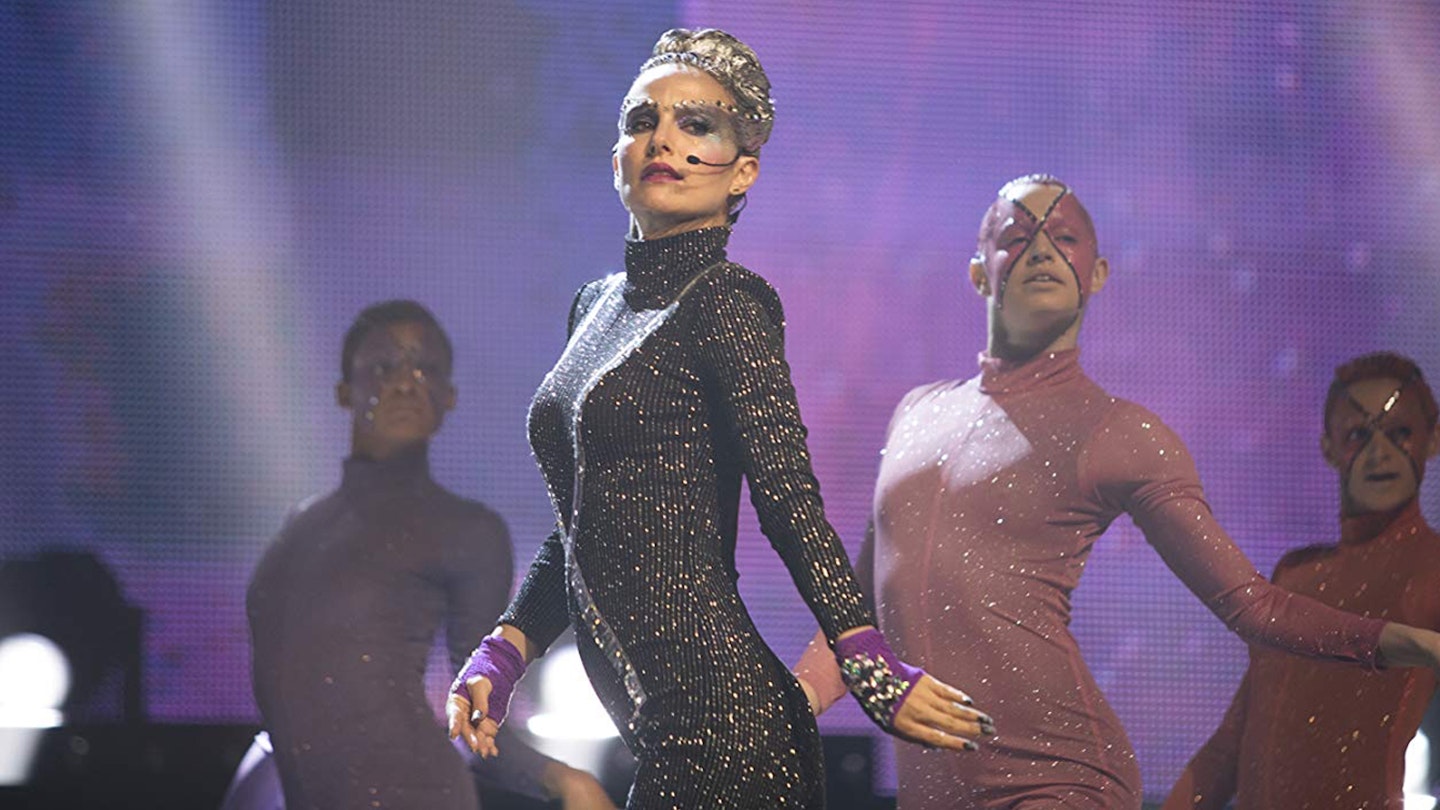 Narrated in a wry, cynical voiceover by Willem Dafoe, Vox Lux is divided into two acts bookended by the shooting prelude and an in-concert coda. The first act, 'Genesis', follows Celeste going viral '90s-style after performing a song at the memorial service. The song, written by her more talented sister Eleanor (Martin), captures the national mood and catapults Celeste on a pop career under the guidance of a nameless pop manager (Law in American accent mode). Corbet creates a convincing portrait of the grooming of a pop princess — the Swedish producers, LA photo shoots, sex with Brit rockers — but also etches a compelling portrait of sisterly jealousies — Eleanor clearly feels only one of them had the good fortune to be shot.
Vox Lux is carried on the thrill of brilliant filmmaking.
The second act — 'Regenesis' — spins on nearly 20 years with an adult Celeste (Portman) on the eve of a homecoming tour that becomes jeopardised when a mass shooting in Croatia is carried out by terrorists sporting Celeste's trademark bejewelled mask (the shooting is brilliantly staged in dreamy poetic images). Even more mannered than her turns in Black Swan and Jackie, Portman sports big hair, a bigger Brooklyn accent and has a ball dropping tantrums and truth bombs to pushy journalists, her own teenage daughter (played in a cheeky touch by Cassidy) and a random in a diner. She even does a believable machine-tooled in-concert act, the so-called 'sci-fi anthems' written by fringe-tastic Sia and sounding authentic in the way pop in movies rarely does.
As much as music, Vox Lux is carried on the thrill of brilliant filmmaking, mixing speeded-up Super 8 footage, long, slow takes and epic montages played out to Scott Walker's huge orchestral score. Corbet is less sure about what he wants to say. If the film is good on creating the idea of fame steam-rolling humanity, it is fuzzier on its ideas about the relationship between art and violence. That Celeste's career is formed by a terrorist act and her persona seemingly inspires another one is a neat symmetry, but Corbet never really mines it for meaning. But perhaps as in pop, sometimes it's just enough that it rhymes.