William Shakespeare may have died 400 years ago, but he is, technically, cinema's most filmed author, with over 420 film and TV credits according to Guinness World Records. How do you make a new adaptation fresh? Director David Michôd and co-writer/co-star Joel Edgerton's approach is to transform the language into something slightly more modern (there's some contemporary swearing here), ditch the iambic pentameter, and compress his most famous history plays, collectively known as the 'Henriad', into one lean two-hour film.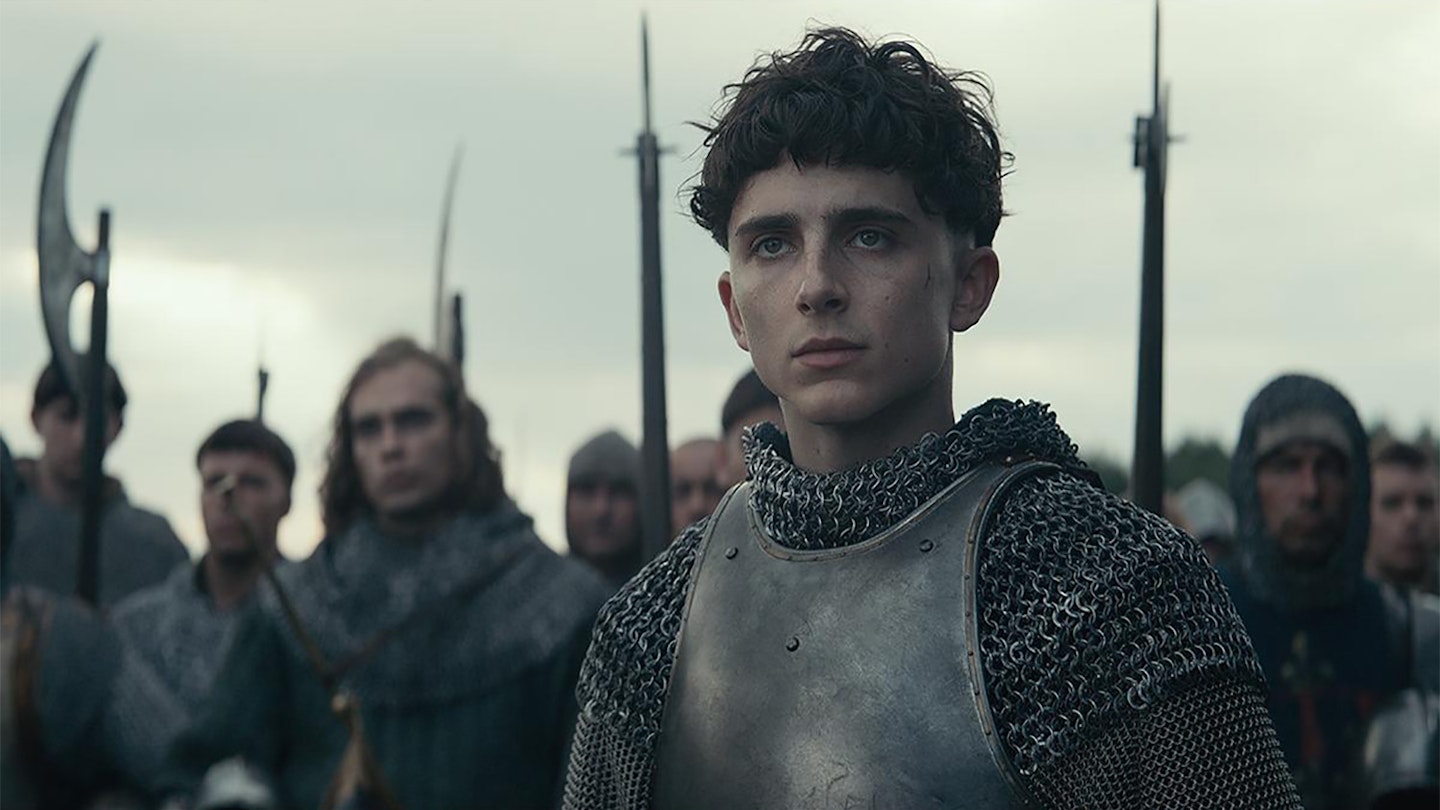 It's not a bad effort, and certainly the most lavish cinematic retelling of the famous story, with all the budget, the cinematography and the subtle CGI assists that we've come to expect in the Game Of Thrones era. The climactic Battle Of Agincourt, in fact, has heavy echoes of the Battle Of The Bastards; one shot of an almighty muddy crush seems identical to a similar one Jon Snow experienced. (Plus, playing Prince Thomas, Dean Charles-Chapman — aka King Tommen — provides a direct link to Westeros.)
The whole film is a very ponderous affair.
As far as depictions of medieval warfare go, it's near-faultless. But it suffers from a plodding middle third, and while the dialogue is occasionally nimbler than Shakespeare's original text, it still feels stagey and old-fashioned, which makes for an onerous match with Adam Arkapaw's gorgeous, naturally lit cinematography.
As the hedonistic-turned-hubristic Hal, Timothée Chalamet starts the film like his emo rocker character in Lady Bird — all floppy hair and juvenile vices — and ends the film very serious, very intense. His RP accent is better than most American efforts at Shakespeare, but it's still not quite as good as the real thing, missing the occasional vowel sounds. And while he certainly has the presence and the look required for the boy king, there's something slightly missing from his performance, the dour, unsmiling expression on his face rarely shifting.
In fact, the whole film is a very ponderous affair, taking itself extremely seriously, with only two exceptions: Joel Edgerton's Falstaff, whose witty and wise northern chuckles are always welcome; and Robert Pattinson's foppish Dauphin (a rare misstep for the actor), whose ree-deek-ulous French accent brings to mind only fathers smelling of elderberries.