In last month's Empire, Judd Apatow said that he increasingly wants to hit the tone of the films that shaped him — most notably the work of Hal Ashby (Being There, Harold And Maude) and James L. Brooks (Terms Of Endearment, Broadcast News). Films that are as dramatic as they are funny. But Apatow's films have never been mere comedies (not that there's anything wrong with that). His first, The 40-Year-Old Virgin, was broad and bawdy but enormously sweet, and all of his films since — from Knocked Up to Trainwreck — have gone for tears as well as laughs. His latest, The King Of Staten Island, though, takes itself that little bit more seriously. Even if it does feature a cat tattoo with its owner's belly-button standing in for the bumhole.
Saturday Night Live's Pete Davidson co-writes, produces and stars in this film that draws, hugely, from his own upbringing. How much you fall for it will hang on how much you warm to Davidson, who, partly for plot reasons, partly not, is a bit of a blank canvas. His character, Scott, who has attention deficit disorder, is as stubborn as he is numb, unable to commit to a relationship, or a job, or to adulthood. Self-loathing and self-destructive, he smokes weed to slow down time. He may or may not be a talented tattooist, but after he inks a young kid's arm on the fly, the boy's enraged fireman dad, Ray (comedian Bill Burr), comes knocking — and ends up dating Scott's mother (Marisa Tomei). From there, mostly thanks to Scott, who is hellbent on sabotaging their happiness, it's a struggle, for everyone.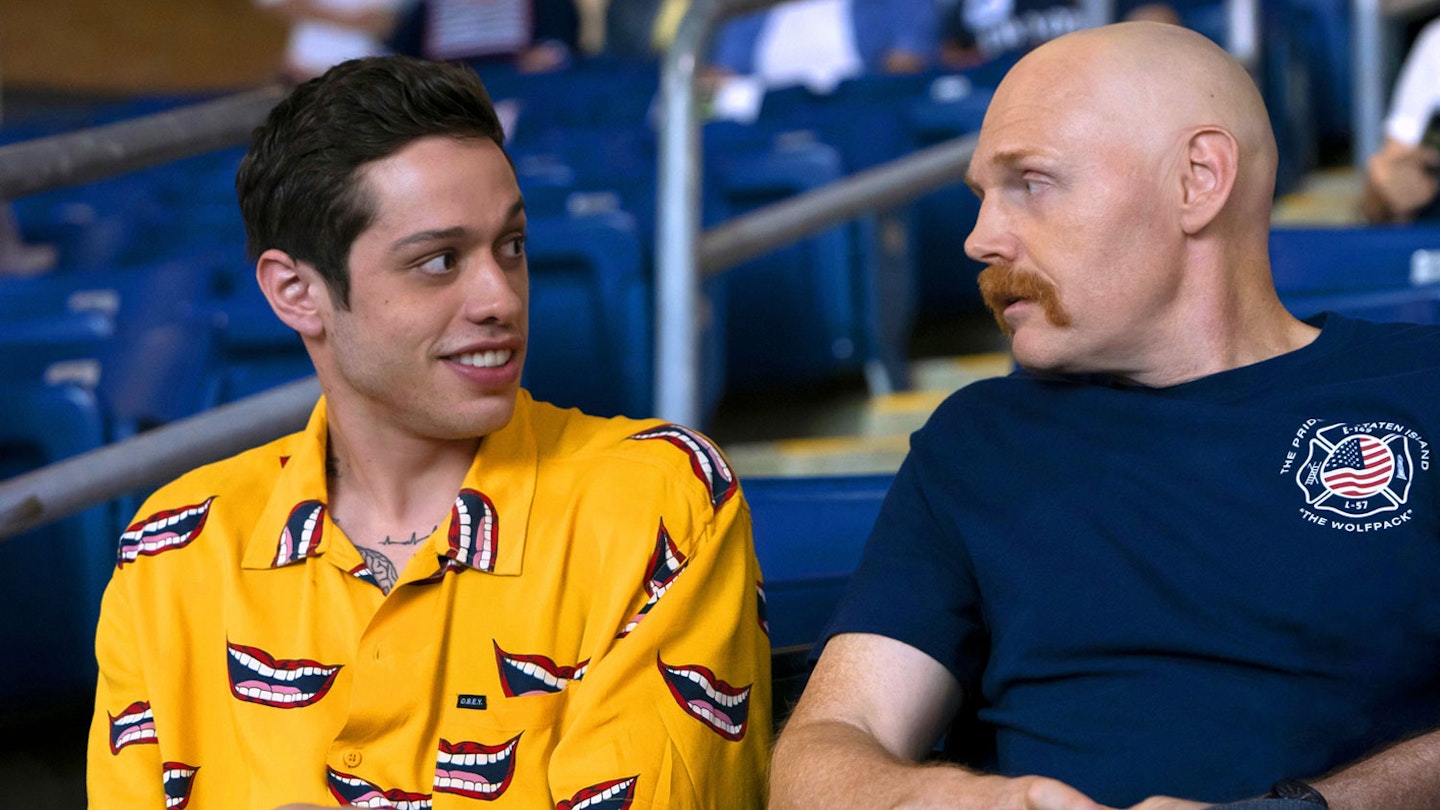 Scott, if it wasn't clear already, is a bit of a manchild. There's much familiar Apatow territory here — the stoner friends, the bro banter, the inventive insults ("You look like an anorexic panda," a whacked-out Scott is told at one point). A skit about Stomp, dick jokes, and much misguided masculinity. Yet it is all slightly muted.
This is a more freewheeling Apatow. Directorially he's a little looser, and if the humour feels familiar, it's played a little more naturalistically. It speaks volumes that he's hired the great cinematographer Robert Elswit here — Elswit, who has lensed most of Paul Thomas Anderson's films, including There Will Be Blood and Inherent Vice, as well as Dan Gilroy's Nightcrawler, brings a lovely warmth to this one, making it feel more tangible, less shiny and clean than Apatow's usual films. The (slightly) subtler tones fit with Scott — muted makes sense for a story about an emotionally numb protagonist on antidepressants. It also means it doesn't hit as hard, as the comedy seems self-consciously dialled-down, some of the raucous behaviour at odds with its presentation. Scott's gang — a ragtag band of mostly well-meaning weed demons — leave little impression, certainly compared to the big personalities in most of Apatow's films.
Bel Powley, who plays Scott's on-off girlfriend Kelsey, owns this film.
Otherwise, though, Apatow surrounds Davidson with a compelling cast that create the fabric of the film: Bill Burr elevates Ray, playing it straight, giving it weight; Steve Buscemi, as one of Ray's fireman colleagues, is predictably great and, being a former fire-fighter himself, imbues the role with an undeniable honesty, and true feeling; Apatow's daughter Maude, who appeared in some of her father's earlier films but has come into her own in the likes of Ryan Murphy's Hollywood, has major presence as Scott's sister, eternally frustrated by him but determined to shake him out of his slumber.
Best of all, though, is Diary Of A Teenage Girl star Bel Powley, who plays Scott's on-off girlfriend Kelsey, and owns this film. She is startlingly good — one of the most exciting actors around right now — and the screen sizzles whenever she shows up here, brimming with vibrancy, energy and authenticity. The film's true breakout, she's a real force, anchoring every scene she's in, validating it all, giving it huge dramatic heft.
Powley and Burr are great in this film. They prop it up. Powley, especially, provides the dramatic chops Apatow's reaching for, and the film works best when it's not being bawdy, when it's quieter, sweeter — there is a tenderness. At its most successful, it's a hang-out film: as everyone attempts to bond, it takes shape. It's a longish and winding road, often perplexingly keeping itself at bay, and could do with more emotional highs and lows. Still, by the end, it gets you. It has some surprises.