How you feel about the original Space Jam — the film which (finally!) brought together basketball legend Michael Jordan and Looney Tunes hero Bugs Bunny — slightly depends on your age. The film might not have dated especially well for some (R. Kelly is all over the soundtrack, for one thing), but for the generation who still have a beloved, worn-out VHS copy, it is a shot of pure-'90s nostalgic joy: funny, weird and electrically entertaining, even if you couldn't tell a jump hook from a dribble. Something about that strange alchemy of cartoons and sports (plus a well-placed Bill Murray cameo) made for a remarkably self-aware postmodern slam-dunk.
It's this nostalgia that Warner Bros. is clearly hoping to tap into. But save for a time-honoured Bugs Bunny look-to-camera, and a cameo from the aliens of the previous entry, this is an entirely new adventure, the original film largely unacknowledged. The key ingredients — basketball star finds himself in the Looney Tunes world and must play a game of basketball to win the Tunes' freedom — are both there, but the film stretches and contorts itself to make that happen, like a Wile E. Coyote stunt gone wrong.
This just feels like a two-hour advert.
In fact, it's a full half-hour until we actually see any Looney Tunes. In that opening act, we're left with Don Cheadle — hamming it up on a green-screen stage in various sparkle suits, as new baddie Al-G Rhythm — to carry us through a thick gloop of exposition. Incoming b-ball hero LeBron James — a charismatic presence, but not an actor, as he himself self-deprecatingly jokes in the film — is simply left to pull confused faces.
Despite that lengthy set-up, the villain's motivations are thinner than a boulder-flattened coyote. Al-G seems to be an all-powerful algorithm, but still insists on a game of basketball to decide everyone's fate, for reasons never made clear. Even less obvious, narratively speaking, is why every character who has ever appeared in a Warner Bros. film needs to be in there too. Having the Looney Tunes rub shoulders with the likes of Mad Max and Austin Powers is, frankly, a baffling choice: soul-suckingly unfunny for adults, and head-scratchingly confusing for children, for whom those characters will be totally unfamiliar. Spielberg did much the same vault-raiding only three years ago with Ready Player One (and with a lot of the same characters). At least with that film there were solid story reasons to include them all. This just feels like a two-hour advert. What on earth would Kubrick think of the droogs from A Clockwork Orange hanging out with Daffy Duck?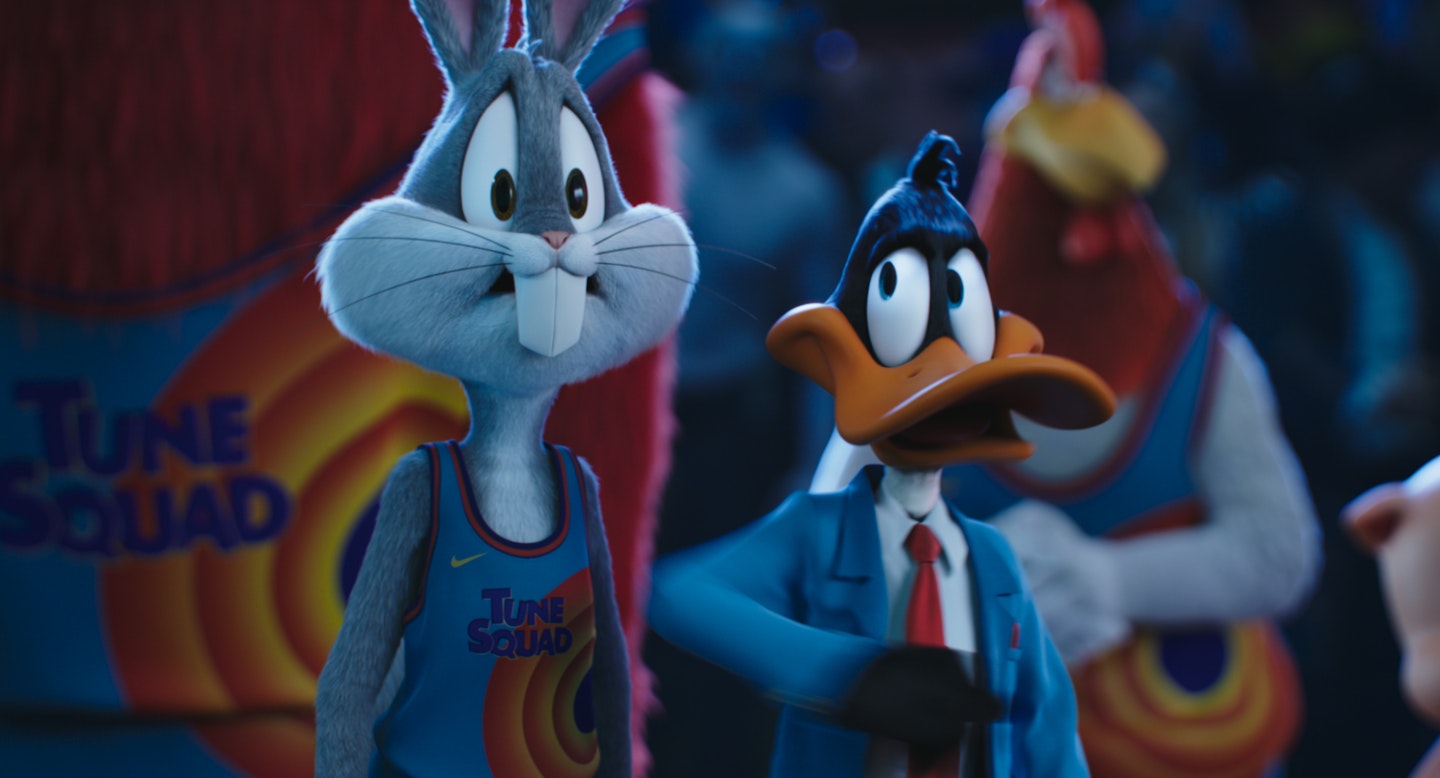 If there's one positive, the animation and effects are mostly impressive, thanks to the experienced Warner Animation Group flitting skilfully between the charming 2D style used by the Looney Tunes' recent TV revival, an uncanny 3D version when the characters are 'upgraded', and some dazzling CG bells and whistles during the climactic game itself. But the Looney Tunes series was always more than just inventive visuals — it was underpinned by good writing and sharp jokes.
Lessons about focus, success and family are all fine, but feel a bit like the kind of thing Disney would do and Looney Tunes would take the mickey out of. The cheeky, chaotic spirit of directors like Chuck Jones and Tex Avery seems lost, replaced by a slightly cynical boardroom-concocted corporate synergy. When it comes to the Looney Tunes, let's hope that's not all, folks.