Gothic unicorns. A Skittles advert. A magical pen named Steve. These are just some of the many, many weird (and not always wonderful) things that Shazam! Fury Of The Gods throws at you during its runtime — along with reams of nonsensical mythological exposition and relentless one-liners. It is a lot. Thankfully, this superhero sequel also has strong enough emotional threads to keep you invested.
We find Billy Batson (Asher Angel) attempting to corral and control his super-powered foster brothers and sisters, as they collectively fight crime, save lives, go viral, and gain the unwanted collective nickname 'The Philadelphia Fiascos'. Mary (Grace Caroline Currey) is busy working and studying; Pedro (Jovan Armand) is getting really into baseball; and Freddy (Jack Dylan Grazer) is off playing vigilante on his own, more empowered than the others by the freedom and strength his Shazam-ed self (Adam Brody) provides. Billy is nearing adulthood, which could mean leaving the foster system, and the thing driving him in this second film is the fear of losing the family that he found in the first.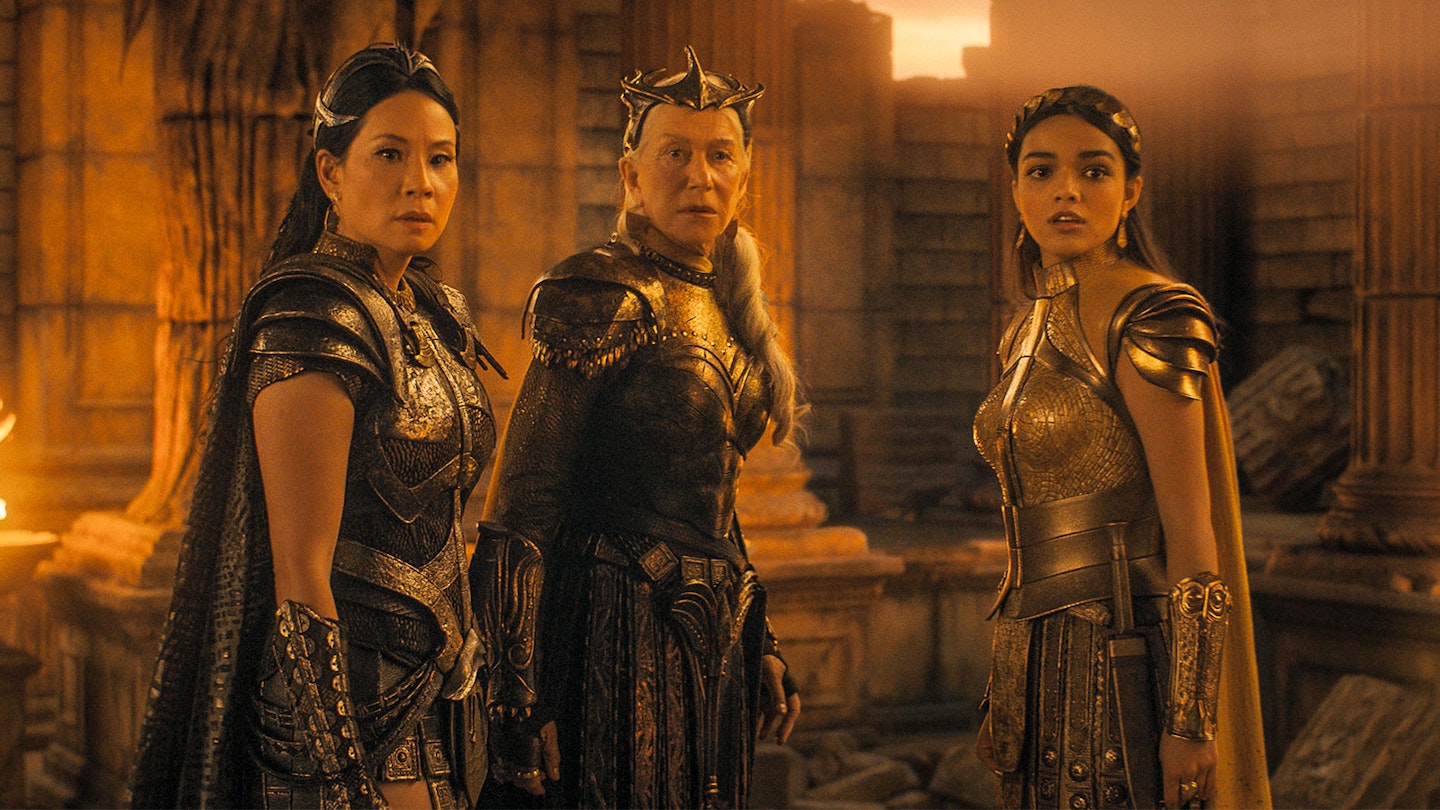 This theme of siblinghood is reflected in the antagonistic Daughters of Atlas, the titular furious gods, played by a truly divine Helen Mirren, an enjoyably aloof Lucy Liu and ever-magnetic Rachel Zegler. For reasons involving wizards, magical spheres and a golden apple – don't dwell on the extremely convoluted specifics any more than that – they want to steal back the powers of Shazam, so as to restore their own realm. As exhausting as their backstory is to follow, the juxtaposition of these stoic supreme sisters and their seismic, sometimes disturbing powers against the goofball humour and modern sensibilities of Billy and his gang is genuinely compelling. Mirren's completely straight-faced reading of a ridiculous letter is Fury Of The Gods' biggest laugh-out-loud moment.
Most importantly, Shazam! retains an ensemble that you can't help but root for.
The Shazam! sequel's main issue is the sheer amount of stuff in it. There's a certain charm to some of the fantastical invention on display, but most of it feels messy and disjointed. The dissonance between Angel's young, earnest Billy and Zachary Levi's manchild version is more noticeable than ever, exacerbated by the fact that almost all of Billy's major emotional beats are delivered via his Shazam self. But Grazer is still a standout – endlessly watchable as the childish but cocky Freddy, his chemistry with Zegler transcends their characters' fairly limited connection on the page.
Despite the information overload and occasionally more-miss-than-hit comedy, there are enough laughs, cool comic-book moments and heartfelt performances to make Fury Of The Gods a fun, frivolous watch. The CGI is consistent and the visuals, particularly in the Thor: Ragnarok-esque final act, are often impressive – but most importantly, Shazam! retains an ensemble that you can't help but root for. To paraphrase Vin Diesel in the Fast And Furious movies – which Levi's caped crusader namechecks at one point – Shazam! isn't about friends, otherworldly beings, or even being a superhero, really…It's about family.