The opening of Rose Plays Julie implies something a little bit more wistful than what its sombre subject matter ultimately delivers. "I think about you all the time, when we'll first meet," its eponymous protagonist Rose (Ann Skelly) muses. But the stark imagery immediately suggests something obsessive rather than longing. Writer-directors Joe Lawlor and Christine Molloy's deliberate obfuscations are clear from the start, as a lecture Rose sits in on is interrupted by flashes of what seems to be a dream, before revealing it's actually imagery from a TV show Rose has been watching. It soon becomes clear 'Ellen Wise', an actor in that work, is Rose's biological mother, who Rose begins to cyber-stalk. Learning that Ellen is selling her house, Rose poses as a buyer (breaking a no-contact clause in her adoption papers), before revealing her identity.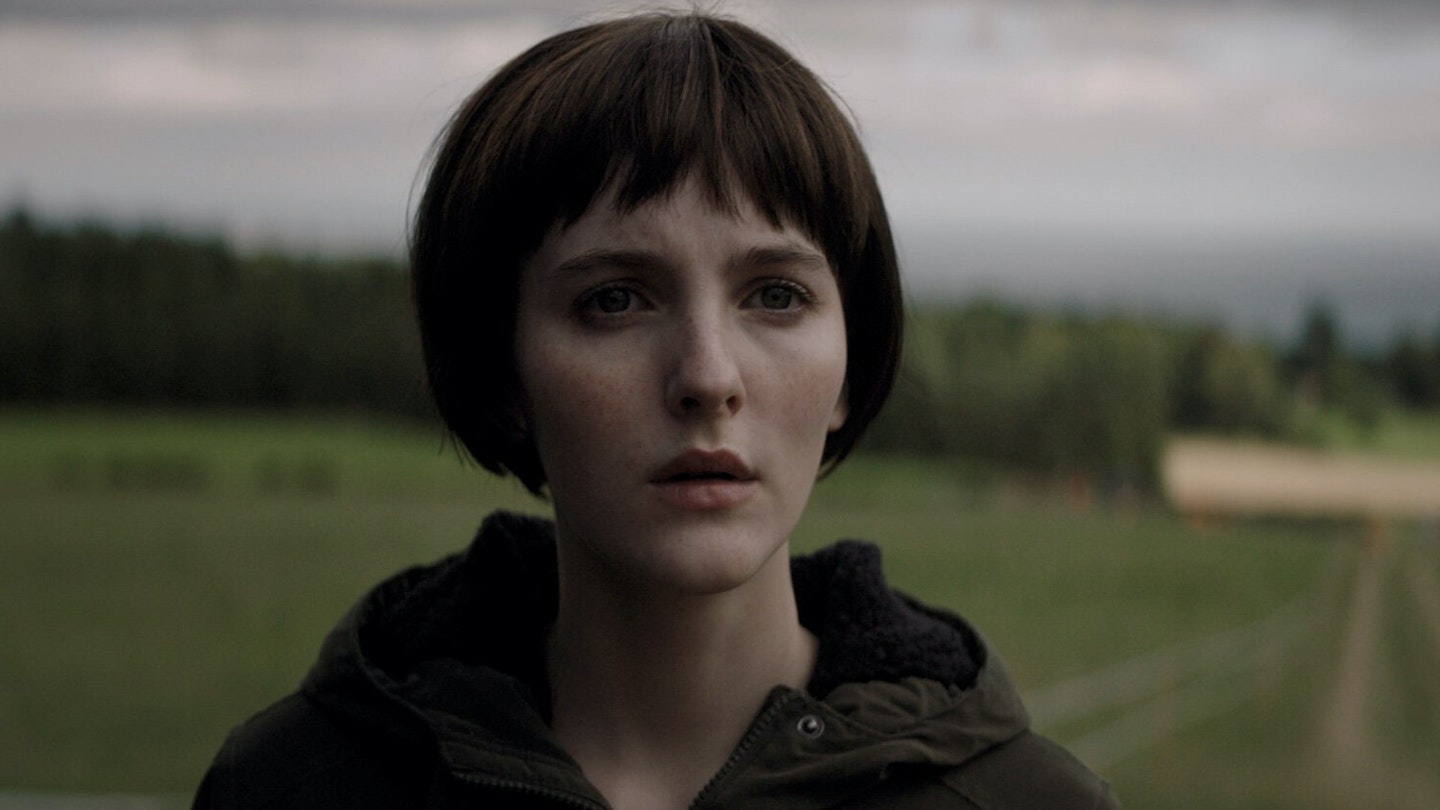 Rose's name on her birth certificate was 'Julie', and Rose treats 'Julie' as a sort of parallel life, wondering about the road not taken in a narration addressed to her biological mother. Rose isn't neglected by her adoptive family; perhaps just curious about what and who 'Julie' could have been, tying her sense of loneliness to a need to discover the story of her past. Rose begins to try to resolve her existential crisis by uncovering the hidden life of her biological parents, and dredges up horrible trauma that Ellen tried to leave behind. But finding out this even worse truth about the nature of her conception only makes Rose more obsessive.
Joe Lawlor and Christine Molloy portray increasingly traumatic subject matter with great sensitivity.
That fixation is unsettling, a feeling compounded by the film's lingering, glacially patient camerawork, moving so slowly to the point of near-stillness, with a chilly colour-palette occasionally disrupted by sudden flashes of red, whether that's the blood of a dissected animal or the broken nose of a college age-creep. That unnerving, sometimes uncanny tone translates to its excellent sound design, with evocative howling winds and rumbling white noise. The tone later becomes uncomfortably suspenseful as Rose then tracks down her biological father (Aidan Gillen, creepy and pathetic), a renowned celebrity archaeologist, and begins her own excavation of the past. Distinction between memory and fiction is left subjective and blurry, with frequently transgressive and disturbing imagery. Even so, to their credit, Lawlor and Molloy portray its increasingly traumatic subject matter with great sensitivity.
It's a character drama thoroughly concerned with performance — Ellen having become an actor following her trauma, first seen in the film playing roles with authority, using it to maintain a sense of control. Rose also gives the sense that 'Rose' and 'Julie' are equally ephemeral roles to play, and leverages this to deceive her father. Rose is no stranger to performance, frequently burying her turmoil, but Ann Skelly frequently shows cracks in that facade — her emotions are usually clear, her intentions less so. It's a subdued but complicated performance, to match an equally thorny and subversive film.