"He chooses the memory of her. That's why he turns. He doesn't make the lover's choice, but the poet's." Marianne (Merlant) is interpreting the Greek myth 'Orpheus And Eurydice', which Héloïse (Haenel) is reading aloud to Marianne and Sophie (Luàna Bajrami). The three young women are sitting in the candlelit kitchen of the castle home owned by Héloïse's mother La Comtesse (Golino), and the vibes are very '18th-century girlie sleepover', with all the late-night intimacy of such a setting.
Portrait Of A Lady On Fire is about a private love language created by two women and the works of art, literature and music that help it to find its fullest expression. The artworks that helped them to intimately know each other become part of their private love language forevermore. Like in Paul Thomas Anderson's Phantom Thread, which is full of secret messages, only obvious once you know where to find them, this glorious, spare and heartfelt story is about lovers coding their feelings onto worldly things, and the dance of desire that precedes the birth of love.
It is the fourth feature by French auteur Céline Sciamma as director, coming after Water Lilies, Tomboy and Girlhood, although her writing credits are more numerous and include the animated heartbreaker My Life As A Courgette. Her recurring obsession is with marginalised people, who are often queer, and their social microcosms at times of palpable discovery and growth. Stories are driven by naturalistic events, but powered by emotions too huge to ever be fully articulated. Portrait Of A Lady On Fire is both a natural progression in Sciamma's work and a formal departure of existential consequence, for the story it tells is framed as a memory, bookended by two scenes from a future time. As such, the audience perceives the story as both a real-time event, and a treasure from the past.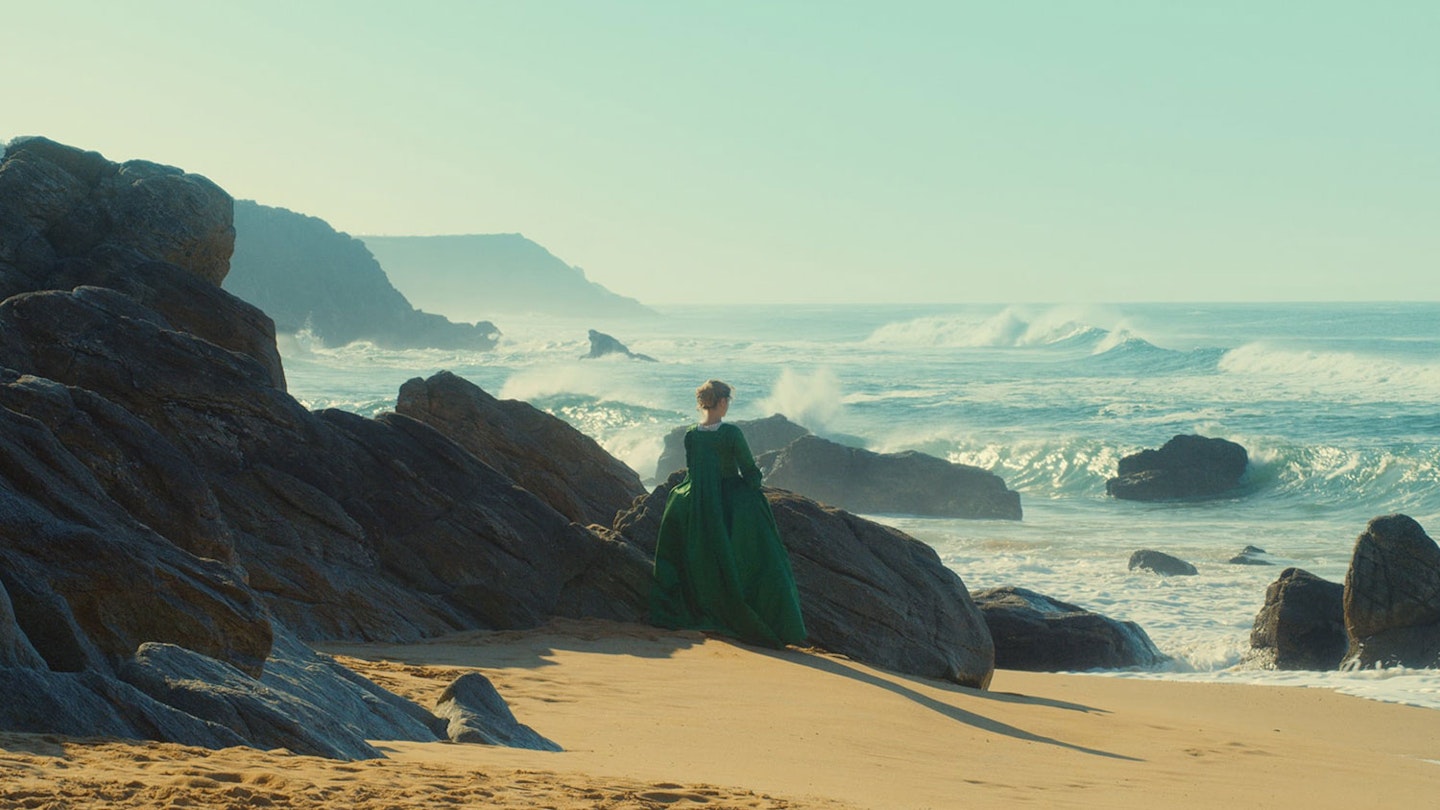 Marianne is a painter employed by La Comtesse to secretly craft a likeness of her daughter. The secrecy is necessary as Héloïse refuses to have her portrait painted. La Comtesse instructs Marianne to pose as a walking companion, and via this subterfuge she becomes close enough to gain visual insights for the portrait that will be sent to Héloïse's soon-to-be husband, a Milanese nobleman. The wedding cannot go ahead without the portrait, and this is exactly why Héloïse refuses to pose for it. She does not want to be married.
It is through Marianne that Sciamma frames this tale. We do not see Héloïse until 20 minutes have gone. The first thing she does is run as fast as she can towards a cliff edge, with Marianne in anxious pursuit. "I've dreamed of that for years," she says, stopping right on the edge, then whipping round so that her face is visible for the first time. "Dying?" asks Marianne, for Héloïse had a sister who jumped off a cliff to her death. "Running," says Héloïse.
From this very first moment, the rapport between the ladies is intense. Of Sciamma's many strengths, it is her screenwriting that lays the rhythm of this tale. She is in no hurry to take the romance to a place of heated declaration and sexual exploration. Her focus is on developing each character in tandem, so their connection and mutual trust unfolds by careful increments through spending time together walking by the sea and gravitating towards each other inside the castle, like two magnets.
This is not just a story of women wanting each other, this is a story of women wanting to helping each other to survive womanhood. Sciamma petitions for a love that leaves you buoyed, rather than destroyed.
In one key bonding scene Marianne hammers out a keyboard version of Vivaldi's Four Seasons. Héloïse is rapt, having never 
heard music like that before. This is the point where Marianne becomes, to her, an expansion of the known world, a source of rapturous knowledge and sensation. Formerly a convent girl, she is now a princess imprisoned in a tower, miserable about her fate of marriage, yet always defiantly more than a victim of circumstance. Adèle Haenel has a fiery, tomboyish stomp-walk that undercuts her blonde hair, blue eyes, rosebud mouth and ladylike dress. She has an unflinching sass that Sciamma knows how to frame, letting these qualities grow starker as the central relationship deepens in intimacy.
This is a film about the female gaze, powered by the women behind the camera and the ones in front of it. Héloïse and Marianne are always looking dead-on into each other's eyes, ready to return every serve, drinking in everything, never growing tired of what resides inside each other. Claire Mathon, who also shot Mati Diop's visually glassy Atlantics, shows her versatility by turning in one crisp and precisely framed image after the other. Her images set off Dorothée Guiraud's costume design. Certain colours pop: the steel blue of the sea which matches Héloïse's eyes; the jade green dress she wears for her portrait; the dark hickory found also in Marianne's quick, twinkly eyes.
The length of time it takes for Héloïse and Marianne's desire to come to fruition — that folds in a deft revelation of and then resolution to Marianne's duplicity — means there is scope to include an element of maid Sophie's story. La Comtesse goes away for three days. In this ticking timeline everything of significance happens. Much like teenagers enjoying a free house, Marianne, Héloïse and Sophie do what they gotta do over these days, before stricter life resumes. They cook for each other, play cards, and try all manner of remedies to help Sophie to abort an unwanted pregnancy. The way the abortion storyline is handled drums up camaraderie and friendship. This is not just a story of women wanting each other, this is a story of women wanting to helping each other to survive womanhood. Some types of desire lead to one partner dominating or obliterating the other. Sciamma petitions for a love that leaves you buoyed, rather than destroyed.
Sciamma also petitions for the value of going the poet's way. This film by its very existence is proof of the art that can be created if you rescue the romance from what has been, even if it no longer is. She uses only two pieces of music, each of which punctuates the silence with a frenzy of emotion comparable to the feeling of self-annihilation that comes with romantic ecstasy.
This film chimes philosophy-wise with Terrence Malick's A Hidden Life. Both agree that romantic love is not about possessing the other at any cost, but about finding a shared poetic ideal and letting events unfold as they will, safe in the knowledge that what was never corrupted still exists in its full incendiary form, ready to burst into flame on contact with Orpheus and Eurydice or Vivaldi or every book with a page 28.