Streaming on: Netflix
The rare film from Adam Sandler's cheap-and-cheerful Netflix stable to get a sequel, this is really More Of The Same, squared. If you've ever seen a Sandler comedy in the last decade, you'll know exactly what to expect from Murder Mystery 2, and frankly if you've ever seen the original Murder Mystery, you'll have a pretty good idea of how things will play out. This is a quite straightforward, by-the-numbers, Golden Retriever puppy of a film: stupid, basic, sometimes annoying, sometimes lovable, hard to truly hate.
An efficient 'Previously on...' pre-title montage gives a quick clip-show precis of the previous film, and sets up husband and wife Nick (Sandler) and Audrey (Jennifer Aniston, as charismatic as ever) embarking on their new lives as private investigators, desperate for a murder to solve. Naturally one falls into their laps soon enough when they are invited to the lavish wedding of returning character Vikram (Adeel Akhtar, in a very different cinematic romance to his role in Clio Barnard's Ali & Ava).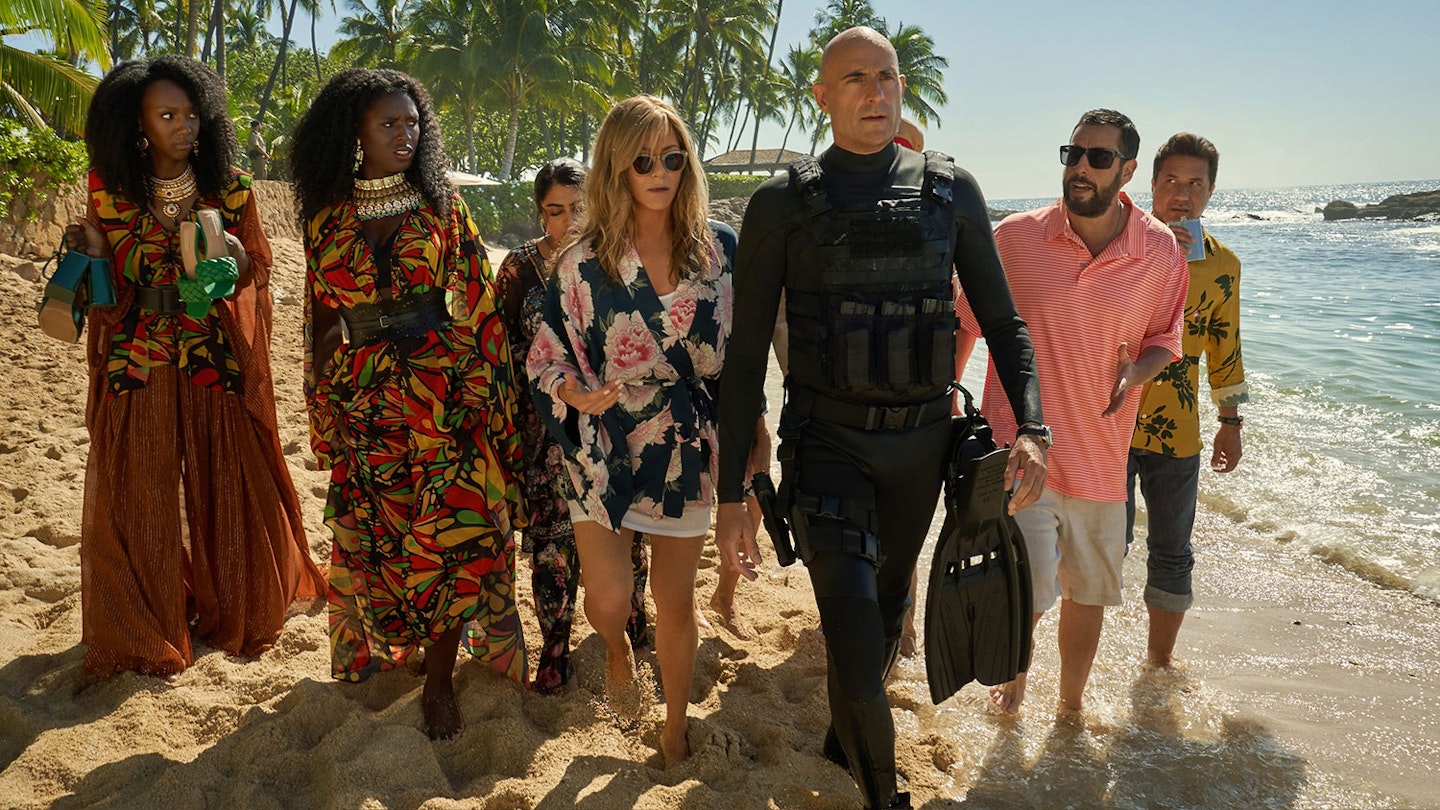 Thus begins an extremely loose spin on an Agatha Christie mystery, in which everyone is a suspect, everyone has a motive, and everyone has an opportunity. It is perhaps unfortunate that this film's release date comes within spitting distance of a Rian Johnson Benoit Blanc outing, which sets the gold standard for a whodunit-with-a-comic-twist: Glass Onion is far funnier, far more enigmatic in its mystery, far more subversive in its approach. But that's, admittedly, an unfair comparison.
This is just another vehicle for Sandler to do his well-oiled schtick with his pals.
Sure, there is a mystery here, a surprise killer reveal, and an extra twist for good measure. But really this is just another vehicle for Sandler to do his well-oiled schtick with his pals, directed with a near-obstinate lack of imagination (a trip to Paris is introduced, inventively, with establishing shots of the Eiffel Tower, the Moulin Rouge, and the Louvre, in that order). The comedy, like the first film, is almost proudly first base: the couple awkwardly attempt to dance at an Indian wedding, get obsessed with some nice cheese, and make some cheap remarks about bionic penises. It is almost defiantly childish.
The hit rate for gags, by default, is never more than intermittent, then. But whether shooting with two guns while sticking his tongue stuck out, or whisking himself and his ensemble from one glamorous location to another, Sandler is clearly relishing living his best life — comedy filmmaking as pure wish fulfilment — and he's in a stage of his incredibly prolific career that it's actually hard to truly begrudge him. In any case, with a blunt, prosaic title like that, what else would you expect?