When you're working with very few ingredients you have to be sure they're of the highest quality. Finch has just three elements: Tom Hanks, a dog, and a robot that's doing its best. If that combination doesn't appeal then you're not going to get much from this movie, but how on earth could that not appeal? This is a simple, mildly schmaltzy tale about unconditional love and learning to trust, and it is thoroughly charming.
In a future America, the ozone layer has become so depleted that being outside in the day is fatal. The global population has been decimated. Engineer Finch (Hanks) has managed to stay alive thanks to his superior scientific knowledge. He's built a safe(ish) bunker and robot assistants. He has nobody left in the world except his dog, Goodyear (Seamus). Radiation poisoning is gradually killing Finch and he knows it. Determined that his dog won't be left alone, Finch resolves to build a robot smart enough to take care of him when he's gone.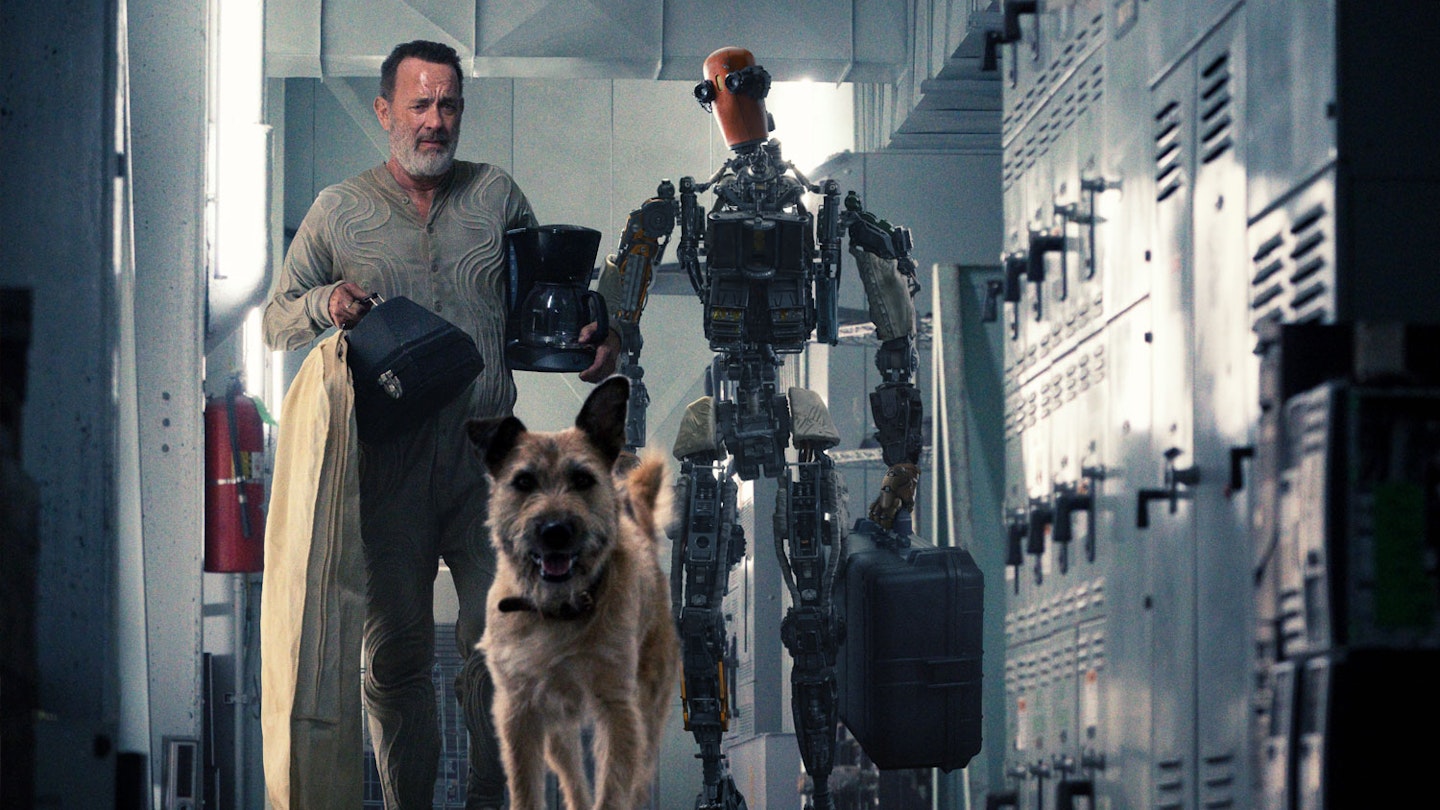 Director Miguel Sapochnik is best known for his enormous battles in Game Of Thrones. If there was war, he was the man to direct it. Here, he shows he's just as good with a much smaller canvas. His scenes in the post-apocalyptic wasteland are epically beautiful, but his intimate scenes are full of feeling. The impressively realised robot, Jeff (Caleb Landry Jones), is a well-meaning innocent who is seeing the world with wide-eyed wonder, while Finch has seen it all too much. The development of that relationship, as Finch learns to surrender control and accept help after years of distrusting everyone but himself, is sweetly played. Hanks, of course, is a master at simultaneously conveying world-weariness and hope. There are some subtle plays in Landry Jones' vocal performance too. He starts out sounding non-specifically European, like a Moore-era Bond villain, developing hints of an American twang as he spends more time with Finch. It's a smart way of indicating his cognitive development. Seamus' performance is impeccable.
Finch hits most of the notes you'll be expecting, but that's also largely what you want from this sort of film: laughs, several medium to large cries, and lots of bits with a dog.