After roughly 125 years of cinema, you'd think the movies might have run out of ways for American kids to lose their virginity. But, happily not. Richard Wong's Come As You Are finds a new twist on the staple by filtering the action through the hopes and horniness of three very different disabled men. Based on a documentary and the 2011 Belgian flick Hasta La Vista (itself inspired by the real-life exploits of Asta Philpot, who appears in the end credits), it's a familiar but winningly played, compassionately made argument that sex is an experience that should be available to everyone.
Cleaving close to the Belgian original, Erik Linthorst's script economically introduces its likeable trio. Twenty-four-year-old Scotty (Grant Rosenmeyer) is a quadriplegic, hot-headed wannabe rapper, who's completely dependent on his mom (Janeane Garofalo) and has the major hots for physiotherapist Becky (Daisye Tutor). Scotty is angry with his lot, and his ire is raised further when wheelchair user Matt (Hayden Szeto) takes his slot with Becky. Matt is an ex-athlete — Scotty dubs him 'Biceps' — who is over-protected by his parents (C.S. Lee, Jennifer Jelsema). The third member of the group is Mo (Ravi Patel), a gentle, 30-something, blind therapy-centre worker who we meet cracking onto a long-haired man on a bus. When Scotty learns of Le Chateau Paradis, a brothel that specialises in the sexual needs of the disabled, he presents it to Matt and Mo as a once-in-a-lifetime opportunity, both in terms of cherry-popping and escaping the trappings of their lives. Hiring care assistant Sam (Gabourey Sidibe, who brings some no-nonsense counterpoint) to drive them, 'Operation Copulation' is on.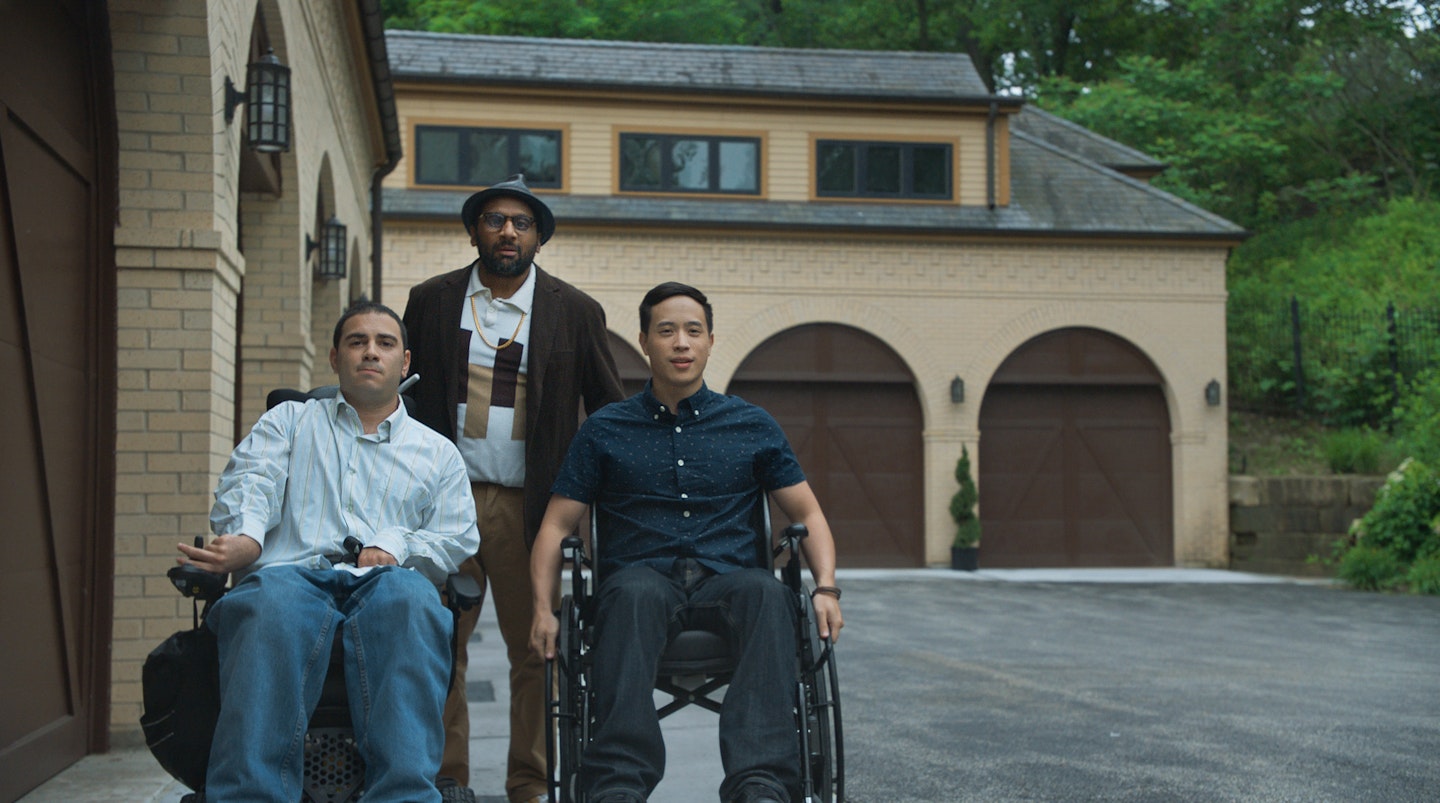 Once Come As You Are hits the road, it engages in some obvious road-movie high-jinks. Of course, at one point blind Mo has to drive the van and is pulled over by the 5-0 ("We're not drug mules, we are virgins"). There's a visit to a strip joint, a barroom brawl, a misguided attempt to buy a porno mag and some honest-to-goodness testicle-shaving, all with the parents in hot pursuit. But in-between the set-pieces, Wong and his cast evince a nice sense of warmth and character that elevates it from standard let's-get-laid antics. It will understandably get criticism for casting able-bodied actors to play disabled characters, but elsewhere it is an inclusive film, with a real feel for people who want to be perceived as sexual by a world that deems them not.
Rosenmeyer (who also acts as co-producer), Szeto and Patel do a good job in breathing life into their potentially stock types — the rebel, the jock, the nerd — and generate real rapport in both the arguments and the quieter moments — there's a lovely scene between Patel and Sibide as he 'reads' her tattoos running her fingers along her arm.