If someone had gone up to space before 2020 kicked in, and you knew they were going to return to, well, all of this, would you contact them and tell them not to bother coming home? That's – more or less – the predicament faced by George Clooney in The Midnight Sky. The upcoming Netflix sci-fi drama is directed by the man himself, and he also stars as Augustine – an Earthbound scientist desperately trying to get in touch with the Aether space ship (led by Felicity Jones' Sully) to let them know that Earth has turned into a post-apocalyptic wasteland since they blasted off to the stars. Except, contacting them means a treacherous arctic journey to a massive satellite powerful enough to get their message into the solar system. Watch the trailer here.
Arriving just in time for Christmas – it streams from 23 December – The Midnight Sky is clearly going to be Netflix's main winter blockbuster, and the production values here look impressive. While post-apocalyptic stories might not be everyone's cup of tea right now, this looks both exciting and emotional, with a top cast rounded out by the likes of David Oyelowo and Kyle Chandler. The film comes from a screenplay by Mark L. Smith, adapting Lily Brooks-Dalton's novel Good Morning, Midnight. Check out the new poster here, with Clooney's impressive beard in profile.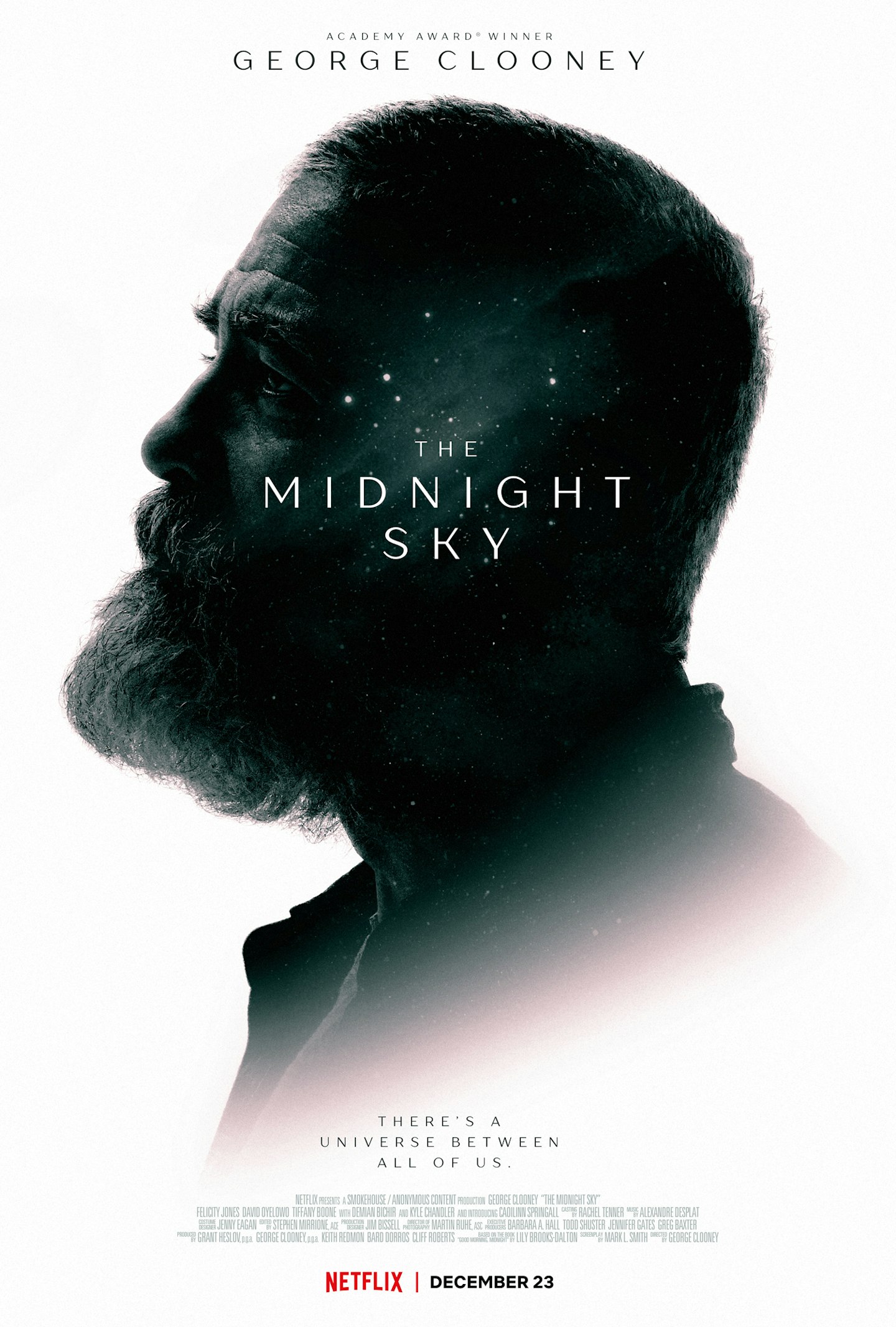 "You know, when I got the script, there was already this feeling of climate change, of anger and hatred, the kind of undercurrents that do destroy society," Clooney told Empire in a recent issue. "So it didn't feel too far from home that if you play that out, in 20 years, this could be the outcome, that it's all man-made. It's the Cassius line: 'The fault, dear Brutus, lies not in the stars but in ourselves.' It's that – the idea that we cause these problems. And we can fix them. After finishing shooting and starting to edit, the world blew up with this virus, of course. Quite honestly, in some ways, it's still man-made, even though the virus isn't. The reaction to it has been less than stellar and made it worse – at least here in the United States."
Here's hoping The Midnight Sky feels more fiction than fact in the coming months – and get ready to stream the film on 23 December.