If you've seen Vampire's Kiss, you know that combining Nicolas Cage and blood-sucking fiends can make for an explosive performance. In 2023, he's about to play cinema's greatest vampire, Dracula himself, in Chris McKay's Renfield – a horror-comedy that takes the characters of Bram Stoker's novel and relocates them to present-day New Orleans with a stellar cast and a romcom twist. While that film's title role goes to Nicholas Hoult, playing Drac's long-suffering lackey who falls for Awkwafina's traffic cop, the biggest draw here will be seeing Cage take on the Count once and for all.
For Empire's Greatest Actors issue, we were invited (a key component of all vampire lore) for a wild day at Cage's Las Vegas home, talking about his career, his craft, his mind-boggling menagerie of animals – including Merlin the Maine Coon cat and Bruce Lee the Chow Chow – and what's in store in Renfield. The answer, as ever with Cage, is not quite what you expected. "When I got a sense of where McKay wanted to go, I realised the movie has a comedic, pop art attitude," he teases. "So I thought: 'This will be a pop-art Dracula.' Warhol did a great black-on-black Dracula. This is in that Warhol vein."
As with his wild performance in Vampire's Kiss, for Renfield Cage went back to the source of all iconic vampire depictions on screen – 100-year-old German expressionist masterpiece Nosferatu. "I noticed all these little gestures that are, by today's standards, 'over the top'," says Cage. "When Max Schreck does that [snaps his wrist and extends his fingers] and puffs into smoke, I was like, 'What is that? Is it dance? What is he conveying there?'" Cage tried to channel similar mannerisms into his own performance – though whether they make the final cut remains to be seen. "I said to Chris McKay that I really wanted to find a place to put that in Renfield. I haven't seen the movie so I don't know if they kept it, but I tried. It's a largely studio picture so I wanted to play with: 'What can I get away with here?' If you're playing Dracula, you have a lot of latitude." Stay tuned: a fresh internet-breaking Nicolas Cage performance might just be on the way.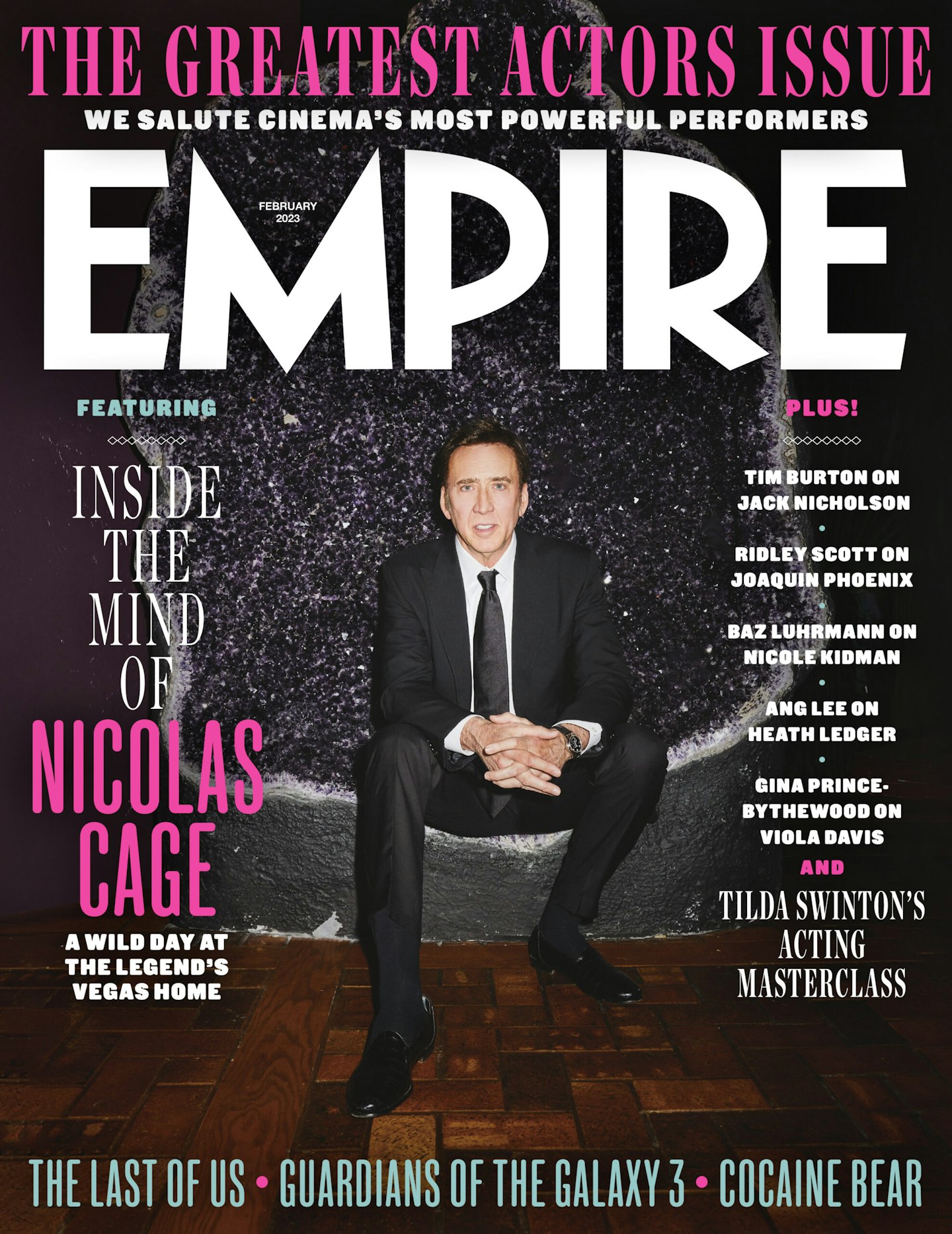 Read Empire's full career-spanning Nicolas Cage interview in the 50 Greatest Actors issue – celebrating the greatest on-screen talent of all time, as voted for by you. As well as spending a day with Cage in Vegas, we get an acting masterclass from Tilda Swinton, celebrate iconic performances with the directors who captured them – including Ang Lee on Heath Ledger and Ridley Scott on Joaquin Phoenix – and much, much more. Find the issue on newsstands from Thursday 22 December, or pre-order a copy online here. Renfield is due to hit cinemas on 14 April 2023.
Nicolas Cage shot exclusively for Empire by Sam McGuire on location at his home on 28th Nov 2022. Grooming by Pamela Warden.