In the Marvel Cinematic Universe, stories of Black Panther have so far focused primarily on the character of T'Challa – from his introduction in Captain America: Civil War, through to groundbreaking solo outing Black Panther, and into Avengers: Infinity War and Endgame – as he took over the mantle from his fallen father King T'Chaka. But following the tragic loss of Chadwick Boseman, Ryan Coogler's sequel Black Panther: Wakanda Forever will be a very different kind of Black Panther movie – one without T'Challa at its centre, though still very much about his legacy. Marvel made the decision not to recast the role, and instead find a different approach for the sequel and the ongoing story of Wakanda – a move taken to honour Boseman. But the choice has also seen pushback, with some fans concerned that Marvel no longer telling stories with T'Challa might diminish the importance of a character who has come to represent so much to so many.
Speaking to Empire in our world-exclusive Black Panther: Wakanda Forever cover feature, Marvel boss Kevin Feige opened up on the decision not to recast T'Challa. "It just felt like it was much too soon to recast," he says, likening their approach to Marvel's long-standing ethos in the comics. "Stan Lee always said that Marvel represents the world outside your window. And we had talked about how, as extraordinary and fantastical as our characters and stories are, there's a relatable and human element to everything we do. The world is still processing the loss of Chad. And Ryan poured that into the story."
Once Feige and Coogler figured out where they wanted to go, they got back to work on making a sequel that really mattered. "The conversations were entirely about, yes, 'What do we do next?'" Feige explains. "And how could the legacy of Chadwick – and what he had done to help Wakanda and the Black Panther become these incredible, aspirational, iconic ideas – continue? That's what it was all about." We'll find out exactly how Wakanda Forever honours that legacy in just a few weeks' time.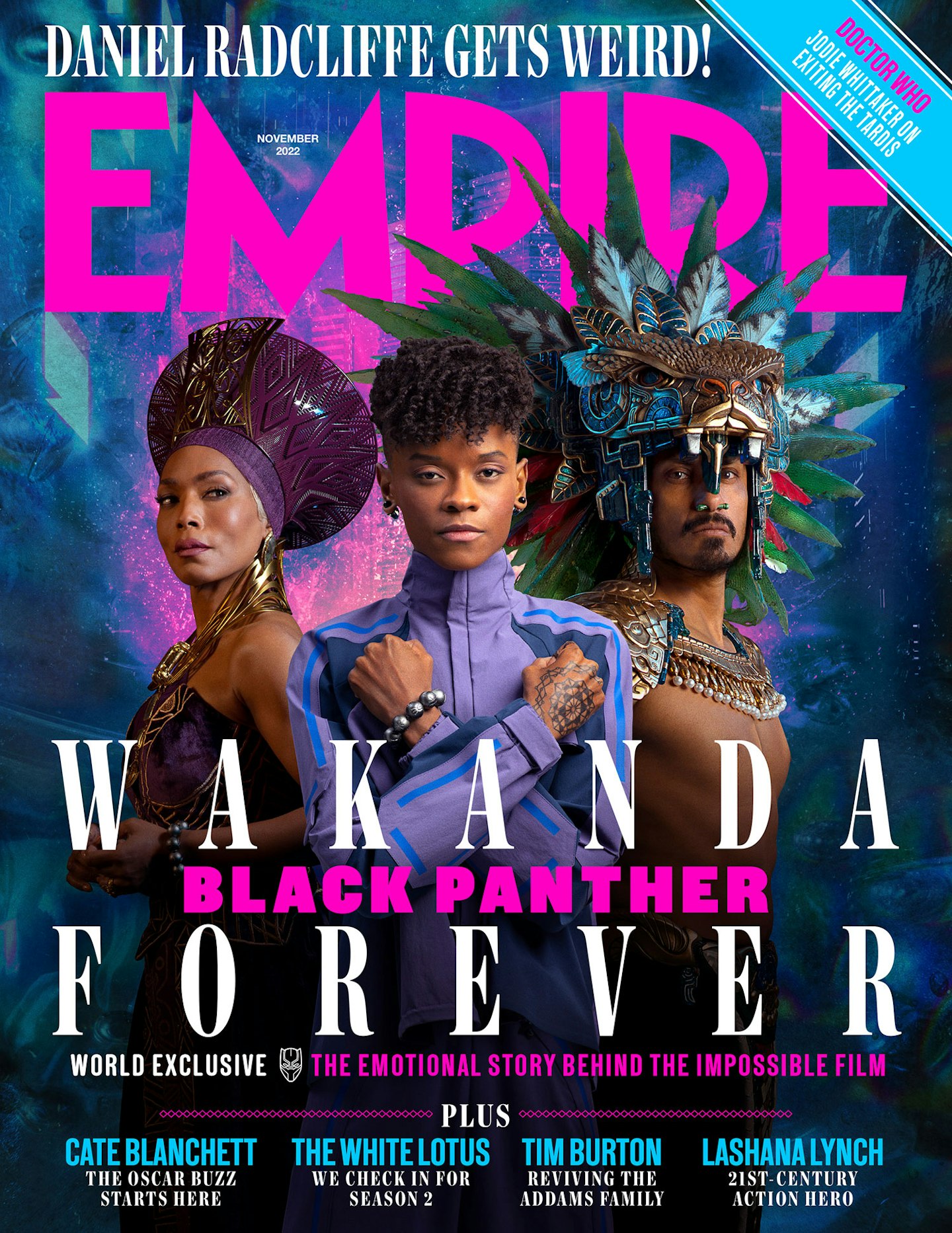 Read Empire's full world-exclusive Black Panther: Wakanda Forever feature – with the complete story on a film with all the odds stacked against it, featuring never-before-seen images and brand new interviews with director Ryan Coogler, Marvel boss Kevin Feige, stars Letitia Wright, Lupita Nyong'o, Danai Gurira, Angela Bassett, Winston Duke, Dominique Thorne, Tenoch Huerta, and more – in the November 2022 issue, on sale Thursday 29 September. Pre-order a copy online here now. Black Panther: Wakanda Forever is due in UK cinemas from 11 November.