As Star Wars Day – aka May the Fourth – comes around in 2023, it's now around three and a half years since a new Star Wars movie graced the big screen. When Episode IX – The Rise Of Skywalker hit cinemas at the end of 2019, it marked not only the end of the Skywalker Saga, but also a hiatus for the movie side of Star Wars storytelling. The focus moved to hit streaming series like The Mandalorian and Andor on Disney+, and the birth of the High Republic era in a series of novels and comics. But plans are afoot for the galaxy's glorious return to cinemas – Lucasfilm president Kathleen Kennedy recently confirmed plans for three new films at Star Wars Celebration, with The Force ready to awaken on the big screen once more.
Now, it's a question of when those three upcoming movies are expected to arrive – and, as Kennedy tells Empire, that's simply a case of when they're ready. "I've often brought up Bond," Kennedy tells us at Star Wars Celebration. "That's every three or four years and there wasn't this pressure to feel like you had to have a movie every year. I feel that was very important to Star Wars. We have to eventise this." The simple answer is, nothing is likely to hit the multiplexes until at least 2025. "It's much better to tell the truth," she says, "that we're going to make these movies when they're ready to be made, and release them when they're ready to be released."
As for what those films are about, they're set across a wide span of the Star Wars timeline. James Mangold is directing a film about the first Jedi and the discovery of the Force, set 25,000 years before the Skywalker Saga. Dave Filoni will continue the Mando-verse era in a big-screen event. And Sharmeen Obaid-Chinoy will bring back Daisy Ridley as Rey, in a film set 15 years beyond the end of Episode IX. It's all about looking into the wider lore and legacy of the Jedi belief system. "What we're exploring is the evolution of the Jedi," Kennedy confirms. "We're going very far back, we're looking at the present, and now we're moving 15 years after The Rise Of Skywalker. The First Order has fallen, the Jedi are in chaos – there's even a question of how many exist anymore – and Rey's building the New Jedi Order, based on the text that she was given and that Luke imparted on her." The Force will be felt for many years to come.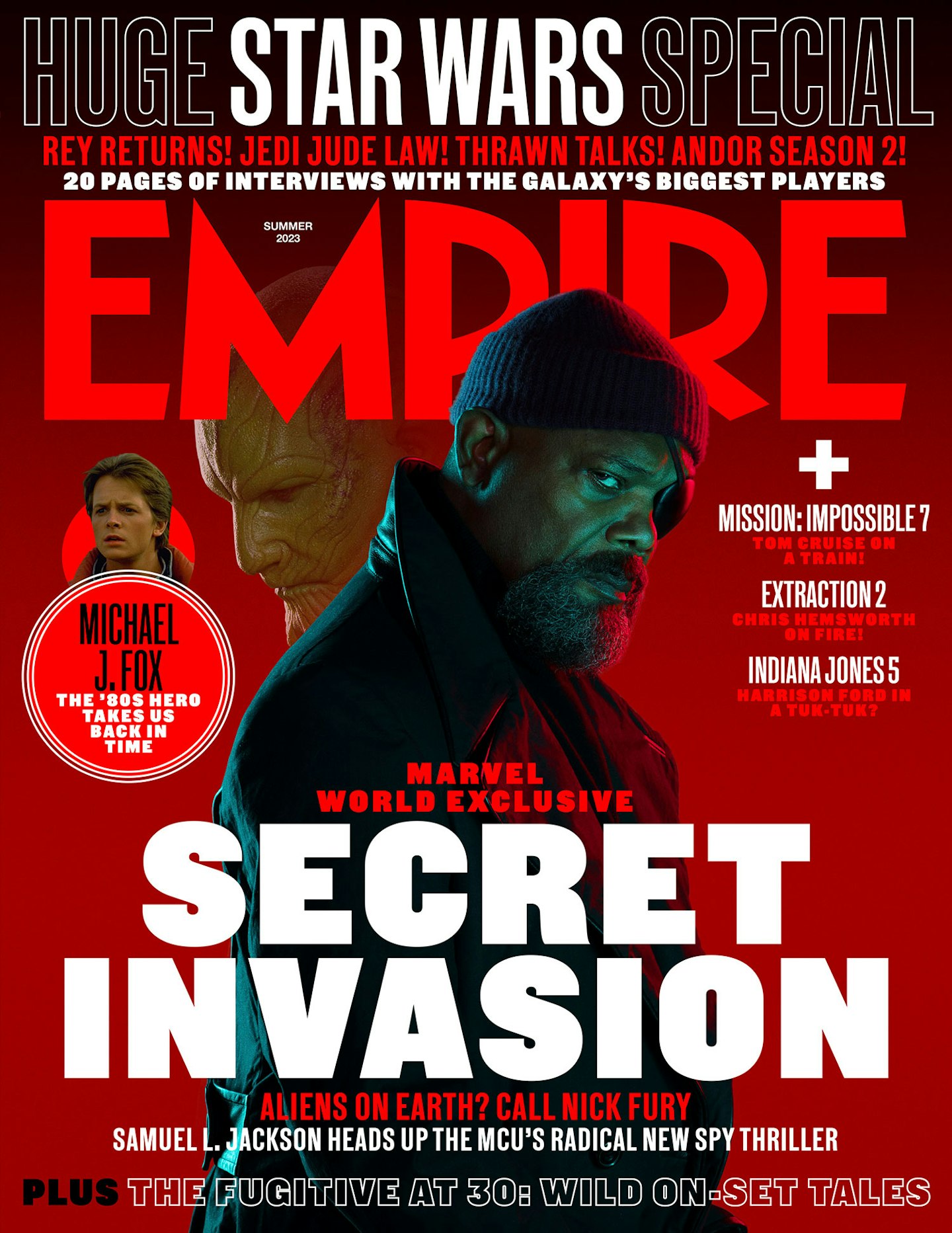 The upcoming Secret Invasion issue of Empire features a massive 20-page Star Wars blowout, getting stuck into the future of the saga with huge new interviews, and photoshoots with the galaxy's brightest stars – talking to Kathleen Kennedy, Dave Filoni, Rosario Dawson, Tony Gilroy, Diego Luna, Jude Law, Katee Sackhoff, Mary Elizabeth Winstead, Andy Serkis, Amandla Stenberg and plenty more. From Ahsoka, to Andor Season 2, to The Mandalorian, The Acolyte, and the trio of upcoming movies, it's an expansive trip through everything Star Wars has to offer in the coming years. You won't want to miss it – pick up a copy when it hits the shelves on Thursday 11 May, or become an Empire member now to access the issue in full on launch day. You can also pre-order a print copy online now here.
Kathleen Kennedy portrait photographed by Zoe McConnell exclusively for Empire at Star Wars Celebration at ExCeL London. Set build by Simon Godfrey Design.