When you look back at the original Jurassic Park, it's understandable that the dinosaur set-pieces got the most attention. But beyond the T. Rex rampages and vicious Velociraptor attacks, there's another reason why Steven Spielberg's 1993 adventure remains such a classic: the human characters. The film's central trio of paleontologist Dr. Alan Grant (Sam Neill), paleobotanist Dr. Ellie Sattler (Laura Dern) and chaotician Dr. Ian Malcolm (Jeff Goldblum) have a certain magic to them – with magnetic performances, ever-shifting character dynamics, romantic tension, comedic chemistry, and a sense of three ordinary (but very smart) people caught up in the most extraordinary of situations.
Now, they're all back together for the first time since that original film in this summer's Jurassic World Dominion, joining Chris Pratt's Owen Grady and Bryce Dallas Howard's Claire Dearing. While Ian Malcolm took centre stage in The Lost World: Jurassic Park (also popping up in Jurassic World: Fallen Kingdom for a brief cameo), and Alan Grant was the lead in Jurassic Park III (with a small supporting appearance from Ellie Sattler), they've not shared the screen since. This is a reunion 29 years in the making. And they're not just cameos – we're talking major roles.
While director Colin Trevorrow had worked previously with Goldblum, he met personally with Dern (over lunch in Santa Monica), and Neill (at the Sitges film festival in Spain) to try and convince them aboard. "At the beginning of that, [Neill] probably was looking at me with a certain amount of skepticism and side-eye," says Trevorrow. "I'm not Steven Spielberg. I never will be. And so I really had to start from scratch in convincing these people that I was going to be able to guide them through the return to these characters that mean so much to them."
As it turned out, Trevorrow needn't have worried. For Neill, Spielberg was exactly the comparison. "That's the guy he reminds me most of. And I don't say that lightly – I really don't," he says. "He's inventive, enthusiastic, always energetic." Dern, too, felt the magnitude of the proposed reunion. "Colin was really keen to make it matter," she says. "We discover what it would feel like if these three characters came back together, and how they would feel about each other. And it's delicious."
Beyond the legacy cast, there's also the major return of animatronic dinosaurs – including the adorable baby Nasutoceratops that Dern's Sattler is tending to in the above exclusive image. The actor was keen to get just as hands-on as her character. "I may have begged at one point to participate in the slime-brushing," she laughs. "The slime-managing…" Despite all the human star power, Neill sees his prehistorical pals as the MVPs. "There's no question this is a dinosaur show," he says. "And it's these fantastic creatures that have been made that are going to be the stars."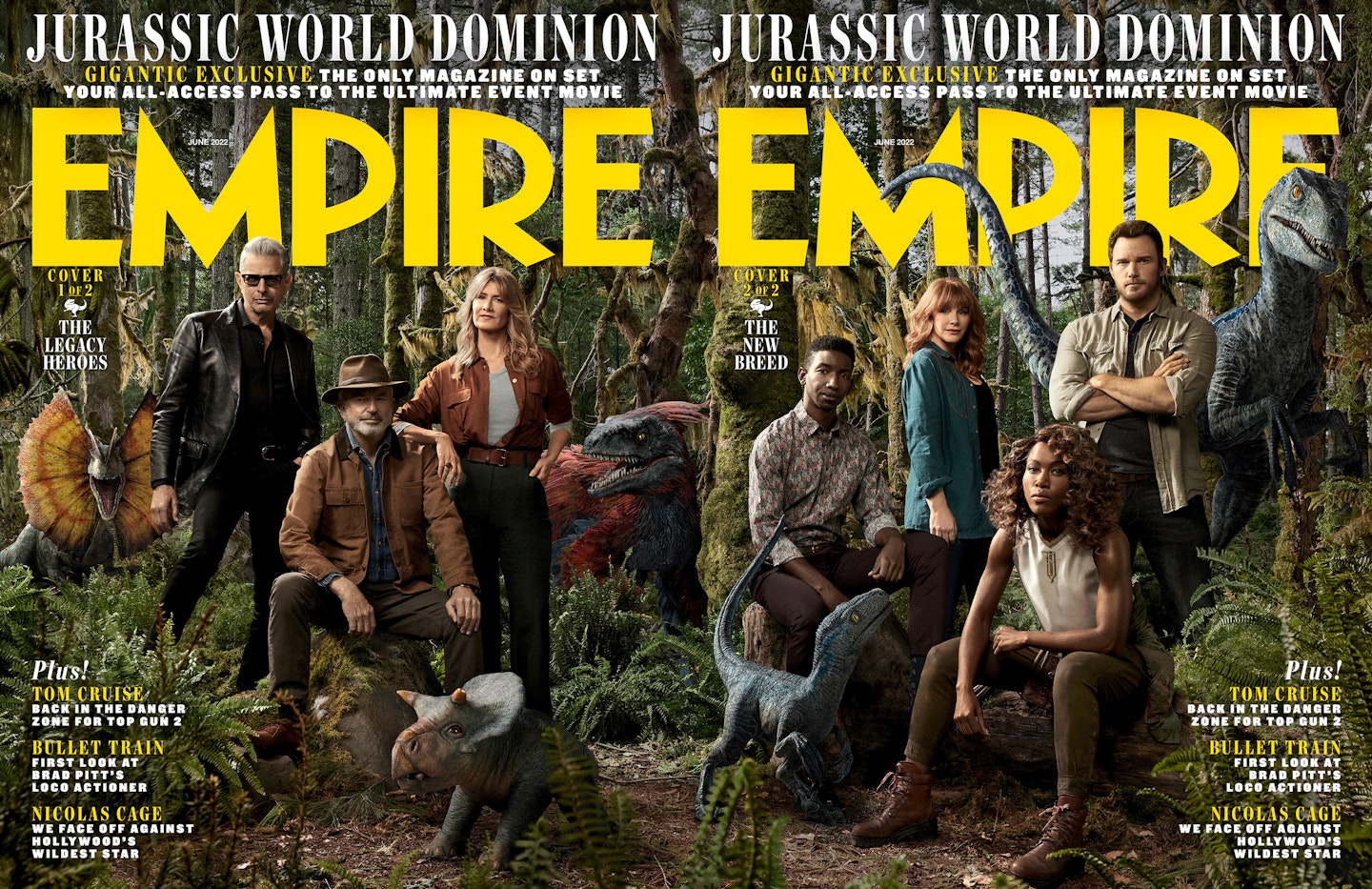 Read Empire's full Jurassic World Dominion world-exclusive – going on set and talking to Trevorrow, Pratt, Howard, Dern, Goldblum, Neill, DeWanda Wise, Mamoudou Athie, and more, with brand new images – in the new issue, on sale Thursday 14 April and available to pre-order online here. Jurassic World Dominion comes to UK cinemas from 10 June.