The entire appeal of Jeff Goldblum is that, ah, you just don't know which, uh, Goldblum-ism you're going to get next. From those distinctive punctuating noises he makes, to his sentences that spiral off like jazz riffs, he has a distinctive unmistakable presence both on screen and off screen. Back in the original Jurassic Park, he gave us that wild helicopter chuckle, that delivery of, "Life, uh, finds a way", and his much-memed shirtless moment. And make no mistake – with Ian Malcolm's full glorious return inJurassic World Dominion (after a brief cameo in Fallen Kingdom), we should be in for plenty of vintage Goldblum moments.
Because while Goldblum had a regular script, he also had something else. "I have a book!" he shows Empire. It's no ordinary book – it's a tome full of self-penned Ian Malcolm dialogue, all kinds of Goldblum gold that he could sneak into his performance. "Oh boy, I have a ton of them," he continues. "I'll just tell you one… We're on a computer trying to fix something or other, and somebody says, 'Uh-oh, it's started flashing Error 99.' And before Mamoudou [Athie]'s character comes in and explains, I was gonna slip in, very quickly, the line, 'Error 99? Is it Barbara Feldon?' Now, Barbara Feldon was an agent in Get Smart, a television series from 1962 or something, who played Agent 99. So, a lot of my ideas have to do with references that are totally irrelevant and of no interest or amusement to anybody who could possibly be watching a movie, and inappropriate to the scene. But it tickled me."
If adding his own lines kept Goldblum on his toes, the rest of the cast had a blast with it too. "I have never seen anyone pitch more dialogue than Jeff Goldblum," Bryce Dallas Howard laughs. "He literally had this piece of paper with these incredible one-liners, and he'd cross them out through the day. You know, some of them will make it in and some of them won't. But a scene is not a scene without a Jeff Goldblum button." Needless to say, director Colin Trevorrow was thrilled to get a maximum-Goldblum performance – one with all those special flourishes, but also plenty of dramatic heft. "He would always bring extra things in his book that, yes, were often references to 1940s musicals, but he's both hilarious and very powerful," he tells Empire. "It's not just a comedy role. It's the power of his presence in this movie that I love the most." We'll find out which Goldblum lines, uh, find a way into the finished film this June.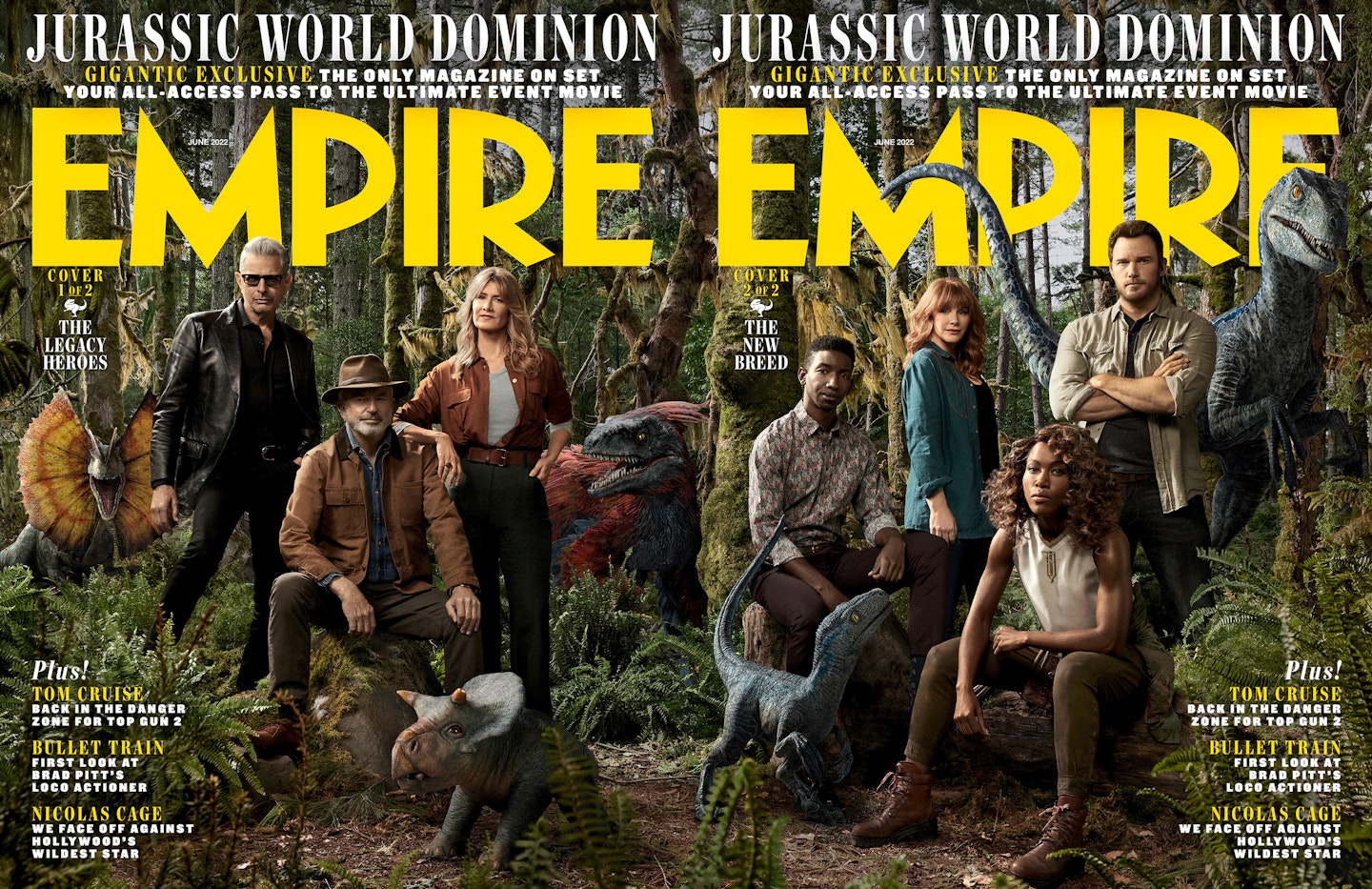 Read Empire's full Jurassic World Dominion world-exclusive – going on set and talking to Trevorrow, Pratt, Howard, Dern, Goldblum, Neill, Wise, Athie, and more, with brand new images – in the new issue, on sale Thursday 14 April and available to pre-order online here. Jurassic World Dominion comes to UK cinemas from 10 June.