Multiverses are all the rage at the moment. While the MCU is slap-bang in the middle of its Multiverse Saga, the universe-hopping Everything Everywhere All At Once recently swept the Oscars, and the DC Universe is about to explore all kinds of alternate realities in The Flash this summer (after delivering a version of 'Crisis On Infinite Earths' on the small screen). But while the general idea of the Multiverse is that anything is possible, that tends to come with caveats: it's rare for distinct multiverses to crash together.
But, if comic fans have been dreaming of a next-level crossover – with Marvel's Avengers and assorted heroes crossing over with DC Comics' legendary slate of the Justice League – there's one man who might actually be able to make that happen: James Gunn. For a decade he's been deeply entrenched in the MCU, and once Guardians Of The Galaxy Vol. 3 hits cinemas he's moving over to DC to head up their film operations. Could he be the key to Marvel and DC actually sharing their biggest toys on the big screen? "I'm certain that's more likely now that I'm in charge [at DC]," he tells Empire, in the new Guardians Vol. 3 issue. "Who knows?" Just don't expect anything on that front in the immediate future. "That's many years away, though," he says. "I think we have to establish what we're doing [at DC] first. I would be lying to say that we haven't discussed it. But all discussions have been very, very light and fun."
Before his new gig begins, Guardians Vol. 3 will mark the end of this line-up of the cosmic crew, and Gunn's swan-song in the MCU itself. And while not every member of the Guardians is expected to make it to the end credits of Vol. 3, Gunn isn't against any of them appearing in future projects once his Marvel days are behind him. "It would absolutely not be disloyal of them to me to continue on in the Marvel Universe," he says. "I would love to see any characters that remain [at the end of the film] get solo movies, or join the Avengers, or a new version of the Guardians or whatever." Now… how about Drax flicking Zarg Nuts at Batman? We'll file that under, 'Probably not, but never say never…'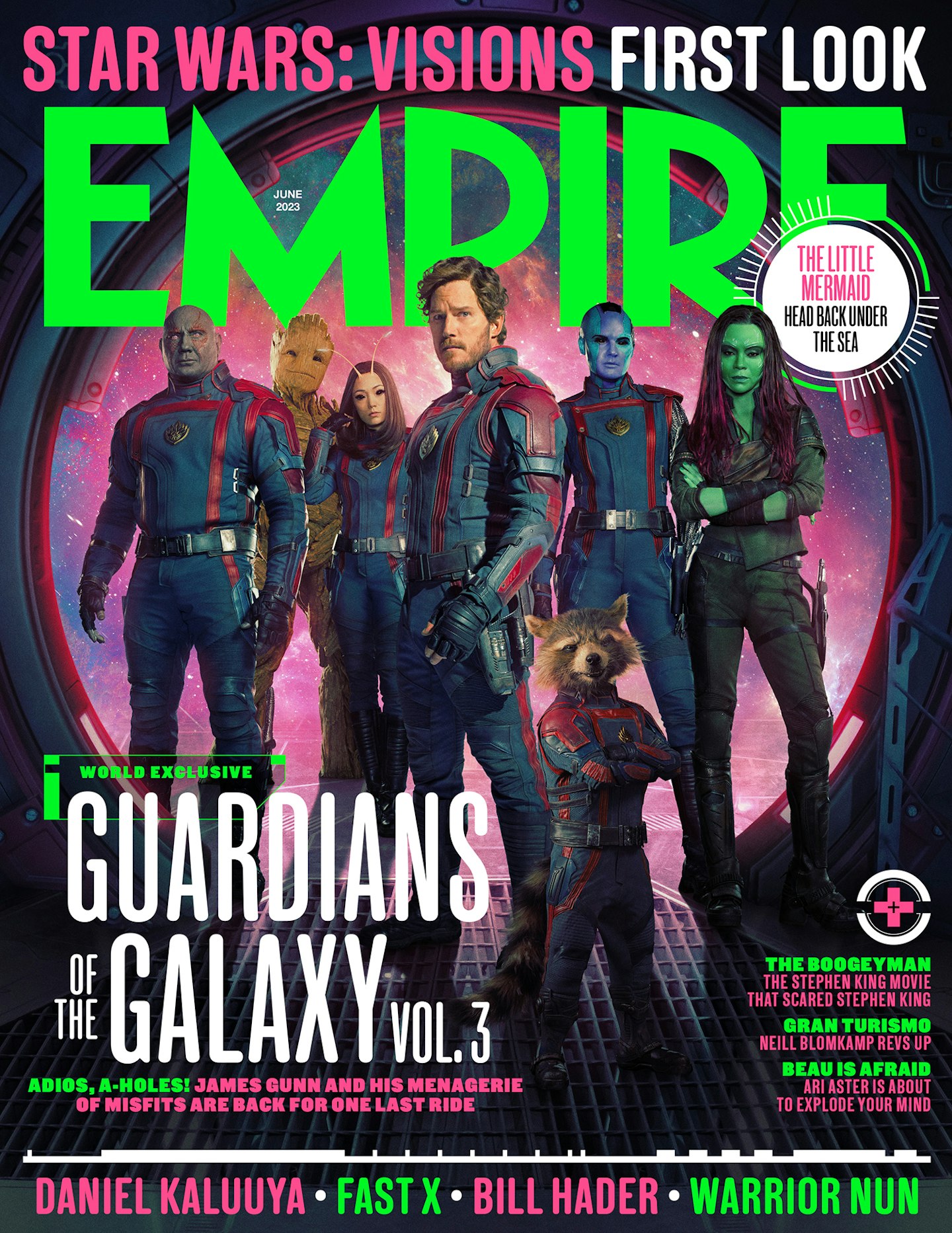 Read Empire's full world-exclusive Guardians Of The Galaxy Vol. 3 cover story – speaking to writer-director James Gunn and stars Chris Pratt, Zoe Saldaña, Karen Gillan, Sean Gunn, Chukwudi Iwuji, and Will Poulter about the emotional farewell to the MCU's most colourful crew of heroes, packed with never-before-seen images – in the upcoming June 2023 issue, on sale Thursday 13 April. Become an Empire member now to access the issue in full on launch day, or pre-order the issue online now here. Guardians Of The Galaxy Vol. 3 comes to UK cinemas from 3 May.